If you are reading this blog then you must be interested in event management tools. Well, FooEvents and WP Event Manager both are well-known event management plugins for WordPress that are created to make the event management process smooth for every event planner.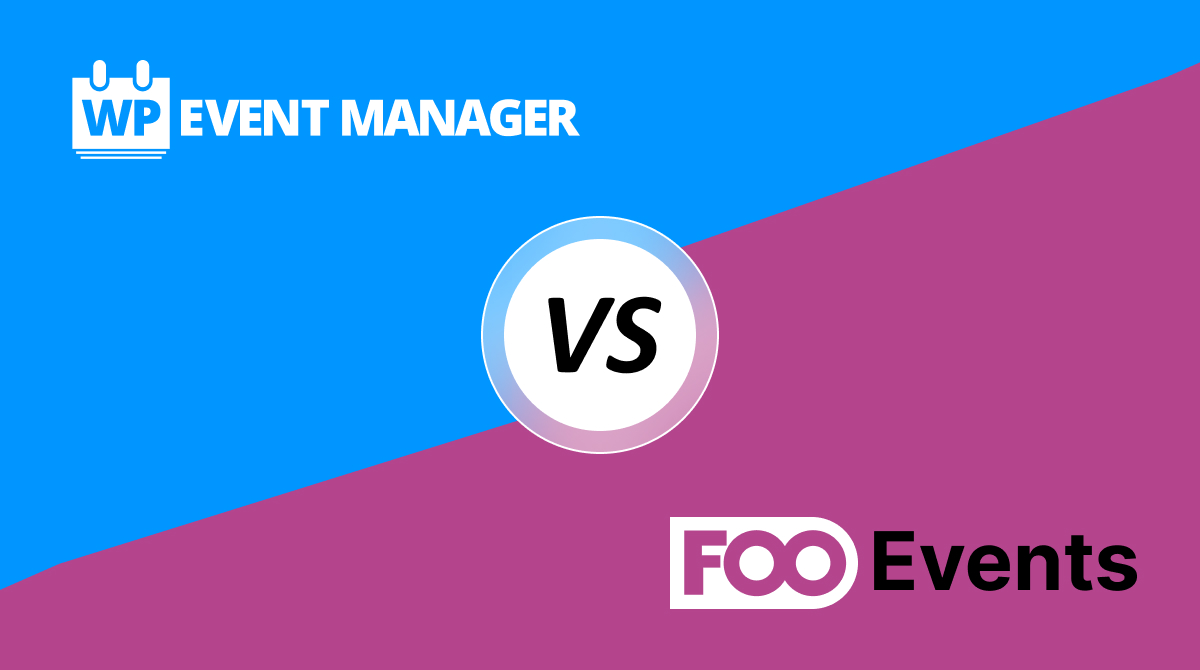 FooEvents is one of the leading WooCommerce based WordPress ticket selling plugins that allows you to create events, sell tickets and manage registrations for your virtual and in-person events. The pattern of online event management is constantly evolving with the addition of new features in such event management tools.
On the other hand, WP Event Manager is a comprehensive event management solution that efficiently fulfills all your event management requirements starting from an event calendar, booking and registration to promotion. The event plugin for WordPress has earned the trust of thousands of clients worldwide and it is constantly improving itself to create better user experience. The company is backed by a sincere support team who is always there to assist customers in case of any queries.
At WP Event Manager, we understand the importance of a powerful event management plugin for WordPress. Thousands of people want to switch to a Calendar event plugin for WordPress that could understand and meet their unique event management requirements along with quality support.
If you are currently using FooEvents as an event ticketing solution and looking for an alternative we can give you more than 10 reasons to switch to WP Event Manager. Read this article to know about the major difference between FooEvents and WP Event Manager and why WP Event Manager is termed as the best event plugin for WordPress.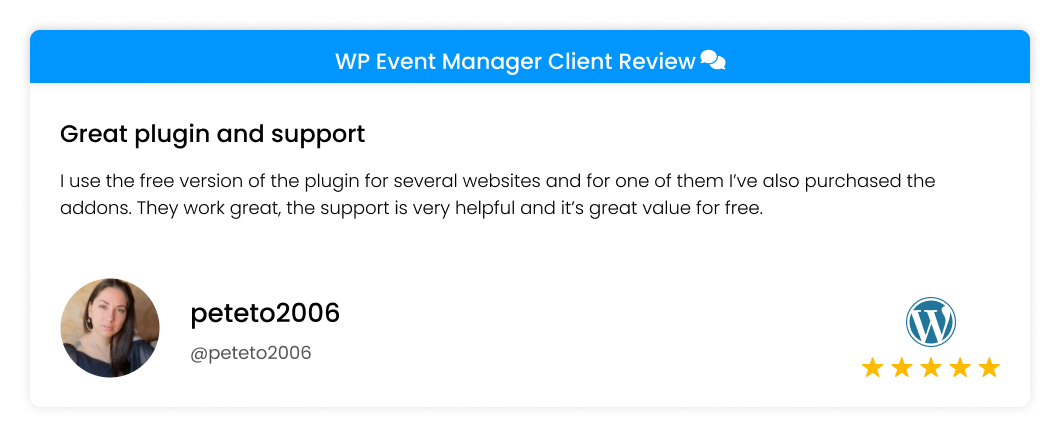 FooEvents Vs WP Event Manager: Overview
While making a comparison between FooEvents and WP Event Manager the first thing that comes to notice is that WP Event Manager is a full-fledged event management plugin whereas FooEvents focuses more on the booking and ticketing part.
While WP Event Manager addons cover almost every service that is required in event management, Fooevent products are limited to attendee management, ticketing, calendar and mobile application.
FooEvents vs WP Event Manager: Get an attractive and engaging event calendar with WP Event Manager
An event calendar is one of the  crucial elements of a website that needs to be attractive as well as engaging to gain the attention of the target audience. In addition to that, your event calendar should be easily accessible to the visitors too.
FooEvents and WP Event Manager both offer event calendars but the differences are there in terms of features.
The event calendar offered by Fooevents has Calendar and box views whereas the WP Event Manager's calendar offers box view and list view. Calendar views play a great role in attracting visitors towards your website. WP Event Manager gives you the freedom to choose from box or list views. You can also choose your preferred calendar layout with WP Event Manager.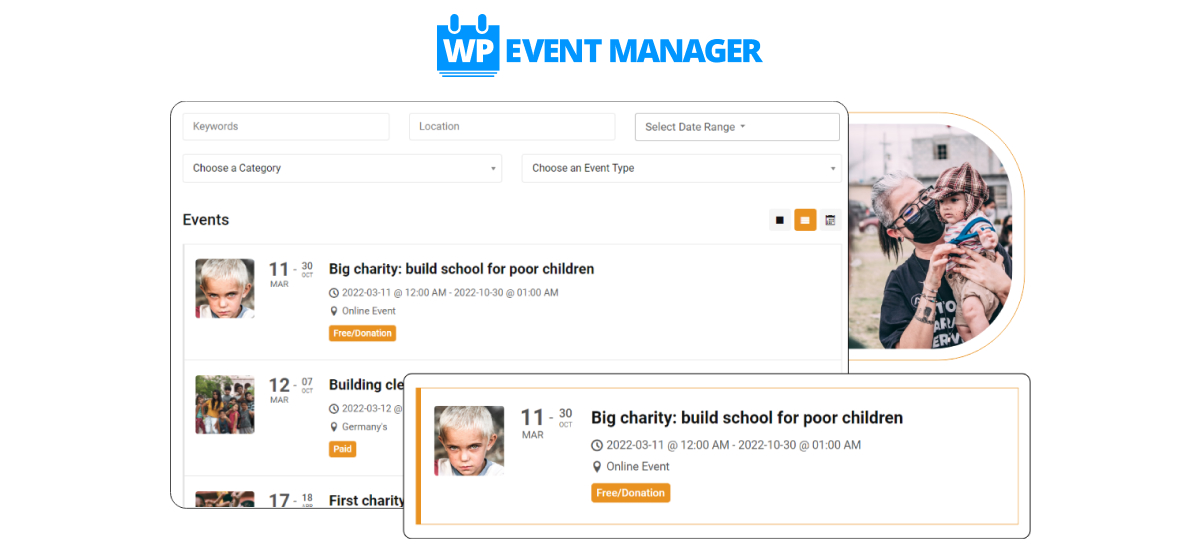 Get more event management services with WP Event Manager
As mentioned earlier, with WP Event Manager, you get a complete package for your event management needs. On the other hand, FooEvents mostly emphasizes on selling tickets and managing registrations.
Besides the core plugin, Fooevents has 8 extensions that include the following:
FooEvents bookings:

lets users offer bookings for virtual and hybrid events. 

FooEvents seatings:

lets users handle seating arrangements with a flexible seating chart builder.  

FooEvents point of sale:

it is a web-based point of sale plugin for WooCommerce that helps users sell and print tickets in person. 

FooEvents custom attendee fields:

lets users customize attendee fields at checkout. 

FooEvent PDF Tickets:

lets users attach the tickets and booking confirmation in PDF forms.

FooEvents multi day:

lets users sell tickets for events that run for more than one day.  

FooEvents Calendar:

lets users display events in a calendar on their WordPress site. 

FooEvents Express check-in:

It helps ensure a smooth check in process.
In contrast, WP Event Manager offers almost 37 extensions that fulfill all your event management requirements.
FooEvents Vs WP Event Manager: Get superior event management features with WP Event Manager.
WP Event Manager is known for its exceptional features. FooEvents also has some good features but certain important features are missing in it.
Frontend event submission facility:

the frontend event submission facility allows organizers to submit their events easily without being dependent on the admin. The admin here has the right to approve or disapprove the event. Users can avail this facility with WP Event Manager whereas FooEvents does not offer the same. So if you are in search of a

Calendar plugin for WordPress

that provides the frontend event submission feature, go for WP Event Manager. 

Customization options:

every business has unique requirements and that is why customization is extremely important for every user. It is easy to customize the WP Event Manager plugin as per one's requirements but due to complicated coding, customization is not easy with FooEvents. 

Developer-friendliness:

WP Event Manager is coded with the best coding practices which makes it easy for developers to customize the plugin with ease. However, due to complicated coding, handling FooEvents is more difficult than WP Event Manager. 

Event Preview:

Previewing an event before making it public gives organizers the opportunity to make last minute changes before submitting an event to it if he or she is not satisfied with the appearance. The users of WP Event Manager can easily avail the feature whereas it is missing in FooEvents. 

Multiple venues and organizers:

To add prominence to event venues and organizers you can set up separate places to add their details on your website. This feature can be utilized only with WP Event Manager as FooEvents does not offer any such features. 

Advanced search filters:

WP Event Manager has this amazing feature to help website visitors find and access the details of a specific event through ajax based filtering options. This option is also not available in FooEvents. 

Hide expired events:

Keeping expired events on your website may confuse your visitors and that is why it is good to hide expired events. WP Event Manager gives you the facility to do so but FooEvents does not have any such features. 

Multilingual Translation support:

Both the plugins offer translation facilities but the difference lies on the language options. WP Event Manager supports 33 languages whereas FooEvents' language option is limited to 3. 

Support:

A strong support system is what every plugin must have because no matter how nicely a plugin is coded users may still face problems. WP Event Manager not only has a sincere support team but also it offers various options to connect with them including social media platforms, live chat, emails, support tickets and more. When it comes to FooEvents users can raise a support ticket on their website to discuss issues that they are facing with the plugin.
FooEvents Vs WP Event Manager: Host powerful virtual events with WP Event Manager
Virtual and hybrid events are quite in trend nowadays. Though the concept started during the tough period of covid but due to its convenience and benefits it has become a trend which is still going on.
Virtual events need proper mechanisms and the support of exceptional tools to carry out without obstacles. WP Event Manager, which is one of the best event plugins for WordPress has some amazing addons that simply improves the quality of your events. Whether it is a webinar, virtual conference or a full fledged virtual or hybrid exhibition, these tools can be a great solution for all types of virtual events.
The WP Event Manager addon that helps manage virtual events like a pro are the following:
Expo Networking:

it lets users create virtual lounge, expo booth, reception area, interactive sessions and more.

Zoom:

it lets users conduct webinars, virtual meetings, conferences and more.
FooEvents offers only Zoom integration to allow users to conduct virtual conferences, webinars, classes etc.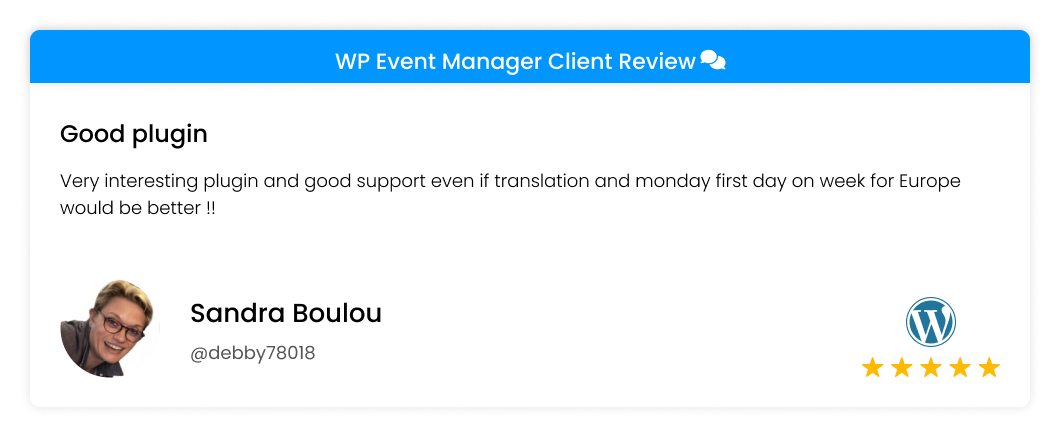 Found that of the many event manager plugins wp-event-manager seemed the easiest to use and was comparatively lightweight. So started using it but hit a problem with events ticket status. I sent a support request and the follow up was pretty rapid with some CSS that fixed the problem.
Fooevents Vs WP Event Manager: Pricing Structure
It is said that good things are always expensive but WP Event Manager has proved it wrong with its affordable pricing structure.
FooEvents and WP Event Manager both offer four bundles but there is a remarkable difference in the prices of these bundles.
If we talk about the Premium bundle offered by FooEvents then we can see that it is offering only eight plugins at the price range of $199 where WP Event Manager's Event Manager pro bundle is offering 26 feature-filled WordPress plugins that also include the ticket selling addons.
WP Event Manager is not only offering better quality of plugins but also a more affordable pricing structure.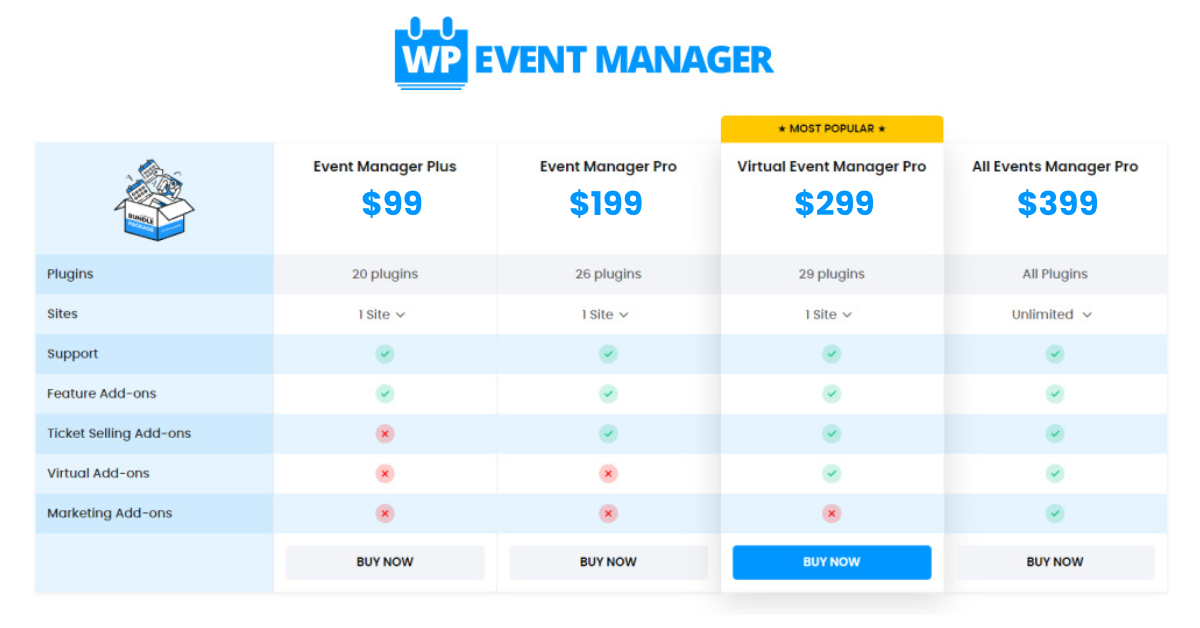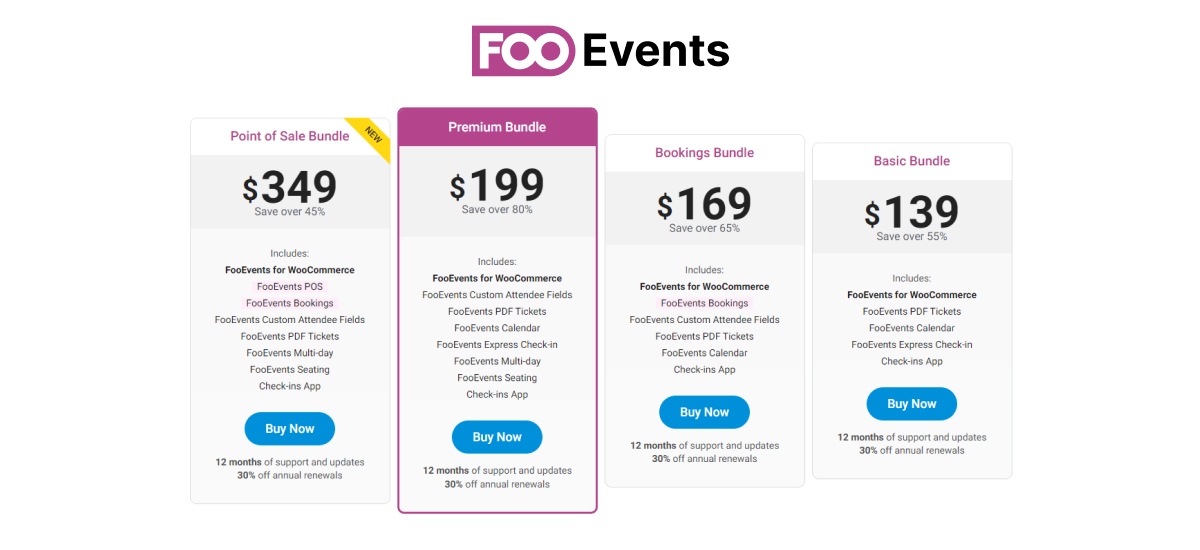 Wrapping up
From the above competitive study we can conclude that WP Event Manager is a complete solution for all types of events and their requirements. Whether you are hosting a hybrid event or a virtual one you can rely on WP Event Manager for everything related to your event.
If you want to switch to WP Event Manager from FooEvents or any other plugin let us tell you that it is easy to migrate to WP Event Manager.