Features You'll Love
Experience the joy of automatic user-information synchronization.
Personalized Communication
Increase user engagement by sending them personalized email messages with Constant Contact.
Time Saving
Embrace automatic synchronization to eliminate the hassle of importing and exporting customer data in CSV files.
Marketing Automation
Quickly and easily access your customer data through marketing automation Common Features.
Strengthen Marketing activities
Capture the details of your visitors in no time with the Constant contact plugin.
Constant Contact Setting
Connect the API key and the secret key to your WordPress website to complete the fundamental setting.
Field Mapping
Let the organizers easily map the custom contact fields to form fields.
Event-centric Synchronization
Automatically synchronize user registration data on the basis of events.
Data-Sync Method
Organizers can both manually and automatically sync user registration data with Constant Contact.
Cron Job Based Sync
Let organizers set a specific time for user data synchronization using Cron Job.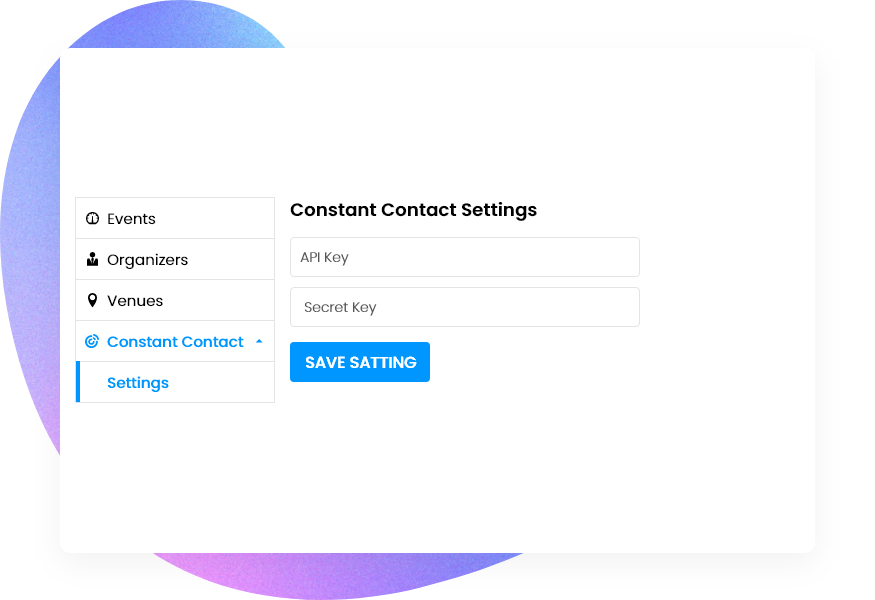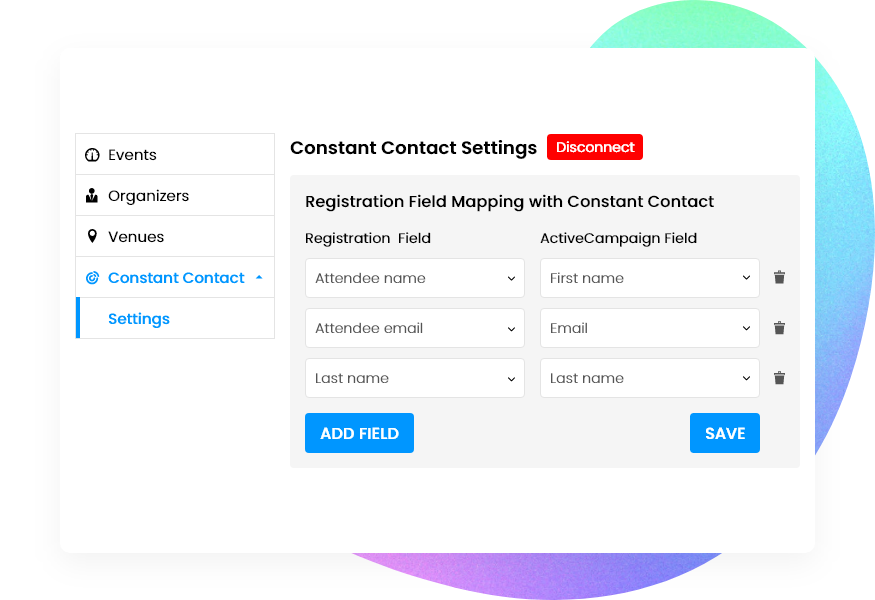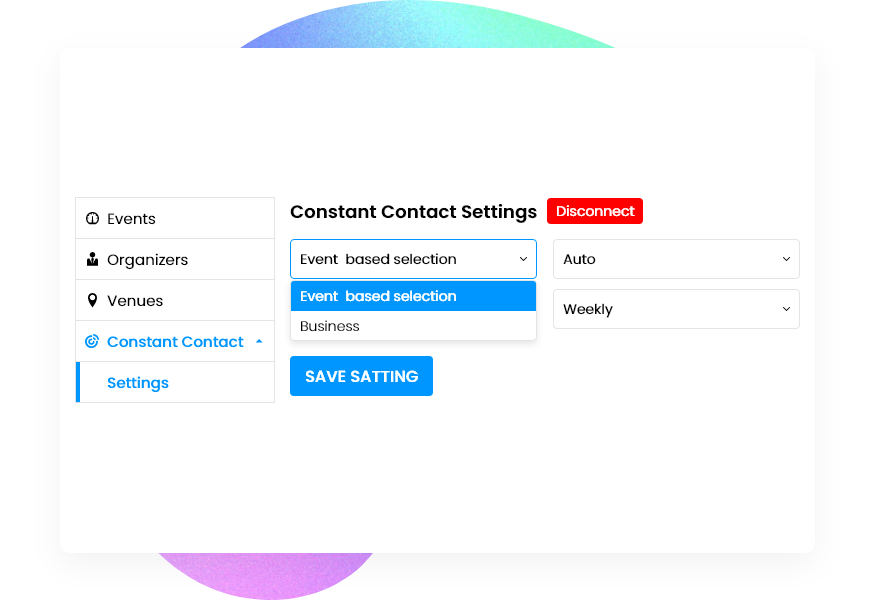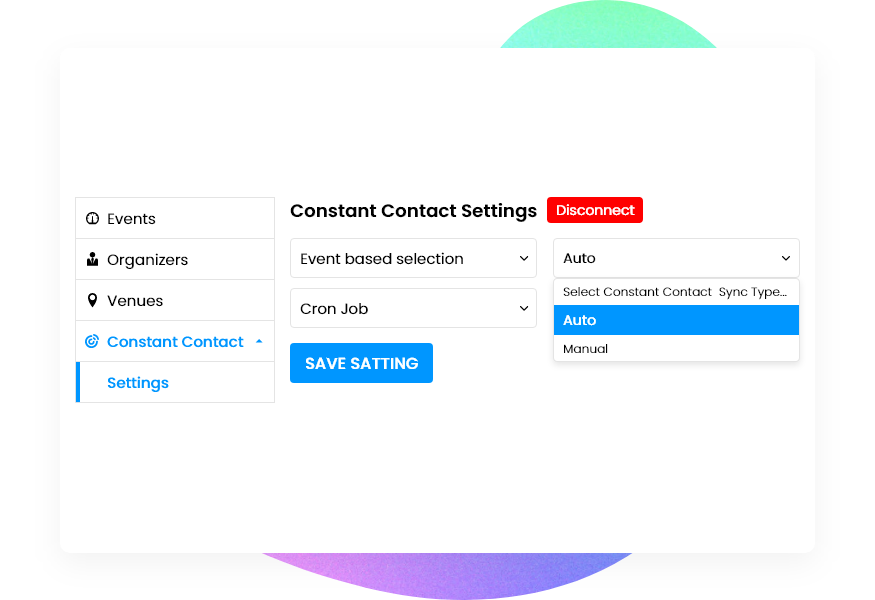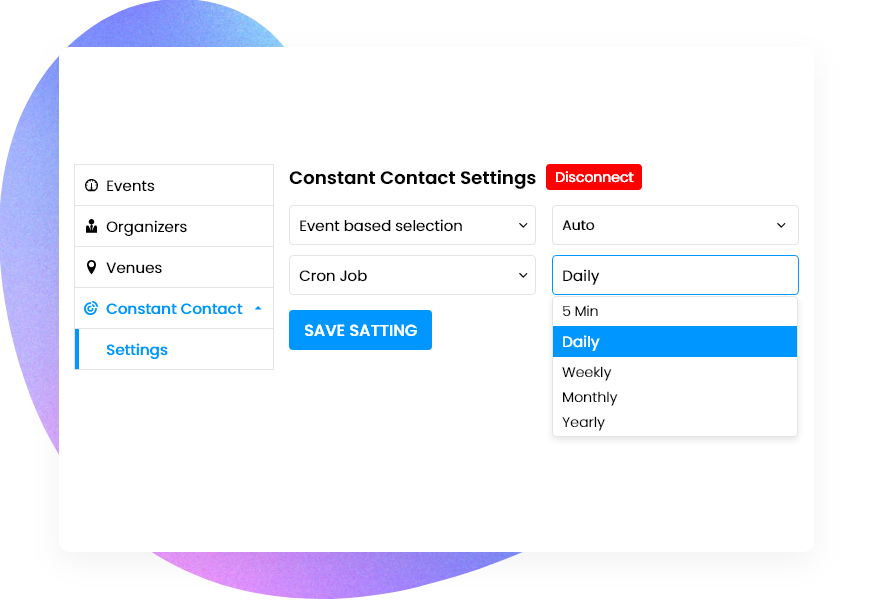 Empowering Every Event
Make your events stand out with us.
Academics & Classes
NGO & Charities
Community
Virtual & Online Events
Concerts & Parties
Skilfully manage students' registration data for your academic events with the Constant Contact Plugin.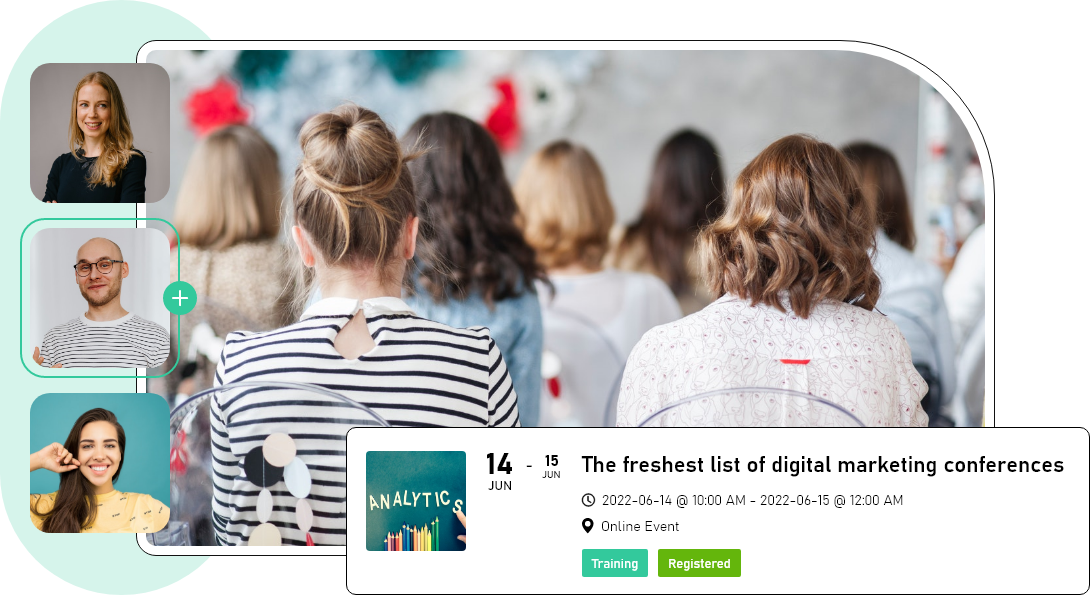 Give your attendees an easy way to connect with you in your charity events using Constant Contact.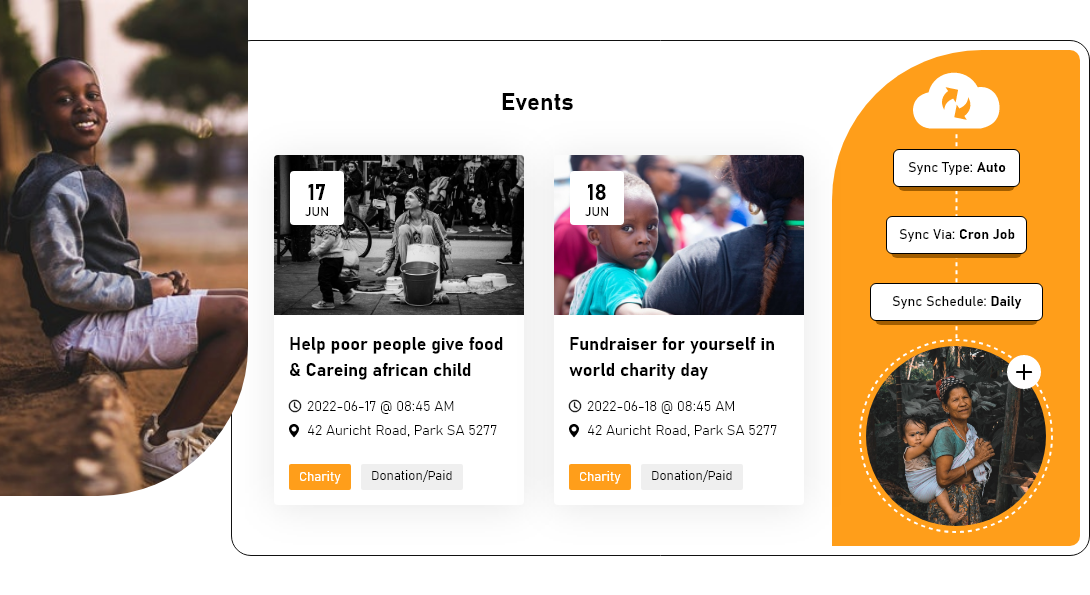 Save your precious time to focus on major activities of your community events by automating the marketing initiatives.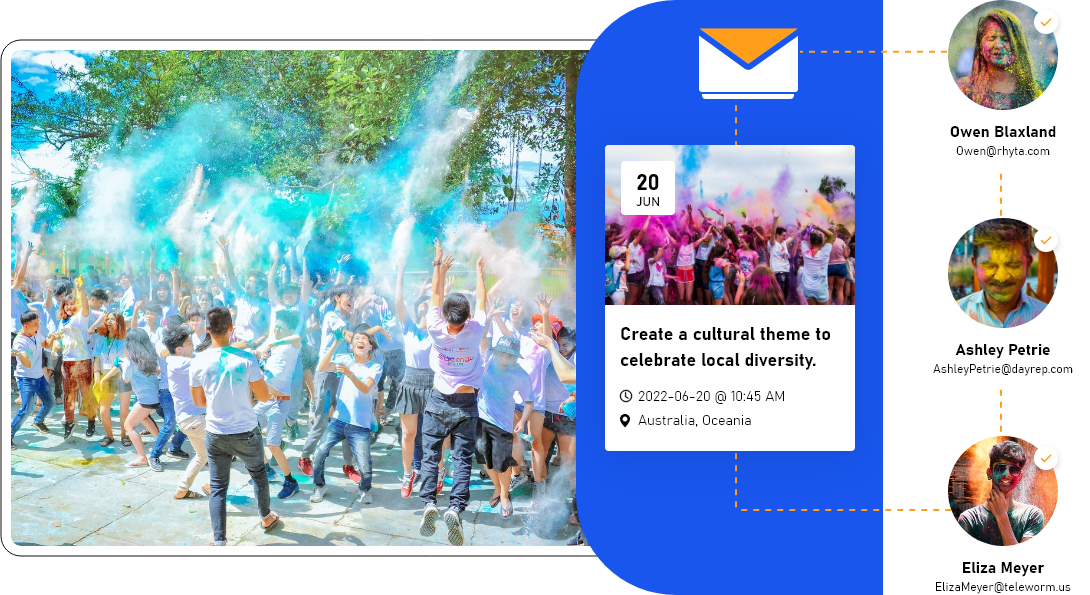 Leave the process of event registration data management on Constant Contact to manage everything automatically.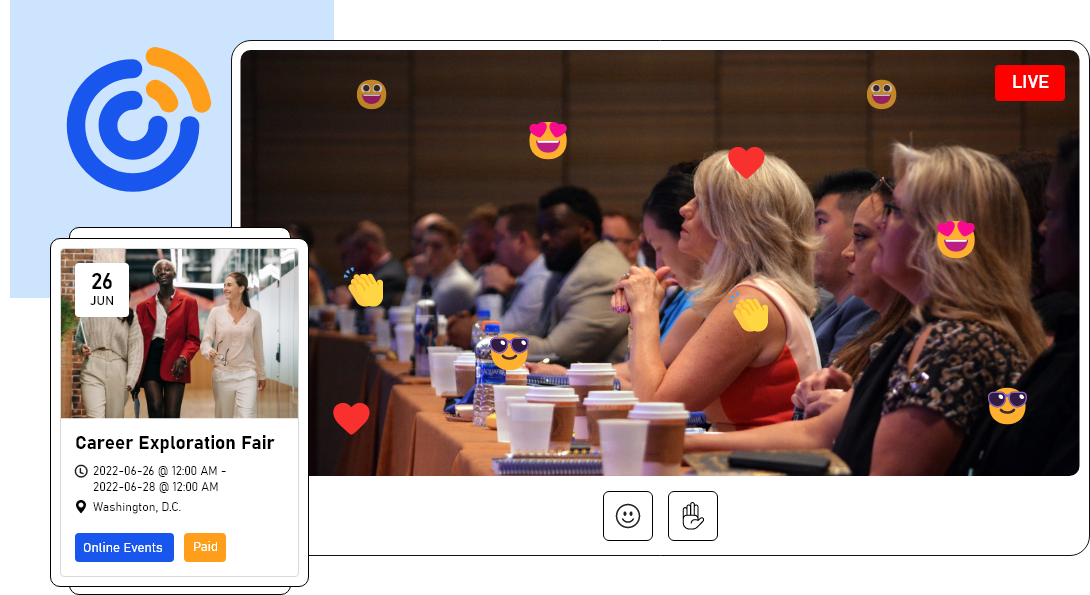 Promote musical events and manage registration data easily with Constant Contact.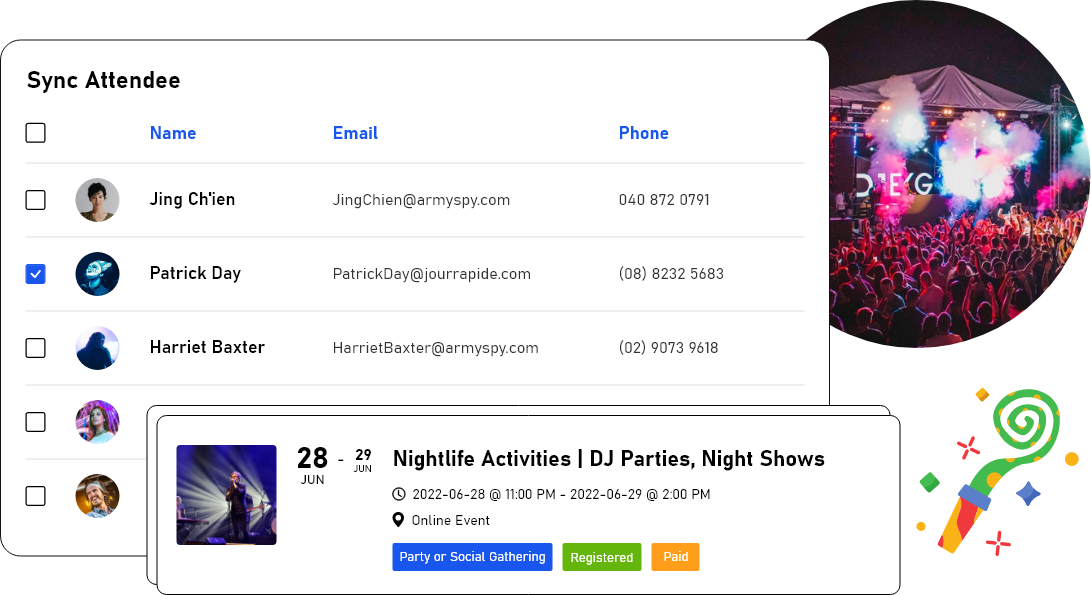 Constant Contact Features
Sit Back and let Constant Contact handle your user information and email marketing.

Easy Integration
Easily integrate Constant Contact plugin with your WordPress website with the help of API keys.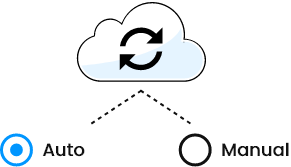 Automated & Manual Sync
Either manually select attendees to sync data on the CRM system or go for the automatic synchronization process, the choice is yours.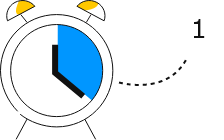 Follow-up Reminders
Use the synchronized data to send follow-up reminders for your upcoming events.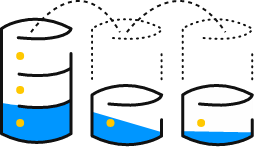 Database Management
Easily manage a huge amount of user data by categorizing them into lists and monitor their activities on your website.
Run Personalized Email Campaigns
Strengthen your marketing strategy by sending personalized emails to your audience without much effort through automated messages.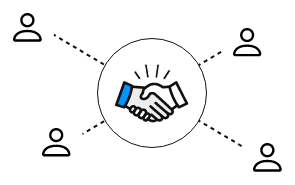 Better Customer Care
Serve your customers better by staying connected with them.
Interface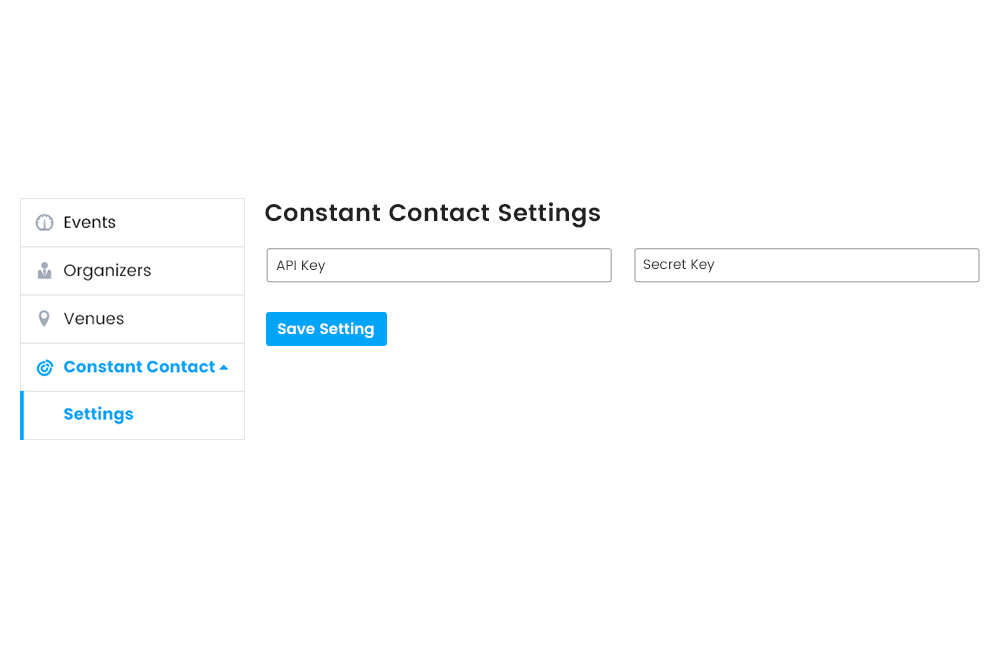 Constant contact settings at Frontend
The fundamental settings of the integration of two platforms are completed by connecting a continuous contact API key and secret key to a WordPress event management site. Individual organizers may customize the settings by integrating their keys into their event dashboard, bringing their email marketing synchronization one step closer.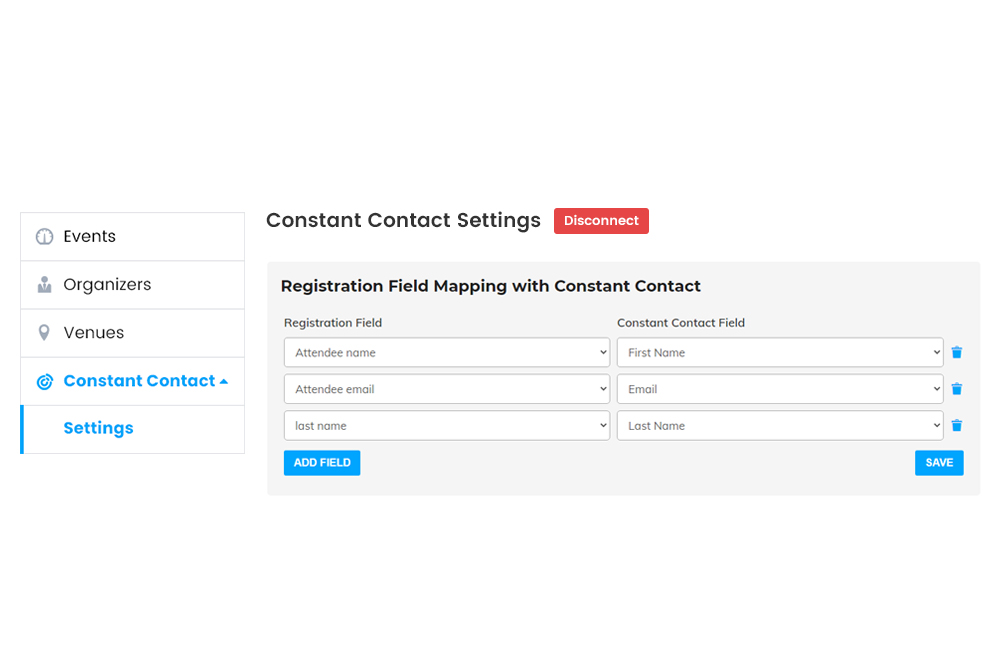 Field Mapping of the Registration form Fields at Frontend
With the Constant Contact Add-On, The organizers can quickly map custom fields in Contact Contact to form fields. This suggests that any custom data received from registered participants may be easily connected with fields established in the constant contact platform. All that is needed is for these fields to be properly mapped.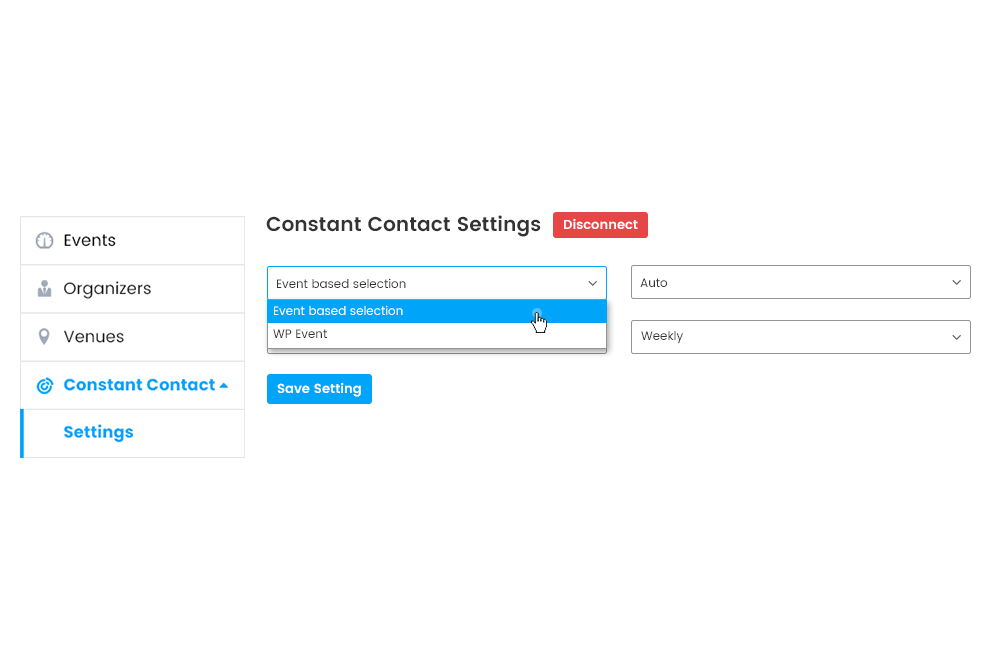 Event-specific Synchronization
The front dashboard allows the organizer to select from a predetermined list of events, which are established at constant contact, to automatically synchronize users who are registered for the specific event in that list. This means that Different lists can be selected for different events to get the synchronization, even more systematic.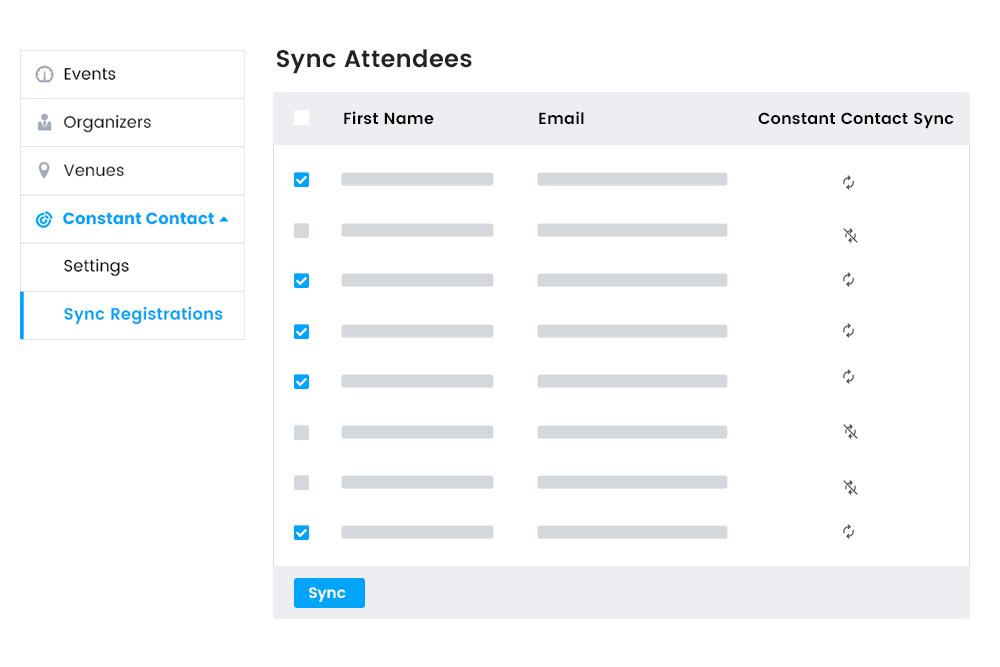 Manual Synchronization at Frontend
The registered user data pertaining to a particular event can be updated manually and instantly across constant contact platforms. This helps the organizers to carefully determine and choose which users to be synced.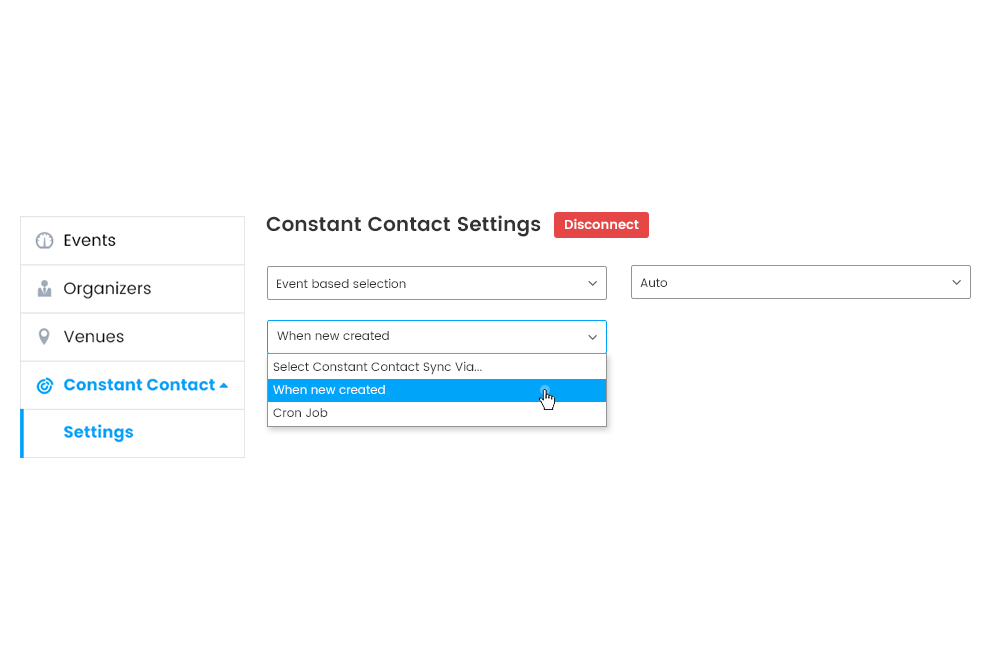 Automated synchronization at Frontend
The organizers from the front-end can automatically update the data without manual input; making them rest assured that all the facts and figures collected in the registration form are truly synced. This ensures that constant contact has the same data as the WordPress website, which is essential for better marketing.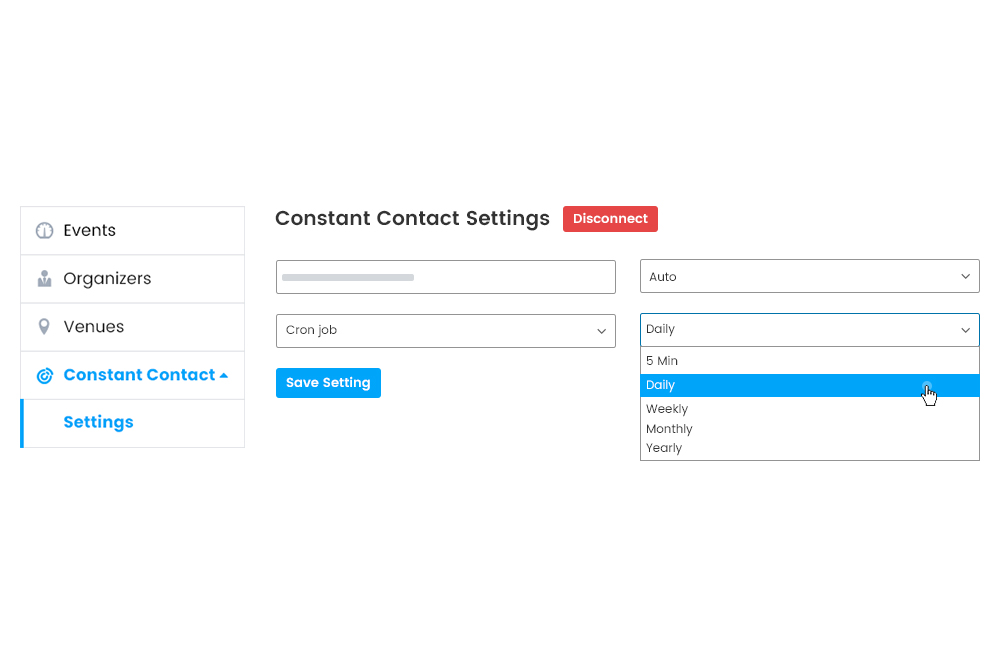 Synchronization on the basis of Cron Job on frontend
The Organizers can set up a specific time at which they want the users to be synced. You can Automatically synchronize the attendees overnight, or daily at specific times using this cron job method.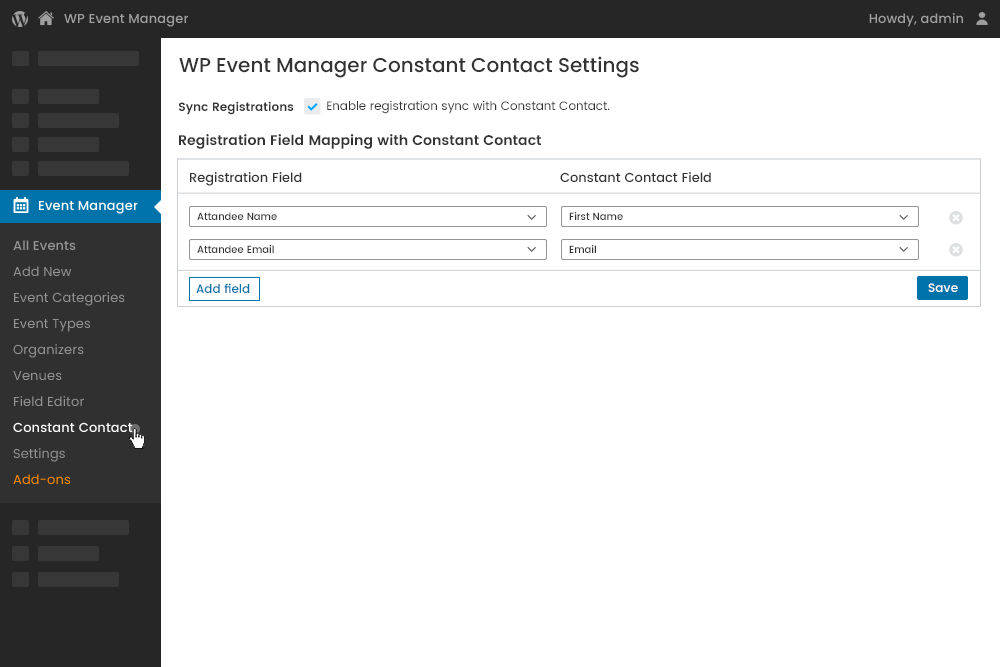 Field Mapping of the Registration form Fields at Admin Panel
You may easily map custom fields in Contact Contact to form fields using the Constant Contact Add-On. The Admin panel lays a clear form identifying all the custom fields that need to be associated and mapped with the adjacent contact fields. This means that any custom data gathered from registered participants can be simply linked with fields created in the constant contact platform.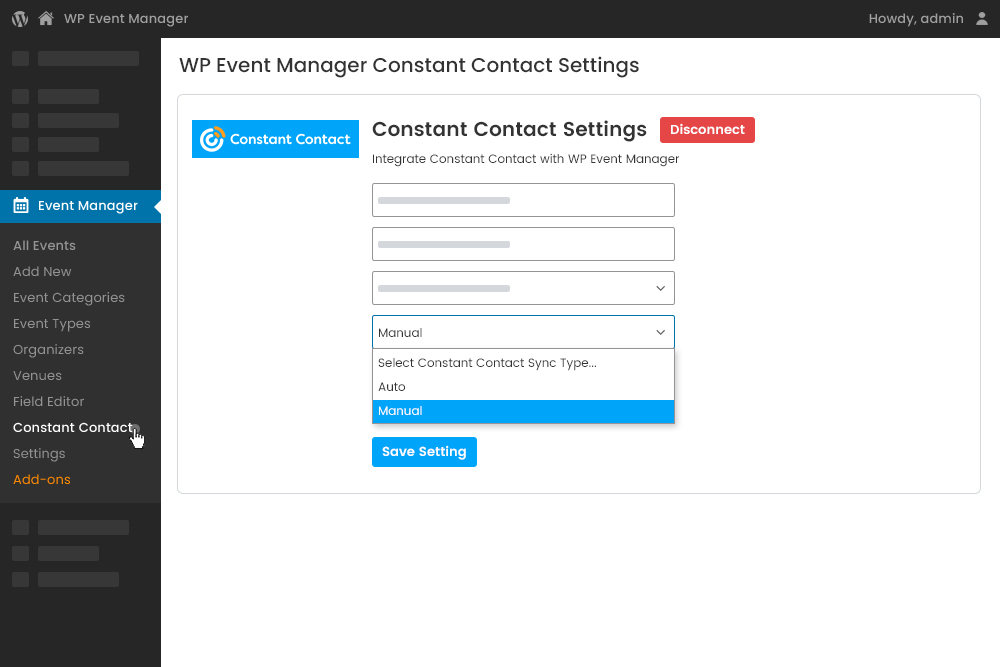 Manual Synchronization at Admin Panel
The list of registered users in the Registration section at the admin panel, specific to events, or as a whole can be synced either individually or all at once to the constant contact platform manually by Admins.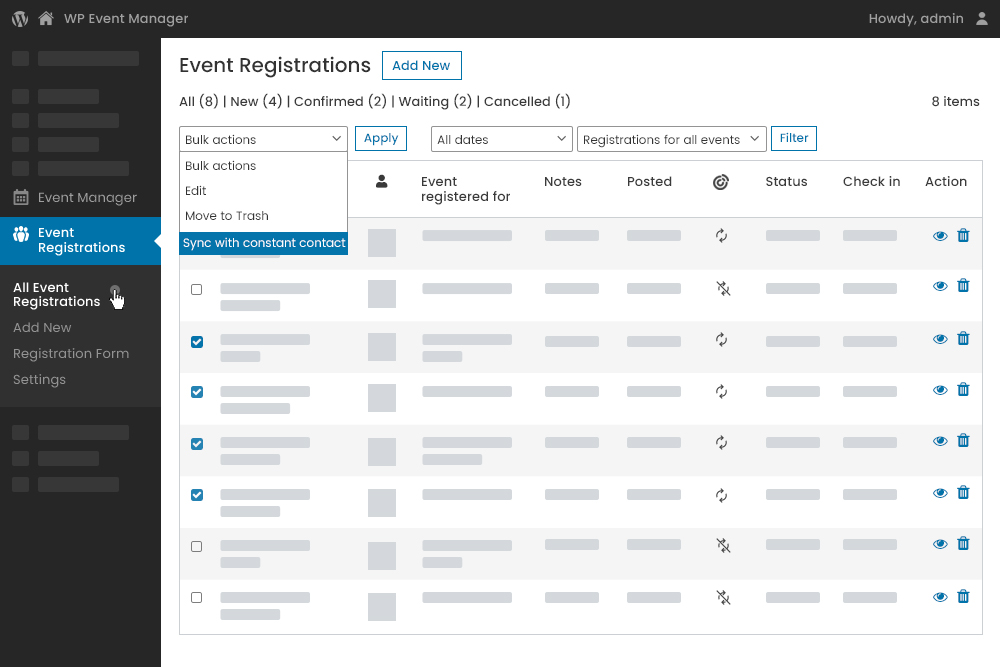 Get Closer to your Registered users with improved synchronization
Personalization and customization at a certain scale enable you to get closer to your users. The Admin level settings allow you to specify which attendees to be synced, individually or in bulk, thus triggering email campaigns based on your event activities.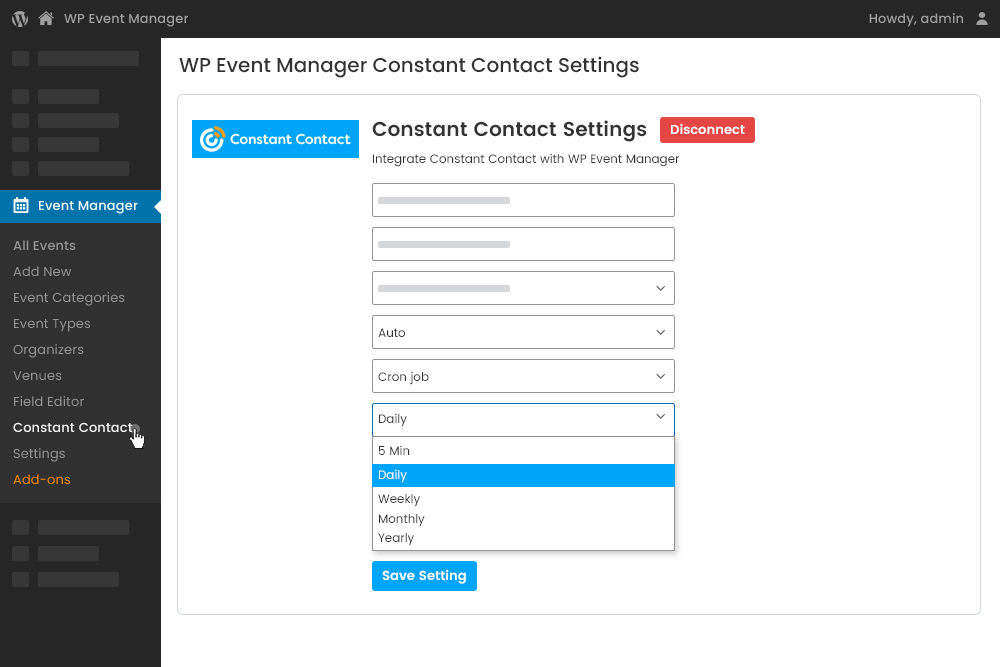 Automated synchronization made easy at Admin Panel
In order to help Admins move quickly and seamlessly from one task to another, The plugin automatically and constantly syncs new users thus retaining the focus and productivity. This Automated synchronization avoids the hustle to maintain the data at various platforms individually.
How Do Licence Keys Work?
After purchasing a plugin you'll receive a key via email (or you can visit your account page). This key can be activated from your WordPress dashboard's plugin page. It can also be deactivated and reactivated on other sites when required.
Will I Receive Updates For Purchased Plugins?
Yes, an automatic updater is included inside each plugin/add-on. This requires your licence key to function and you'll receive updates for as long as your licence key is valid.
Do You Offer Support For Purchased Plugins If I Need Help?
Yep. If you have a valid licence you'll be able to use our support systems for help.
Do I Need To Renew My License?
If you want to continue support and update then you need to renew license.Licenses are valid for one year from the date of purchase. When your license expires you'll be able to renew your key via your account page.
Am I Allowed To Use The Add-ons On Many Sites?
After purchasing a plugin you'll receive a key via email (or you can visit your account page). This key can be activated from your WordPress dashboard's plugin page. It can also be deactivated and reactivated on other sites when required.
View All FAQs »