Features You'll Love
Embrace the new way of syncing and managing registered user data.
Automate Marketing
Personalize email messages without any personal effort with automated messages that are sent to your audience at the right time.
Eliminate Manual Export or Import
Say bye to the hassle of importing and exporting attendee data in a CSV file as the data gets automatically added to your Mailchimp mailing list as soon as your attendees register.
Sync type - Manual & Automated
Customer data syncing can be done both manually and automatically.
Fast & Easy Data Management
Boost your customer engagement and increase sales with Mailchimp.
Event Based Sync
Select attendees from specific events and sync their data in the audience list you made in your Mailchimp account.
Syncing Attendee Data
The Mailchimp plugin automatically synchronizes user data whenever a user registers on your Website.
Syncing Method
Organizers have both the options to synchronize user data manually and automatically.
Contact Organizer Integration
Mailchimp easily integrates with Contact organizer form field that helps you sync the data on Mailchimp database.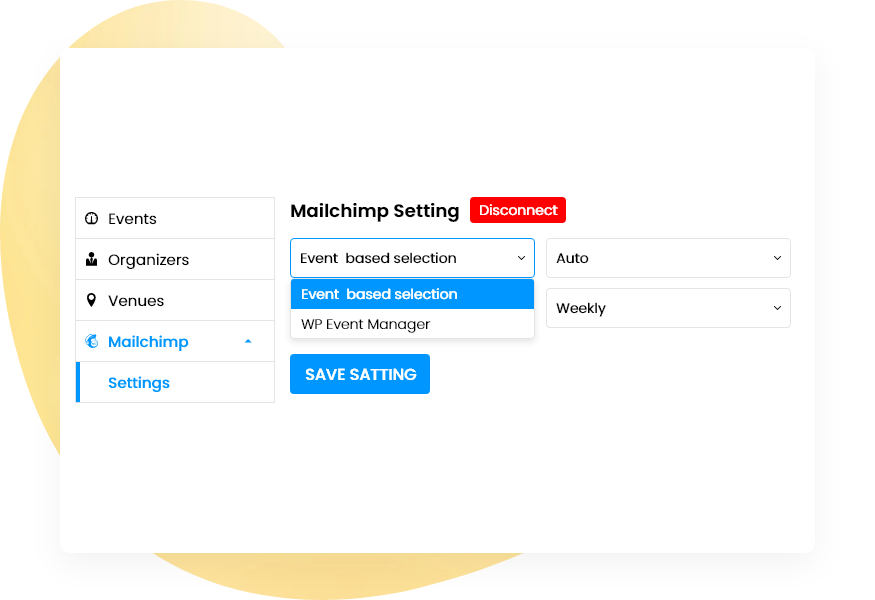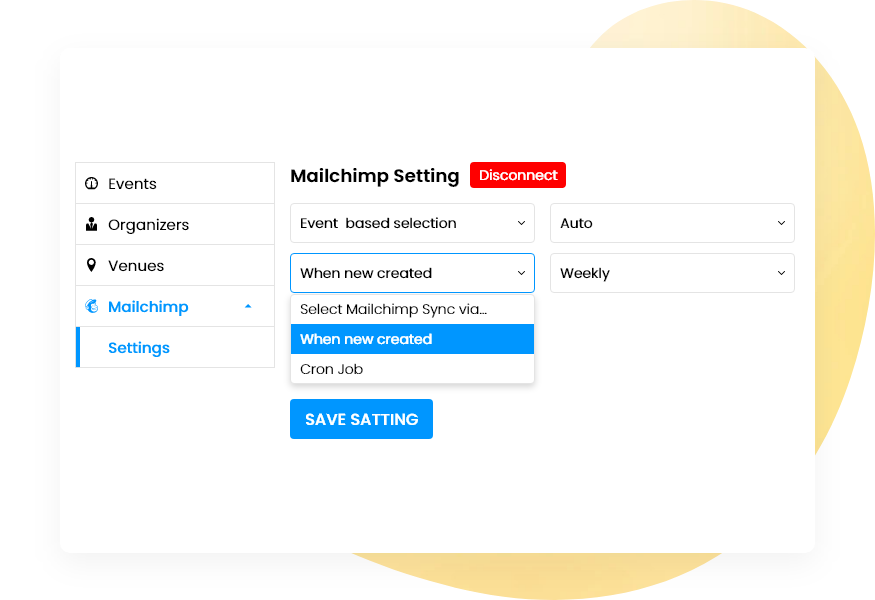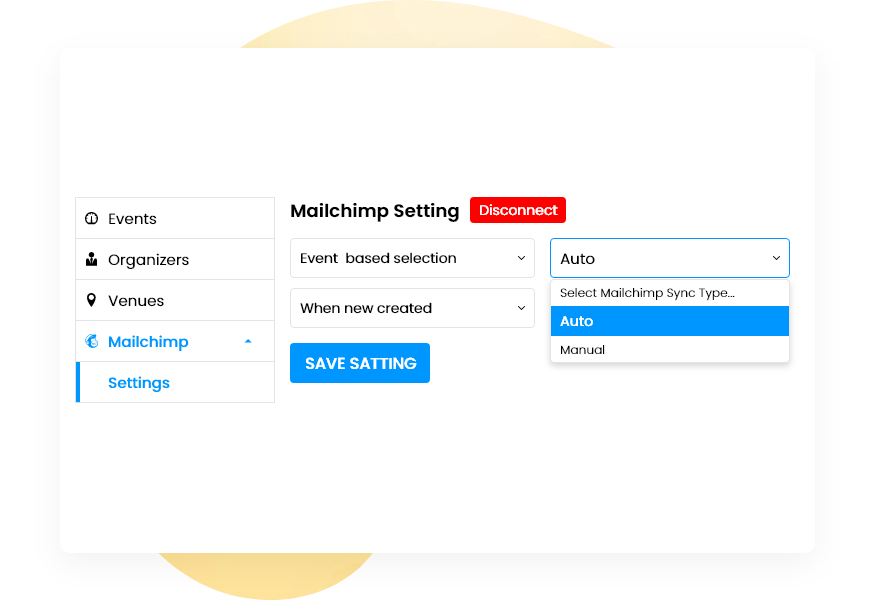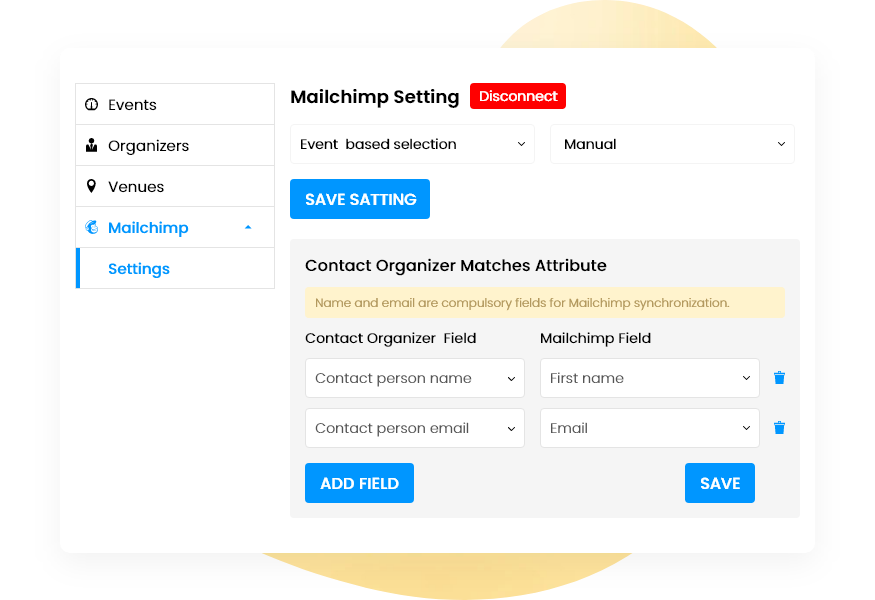 Empowering Every Event
Make your events stand out with us.
Academics & Classes
NGO & Charities
Community
Virtual & Online Events
Concerts & Parties
Manage students' registration in your educational conferences, webinars, yoga classes and more with Mailchimp.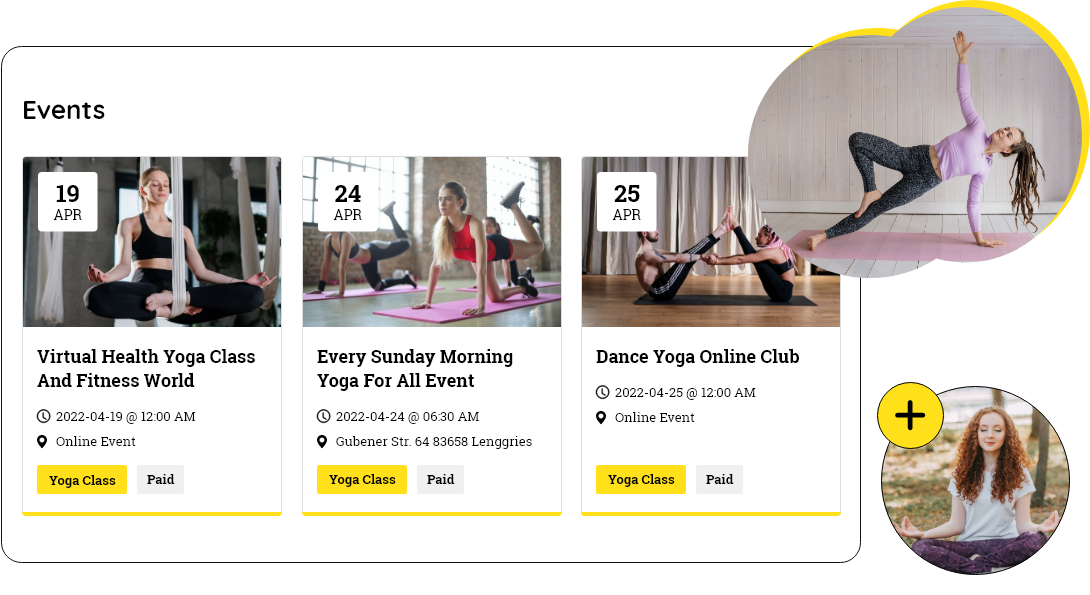 Save your time to focus more on fundraising and spreading awareness and let Mailchimp handle your registration data.
Choose to handle registration data automatically or manually for your Community events with Mailchimp.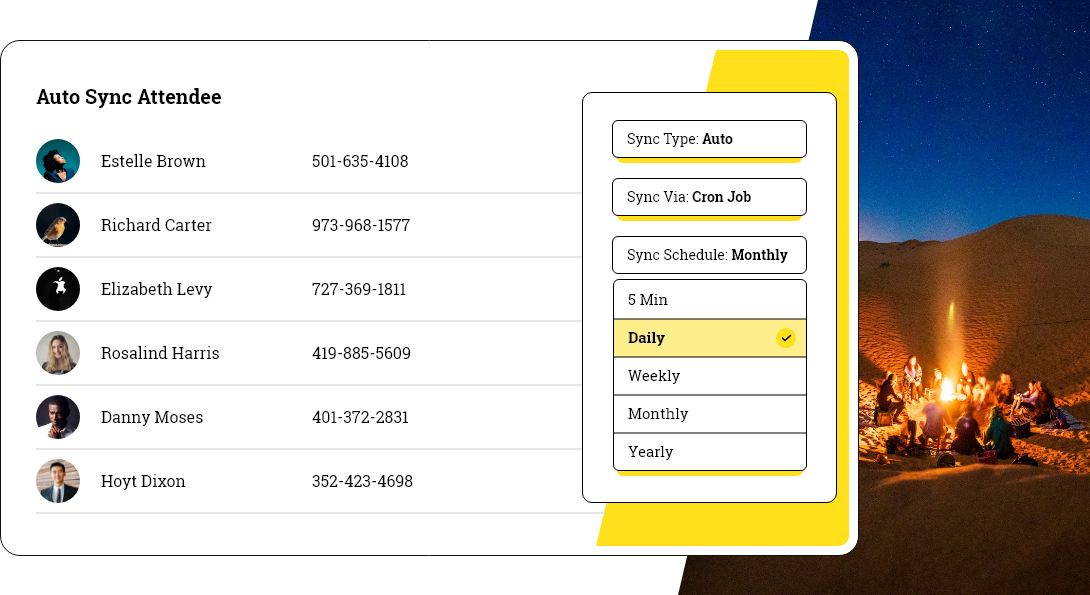 Tackle bulk participation in your virtual events with automatic attendee data synchronizing facility offered by Mailchimp.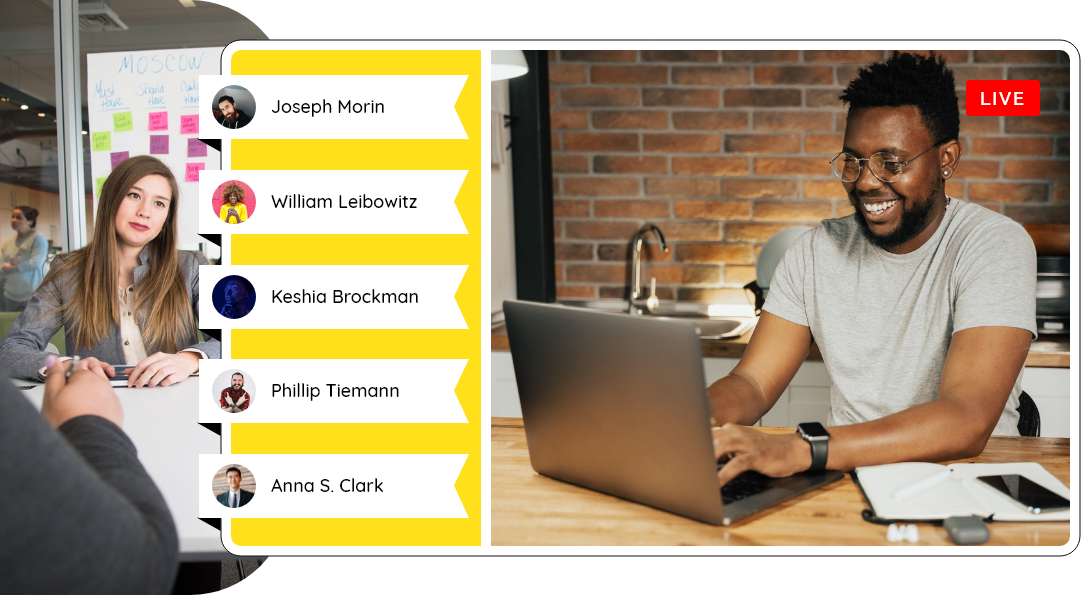 Make your concerts and party events successful by automating the entire process of registration data management with Mailchimp.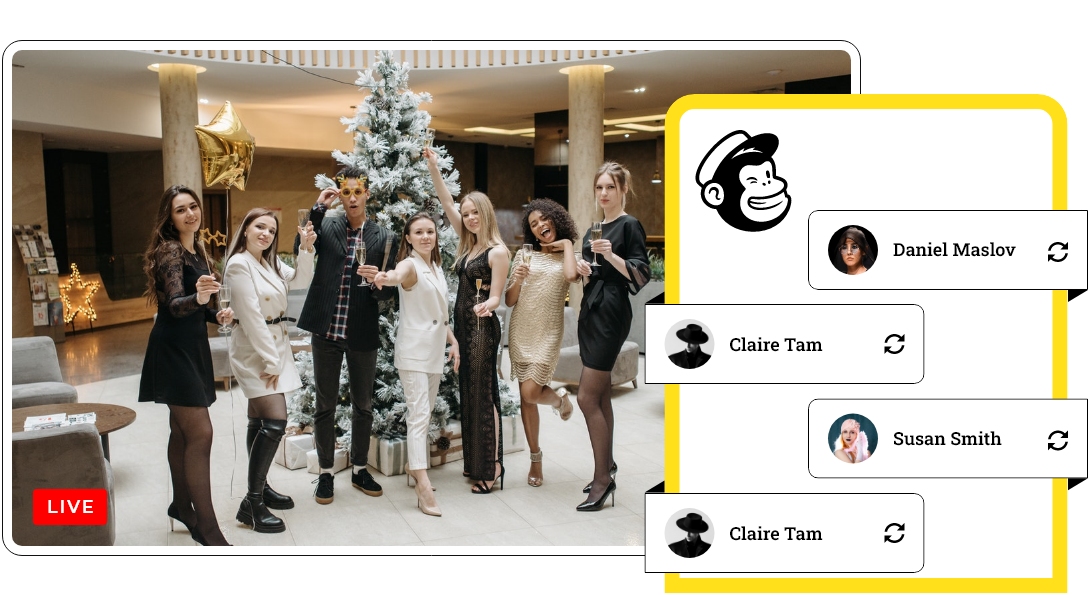 Mailchimp Features
Offering the smart way of tacking registration data.

Seamless Integration
Seamlessly integrate Mailchimp CRM with your WordPress website with the help of API keys.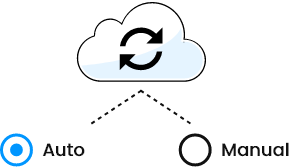 Automated & Manual Sync
Choose whether you want to manually select attendees to sync data on the CRM system or you want to go for the automatic synchronization method.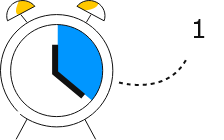 Follow-up Reminders
Utilize the synchronized data to keep your attendees updated for your upcoming events.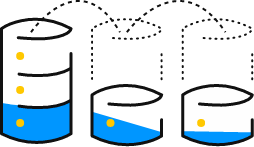 Database Management
Efficiently manage user data in bulk by classifying them into lists and keep an eye on their activities on your website.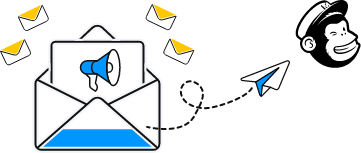 Run Personalized Email Campaigns
Stay in touch with your target audience by sharing personalized emails with them as a part of your marketing plan.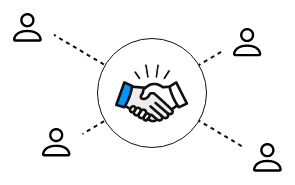 Better Customer Care
Serve your customers better by staying connected with them.
Interface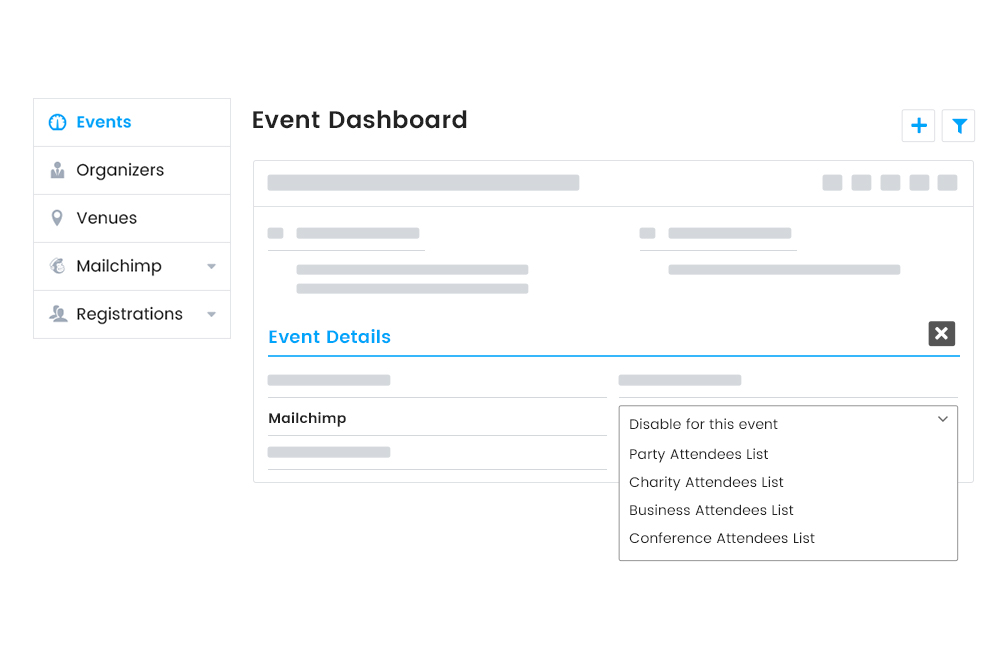 Event-specific syncing to specific audience list in Mailchimp account
Synchronize event attendees seamlessly to a list in your Mailchimp account. Pick the attendees from specific events that you would like to include, and sync them in the audience list created previously in your Mailchimp account.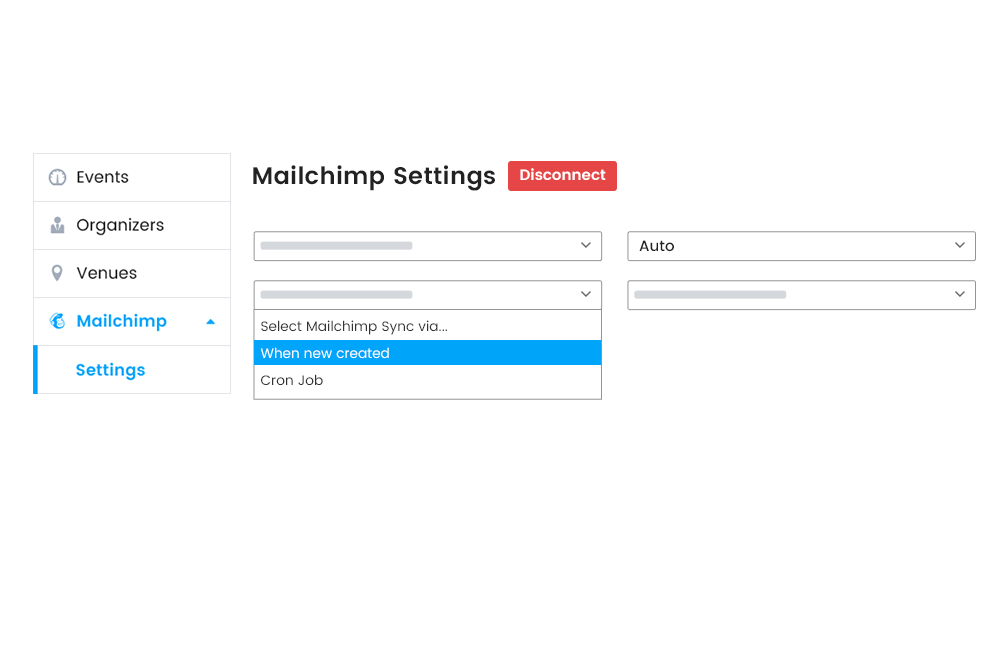 Syncing of attendee information when a new user is registered.
Any time a new user registers on the website, the Organizer needs not synchronize the data manually for each registrant. . Instead, the plugin wonderfully provides this feature to all organizers to automatically synchronize user data as soon as a new user is registered on the website.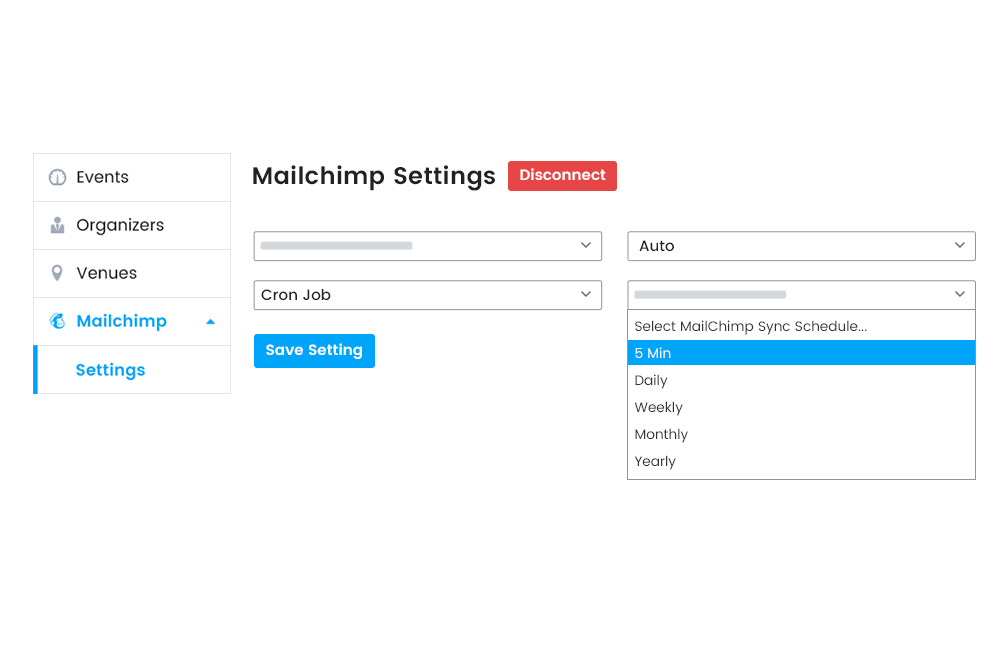 Automatic syncing of attendee information at Frontend
The organizers stay updated with their Mailchimp account as the plugin significantly allows them to sync all the attendee information directly and automatically as and when someone registers on their events. This is either done automatically as and when the new registration is received or on a cron job basis. No more hassling around with exports and imports of the user's data when they are done automatically.
Manual attendee information Syncing at Frontend
Manual syncing allows Organizers to determine which individual attendees need to be synced to their audience list. They get the option of choosing particular attendees from a real lot of data on the website.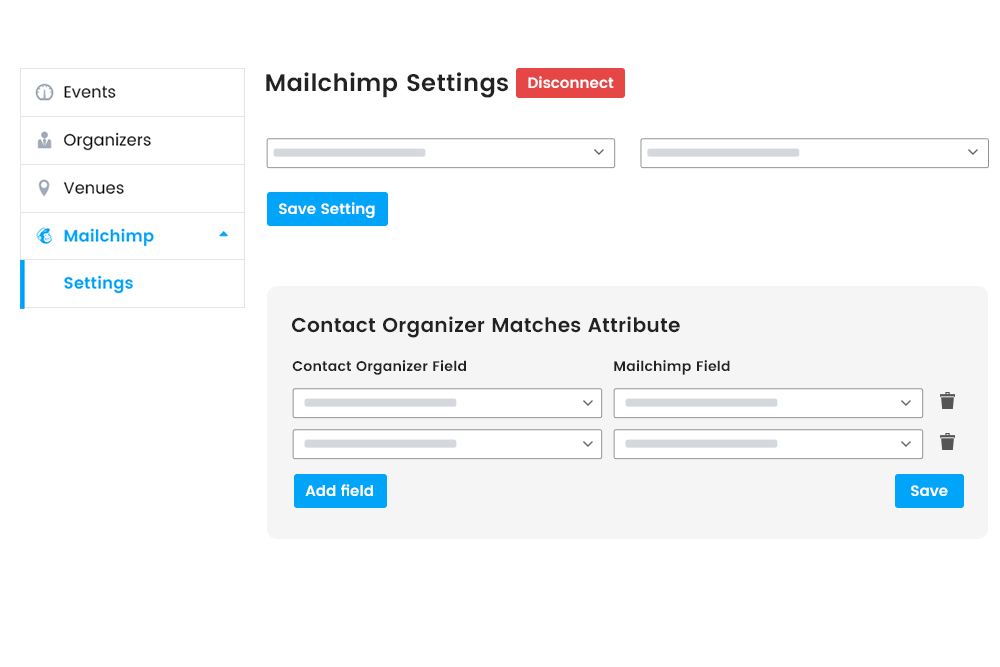 Automatic Sync Contact organizer Information
Mailchimp by wp event manager automatically integrates with the contact organizer form fields, allowing you to sync the data on the Mailchimp database, just as fields selected by you over the backend or frontend.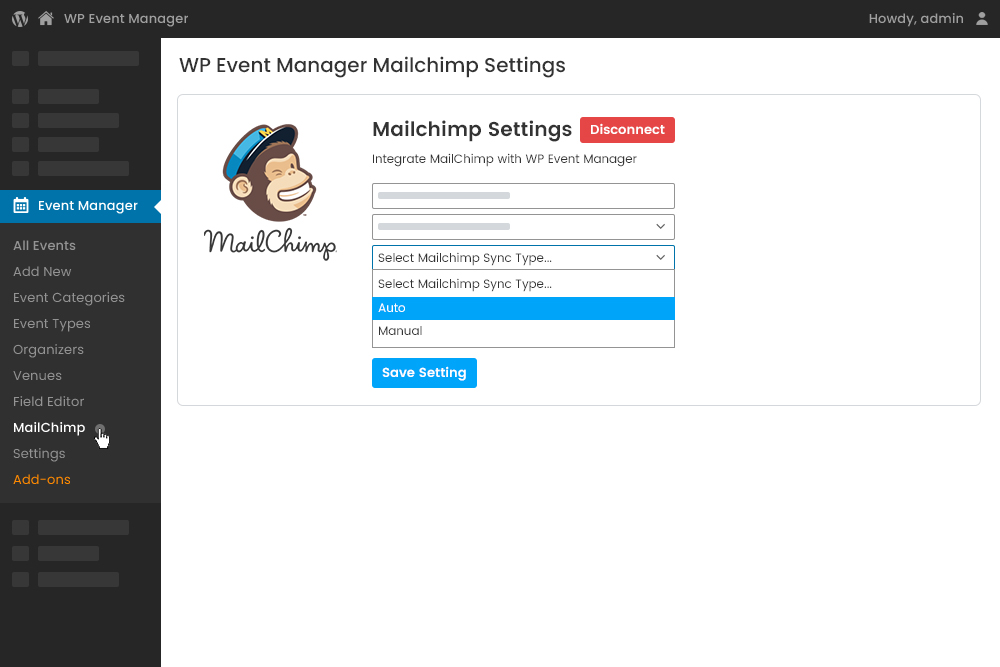 Automatic attendee information Syncing at Admin Panel
Mailchimp by WP Event Manager can automatically send registration data to your existing databases in real-time. The alternative is exporting data as a CSV file on a regular basis and then importing it into all your Mailchimp systems to move your data elsewhere. So we save you time and hassle.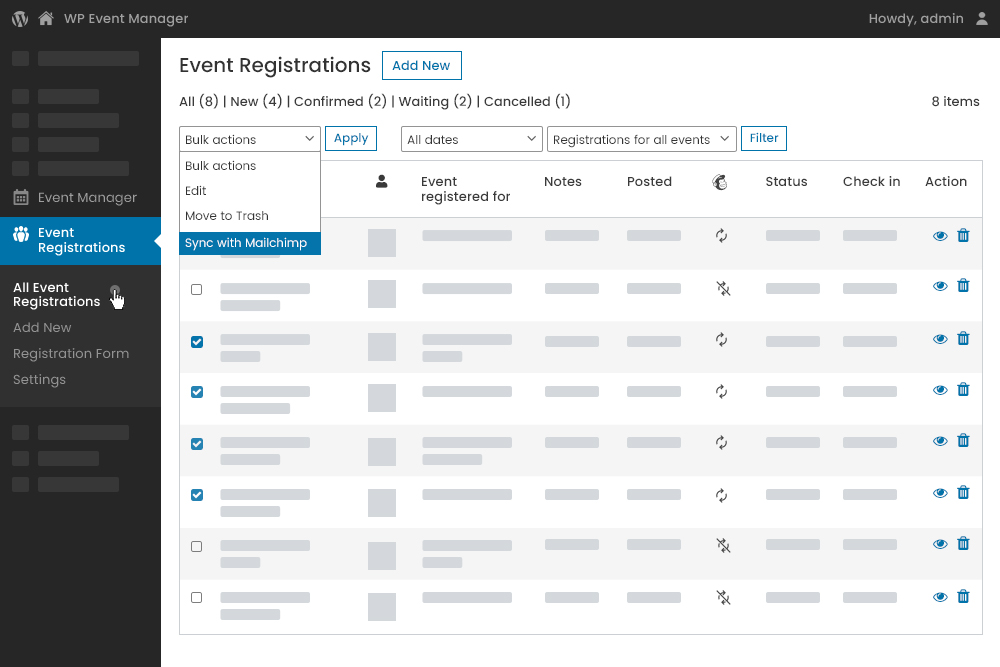 Manual attendee information Syncing at Admin Panel
The Plugin not only allows to sync the data automatically for the events but also allows bulk syncing manually where the data can be event-specific.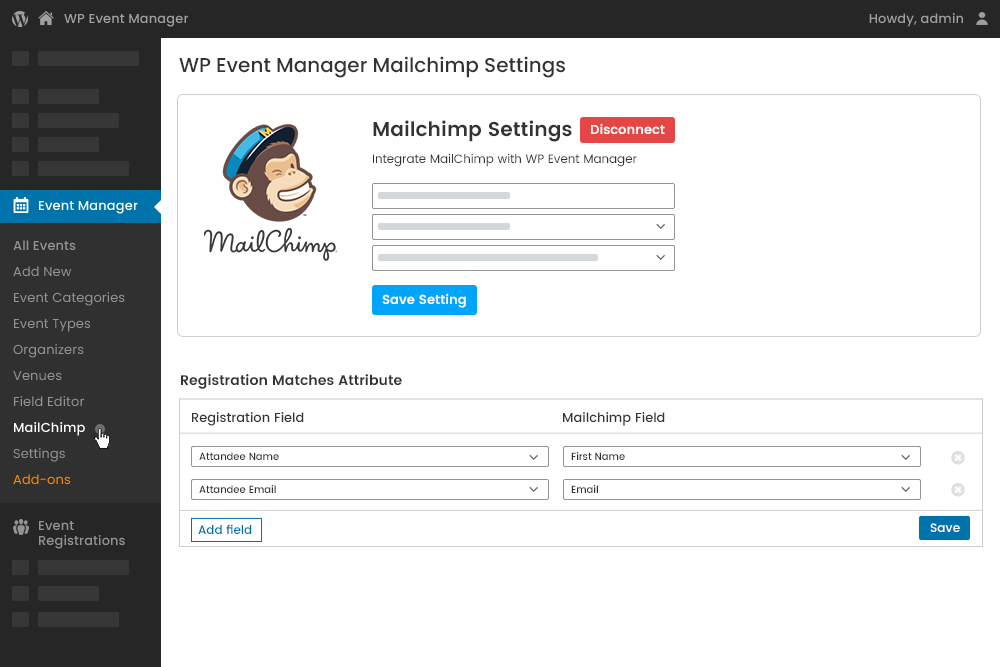 An Option to select what data to be synced.
Data sync will add all the information that you select in the Field mapping tables while setting us the plugin and update your attendee information in your Mailchimp audience section with the same information.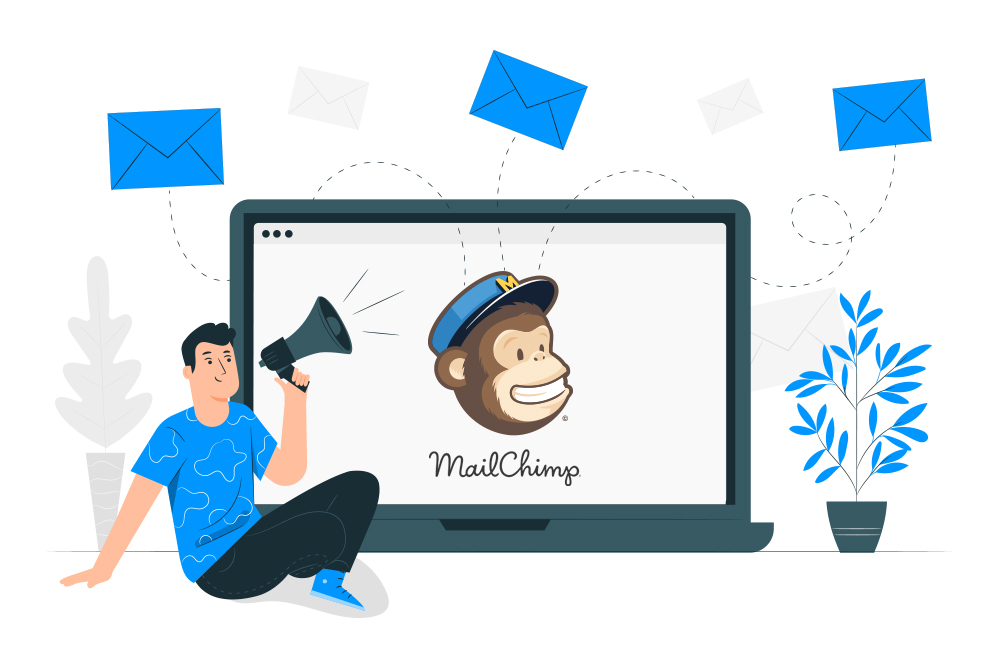 Create Campaigns and Send email newsletters from Your Mailchimp Platform.
To start working with Wp event manager Mailchimp, all you need to do is enter your Mailchimp API key and select which subscribers list to add your attendees to. It will then start sending over attendee data in near real-time, depending upon your set settings. Subscribers will be assigned to "groups" made in advance in Mailchimp. This allows you to send broadcast emails on the Mailchimp platform only to users added to your group from Your Mailchimp account.
How Do Licence Keys Work?
After purchasing a plugin you'll receive a key via email (or you can visit your account page). This key can be activated from your WordPress dashboard's plugin page. It can also be deactivated and reactivated on other sites when required.
Will I Receive Updates For Purchased Plugins?
Yes, an automatic updater is included inside each plugin/add-on. This requires your licence key to function and you'll receive updates for as long as your licence key is valid.
Do You Offer Support For Purchased Plugins If I Need Help?
Yep. If you have a valid licence you'll be able to use our support systems for help.
Do I Need To Renew My License?
If you want to continue support and update then you need to renew license.Licenses are valid for one year from the date of purchase. When your license expires you'll be able to renew your key via your account page.
Am I Allowed To Use The Add-ons On Many Sites?
After purchasing a plugin you'll receive a key via email (or you can visit your account page). This key can be activated from your WordPress dashboard's plugin page. It can also be deactivated and reactivated on other sites when required.
View All FAQs »