WP Event Manager can be a great and even a better alternative to The Event Calendar. It has got the right features, a huge number of addons and a sincere support. So what else do you need to streamline your event management process? Let's find out in this article in what ways WP Event Manager is better thanThe Events Calendar.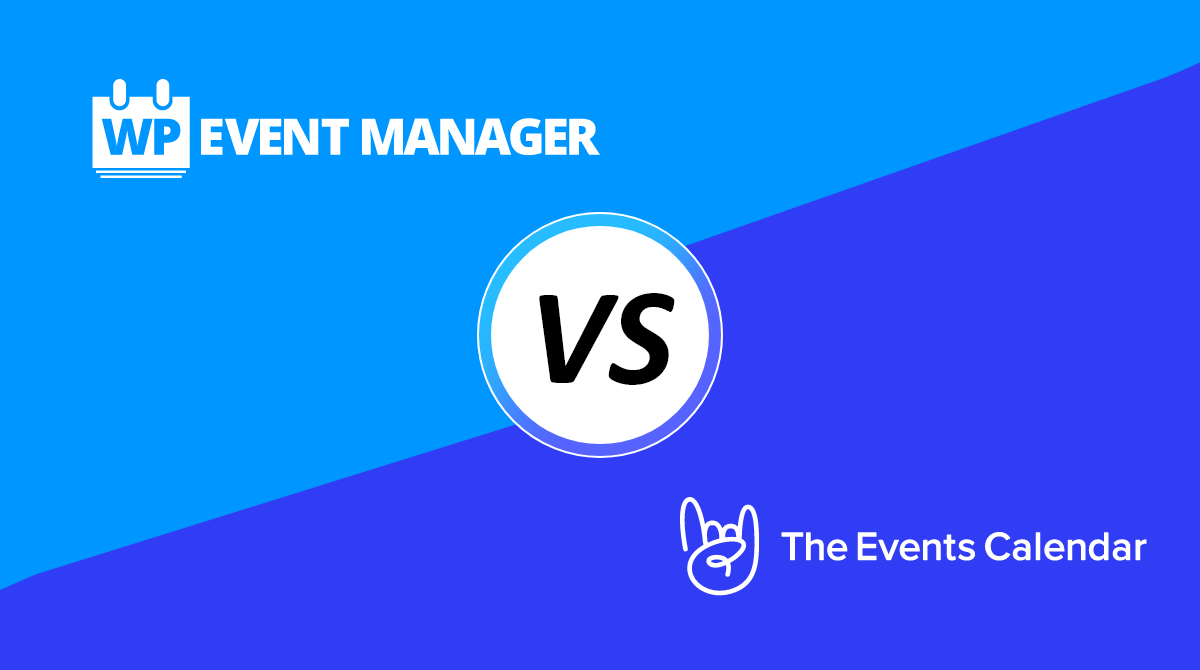 Gone are those days when having a WordPress events website was enough to accelerate the growth of your events business. Today an events website needs to be functionally rich and armed with an endless number of features to impress users. The inception of WordPress event management plugins have made it easy for event organizers to empower their websites with more and more features and functionalities.
If you are into the business of events or event management then you must be well aware of popular WordPress event management plugins. We have made a competitive study between WP Event Manager and The Events Calendar which are counted among the most popular and desired WordPress event management plugins in the market today and our main objective behind writing this article is to let you know why WP Event Manager is better than The Events Calendar and why you should switch from The Events Calendar to WP Event Manager with proven facts and figures. We promise you to make an unbiased review about both of them.
Before revealing the strengths and weaknesses of these two plugins, let us tell you about when do you or event managers need such plugins?
You will need such plugins to:
Create event listings on your website. 

Build a calendar for your events to display dates and details.

Sell tickets for your events systematically.

Efficiently manage the frontend and back end of your website. 

Add filters and customization on your website. 

Manage registration and attendee record management and other event management-related requirements.
1. Introduction to The Events Calendar and WP Event Manager
The Events Calendar is one of the most leading WordPress plugins available in the market today that helps you build events calendar, ticketing and offers other event management tools to streamline the process. However, it has often been criticized due to its complex usage, weak support and other plugin related issues.
On the other hand, being one of the strongest The Events Calendar Competitor WP Event Manager beats the plugin in almost every aspect. It is a compact WordPress event management plugin that is used to create an attractive events website with mainly event listing, registration, ticket selling and many such facilities to amp up your overall event management experience. On top of that, it offers a fully-functional mobile application with exclusive features.

2. Comparison Based on Performance
The performance of a WordPress plugin is judged based on various areas like its loading time, responsiveness, space consumption, the ability to handle requests per second and more.
The coding structure of The Events Calendar plugin is complex and often makes it difficult for users to handle it correctly without assistance. Moreover, it also occupies more space on your device than the WP Event Manager plugin and also takes longer to load than its competitor. 
The developers in WP Event Managers have designed the plugin keeping the size of a website and its elements in mind which directly influence the performance and scalability of the plugin.
When it comes to performance and scalability, WP Event Manager wins the race due to its versatility and flexibility. It requires less codes than The Events Calendar. Besides this, It occupies almost four times less space compared to The Events Calendar and contains fewer files to operate.

3. Comparison Based on Plugin Features
It is an undeniable fact that both the plugins are enriched with powerful features to enhance users' event Management experience. However, WP Event Manager is a leader in this game of features as it not only offers more features than The Events Calendar but also offers major features for free which are otherwise paid in other plugins.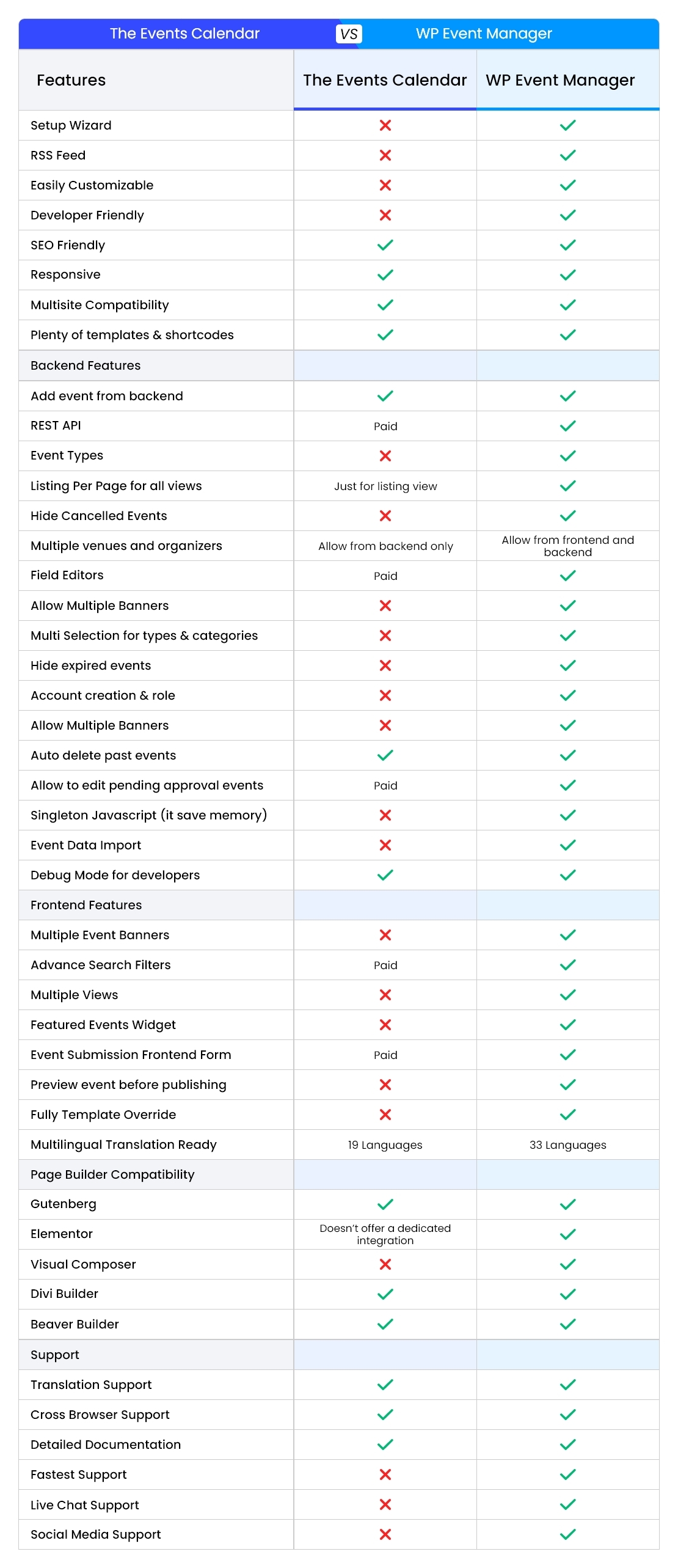 4. Comparison Based on Developer Friendliness
The Events Calendar and WP Event Manager both claim to be developer-friendly plugins. However, the users of the The Events Calendar plugin often complain about the daily and monthly view of the plugin.
On the other hand WP Event Manager's calendar views are well-projected, wisely-coded and released keeping global standards in mind. This certainly makes it more productive and convenient for users.
Secondly, both the plugins promise to offer high-quality displays and views. WP Event Manager provides you the facility to customize templates as per your preferences as it is known for its personalization and customization options.
However, if we talk about the The Events Calendar, the customization options and control features are limited with:
Partial template overrides. 

Complicated codes. 

Template tags, hooks and filters.

Careful documentation. 

A list of free extensions.

Improper folder structure.
In contrast, WP Event Manager offers superior control and a pool of tools for customization including:
Event submission forms.

Form field editors.

Upcoming event widgets.

Past event widgets.

Featured events widget.

Easy event classification.

Fully responsive.
5. Comparison Based on SEO Friendliness
WP Event Manager is designed in such a way that it helps your website secure a prominent position on Google search results so that your events website can easily be found in Google search results. It lets you add event tags and helps categorize events to make it easy for Google to understand.
Being an SEO friendly WordPress Plugin, WP Event Manager offers you the following benefits:
Boosts your brand credibility.

Increases and attracts organic traffic.

Makes your website more comfortable to navigate through for visitors.
6. Comparison Based on Woocommerce Support
The Events Calendar offers WooCommerce support with certain limitations. It has built its own ticketing system through WooCommerce which means the users do not have much freedom of customization without the help of The Events Calendar. However, when it comes to WP Event Manager, they sell their addons as WooCommerce products which makes it easy for users to make customizations directly without any help.
WP Event Manager is highly compatible with WooCommerce which offers users the facility to Sell Tickets and handle transactions through WooCommerce. Besides this, it also allows users to receive payments for paid listings. The biggest advantage of using WooCommerce is that it offers more than 100 payment options making it easy for users to receive payments smoothly.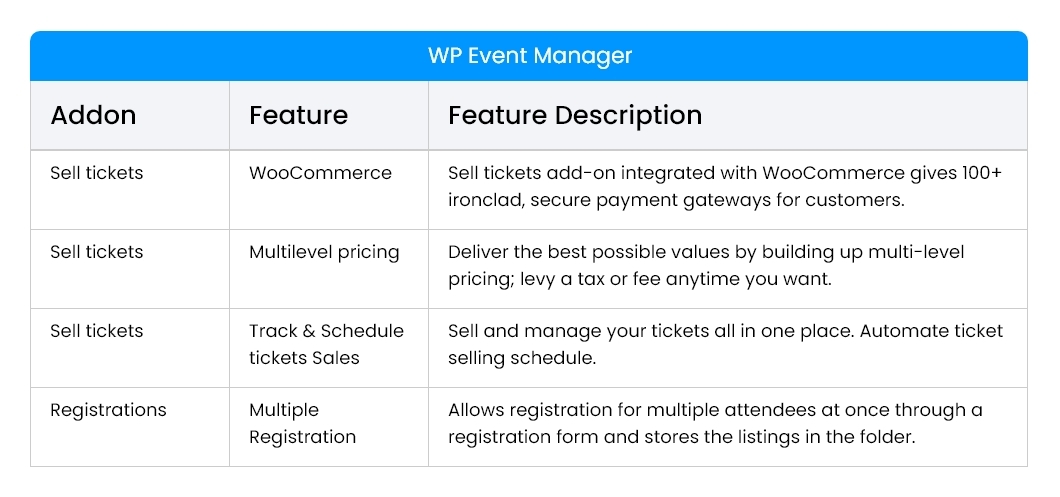 7. Comparison Based on The Addons Offered by The Plugins
The Events Calendar offers a limited number of addons whereas the WP Event Manager is way ahead of its competitors with 37 powerful, feature-packed addons: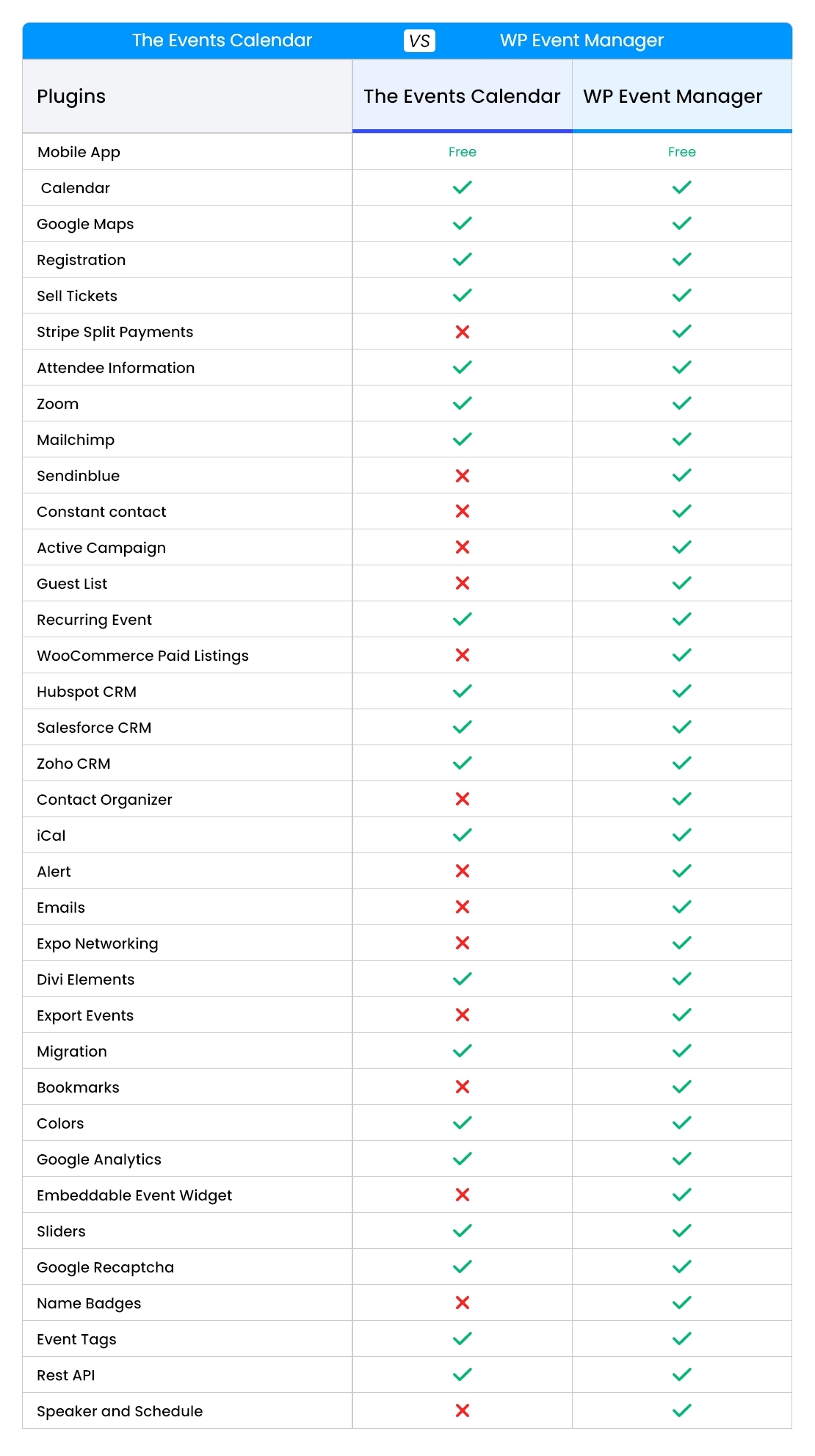 Free Migration:
It is easy to shift from The Events Calendar to WP Event Manager and that is too for free.
WP Event Manager offers a fast, reliable, and effective migration  solution through its migration plugin. With WP Event Manager, your event data is saved in CSV files that can be used to import events, venues and organizers.
The free migration plan from WP Event Manager exports the following:
Events lists. 

Registration data. 

Event Custom fields. 

Organizers details. 

Venue details.
All this data is transferred from another calendar to WP Event Manager or from WP Event Manager to others without any complicated process.
The Events Calendar also provides the facility to import and export event data between The Events Calendar and other sites. However, the process has some restrictions.
As mentioned by The Events Calendar, the process can only be successful if the destination site does not carry any data yet. On the other hand, to retain the relationship between various posts their Ids need to be the same.
Mobile Application:
The mobile application offered by WP Event Manager brings entire control of your events into your mobile devices. It is way ahead of its competitors including The Events Calendar when it comes to its Mobile App features.
Users can do a lot more than just managing attendee check-ins and check-outs through QR code scanning that include team management, attendee management, complete event reporting, full event views, attendee detail management and more.
Here is a glimpse of the things you can do with WP Event Manager mobile application.
Manage Event Teams Assigned to Each Event.

Manage Attendee Details, attendance and more.

Fast track event analysis, reporting and get a complete view.

Fetch attendee details and event details right from the dashboard.

Collect all the ticket details within the app – no more manual correspondence. 

Send Mailing Reminders directly from the app. 

Manage attendee arrival and check-in details right from the app.
Besides this, it also allows users to promote their events through their mobile application.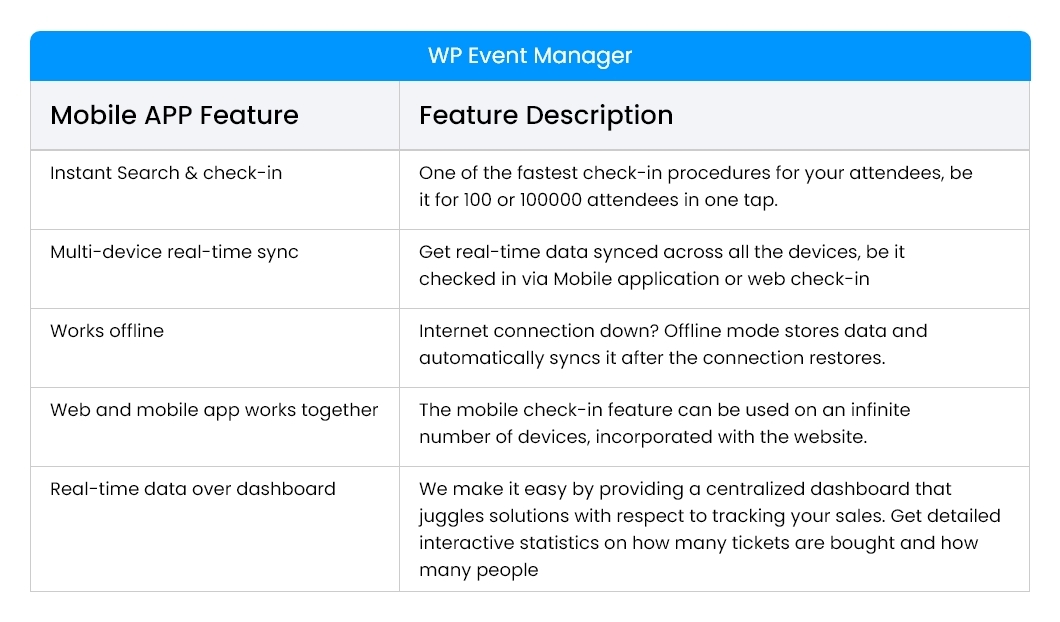 The events calendar plugin also offers a mobile application named Event Tickets plus that allows users to manage their attendee check in and checkouts through QR code scanning.
Here it is to be mentioned that unlike the WP Event Manager mobile app this app is paid. WP Event Manager offers the mobile app for free and also impresses users with more features than The Events Calendar.
8. Comparison Based on Support
WP Event Manager offers support mainly in two ways. It has a knowledge section on its official website to guide users on the usage of their plugins. It is specially for the free plugin users. The knowledge base section contains all the necessary information that is enough to help users understand the mechanism. For the paid users, they have an entire support team to solve all their queries related to the usage of the plugin.


The Events Calendar also offers a knowledge base section along with a support team. However their support quality has often been questioned by their customers due to the complicated process.
The Event Calendar Client Review:
A terrible plugin. Bloats your sites, endless addons that don't work well together and constant error upon error after updating it. Layouts breaking etc, I could go on. Just avoid.
Overall I thought this plugin would meet my needs. I purchased the premium version. Then i realized it doesn't display prices correctly and when i submit a ticket the response is. Thanks this is logged but we dont have a timeframe to implement this fix. it displays prices as €170,00 and i need to replace the comma with a decimal point. Standard stuff in woocomerce.
I really find this poor for a premium plugin. You would think a premium plugin would offer fixes in a reasonable time frame.
9. Comparison Based on Pricing structure
While making a competitive study between  The Events Calendar and WP Event Manager, we found that both the plugins offer their add-ons in bundles but yes the difference becomes prominent when it comes to affordability. The Events Calendar's add-on bundles start from $219 onwards whereas the WP Event Manager has kept its starting price as low as $99.
WP Event Manager has introduced four new add-on bundles named:
Additional information:
The Events Calendar plugin lets users showcase events that can be booked. For instance you can use the plugin if you want to sell your events through your website. However, the plugin does have some limitations.
It does not offer certain basic customization options like shortcode generator.

Most customization relies on advanced web development knowledge which is often difficult for average users.
That is why this plugin is certainly not recommended for average users who are just going to step into their online events business.
Apart from this, users can not even send automatic reminder emails to attendees with The Events Calendar. This is an important feature for every event organizer to make sure that no one misses any event.
Unlike The Events Calendar, WP Event Manager offers all the facilities for easy customization that can be used by anyone starting from a beginner to an experienced online event manager. The plugin is worth every penny.
10. Take a step forward and switch to WP Event Manager effortlessly
Migrating from other plugins to WP Event Manager is easy as we offer a free migration plugin to ensure that users can make a switch to WP Event Manager without much effort. We do believe our plugin would impress you and help you achieve your business objectives.
WP Event Manager has around 20k+ active installs and received 92% 5 star ratings from their customers in a short period of time. If you're looking for the best event management plugin  along with countless other features, WP Event Manager is the right pick for you.
The biggest advantage of adding WP Event Manager plugin to your website is that it offers a lot of major event management facilities for free that are usually included in the paid addon lists by other popular plugins.