Features You'll Love
Turn your attendees into leads or contacts and scale your email marketing process.
Extendable Workflow
Automate the synchronization of multiple registrations with just a simple click.
Create Database Automatically
Customer database for users can be created and maintained automatically.
Customizable Field
Utilize customizable contact fields to collect additional event-related information.
Boost Engagement and conversion
Understand your customers through better communication
Zoho CRM Settings
The Zoho CRM settings contribute to the process of sending reminder mails, marketing cancellation etc.
Zoho Products
WPEM offers a list of Zoho products which is not limited to only the Zoho CRM.
Storing Contact Info
Choose either the Zoho CRM's default fields or custom contact field to store contact details.
Syncing Technique
You can choose to sync data both automatically and manually.
Syncing Attendee Data
Use Zoho CRM as a central communication platform with attendees.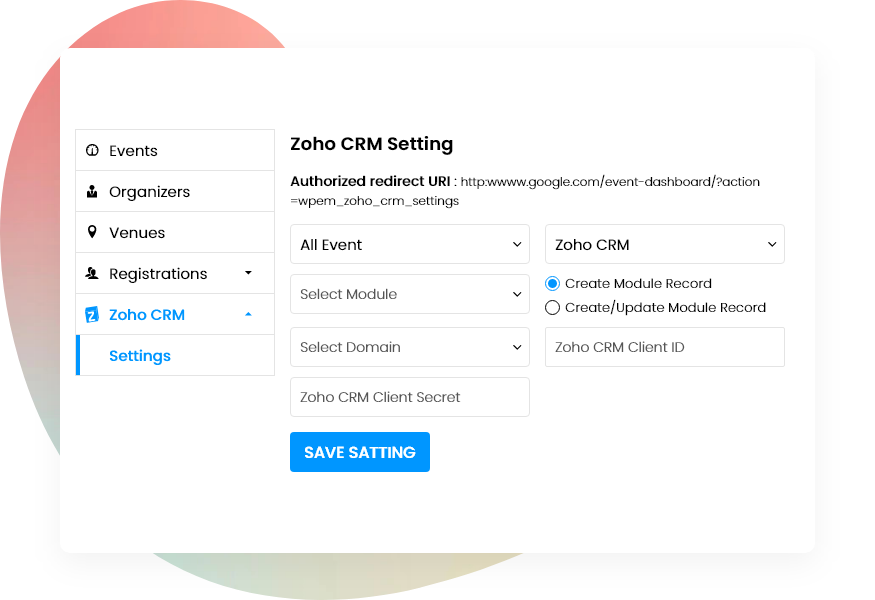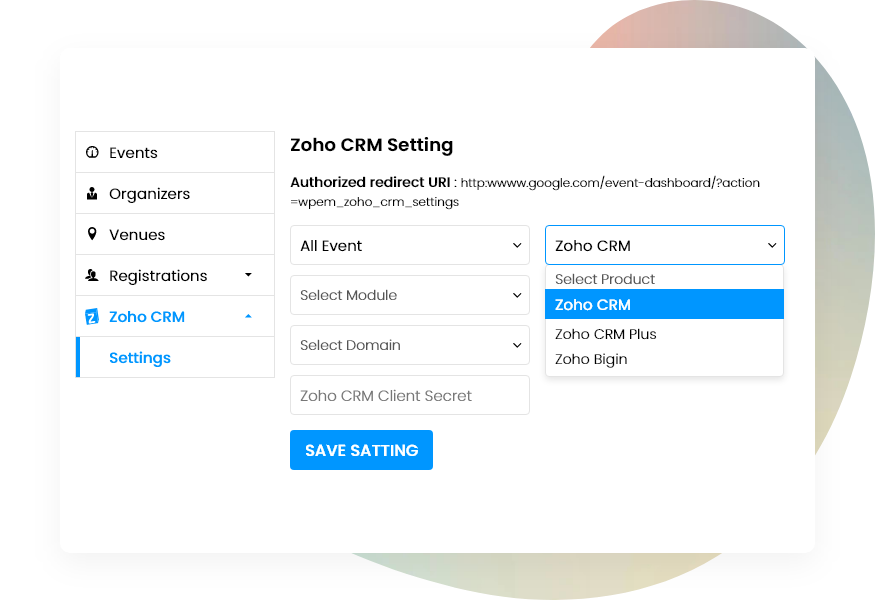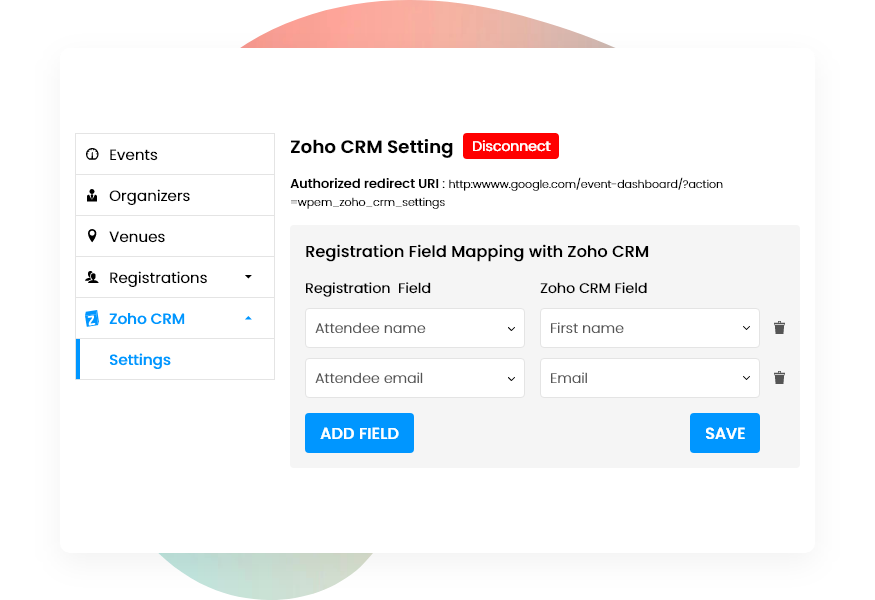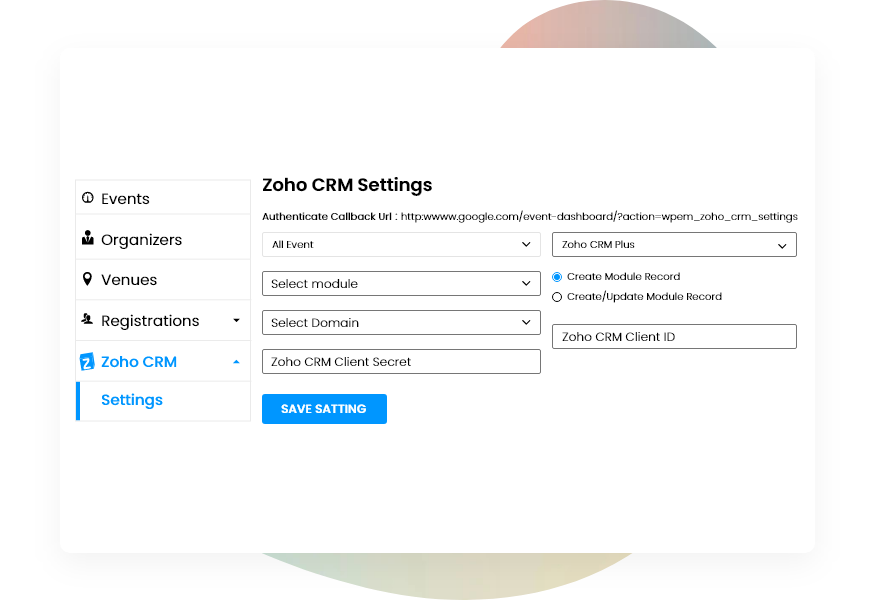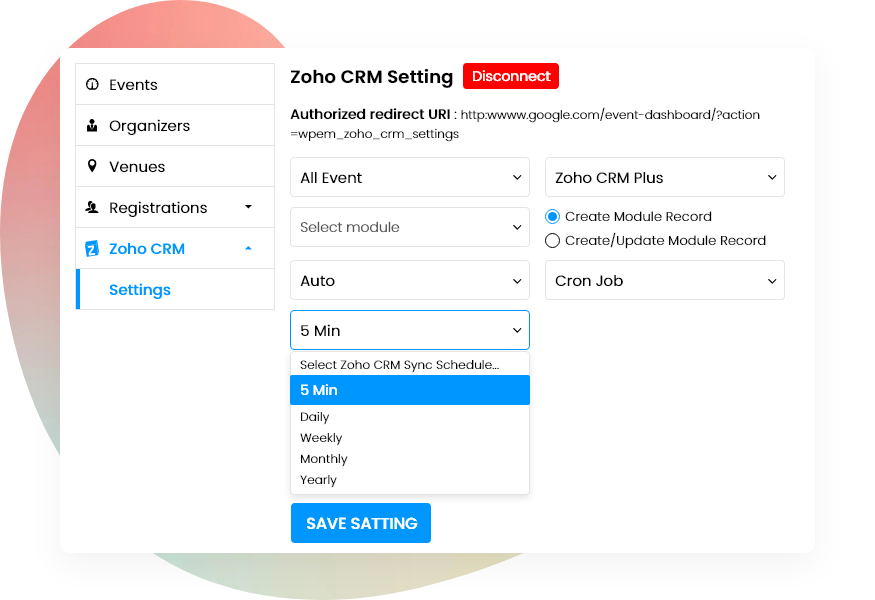 Empowering Every Event
Make your events stand out with us.
Academics & Classes
NGO & Charities
Community
Virtual & Online Events
Concerts & Parties
Manage students' registration data with Zoho CRM for your academic events and classes.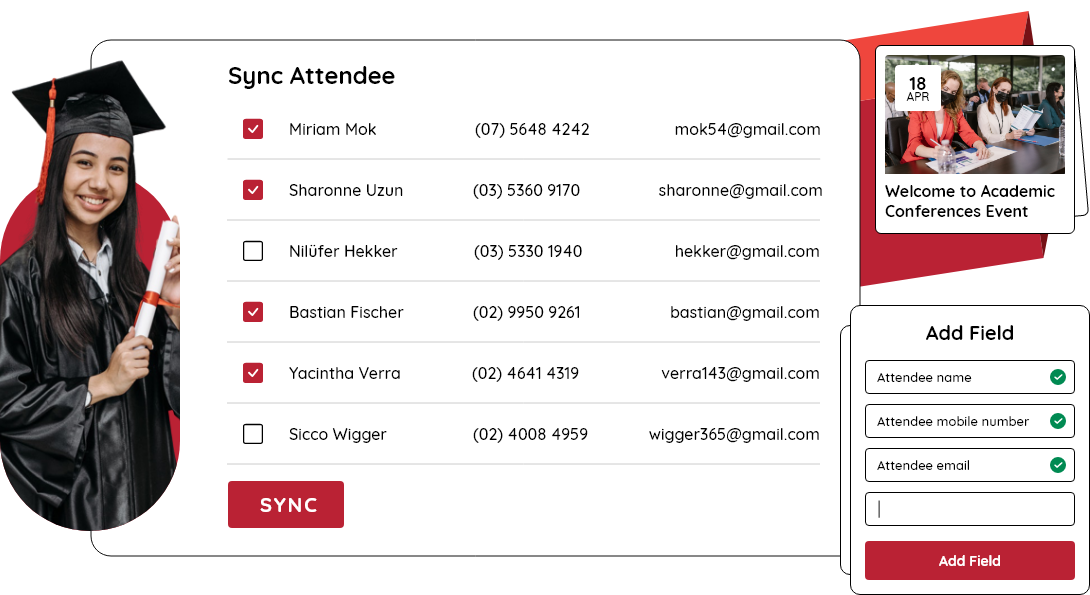 Handle donors, members and partners' data in your charity events with Zoho CRM.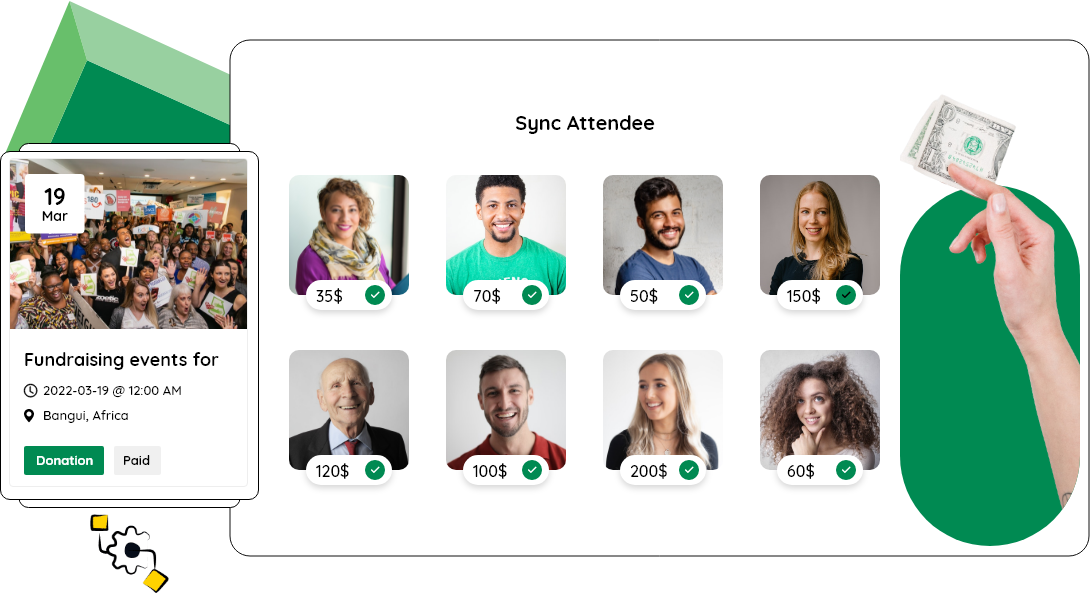 Keep in touch with your attendees in community events with automatic email messages with Zoho CRM.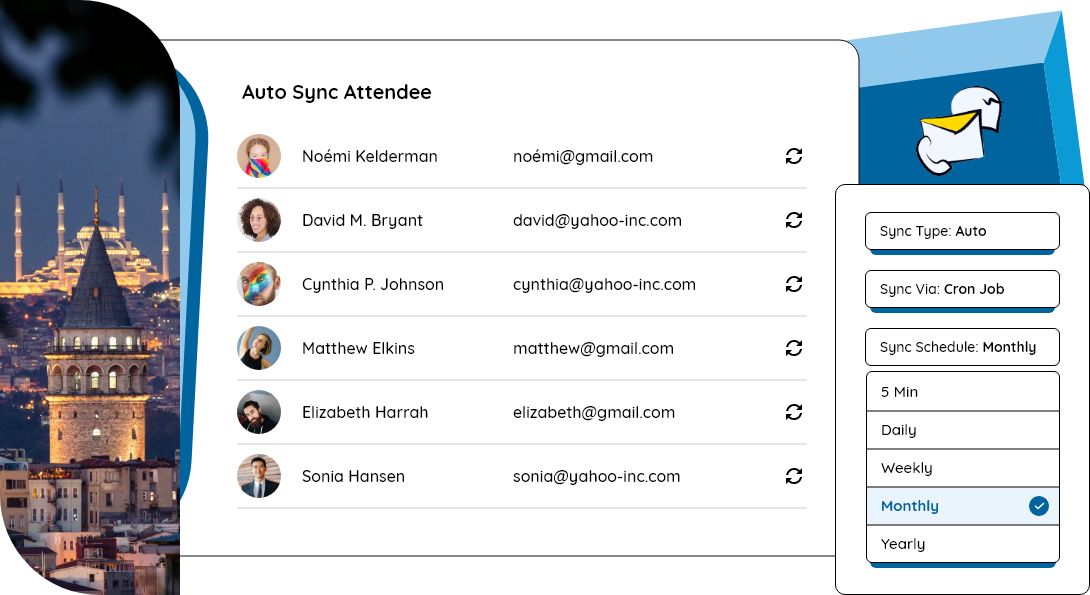 Save time in handling your virtual events by automating the process of data management and marketing.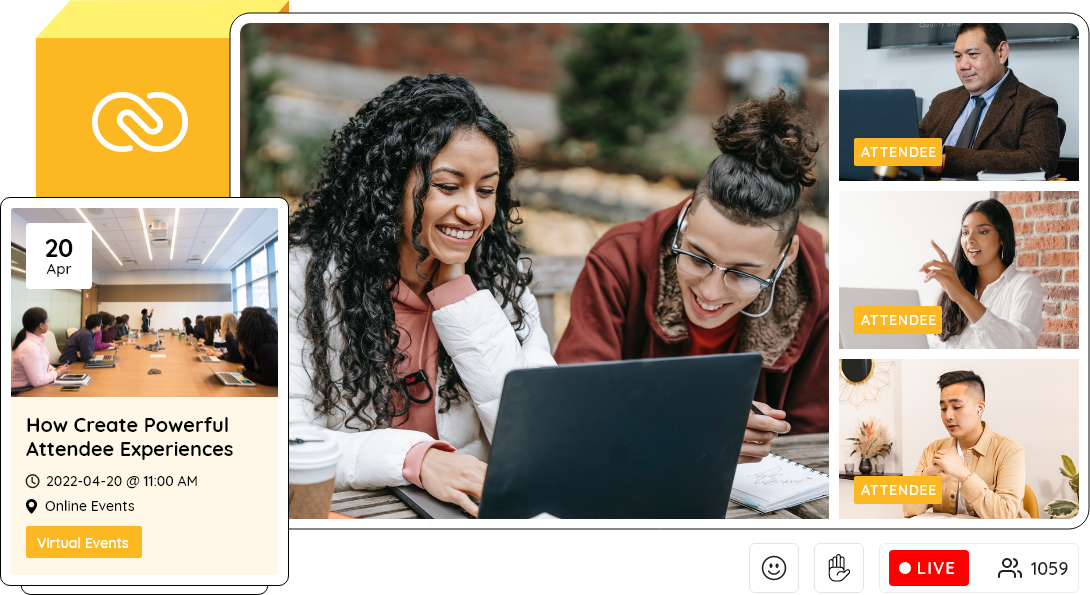 Stay in touch with your party attendees and manage registration data with Zoho CRM.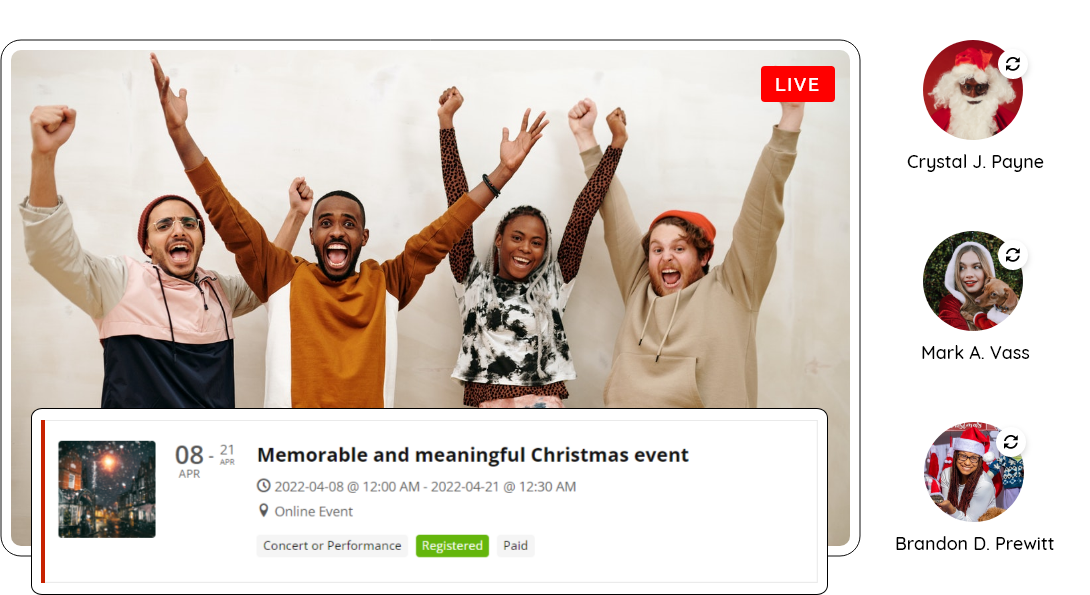 Zoho CRM Features
Convert your attendees into leads with personalized email marketing strategy.

Convenient Integration process
Integrating Zoho CRM with your Wordpress Website is super smooth using the API keys.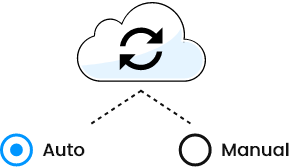 Automated & Manual Sync
Go for either automatic data synchronization process or the manual one.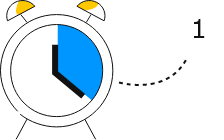 Follow Up Reminders
Use the synchronized data to send follow up reminders to your attendees for your upcoming events.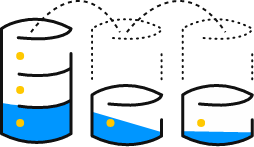 Database Management
Categorize bulk user data into lists and follow their activities on your website.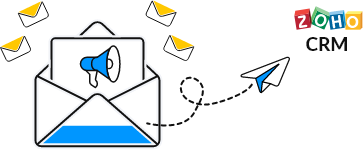 Run Personalized Email Campaigns
Create a great bond with your registered users with regular and automated personalized email updates.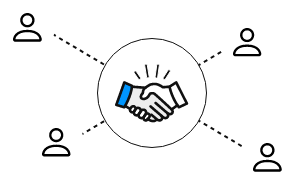 Better Customer Care
Be always available for your clients through chats, messages and emails with Zoho CRM.
Interface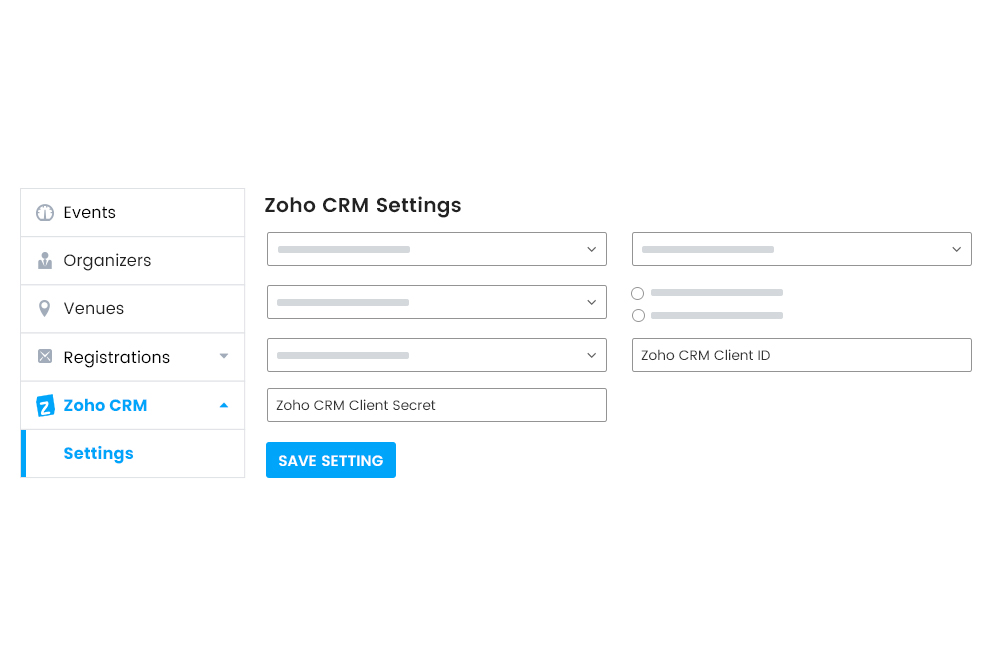 Zoho CRM settings at frontend
Integration of API key and Account Url from the campaign account will start transmitting the data of the attendee in almost real-time, based on the settings. This facilitates the process of following up on emails, marketing campaigns, event cancellations, etc.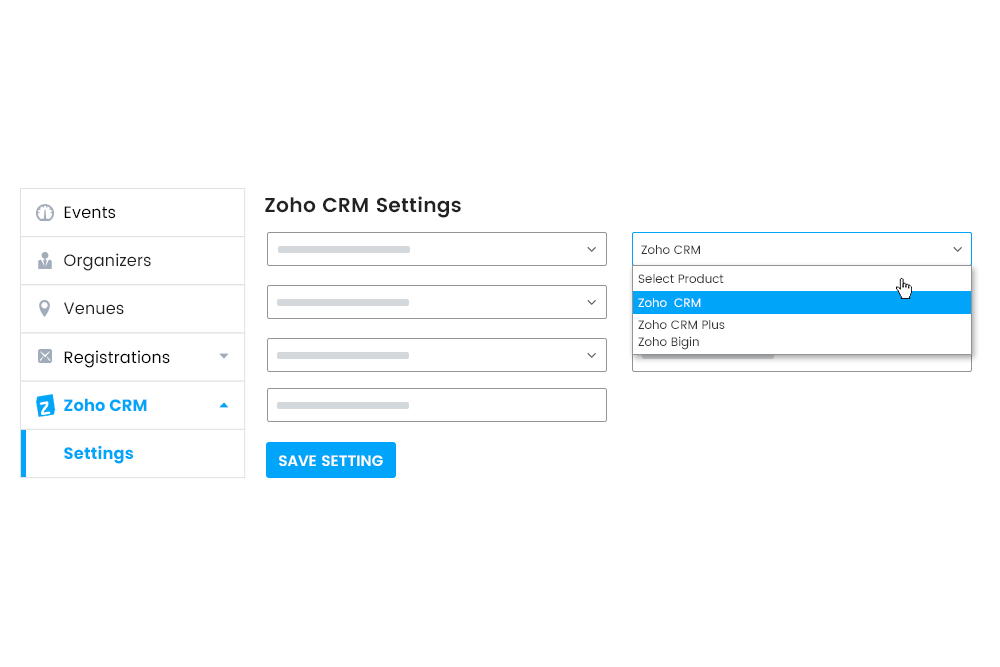 Choose from any Zoho Product
CRM integration offered by WPem allows the users to choose from the available Zoho products and is not only limited to Zoho CRM. One can easily and effortlessly connect to their Zoho CRM, Zoho CRM Plus, or Begin accounts with the event management website at WordPress.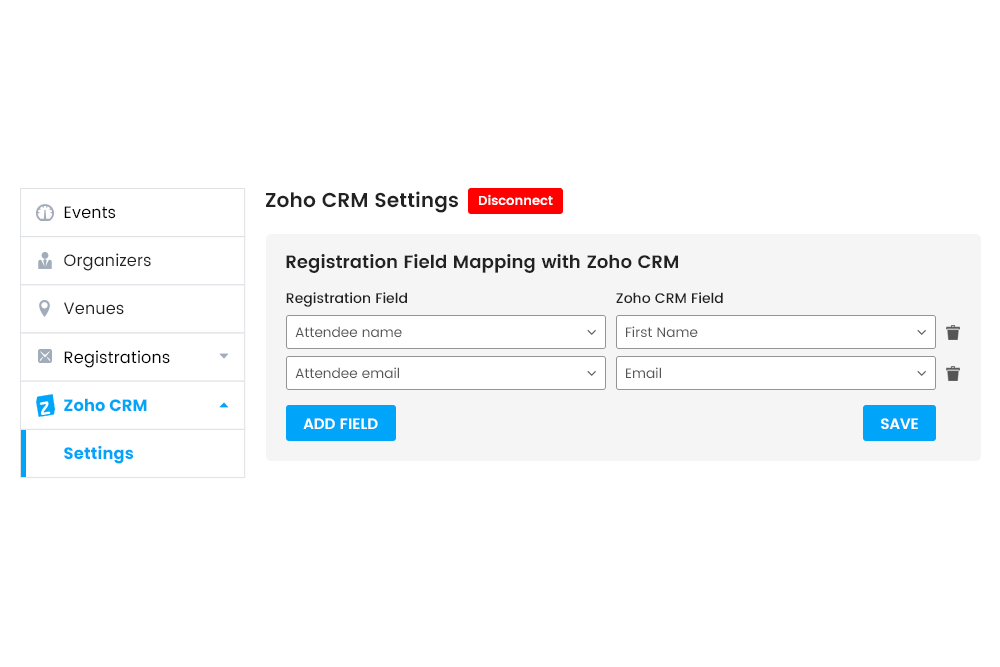 Field Mapping of the Registration form Fields at Frontend
Zoho CRM comes with pre-defined fields for storing contact information. Custom contact fields can also be used to collect additional event-related information. All custom contact fields that have been created will appear on the Settings page, where the Organizer must map these custom registration fields to Zoho CRM fields in order to get perfect data at synchronization time.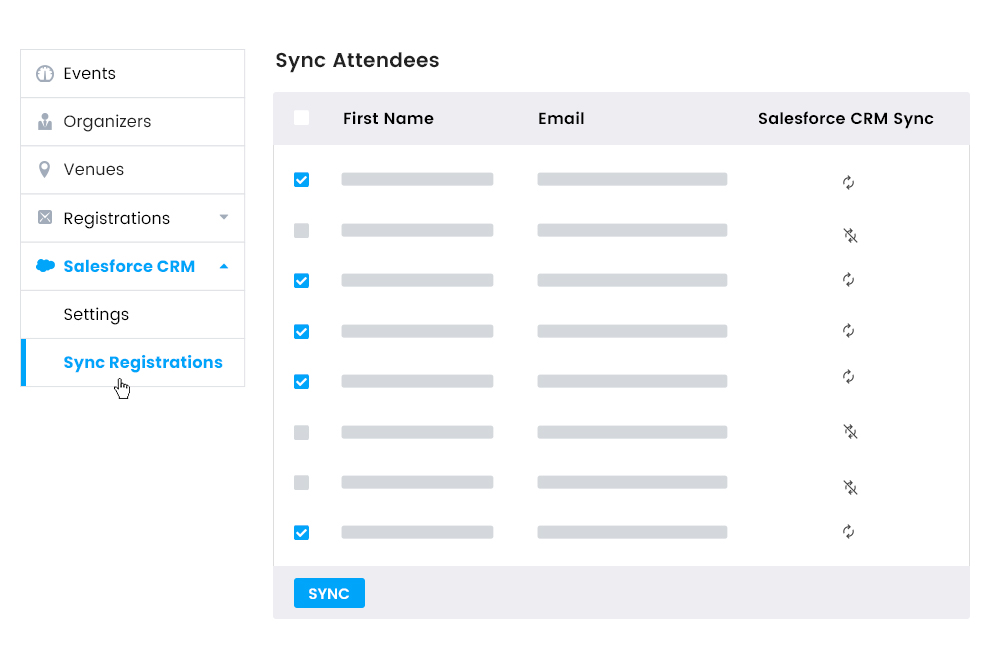 Manual syncing at frontend
Organizers can choose which participants must be synchronized to their event list using manual synchronization. They can choose from a list of specific attendees or a list of all those who have registered on the website.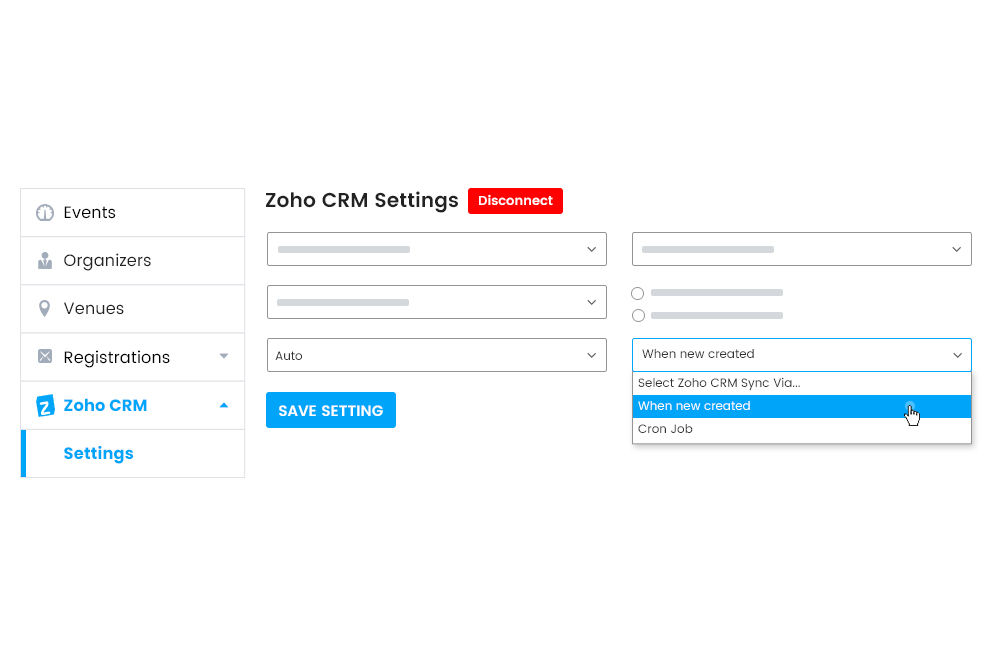 Automatic syncing at frontend
A Zoho CRM synchronized with wp event management is a highly potent technique of connecting your marketing initiatives with the resulting registered participants. You can bring automation to another level when combined with a sophisticated email marketing platform.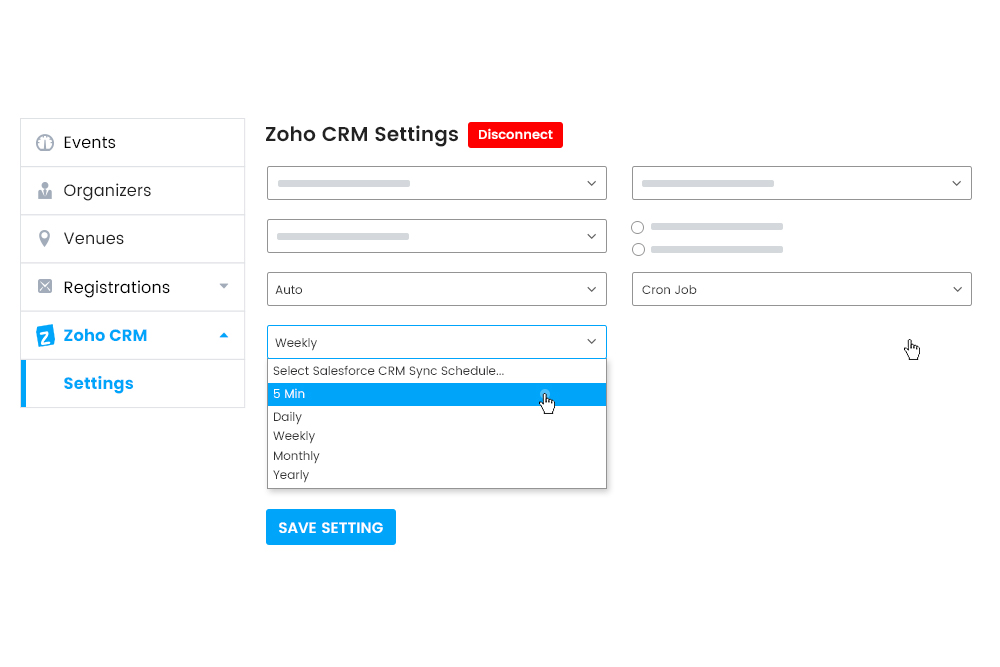 Syncing of attendee information at the time of registration
Your event attendees might be able to bring in your next sale. Use CRM as a central communication platform with attendees, sending out syncs to your CRM contacts or leads and connecting with new leads you've picked up at the event.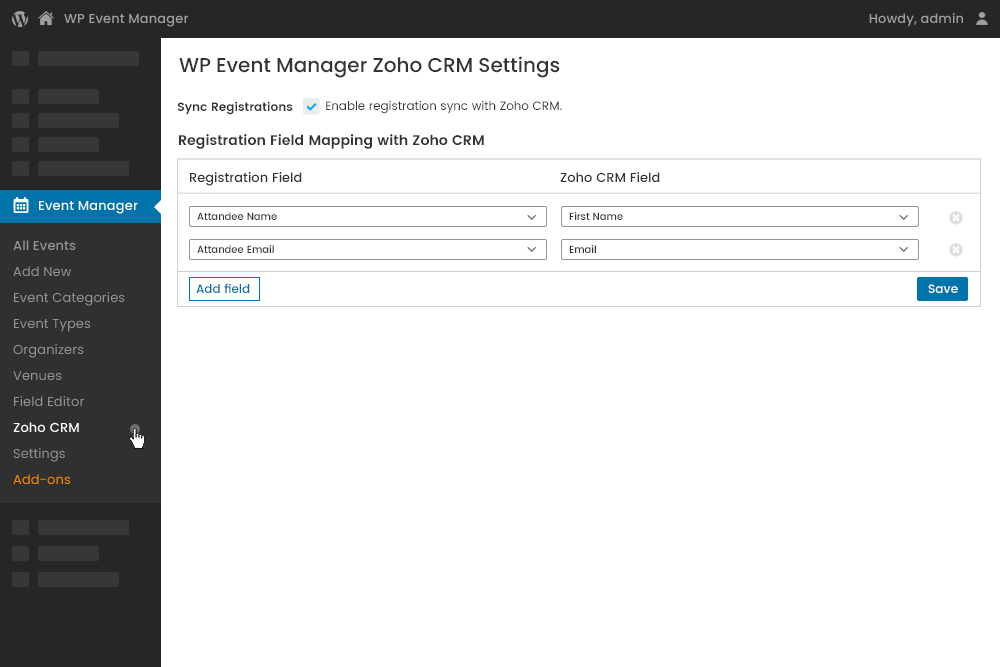 Field Mapping of the Registration form Fields at Admin Panel
We wanted to do something more than just synchronizing names and email addresses because that is quite common. As a result, we created our simple field mapping tool to synchronize all of the fields on your contact, target, and lead modules. This will allow Zoho CRM audiences to target only the people they want to see in their campaigns.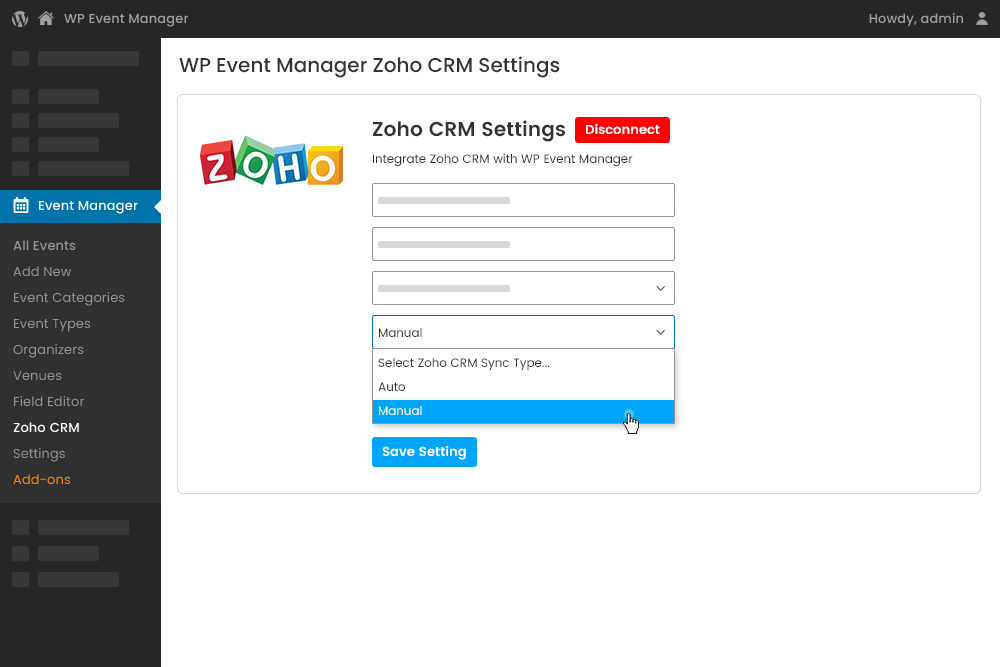 Manual attendee information Syncing at Admin Panel
The plugin was created with extra-careful organizers in mind. Rather than relying solely on automated synchronization, the plugin also provides for human data syncing, with organizers able to sync individual users with a single click.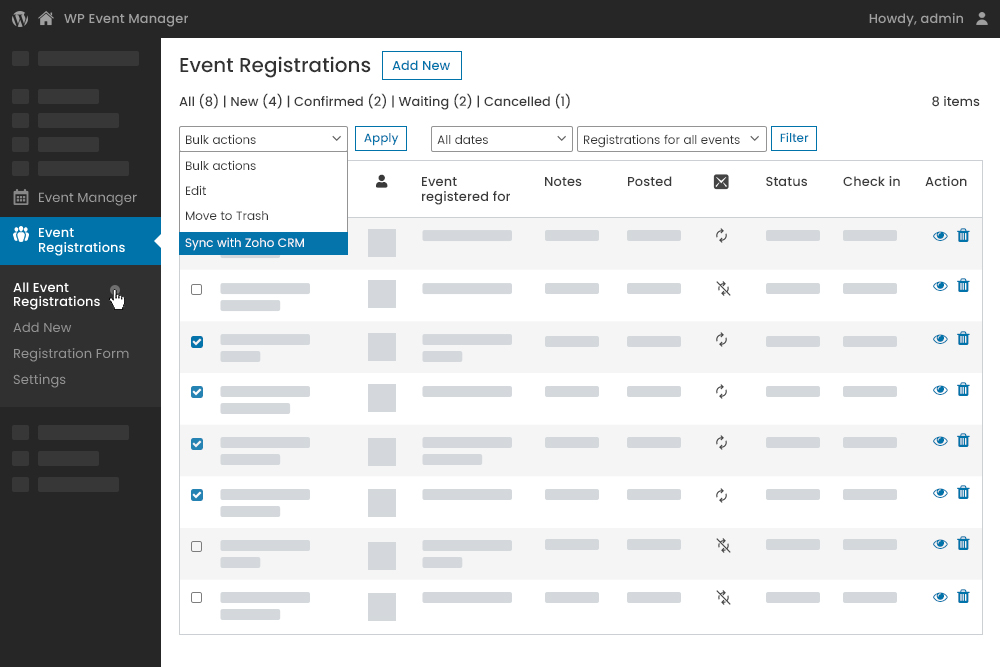 Improved synchronization brings you closer to your registered users
The registered users can be selected all at once in the admin interface, or separately and synchronized using the bulk settings. This capability allows you, as an administrator, to give users a more personalized experience by synchronizing attendance based on their needs.
Automatic attendee information Syncing at Admin Panel
The plugin will sync registration data in real-time from your existing databases to Zoho CRM. This data may be utilized to send personalized follow-up emails to contacts, as well as to trigger automation in customers and visitors, making Email Marketing even more convenient and personalized.