Features You'll Love
Stay connected to your attendees by sending them regular event updates.
Email Alerts
Send automatic email alerts to users based on keywords, location, category and other parameters.
Alert Search
Let your users create alerts based on their search.
Alert scheduling
Allow users to decide when they prefer to receive alerts, daily, weekly or fortnightly.
Keeping attendees up-to-date
The best way to track events.
Custom Event Alerts
Let users set their alerts as per their preferred keywords, locations and categories, tags and event types.
Filter-based Alerts
Allow users to set their Alert preferences through alert Filters.
Event Alerts Dashboard
Visitors can easily manage their Alerts with the help of a smart Dashboard.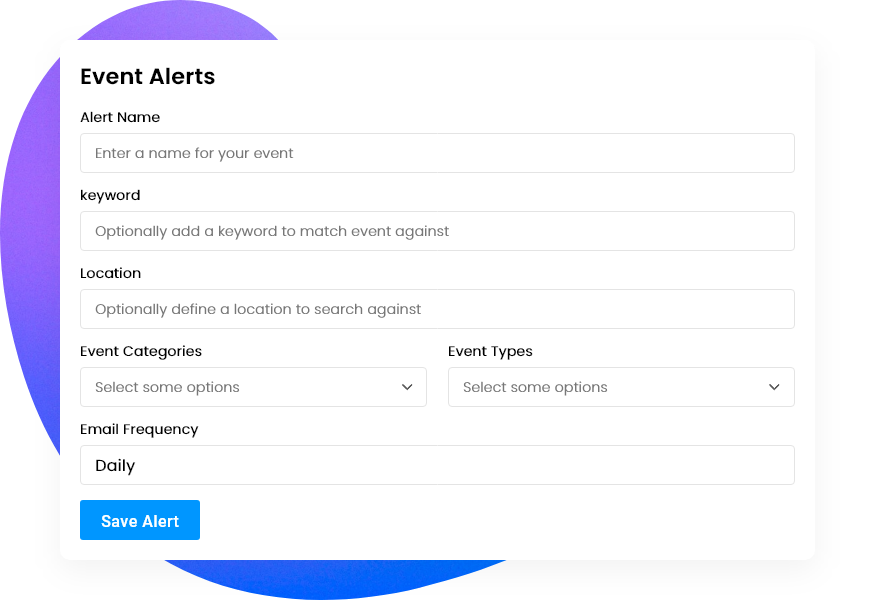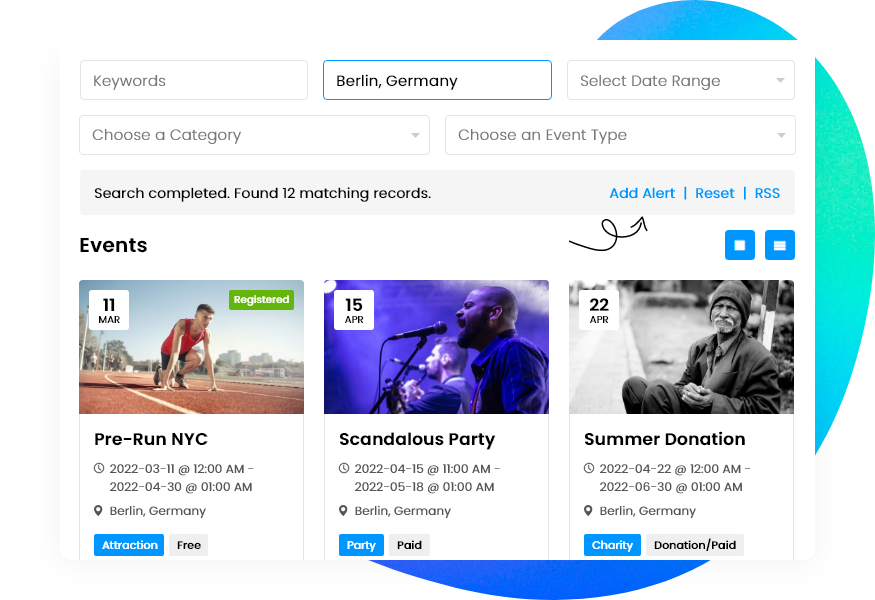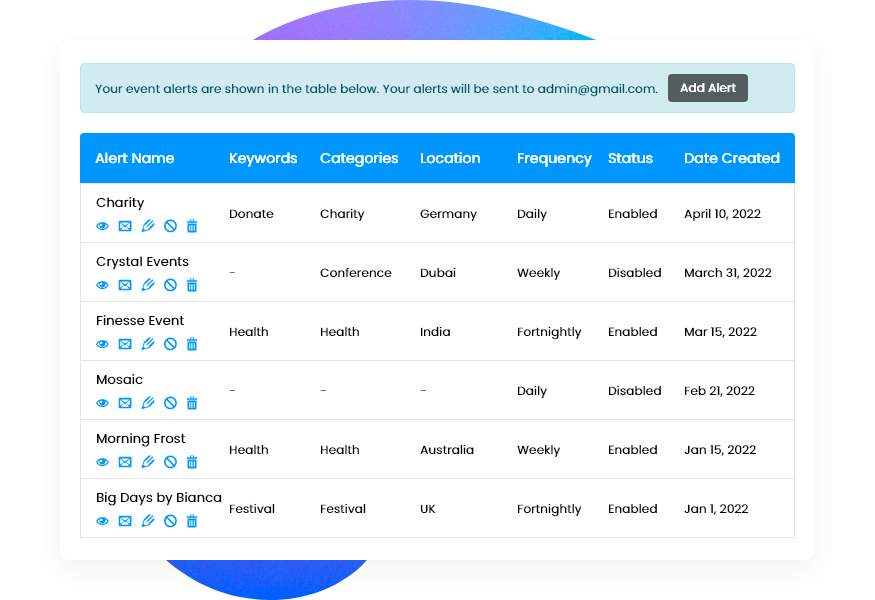 Empowering Every Event
Make your events stand out with us.
Academics & Classes
NGO & Charities
Community
Virtual & Online Events
Concerts & Parties
Stay in touch with the interested students to update them about your upcoming Academic events and training sessions.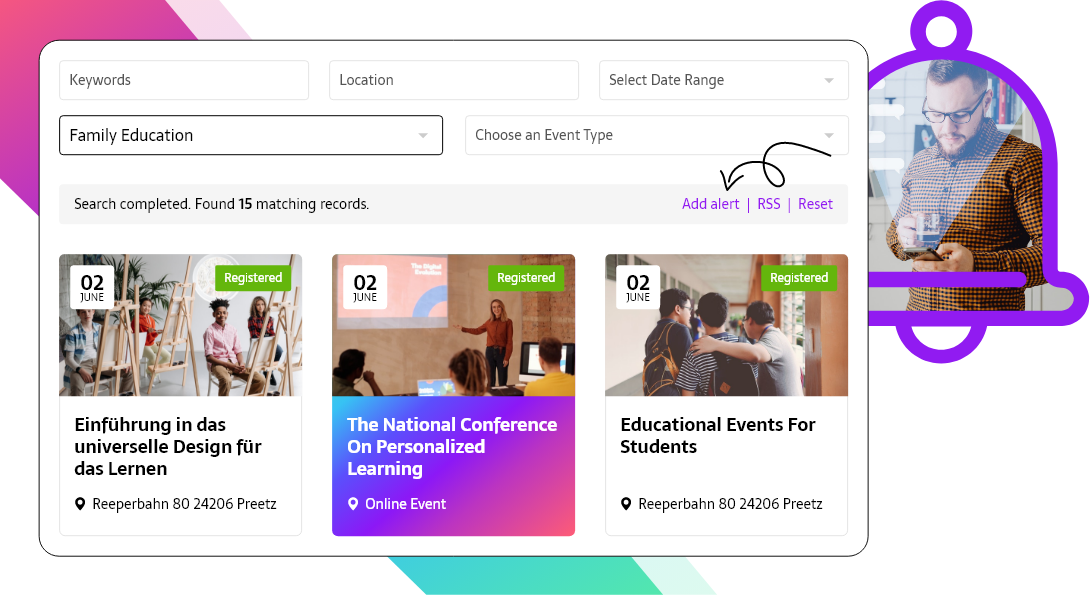 Keep your attendees up-to-date about your charity events with the Alerts Plugin.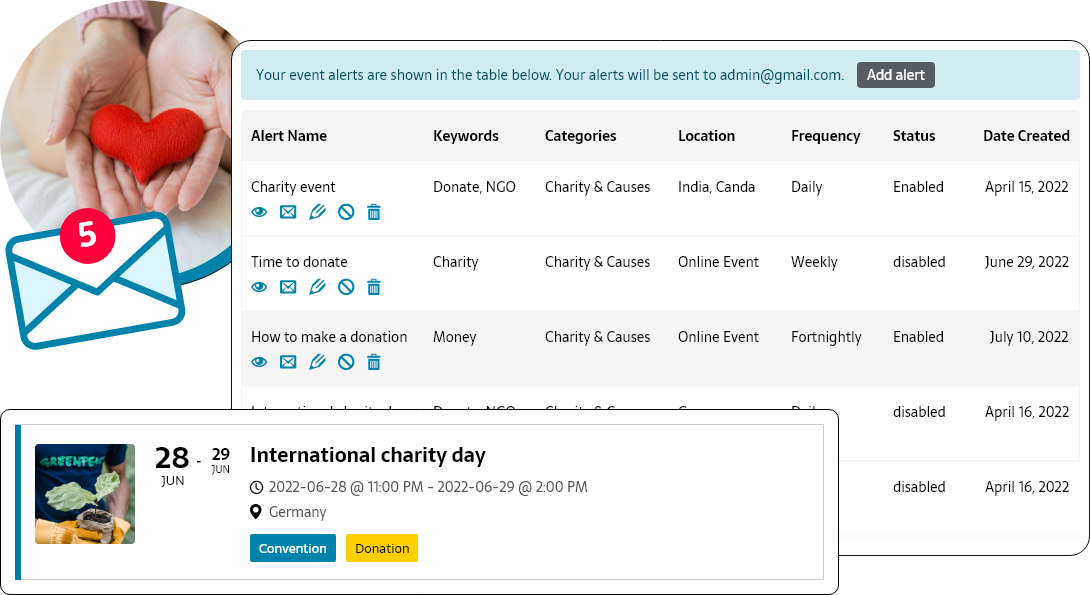 Impress your community events attendees by offering them the freedom to choose if they want to receive your event Alerts.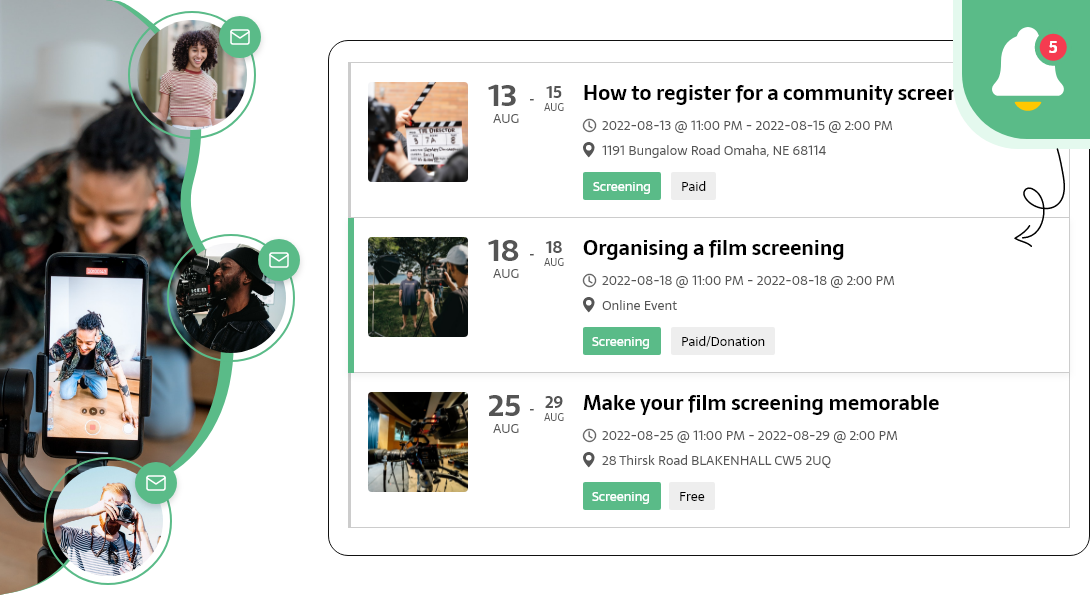 Create a great connection with your event attendees with personalized event updates through Alert messages.
Help your party attendees get what they need by offering alert messages based on their search.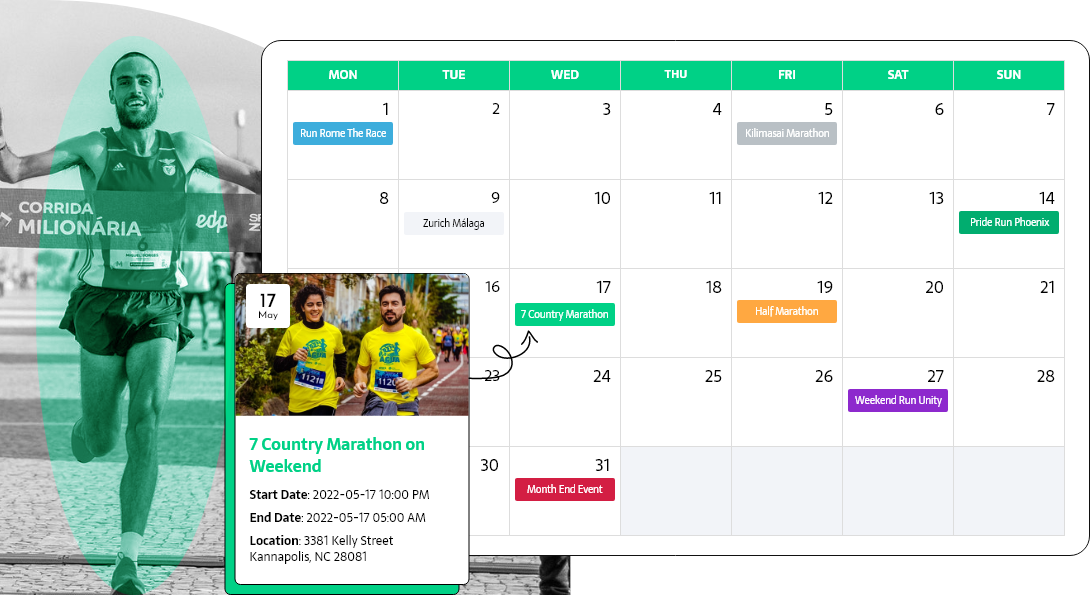 Alerts Features
Send event Alerts only if your attendees are interested to receive them.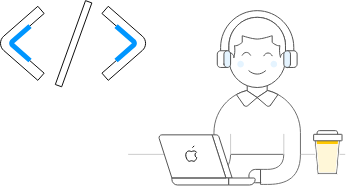 Developer friendly
Developers can easily customize the Alerts plugin.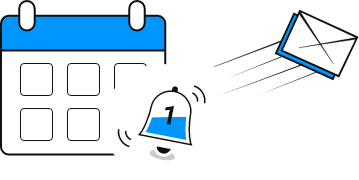 Boost Brand Awareness
Stay constantly in touch with your attendees by reminding them about your events with alerts and boost your brand awareness by highlighting your brand.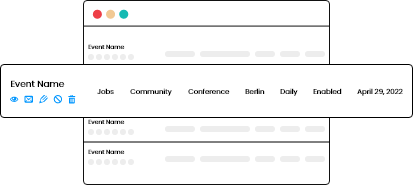 Dashboard For Visitors
Offer your visitors a smart dashboard to manage their alerts.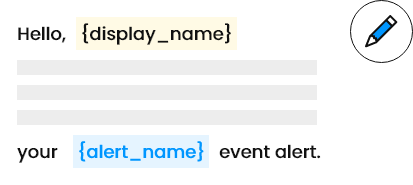 Personalized Alert Message
Modify and personalize the content of your alert messages that you are sending to your guests.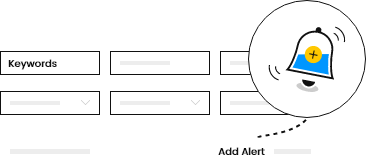 Alert Filters
Allow users to set alerts based on their preferences using alert filters on the event page.
Interface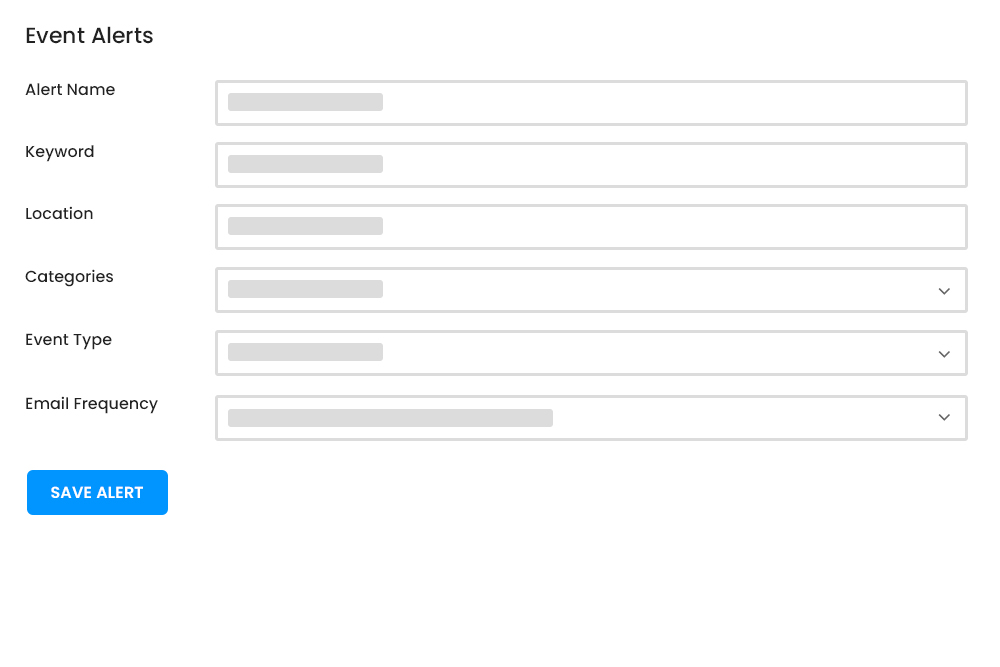 Create Custom Event Alerts
Personalization is a powerful feature you can offer to your users. No matter how likable your brand/business is, unwanted emails are shown a "thank you for coming" note as soon as they hit the inbox. By choosing to set alerts that are highly relevant to them, users are intentionally accepting your brand into their mailbox and minds. Thus the event alerts an add-on is a powerful tool for branding as well. The add-on provides a form for users making setting alerts, a cakewalk. First registered users name their alerts as per their desire. Next, users will begin to set their preferred keywords, locations and categories, frequency, tags and event types to receive the right event alerts. And voila! They are only one email away from engaging in a flawless email receiving experience forever.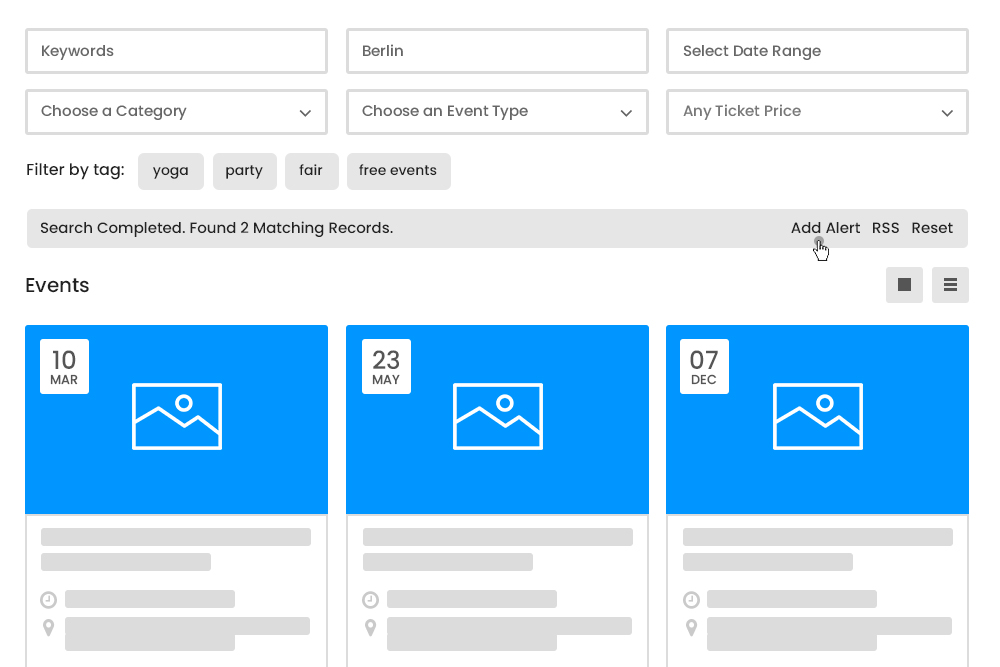 Create Event Alerts Based On Filters
For users to seamlessly add their alert preferences from the events page, an "add alerts" is given on the events page itself. The add-on allows users to set alerts based on filters from the events page. They can choose any filter like event type, category and only get the alerts for the ones they want to. If the user is logged in, they can immediately save their alerts using the add alerts button. However, you wouldn't want to take advantage of their generous nature. Users are thrilled to bits when they receive alerts in a timely fashion. The add-on equips users to set a frequency with which they will receive event alerts.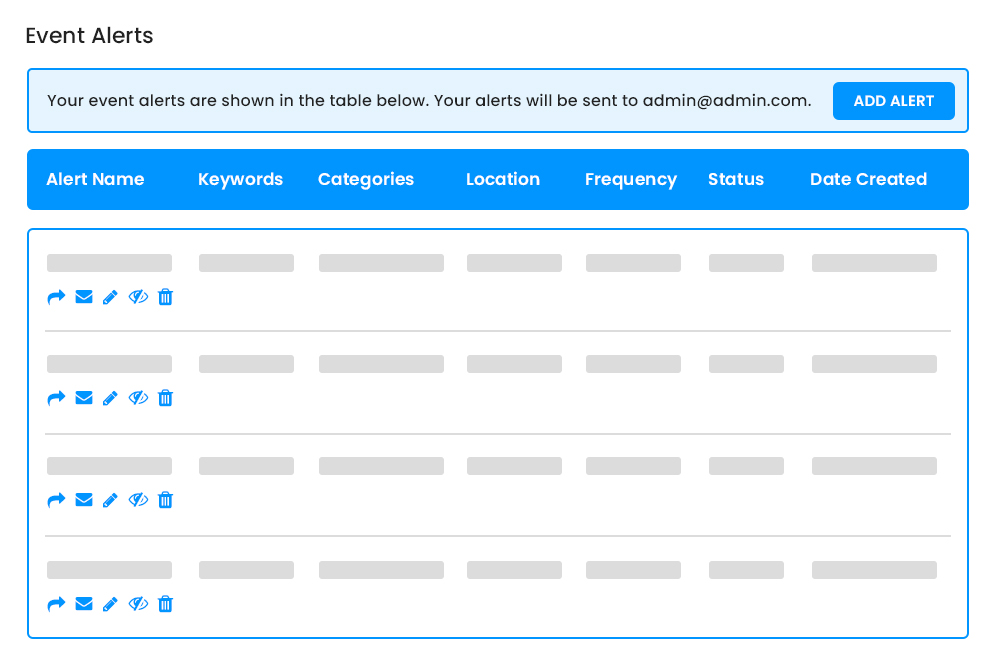 Event Alert Dashboard
Why should only event managers have all the fun and benefits of a smart dashboard? The add-on creates a dashboard for website visitors to manage their alerts. The dashboard displays every event alert the visitor has ever created along with the respective keywords, categories, tags, location, frequency, status and date created. Adding to a neat dashboard are more customizations that await your visitors. Users can request an email of all the events related to their alerts or view events straight from the dashboard. They can also delete the alert if they want to.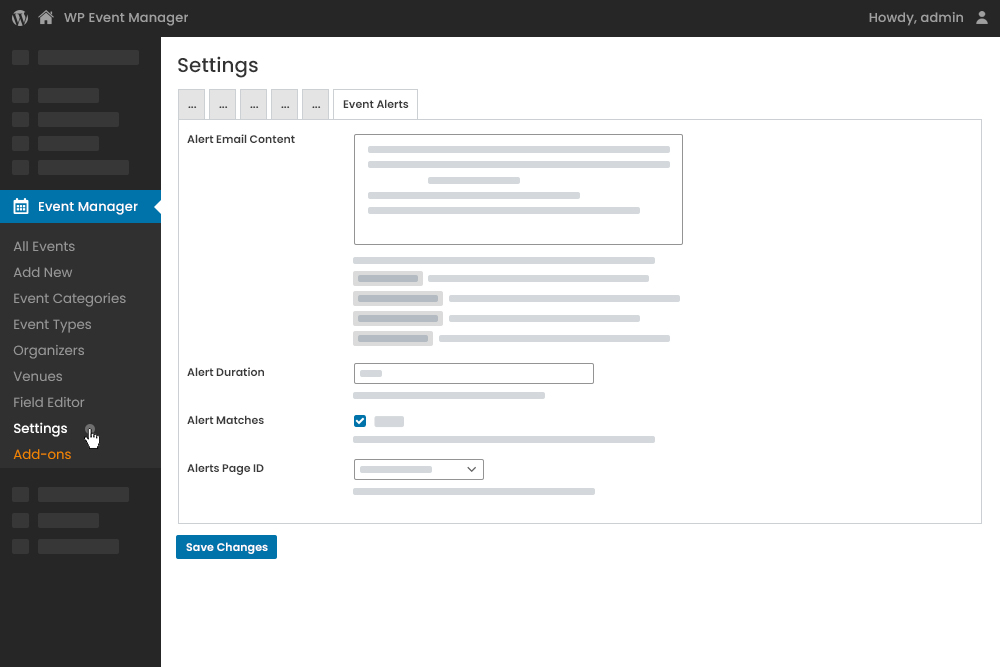 Alert Settings at Admin Panel
The add-on doesn't leave the backend powerless. It complements the opulent, feature-rich backend by adding a panel to manage event alerts for you. You can amplify your personalization efforts to the word by modifying the content of the email that contains the event alerts. Along with modifying content- its format, duration, and when the mail needs to be sent.