Features You'll Love
Incredibly simple to use, intuitive and fast event check in app. Learn how to use it in seconds.
Smooth check-in facility
Whether you have 100 or 100000 attendees to grace your event, give each of them a trouble-free mobile check in facility.
Real-time data syncing
Get a real-time attendee data syncing experience with our Mobile App addon.
Works offline
Don't worry if your internet connection betrays you as the mobile app addon stores your important data and syncs it immediately after the connection is restored.
Redefining event management through Mobile app
Now you can handle your attendees easily and monitor the number of check-in and check-outs in your events with an advanced mobile app
Display event listings
Get an event listing platform where you can showcase the list of all events you have created using our plugin.
Detailed dashboard
Get a comprehensive dashboard containing the details of your event visitors, organizers and venues.
Dark and light mode
Enhance the user experience by letting your users choose their preferred Mobile app display mode between light and dark.
Multi-device synchronization
Enjoy real time user data synching on all devices and easily track your attendee list on your preferred device.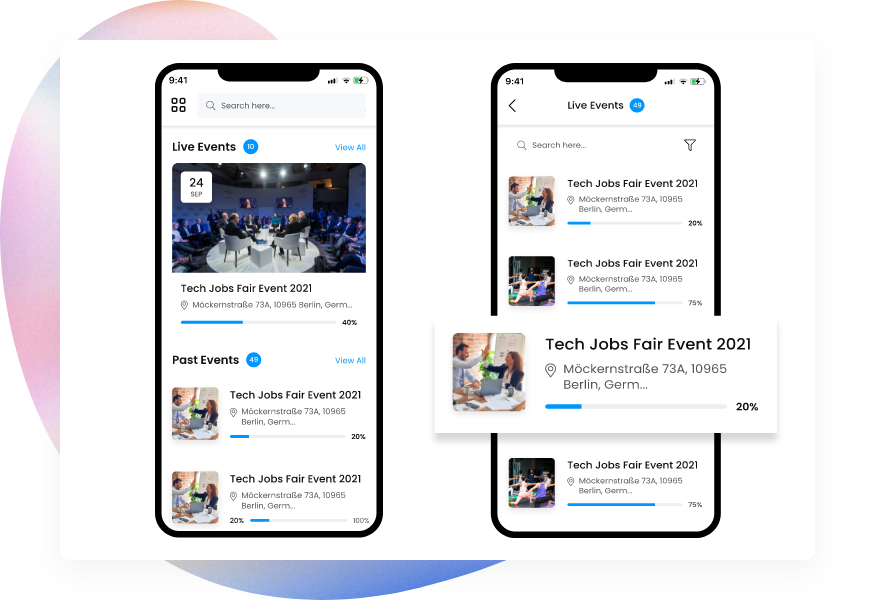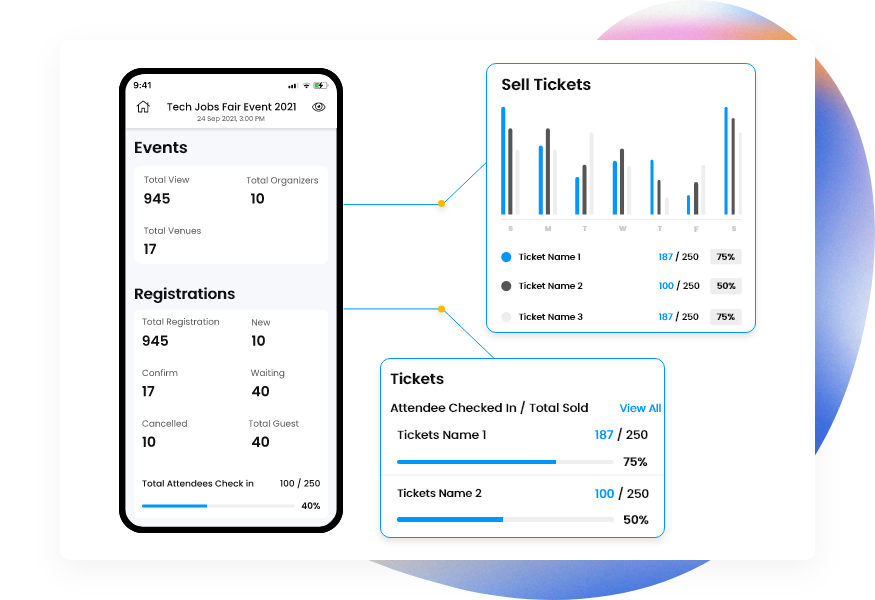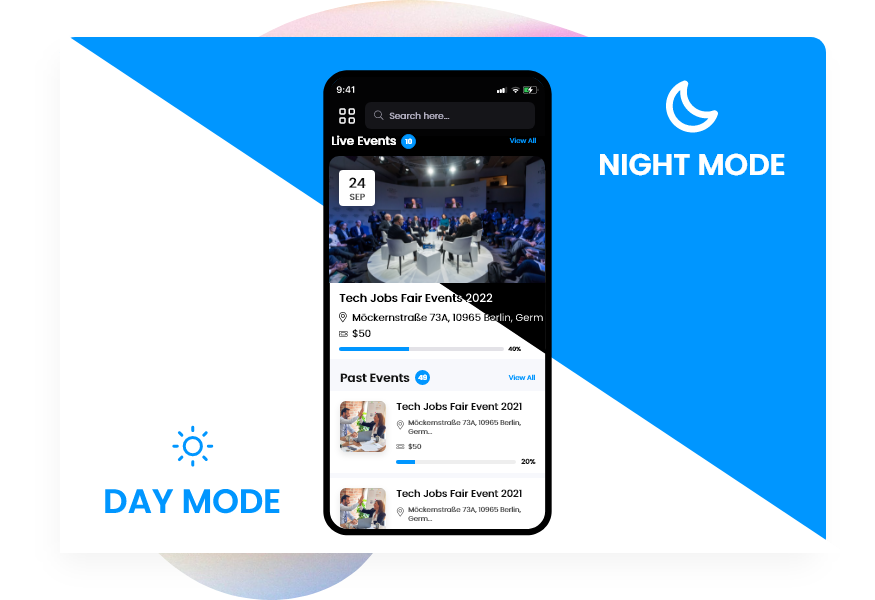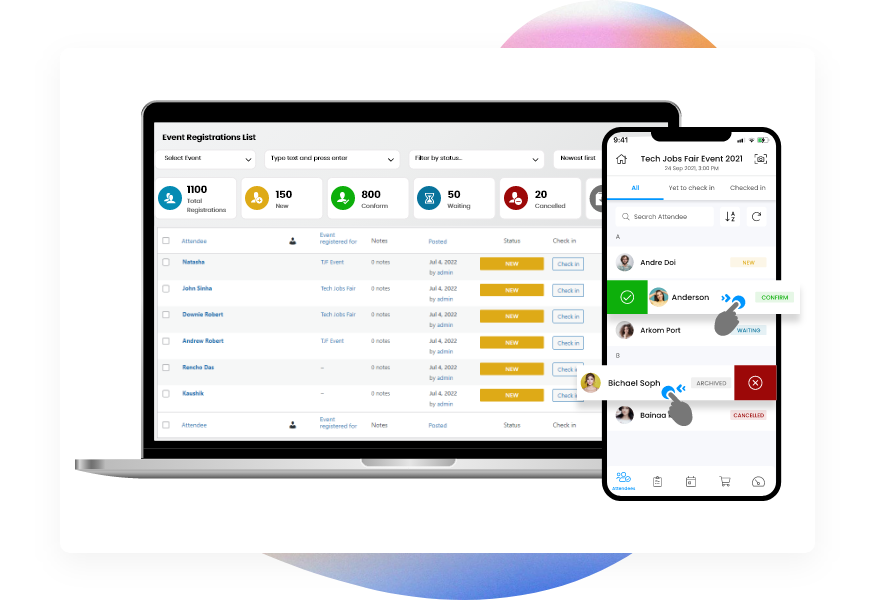 Empowering Every Event
Make your events stand out with us.
Academics & Classes
NGO & Charities
Community
Virtual & Online Events
Concerts & Parties
Whether you are organizing a learning event or an art and musical night, easily manage and track students' registrations through our Mobile app.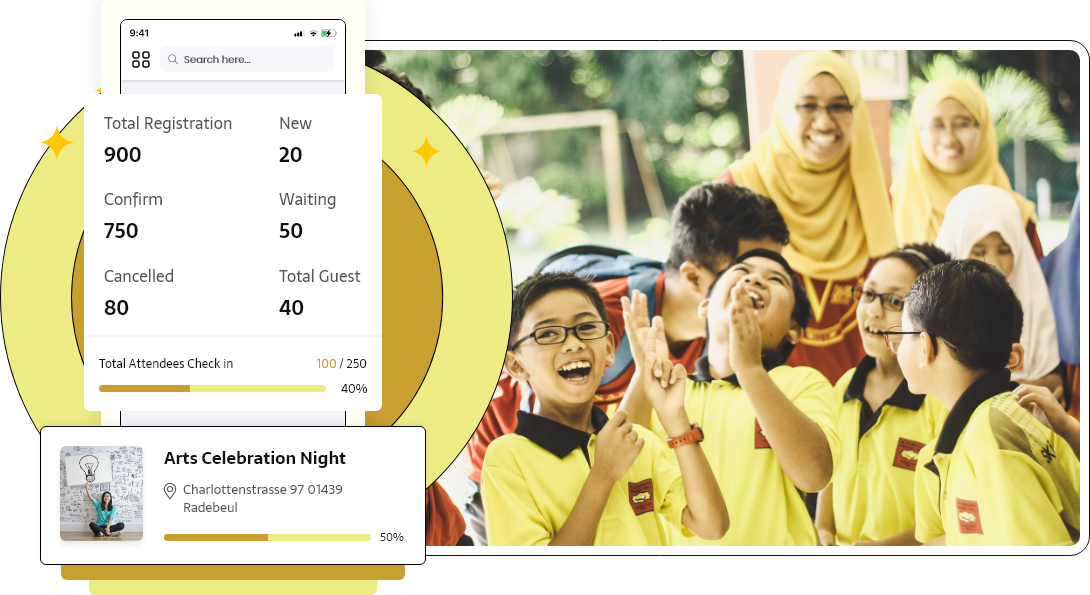 Engage donors and raise funds in your charity events by monitoring your ticket sales easily using our mobile application.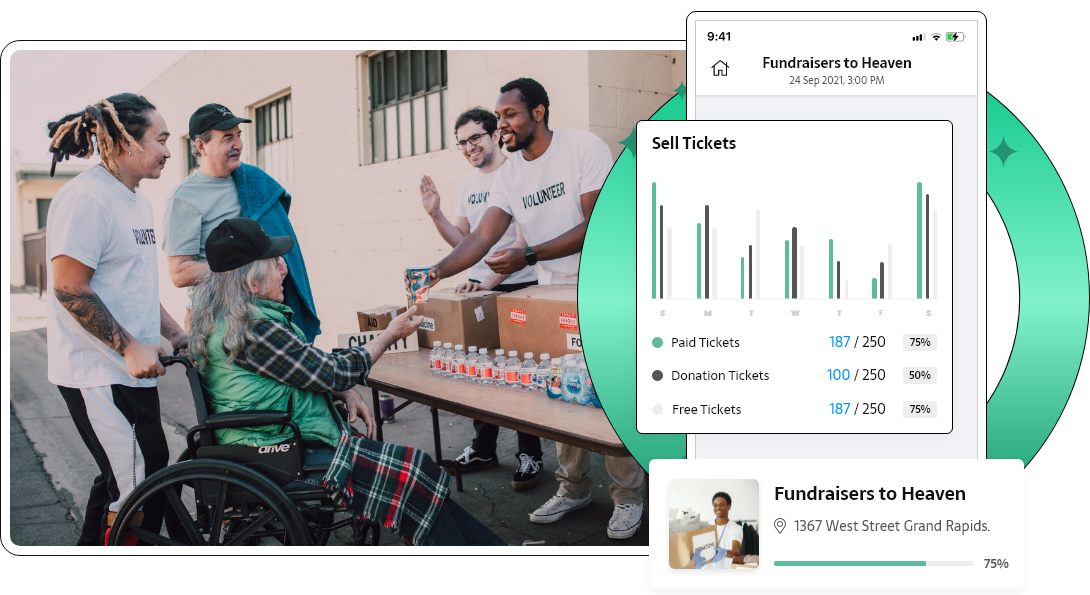 Impress your community members by offering them the option to check-into your event through their preferred mobile device.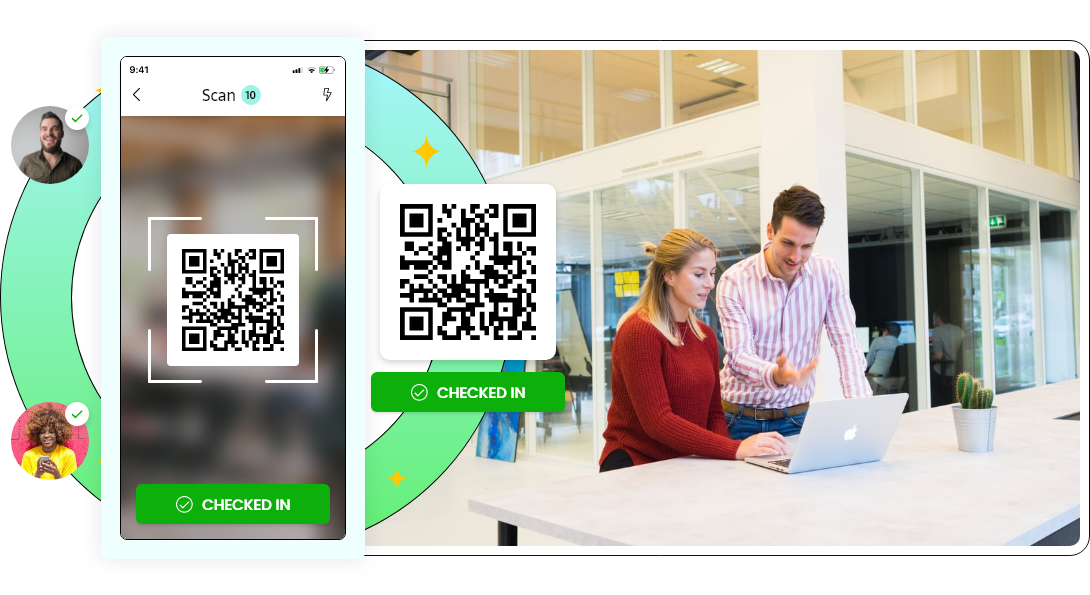 Easily handle rush in your virtual and in-person events during the check-in process with mobile check-in facility .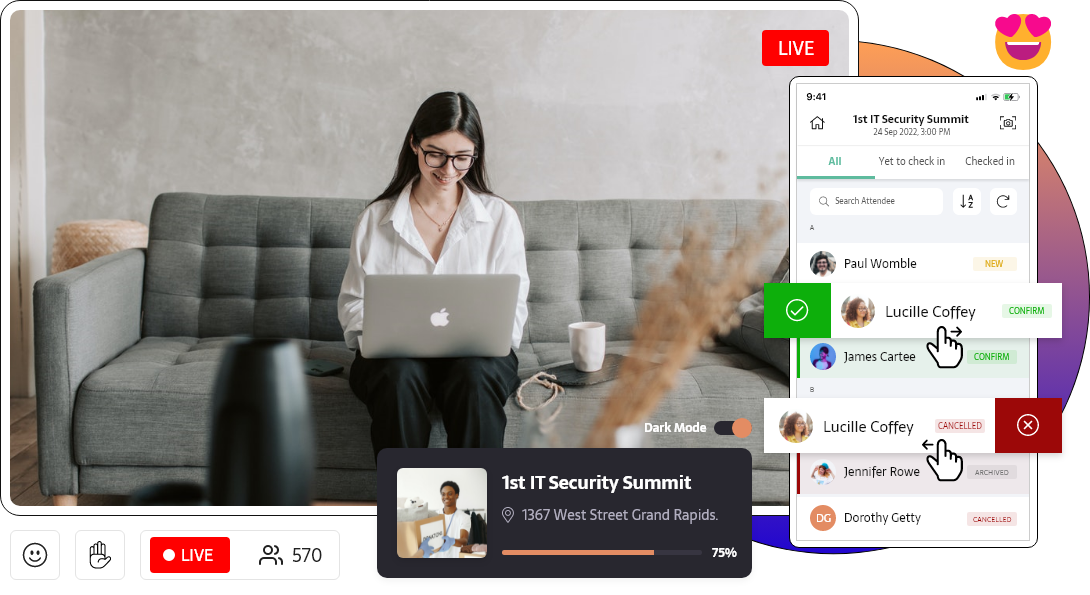 Easily handle your guests in concerts and parties with the help of our mobile app.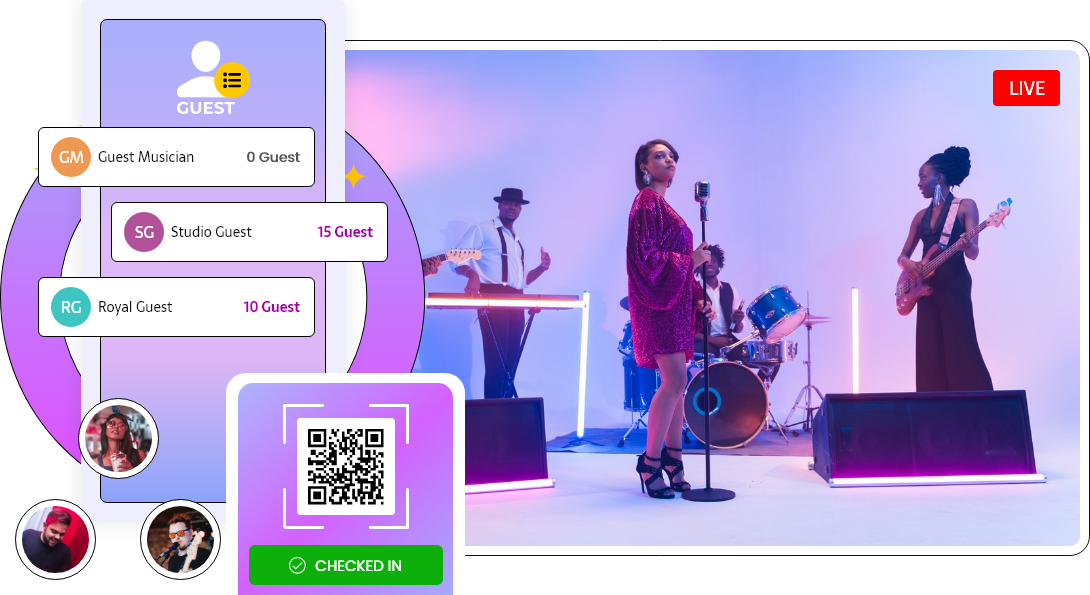 Interface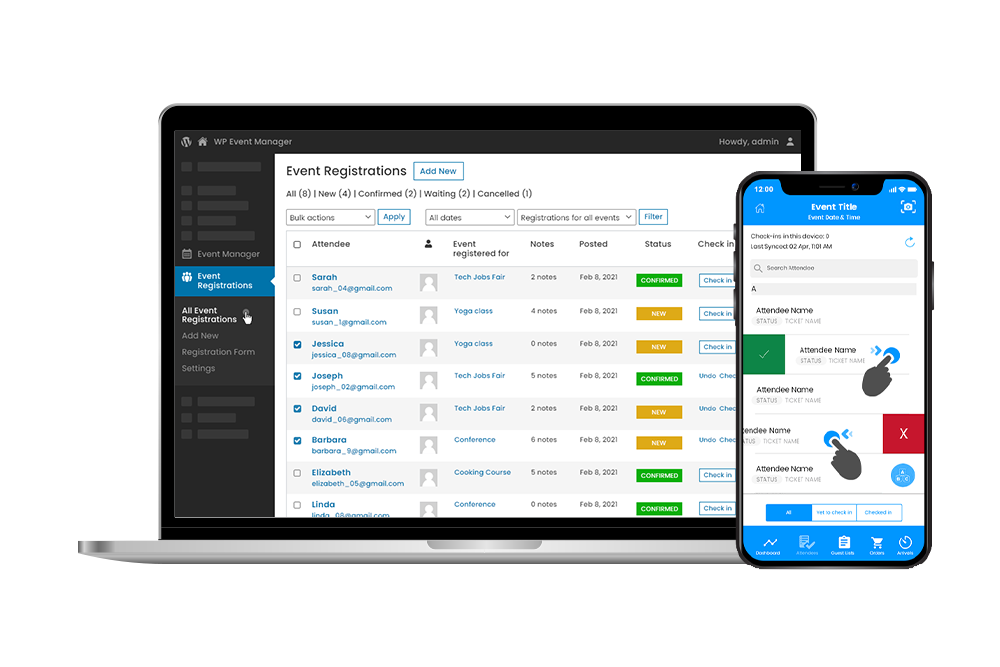 Web and mobile app works together
The mobile check in feature can be used on an infinite number of devices, incorporated with the website. You would not have to train on-site workers to use it because the completely customized check in feature is very intuitive. All devices can access attendee information and synchronize this with every device in real-time.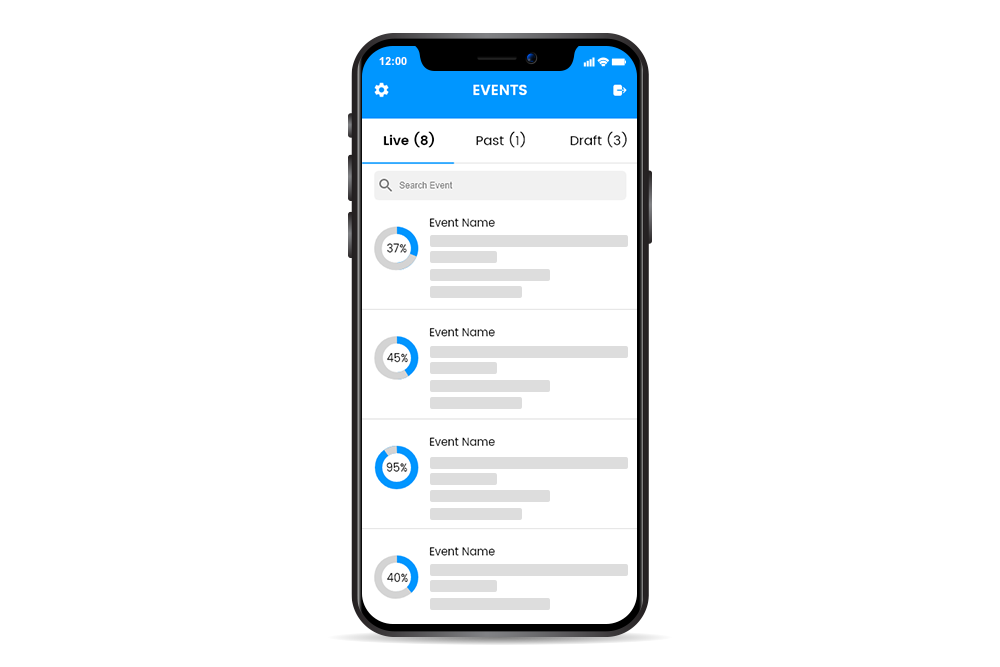 Showcase Event Listing
WP Event Management application provides an event listing platform where you can organize, analyze, virtual, and on-stage events be it upcoming, ongoing, or past events. The event listing page showcases the list of all the events created on the website using our plugin.
Real time data over dashboard
The dashboard tabulates the data into easy-to-review summaries, displaying details of visitors to your event, organizers, and venues.
Easily see breakdowns for your Registration specifically, the new, confirmed, waiting, or canceled ones, including graphical representations of total check in out of total registered ones.
We make it easy by providing a centralized dashboard that juggles solutions with respect to tracking your sales. Get detailed interactive statistics on how many tickets are bought and how many people.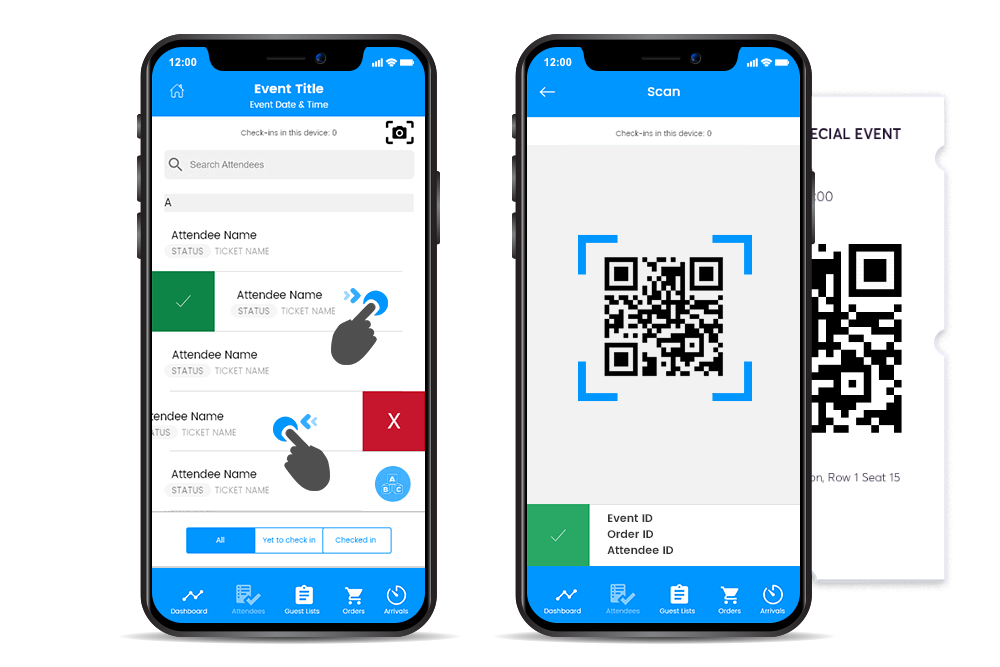 The fastest way to check in attendees by swiping and scanning
WP Event Manager App Checks In your attendees with an easy technology-driven interface hence saves you time, eliminates stress, and helps you check in all of your attendees in 75% less time, by simply swiping right or scanning the QR codes on the tickets they purchased online and carried to the events.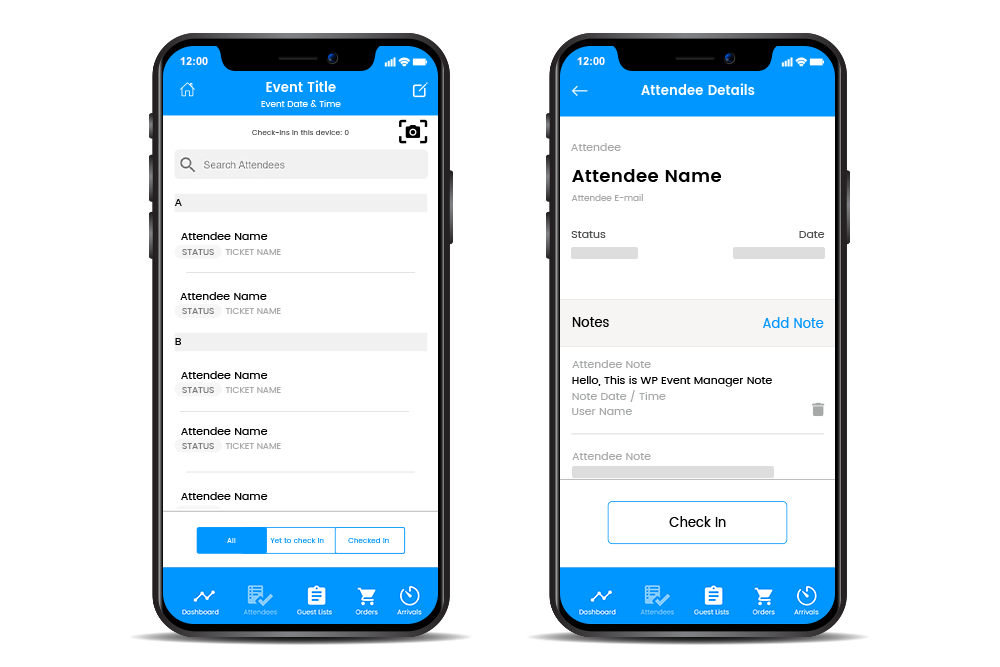 Attendee management & Add Notes
WP Event Manager Check In app helps manage attendees by shortening check in lines, tracking, and attendance monitoring. It offers a check in staff system to swipe right and left to check participants, and also allows participants to add notes for later reporting and export when you check them in.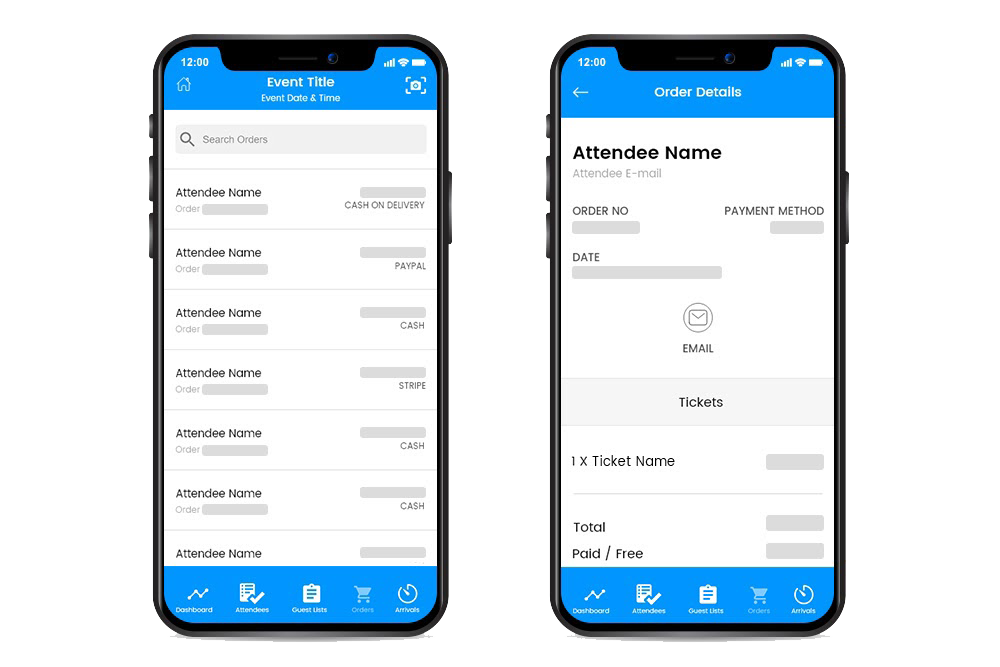 Check order details and Email participants
The order management system includes sophisticated transaction processing, and end-to-end order fulfillment details by providing individual order information in the form of tickets purchased or canceled by visitors to help you save time and improve overall efficiency. Also, the space allows individual emailing in regards to any last moment information to be communicated along with the ability to check-in directly from here as well.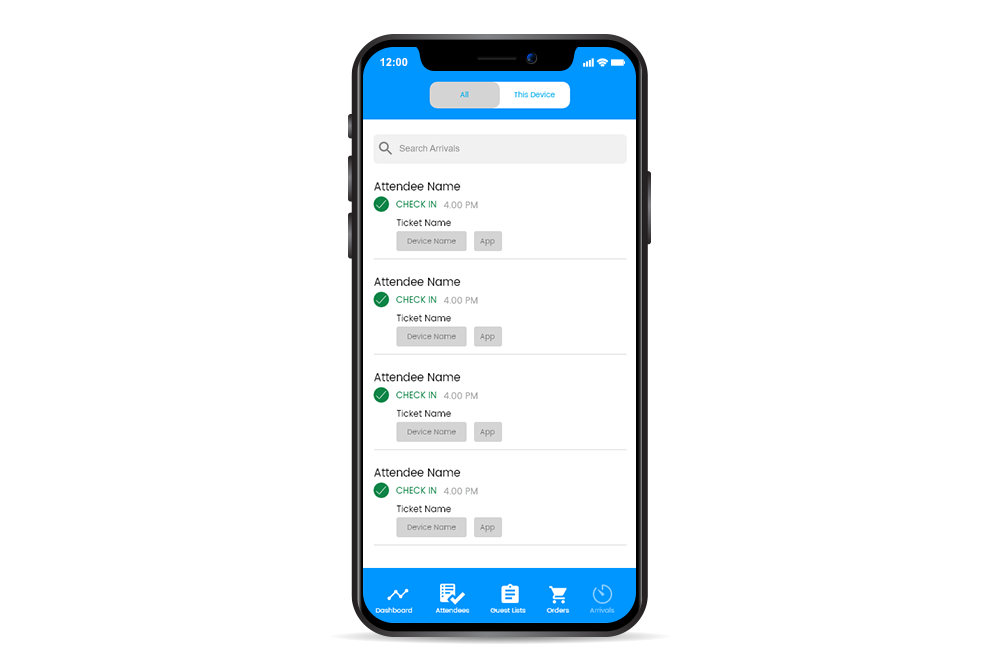 Unlimited devices are synchronized in order to track arrivals in real-time
The application syncs the real-time data of all the users and devices by which the check in process has been completed. This helps organizers keep a track of the attendee's list on all the devices, be it via the website or on the application.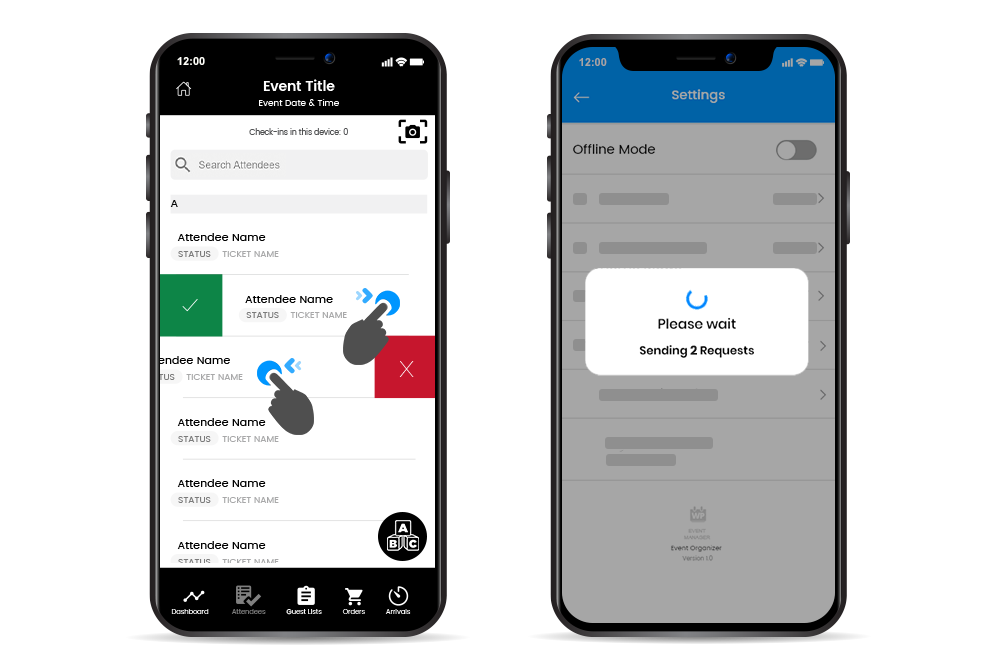 Works in Offline mode
Flaky internet? No worries! The Offline mode allows an instant search for all the attendees and checks them in the event by storing the data and syncing them later when the internet returns.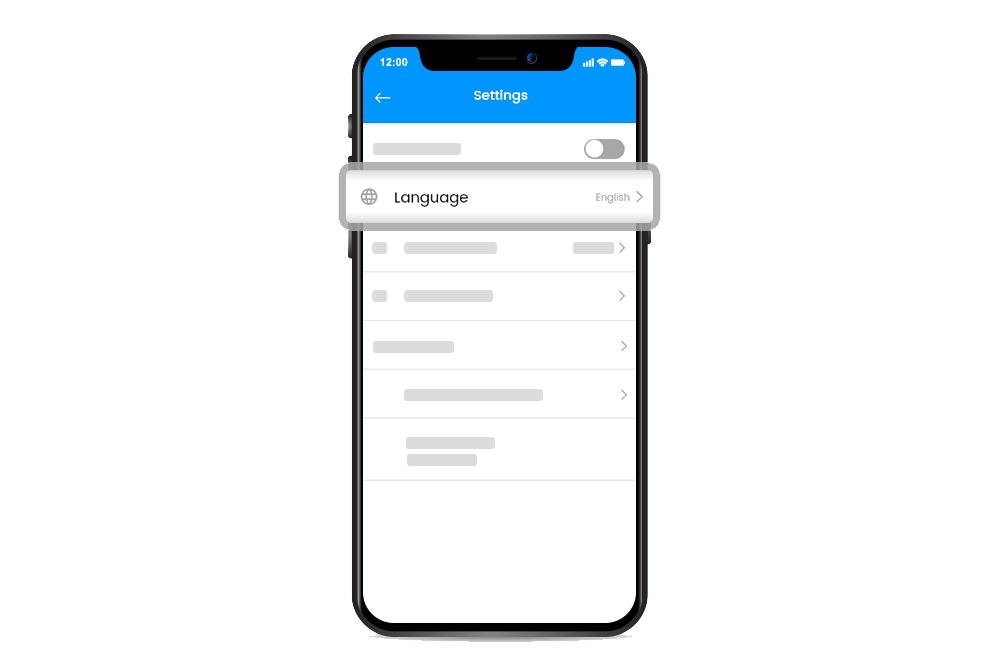 Supports multiple languages
A premium feature offered by the WP Event Manager would allow organizers to not only enjoy the basic languages but also allow them to convert the whole app into their own native language.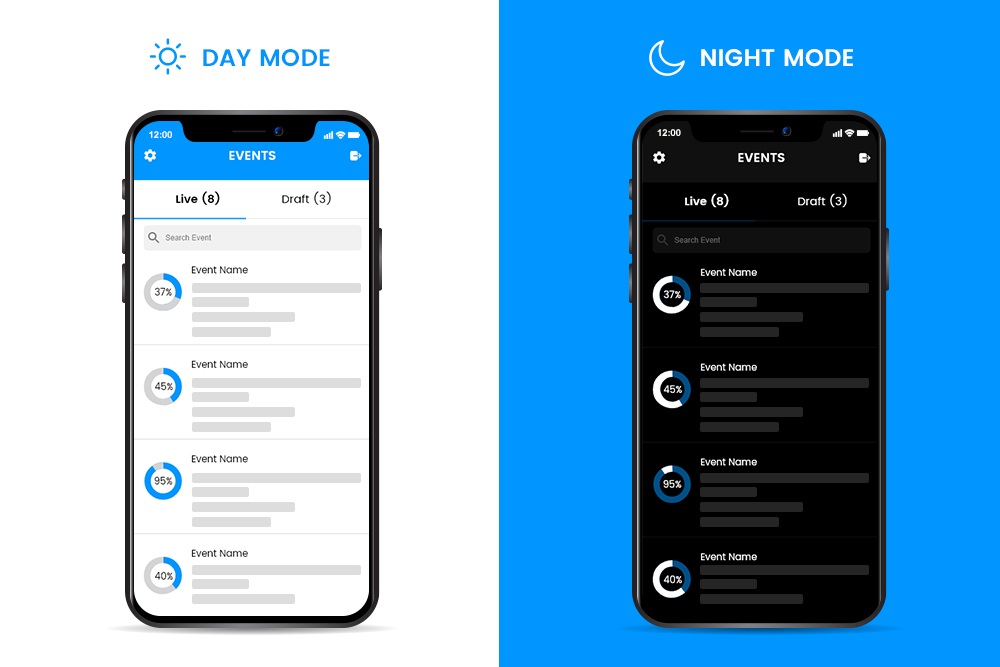 Experience the Dark and Light mode
The App allows users to toggle between light and dark mode, enhancing the user experience. The displays, menus, and buttons, use a darker color palette in Dark Mode, and it uses more vibrancy to make the contrast content stand out against the darker backgrounds.
How Do Licence Keys Work?
After purchasing a plugin you'll receive a key via email (or you can visit your account page). This key can be activated from your WordPress dashboard's plugin page. It can also be deactivated and reactivated on other sites when required.
Will I Receive Updates For Purchased Plugins?
Yes, an automatic updater is included inside each plugin/add-on. This requires your licence key to function and you'll receive updates for as long as your licence key is valid.
Do You Offer Support For Purchased Plugins If I Need Help?
Yep. If you have a valid licence you'll be able to use our support systems for help.
Do I Need To Renew My License?
If you want to continue support and update then you need to renew license.Licenses are valid for one year from the date of purchase. When your license expires you'll be able to renew your key via your account page.
Am I Allowed To Use The Add-ons On Many Sites?
After purchasing a plugin you'll receive a key via email (or you can visit your account page). This key can be activated from your WordPress dashboard's plugin page. It can also be deactivated and reactivated on other sites when required.
View All FAQs »