An events calendar not only adds value to your events website but also makes it convenient for your website visitors to get the list of your upcoming events along with their dates.
When you are creating a WordPress site for your events business, you can enhance the site's functionalities with various WordPress plugins. The calendar functionality can also be added to your WordPress with the help of such a plugin.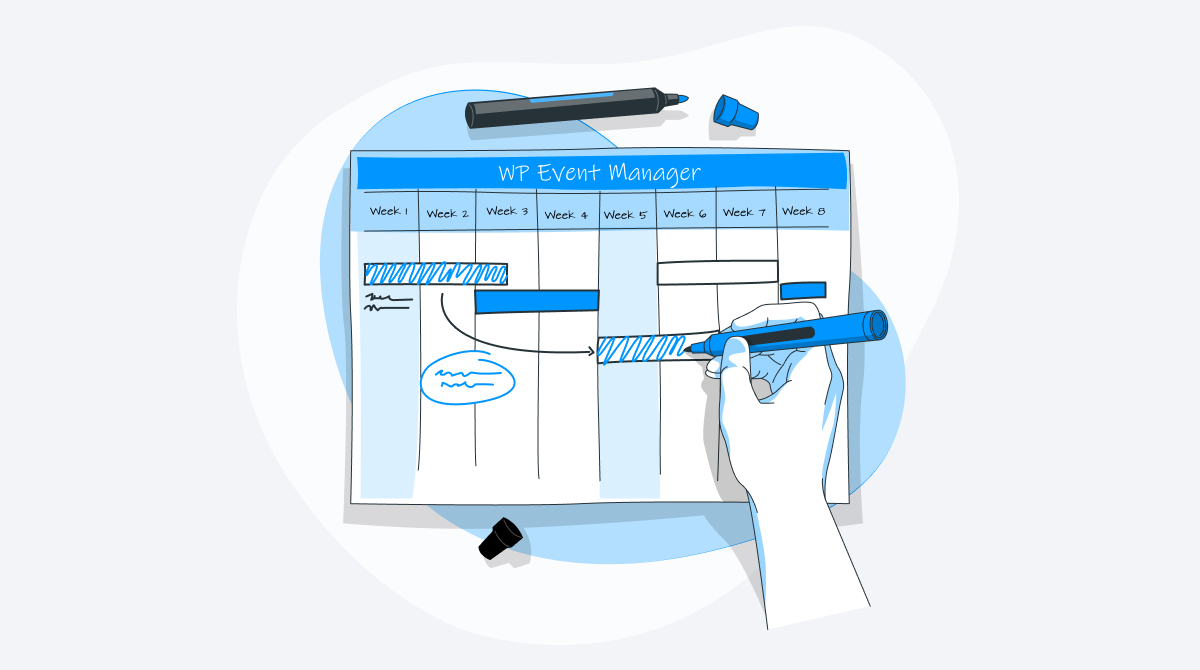 Every WordPress plugin is built with multiple features. Some of them are designed for basic event management requirements whereas some are capable of fulfilling complex business requirements with booking, registration and scheduling advantages.
When it comes to a calendar plugin, WordPress offers a huge array of options that could make it challenging for you to select a suitable one for your business. In this article, we have explained about WP Event Manager's Calendar addon and why you should choose WP Event Manager over others.
What is an event calendar?
An event calendar is a type of calendar that lets you display your event dates and details in an attractive calendar form. It helps you showcase your future events on a calendar in an organized way to your website visitors.
If you are using a WordPress website, you will need a WordPress calendar plugin to add it to your website.
Importance of adding an events calendar to your WordPress site
Your events website works as a hub of all your event related details for your visitors. So as a website owner or an event organizer, you bear the responsibility to offer them the information which they are looking for and that too in an organized way. An event calendar makes the task easy for you.
Here are some of the reasons that make it important for you to have a dedicated events calendar to your events website.
Branding and event awareness:

an events calendar makes your website visitors aware of your upcoming events which ultimately boosts your brand visibility.

Keeping your website visitors updated:

an event calendar gets updated on a regular basis with new events and that keeps the visitors up-to-date as well.

Increases website traffic:

event calendars make websites look attractive and informative at the same time. Impressive calendar layouts and the ease of accessing event details do attract attention and boost your website traffic to a great extent.

Keeps you organized:

having an event calendar on your website helps you keep a track of your upcoming events and manage your tasks accordingly. It also makes sure that you do not miss a deadline.

Better user experience:

offering your event dates and details at the same place helps you create a great user experience on your website as your website visitors do not need to visit different pages to get the information they are looking for.
How to choose a calendar plugin for your WordPress website?
As mentioned above, you will come across a plethora of WordPress event calendar plugins and you may get confused about choosing the one that suits your business needs.
Consider the following tips while you search for an event calendar:
Research as much as you can.

Check online reviews and ratings of each plugin.

Check if the calendar is easily customizable as every business comes with unique requirements.

Make sure the calendar you choose offers multiple views.

Don't forget to check the design and layout options as the appearance of your calendar is also important.

Check if it has a user-friendly and sincere support team because no matter how good your calendar plugin is you may face problems for which you will need the help of its support team.
If you are looking for a competitive study among the leading event calendar plugins, you can read our article on The 10+ Best Event Plugins for WordPress in 2022: review. To know about it.
Which is the best event calendar plugin?
Everyevent calendar claims itself to be the best in the market. So how to pick one from them? Well, you must always go for the one that is capable of fulfilling all your business requirements.
So we could say the best WordPress event calendar is the one that can fulfill all your unique business needs.
We recommend the Calendar plugin from WP Event Manager. It carries all the features that can help you meet all your event business targets. The best part about the Calendar addon is that it has a flexible coding structure that makes it easier for developers to customize it as per requirement. To know about more such features of the Calendar addon, keep reading our next segment.
Features of WP Event Manager's Calendar addon
The biggest strength of the Calendar plugin from WP Event Manager is its features.
Here is the list of its most prominent features:
1. Offers multiple calendar views including box view and list view.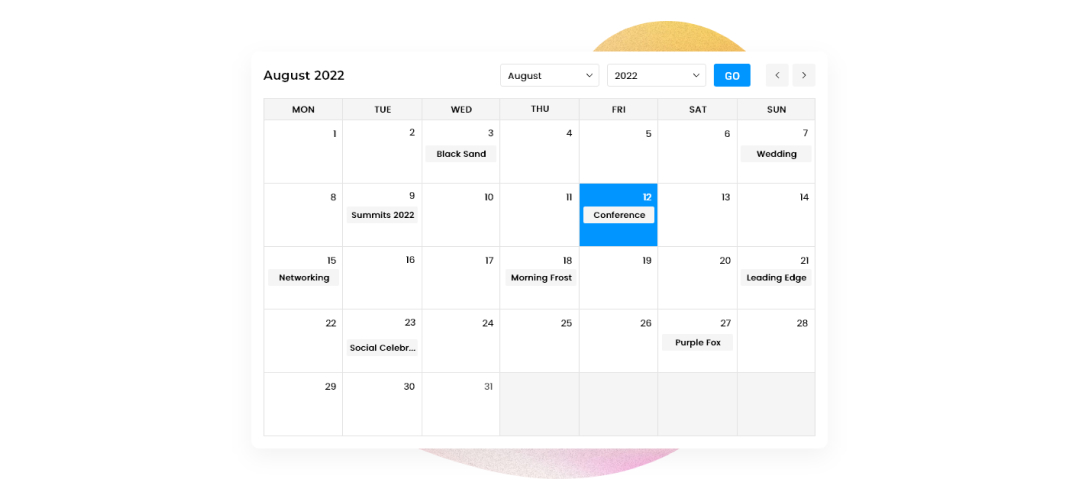 2. Offers a huge array of calendar layouts from which users can select the most suitable one for their sites.
3. Comes with a Quick Calendar view which allows visitors to get the details of a specific event by simply placing their cursor on it in the calendar.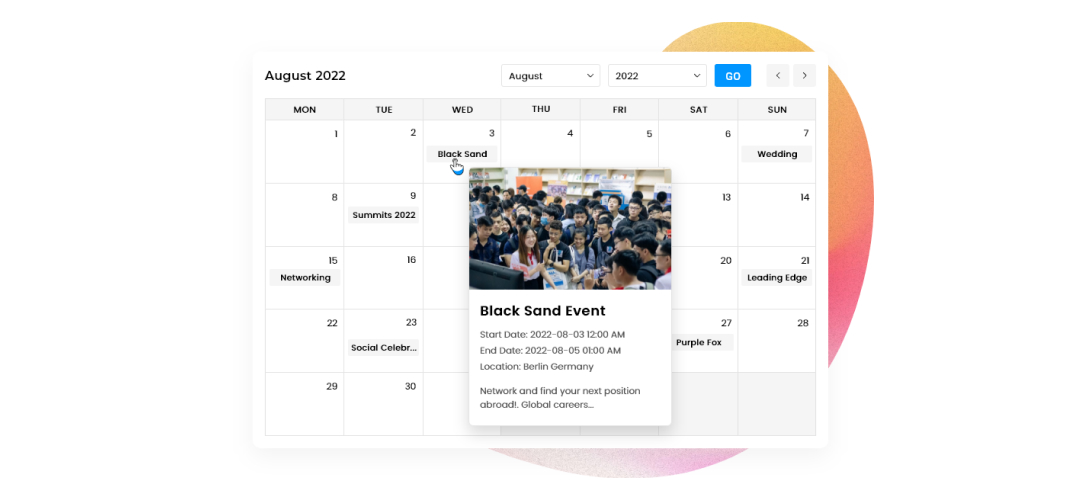 4. Setting up the Calendar plugin on your website is super easy.
5. The calendar management is so easy that even a person from non technical background can use it. WP Event Manager has dedicated knowledge base pages for all its add-ons including calendar that a user can follow to use the plugin.
6. You can also represent the calendar in a widget form at the sidebar of your website with its calendar widget feature.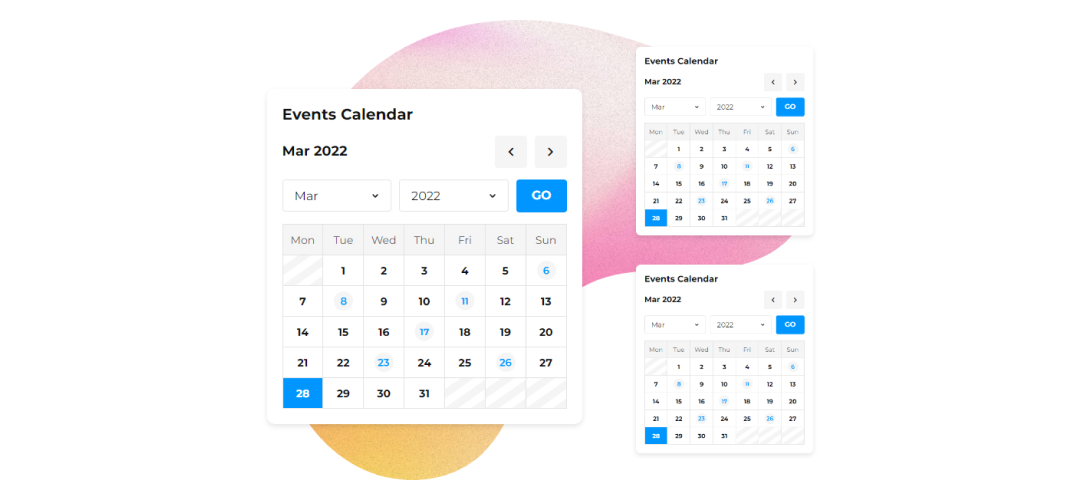 What is an event

calendar widget

used for?
An event calendar widget is a mini calendar that is usually placed at the sidebar of your website. It is mainly used to showcase the original calendar in a small box that can be accessed by the users from any page of your website. Visitors do not need to switch pages to access the calendar widget.
7. It also allows users to display their past and upcoming events in a single calendar with a Shortcode event view.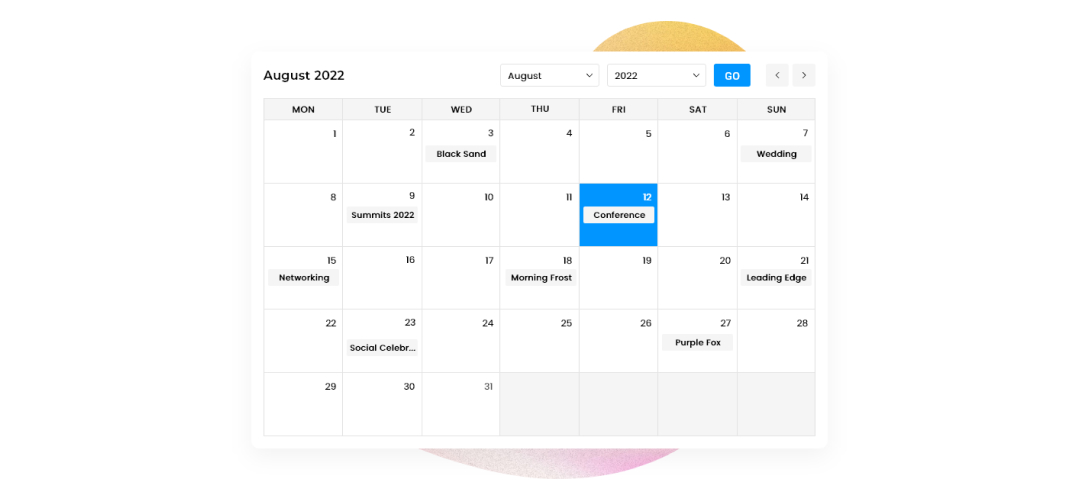 8. WP Event Manager's Calendar addon offers responsive calendar layouts that ensure your event calendar looks good on every device including desktop and mobile devices.
9. It is easy for attendees or website visitors to search for their targeted events on the basis of tag, venue, category and more with the advanced search filter facility.
How to use the event Calendar plugin from WP Event Manager?
To start using the Calendar you need to first install the core plugin that is absolutely free. Then you need to purchase the calendar addon and finally install it to start working with it.
The installation of the core plugin and its premium addons are easy for all users and can be done both manually and automatically.
After the installation process is done you can view the user guide on our official website for detailed guidance or you can also get in touch with our support team for any queries or issues that are facing with the premium addon.
If you are interested to know about how you can create an event calendar for your WordPress site, read this article "How to create an event calendar for your website: Complete Guide (2022)" to know the process.
How to get the Calendar addon?
You can purchase the calendar add-on individually or in bundles. If your business is related to events or you frequently conduct events as a marketing activity, you must check out our other plugins and purchase the calendar addon along with other such useful plugins. Bundles are a more affordable option than buying each plugin individually as you purchase add-ons in bulk in bundles.
Check out the pricing structure of WP Event Manager and pick the ones that suit your business the most.
Wrapping up
An event calendar undeniably plays a pivotal role in attracting more audiences to your website and also creating a great user experience. As mentioned above, you can find a huge number of WordPress calendar plugins in the market but the features they carry are the things that differentiate one from another. That is why we recommend the Calendar addon from WP Event Manager that not only has basic calendar features but also has some amazing and extraordinary features that make it superior to others.