Woocommerce Paid Listings – Monetize Your WordPress Events Website
Are you looking for an obstacle-free way to monetize your WordPress events Website?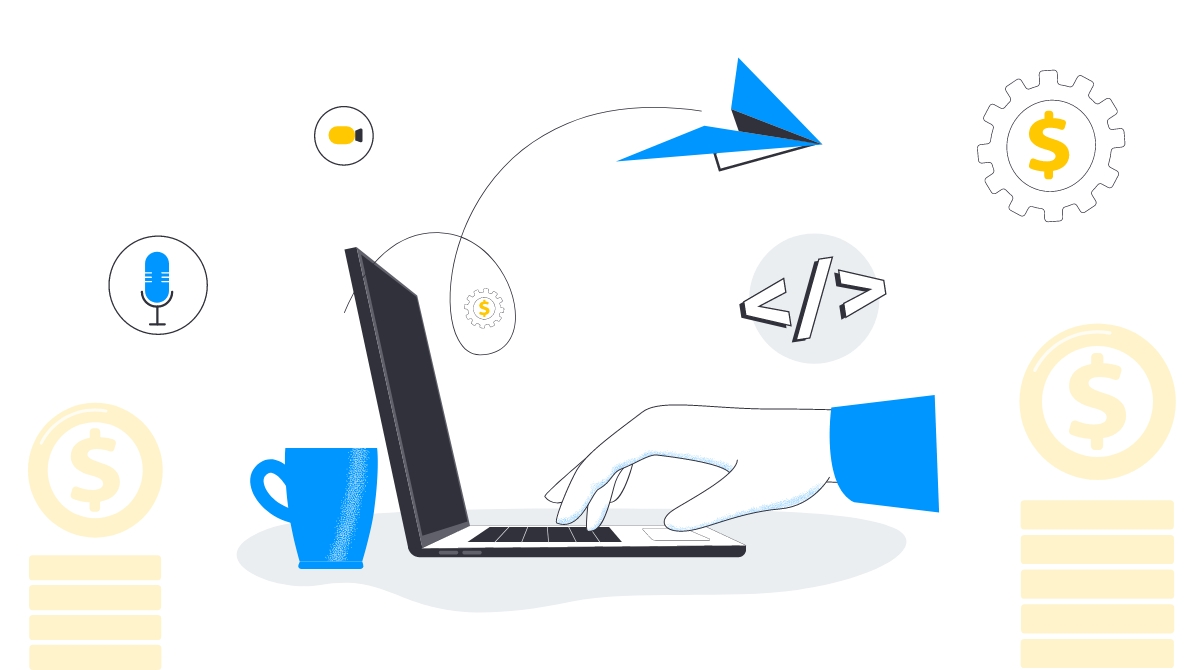 If yes then read this blog to know the best and easiest way to do that. WordPress is one of the most popular platforms for building exceptional events' websites and it is admired by millions throughout the world. But did you know that your WordPress website can be a great source of revenue? Yes, it is true. Besides enjoying your WordPress website, you can also monetize it.
Gone are those days when people used to be dependent on developers to fix each and every issue they faced with their WordPress events website. All thanks to WordPress plugins that have simplified the task for users and removed their reliance on developers. The list of WordPress plugins is huge and these plugins have solutions for each of your website requirements.
When it comes to monetizing your website, you need WordPress paid listing plugins. There are various WP paid listing plugins available in the market but we have picked up the WooCommerce Paid listing plugin offered by WP Event Manager.
In this article, we have described why we have selected the plugin for the requirement and also how you can utilize the strength of the plugin to make money from your website.
Before gearing up for the WooCommerce Paid Listing plugin lets have a look at the,
Things to consider before monetizing your WordPress website
Decent traffic:

Make sure that you have a decent amount of traffic on your website to achieve your targeted conversion rate.

Quality content:

the best way to engage more traffic to your website is to have tons of quality content. Creating the base of your website with good content is necessary to attract new users and turn them into your customers.

Payment Gateways:

majority of monetization models need a WordPress plugin like WooCommerce to receive and process payments easily.
Introduction to the WooCommerce Paid Listing plugin
WooCommerce paid listing plugin is one of the most popular plugins of WP Event Manager that helps you turn your simple WordPress events website into a revenue generator.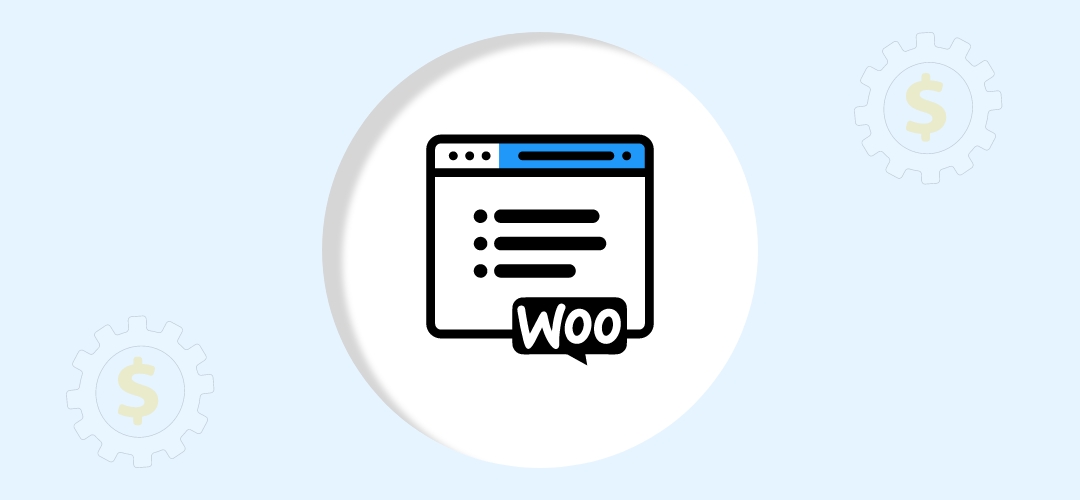 Powerful features of the plugin include,
The combined strength of WooCommerce and paid listing add-on offers various payment gateways to make transactions easy between you and your clients.

As a website owner you can offer multiple subscription packages to the event organizers using the plugin.

It also allows you to charge organizers for posting featured event listings on featured pages.

It lets you set the number of events you want to include in a single package.

Maintain a healthy flow of income without any obstacles through major payment gateways.
How the WooCommerce Paid Listing plugin can help you earn from your WordPress Events Website
The plugin can help you,
Sell your subscription packages

If you wish to sell some packages to your customers then the plugin is an appropriate choice for you. It not only helps make the purchasing procedure easy for you and your customer but also let you track it. For example if you are a hotel owner and want to make a paid listing for your service packages then you can utilize the strength of the WooCommerce paid listing plugin.

Similarly, when it comes to an events website, you can create packages based on the facilities you are offering to your attendees and sell them with the help of WooCommerce paid listing plugin. Besides this, you can also add the details of the packages to let your buyers know about the services and facilities they are paying for.

Add unlimited event listings

This is one of the most useful features of the plugin that allows you to make multiple event listings. However, you need to pay a certain amount to avail this feature as it falls under the category of premium features. Whether you want to add hotel room listings or your next event listings, you can easily do that with the plugin. The best part about the plugin is that it works with WooCommerce which ultimately lets you convert the WooCommerce product into the packages.

Sell featured event package

You can make several packages for your customers as per your preference but there must be some packages amongst them that you would want to sell the most. WP Event Manager has a perfect solution for that as well. Using the paid listing plugin offered by WP Event Manager, you will be able to put such packages at the top of the listing and name them as featured event packages. So, with this plugin, you can get the maximum number of impressions. This is one of the most exclusive features of WP Event Manager, that is not available in most paid listings out there.

Receive payments with ease

Having a seamless payment receiving system is something that every eCommerce store struggles with. If you don't have the support of a good plugin then you may need to hire a developer to manage the entire system. This paid listing plugin pairs up with the WooCommerce plugin to offer you various payment methods as per your choice and makes the entire payment receiving episode smooth and simple.

Set up easily
WordPress has made it easy to create websites, but when it comes to some plugins, the scenario is not the same. However, the WooCommerce paid listing plugin from WP Event Manager is surprisingly easy to set up. It is a proof that not every functionally-rich plugin is difficult to set up. Anyone with fundamental knowledge of WordPress can do that with ease.
In our next segment, we have described the steps that you need to take to download and install the paid listing plugin.
How to install WordPress Paid listing plugin
It is as simple to install as all other plugins. However, if you are new to WordPress, here is a simplified guide for you to install the plugin on your WordPress website. The paid listing plugin can be installed either automatically from your WordPress or manually using the FTP tool.
Follow the steps to install:
Purchase the Woocommerce Paid Listing plugin from here.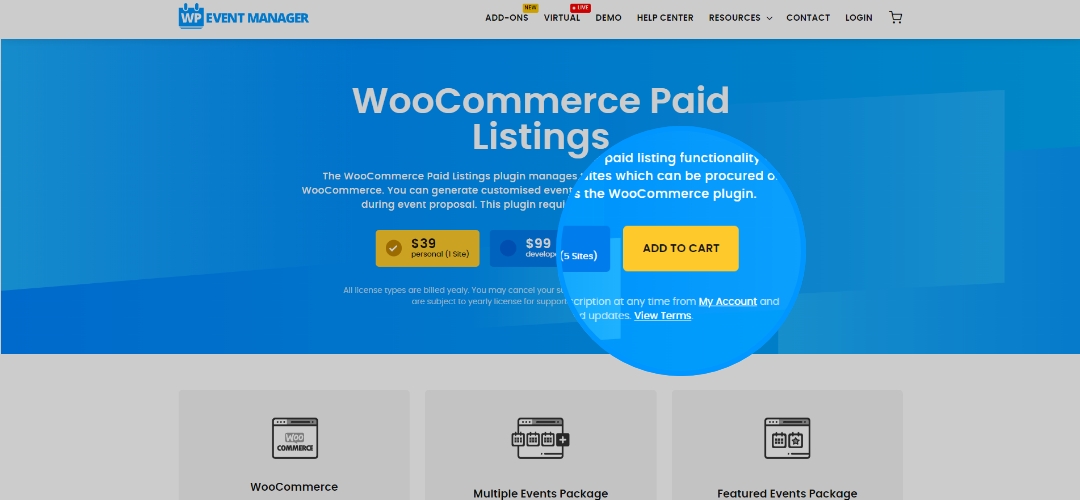 Download

the plugin from your

account.
After downloading the .zip file of the plugin, go to

WP-admin >> Plugins >> Add New

.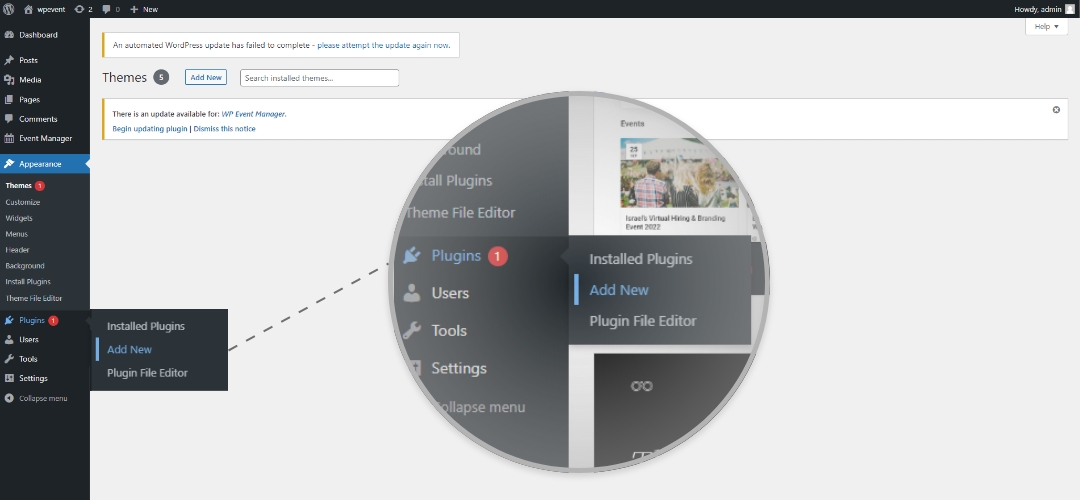 Upload the .zip file using the "

Choose File

" button and click on the "

Install Now

" button.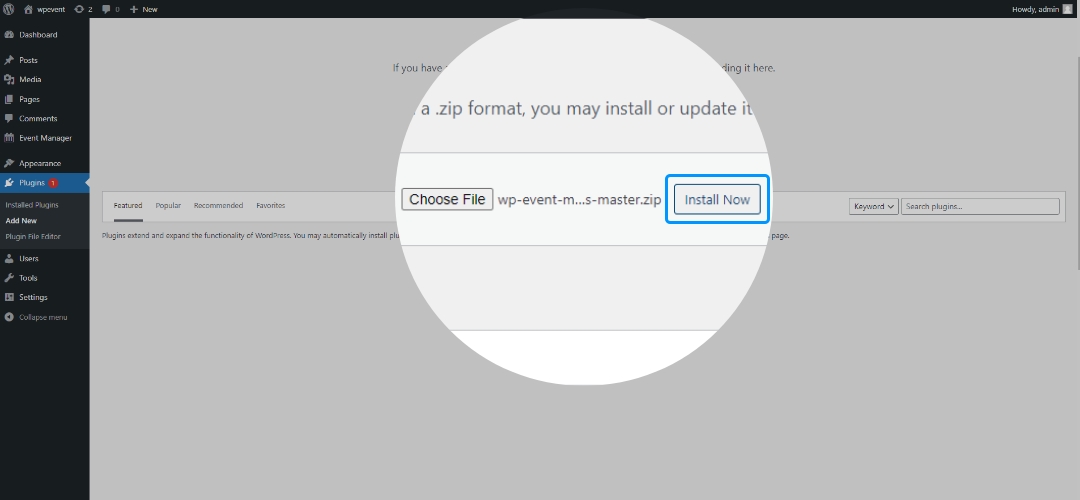 You will get the Plugin installed successfully page, here, click on the "

Activate Plugin

" link.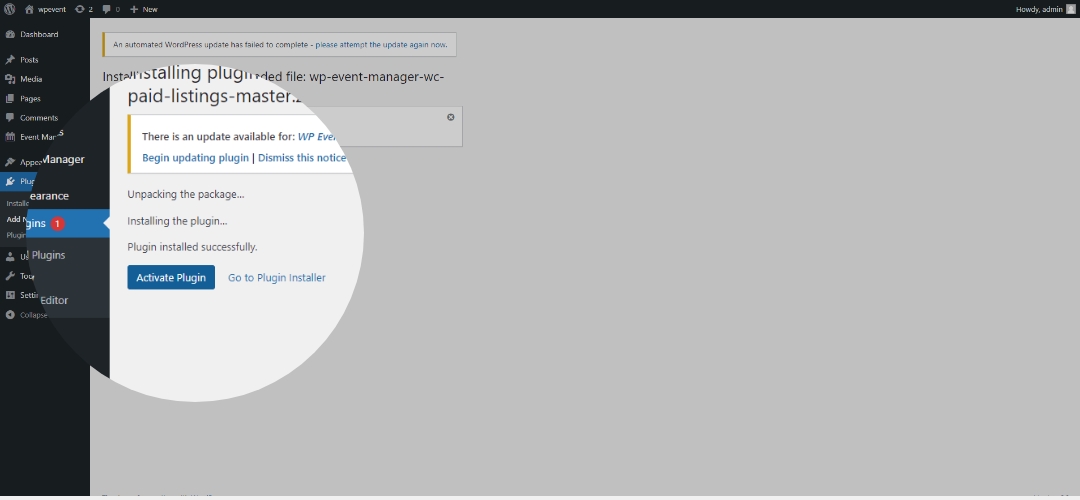 At last, insert the license key and enjoy the plugin! 🙂
In the following guide, you will get to know how you can use the paid listing plugin from scratch to monetize your website.
How to Use the WooCommerce Paid listing plugin to Monetize Your Site
If you are aware of the basics of WordPress then it is very easy for you. In case you are not then no need to worry, keep reading the article to find out how you can use the plugin to earn money from your site.
Let's get started.
Create Packages

Creating packages is easy with the WooCommerce paid listing plugin. It is similar to the method of adding a product to your WooCommerce plugin. The only difference is here you need to add product packages instead of products. You can mention Event packages at the top of the product detail page. The page allows you to make a few other changes including event listing number, time and the nature of event listings.

At this page you can mention two types of prices, one is the regular price and the other is the sale price.

You can also schedule the sale price for future use in case you have a specific day in your mind for that.

Besides this, the event listing limit section lets you set a limit for the number of events you want your users to list in a particular package.

The time duration section signifies the time period till which the event will be available on your website.

Featured Listing is another option that users will come across here. When a user chooses the option his or her event is published with a unique style on your website.

Submit the Event

This plugin is very user-friendly and does not trick users with any hidden cost. When a user comes to post an event on your website, he easily finds out the packages you are offering to them and his event listings will be displayed based on the package he selects. For the payment related to the purchase, he can use all the payment methods that you have integrated in your WooCommerce plugin.

User's Package Details

Users can see all their purchased packages right in their dashboard. Once they log in to their account, they can see their purchased packages on the My account page. It is to be mentioned that, users can only view the details of their packages at this section and there is no option to edit the package after making the payment.

Choosing a Package- after adding the details
Users may forget to select the package detail, or if you want to add a user's listing manually, you can do that using this plugin. For that, follow the steps.
Login to your WordPress admin dashboard.

Click on

the Event listing

, and you can find this option on the left.

Then click on the

settings

in the menu of the event listing.

Navigate to

Event submissions

in the settings. Click on that.

Here you can add or edit the event details.

Finally, don't forget to save the changes.
Conclusion
If you want to add a Paid listing to your website, you may need the support of hardcore developers. However, when you are with WordPress, you do not need a developer to assist you in this as WordPress plugins are enough to take care of everything. For the WooCommerce paid listing plugin, you need to spend a few bucks but trust us the plugin is worth spending on. To explore other add-ons offered by WP Event Manager, please visit our website.