7 Ways to Monetize Your Events Website
Did you know you can earn from your events calendar? Yes, you read that right. Event Calendars play a bigger role in your business than just letting your visitors know about your upcoming events. They can also help you earn revenue but you need to know about the tricks and tactics to turn your events website into a revenue generator. If you want to discover the most effective ways to make space to monetize your event management website then this article is for you.
Monetizing your events website can be a great source of income for you. Most websites earn through advertising on their websites which can be of two types,
Selling ad spaces on the website.

Promoting the website by posting ads about it.
However, if you want to make the most out of your events website then you need to take a step further.
In this article, we have assembled 7 easy ways to earn money from your events website. Go through the article to know what they are.
7 ways to monetize your events website
1. By selling your ad-space
This is probably the most commonly used method of earning revenue from your events website where you can charge businesses for posting their event listings on your events calendar. This will not only help you increase your revenue but also help you build partnerships and boost your website functionalities.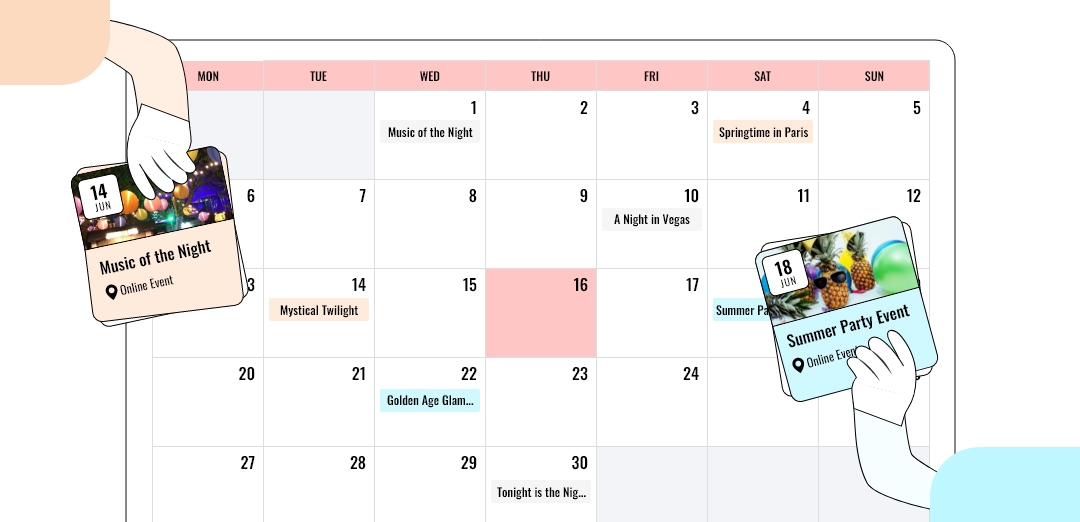 Here are some of the result-driven strategies you can follow to sell your ad space.
Create a

sign-up page

showcasing your potential customers the exact location where the ads will be posted.

Put an

advertisement

to let your visitors know about the

available ad spaces

and make sure that the ad contains the

link to the sign-up page.

Add

testimonials

to increase your business credibility.

Provide

weekly and monthly statistics

to show your advertisers that their money is invested in the right place. Update them regularly on that through mails.

Offer special

discounts for partnership

renewal to your existing clients so that they feel like they are getting more advantages than the new clients.
2. By using advertising networks like Google AdSense
You can use tools like Google AdSense to fill up your vacant ad spaces on your website. The tool is free and offers a smooth way of monetizing your events business. It provides useful insights into your future prospects by analyzing trends. To fully utilize the advantages of the tool, you need to work on your events website to ensure that it gets considerable traffic.
You can boost event awareness by posting different types of advertisements with this intuitive tool.
3. WP Event Manager's Sell Ticket add-on
If your events website is based on WordPress then you can have a lot of advantages offered by WordPress to help you monetize your website. WordPress offers a plethora of useful plugins to help you in this and we have picked up the ticket selling plugin from the WP Event Manager named Sell tickets. The sell tickets plugin, is everything that you need to sell your event tickets on your website. Apart from selling tickets, you can handle the entire transaction process on your website easily with the plugin.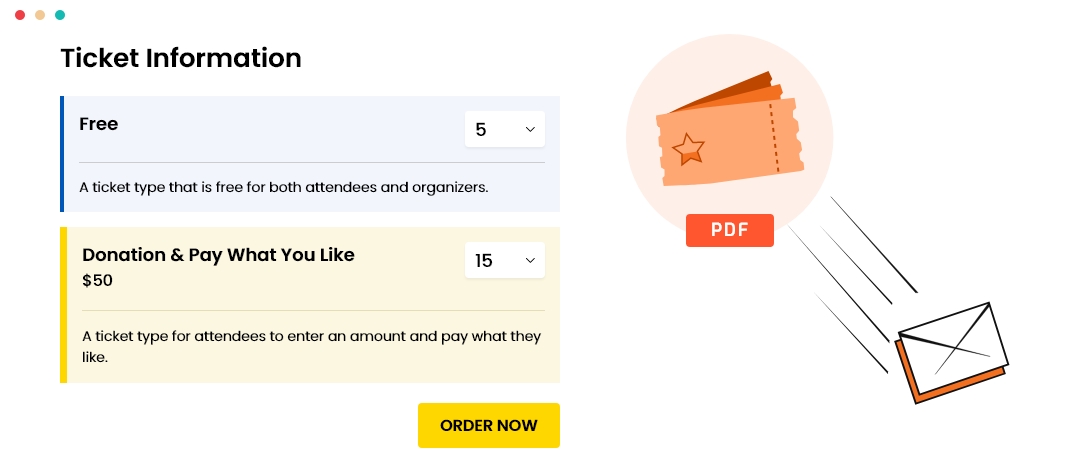 Some of the prominent features of the plugin include,
It allows you to sell different types of event tickets

including

paid, donation and free tickets

.

Offers

WooCommerce integration

to give you various payment gateways.

You can

sell, track and manage

all your tickets at the same place.

It also lets you

charge

a processing

fee

to your users when they are handling multiple events.

Besides this, the right to

set the maximum and minimum price

for the event tickets will also remain in your hands.
4. WooCommerce Paid Listing Plugin
This is another powerful plugin that can only be used if you have a WordPress events website. The add-on offered by WP Event Manager not only helps you monetize your events website but helps maintain an uninterrupted revenue flow. With this, you can make and manage event packages, sell event packages, highlight certain listings and charge event organizers through WooCommerce.

Take a quick look at its main features of the WooCommerce paid listing plugin,
Helps you increase revenue through

subscription charges.

You can create

multiple subscription

packages with the plugin.

Lets you set the

limit

for the maximum number of events to be included in subscription packages.
5. Affiliate Marketing
When your viewers purchase a product from another merchant, you get a share of the sales. Thus, it is an easy way to earn a commission.
6. eCommerce Store
Like selling tickets on your events website, you can even incorporate a whole eCommerce store into it. You can also feature and sell merchandise from events listed on your website to make money. An easy way to do this in WordPress websites is through the WooCommerce plugin. It is free and easy to use with a lot of tutorials available online to help you. This allows you to sell digital as well as physical products. However, you must make sure that the products or services you are selling are relevant to your events website.
7. Adding promotional content
You can even feature sponsored content on your events website, also known as promotional content. This could be anything from a blog post or an article to a YouTube video. Here, you need to keep in mind that your promotional content must be relevant to the theme of your website.
For example, if you are using a blog post as promotional content then make sure the blog is either about the event industry or the kind of events you have listed on your website.
Here are a few promotional strategies that you can follow,
You can

sell sponsorship

to businesses in exchange of space in your newsletter.

Utilize your

social media background

to promote business and charge them for the service.

Build a

solid strategy

to connect with their target audience.
Wrapping up
I hope the above-mentioned tips and tricks will be helpful for you in discovering your choices for revenue streams. Create an effective plan using result-driven strategies and utilize these ideas properly to boost revenue from your events website and widen your audience reach.
Once the promotion part is done, you need to gear up for ticket sales and registration. Discover how we can help you in this process now.