Your event website plays a pivotal role in making your events successful as it is the center of all your event related details including a calendar for dates, registration, ticket selling and more. That is why your website should be efficient enough to handle all these aspects of organizing an event effortlessly.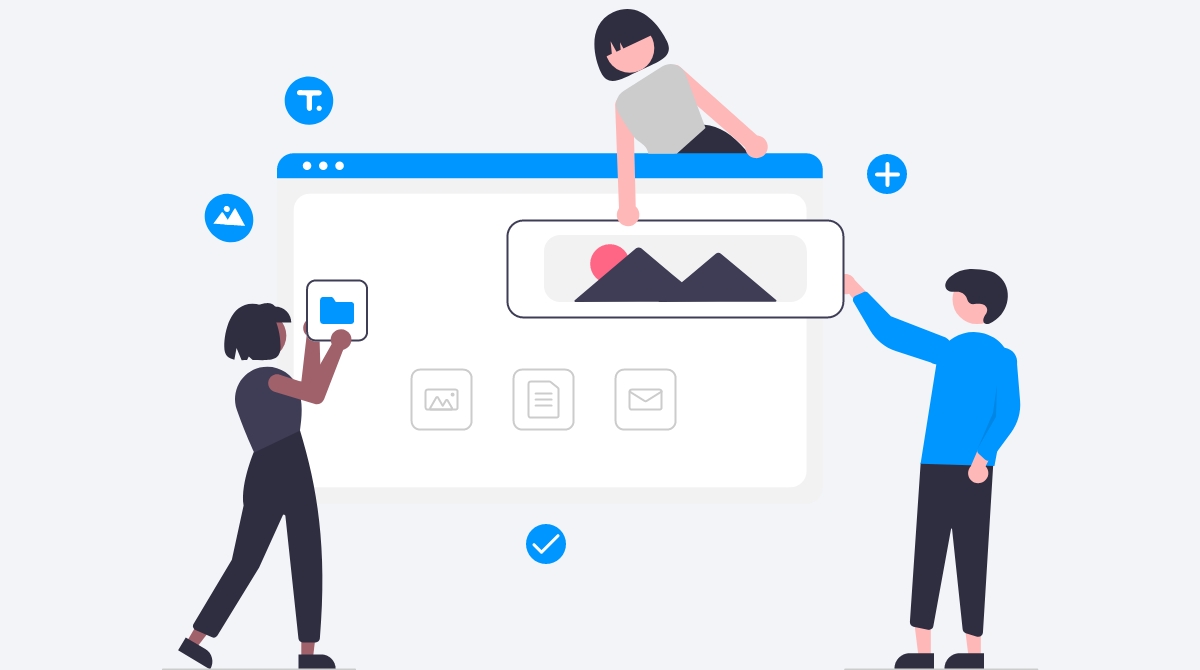 Each and every element of your event website has a separate role to play and contribute in several ways in the overall event management process. The decision of your attendees on whether to attend your event or not highly depends on how much your website was successful in convincing them.
So how to empower your website with all these qualities? What are the areas that need to be improved on your website? Keep reading to find out the answers along with 8 essential things that you must have on your WordPress site.
1. Event Identity (name or logo)
Your Event name and logo help people identify your business very easily. It is obvious that people who are visiting your site to get the details of your event, must have heard about it from somewhere, or found your event name on Google search results. That is why it is essential for you to make sure that your event name and logo are prominently displayed on each of your event pages.
2. Clearly mention your event date and time
Another crucial aspect of your event is its date and time that also demand prominence on your event website. This is because if your visitors do not know the date and time of your event they would not be able to grace your event. So you must always put the spotlight of your website on your event date and time.
One of the best ways to ensure that your event date and time get proper visibility is to have the Calendar addon offered by WP Event Manager. It displays your event date and time through a feature rich calendar that always catches the attention of your visitors.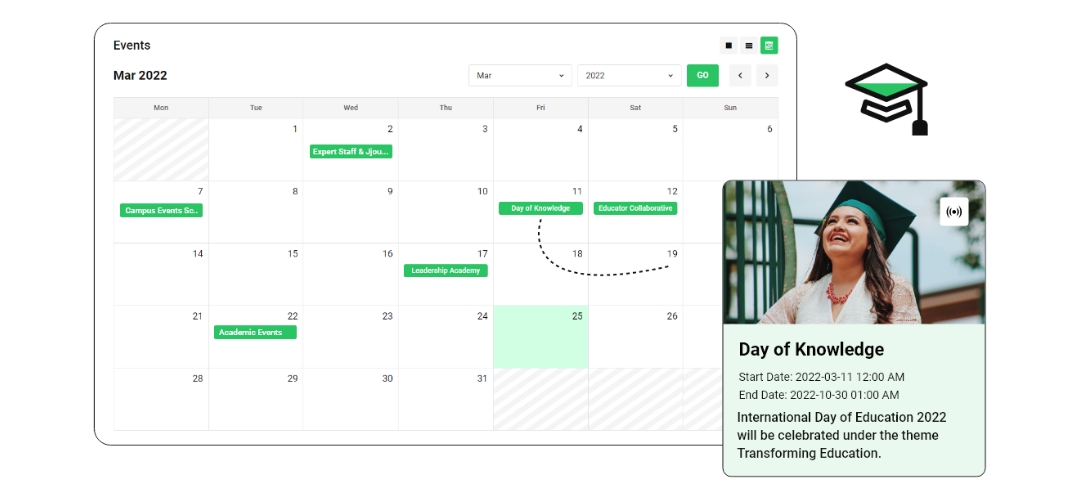 If you want to stick to only the basic features of the calendar addon, you can use the free version but if you want to upgrade your event management experience you must have its premium version that takes your event website to the next level. Now you can purchase the Calendar plugin individually as well as in a bundle along with other useful addons at an affordable price range.
With the WP Event Manager calendar addon, you can,
Display your event dates and details in an interactive way.

Choose your preferred event view for better visibility (box view or list view).

Showcase your events in a tiny widget form to drive your visitors attention.

Offer a quick event view through a pop up window and more.
These are some of the most useful features of the calendar addon but to know more about the entire list of features click here.
3. Event agenda
Event agenda is nothing but creating a roadmap for your entire event. If your event has a particular agenda, then it is a good idea to share it with your attendees or visitors through an exclusive page for the same on your website. This helps your attendee get a clear picture of what is going to happen on the event day.
While creating such a page for your event agenda, make sure you include the following things:
The time when the event starts and ends.

Event sessions, speaker and schedule details.

Lunch time or breaks.

Other performances or chief guests.

Topics of discussion.

Details of your venue.

Links to speakers profiles and more.
If you have built your events website using the WP Event Manager plugin, you can add the additional information regarding your event agenda on your single event page.
4. Describe events in detail
Your event description can greatly influence your visitors to take the decision on whether to attend the event or not. It is the path for them through which they will proceed to purchase your event tickets.
While adding your event description to your events page make sure you add detailed information along with the event objective.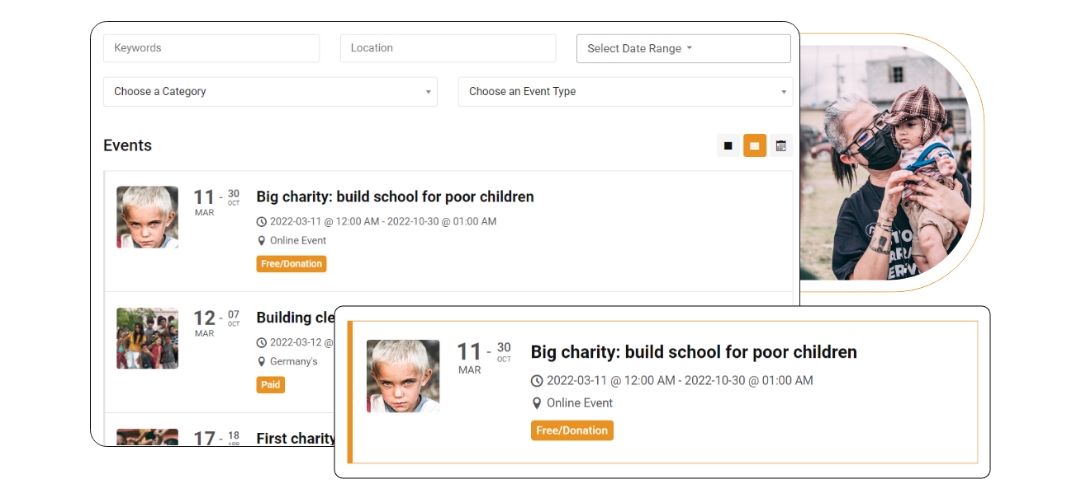 Don't forget to provide a Call to Action with the description. Afterall your ultimate aim is to encourage your visitors to purchase your event tickets.
Besides this, you must ensure that your event description does not have any error language including grammar and spellings. Always keep in mind that even minor errors may turn off your potential attendees. You can also use tools to scrutinize your text to confirm it does not carry any error.
5. Attractive and high definition images
Colorful graphics with high definition images always attract your visitors to a great extent. It also helps you sell your events. You can add images of the venue or images related to the topic you are going to cover in the event, photos of your previous events or the preparations for the upcoming events and more.
You just need to make sure that the images you put on your event page are of high quality with vibrant colors. You can also add impressive graphics on the page to make them more visually attractive. However, adding high definition photos and graphics is not enough, you need to ensure that your events website is mobile responsive. It is crucial to ensure that the photos you add on your website do not hamper the speed and overall performance of your website.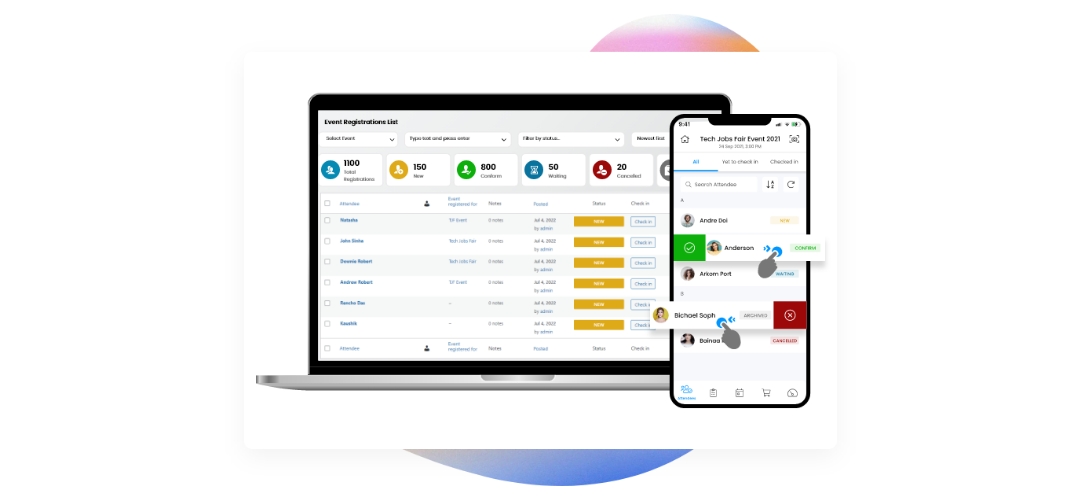 WP Event Manager takes care of this aspect as well and offers mobile responsive event management plugins.
6. Registration process
You must offer a smooth and simple registration process to your visitors to encourage them to move a step further and purchase your event tickets. This is important because a complicated registration process can divert them away from your events.
In order to avoid it, you can add a straight forward registration form to your events page to help your attendees do the registration smoothly. The Registration addon offered by WP Event Manager does the work for you. It offers a registration form that is easily customizable which means you can add edit or delete form fields as per your requirements.
7. Smooth ticketing system
Selling tickets for an event can be a struggle if you want to handle it manually as it takes an ample amount of time and effort. Moreover, the risk of errors is another concern when it comes to manually handling and selling tickets for your event. That is why having an efficient ticketing system is imperative for your events business.
WP Event Manager's Sell Ticket addon is the solution to all your event ticket related concerns. It is designed with an endless number of features that automates the entire process of ticket selling and also accelerates your ticket sales.
Some of its prominent features include,
WooCommerce integration.

SSL secured payment method.

Facility to sell multiple types of tickets.

Allows users to send tickets in mail in a PDF form.

Attendee information management and more.
To explore the entire list of features that the Sell Ticket addon offers, click here.
8. Event location and details
When you are hosting an in-person event or a hybrid event, the location becomes a vital factor. You need to display your event location prominently on your event website to let your attendees know where they need to go to attend the event. The best way to do that is to showcase your event location with a map. WP Event Manager's Google Maps addon is the best fit for your events website for this purpose.
Google Maps addon not only displays your event location to your attendees but also helps them identify events that are happening nearby.
9. Organizer details
There must be an exclusive section for the event organizers on your event website. This is the place where you need to include your organizer's name, contact details and other important information related to them. The WP Event Manager plugin offers a separate section for organizers where users can fill the details of the event organizers.
This helps your attendees build a connection with your event. Besides this, you can also offer a smooth way for your attendees to get in touch with your organizers without any obstacle. The Contact Organizer addon of WP Event Manager does exactly the same for you. It allows users to contact the organizers through a form.
Conclusion
These were the 9 most important things that your event website must carry with itself. Your website is an inseparable part of your event and represents your business to the entire world. That is why it needs to be attractive as well as functionally rich. If you think ticking all the above mentioned boxes is difficult for you, WP Event Manager is here to break this misconception. It is an all in one plugin that makes it easy for you to make your events successful and impress your attendees at the same time.