WP Event Manager brings you its premium addons at a discounted price range to offer an affordable option to build feature-rich events websites for you. We have recently given a complete makeover to our pricing structure by introducing plugins in bundles. In simple words, we have groupified our plugins in different packages to make them available to you at a very affordable cost where you can save a guaranteed minimum $636 in any plan you select.
We have kept the starting price of our bundle as low as $99 in which you will get 20 feature add-ons and it goes upto $799 with the facility of 37 add-ons for unlimited sites.
Lets explore our premium add-on packages in detail: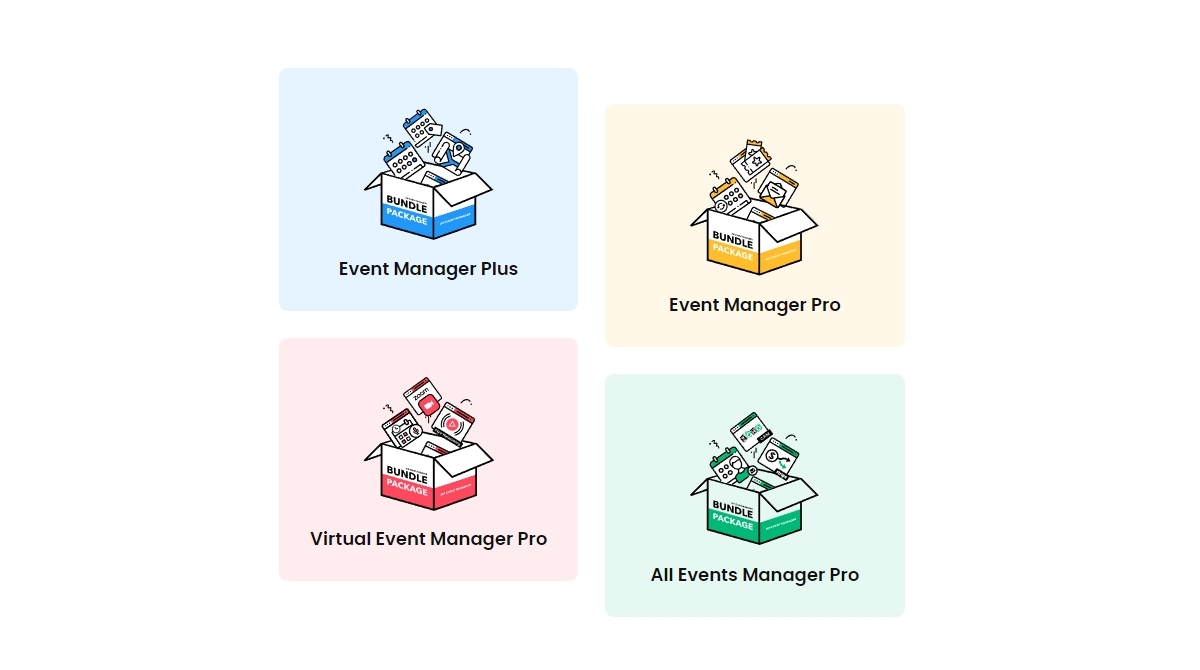 Take a look at the advantages you will get from our addon bundles:
Get addons in segments that define the purpose they serve you.
Save a lot of time and energy with bundles as you do not need to search each addon that fulfills your requirements.
The biggest advantage is affordability. The new plan has been designed for everyone who wants to amp up the features and functionalities of their event management website.
In addition to that you will get the assistance of our support team whenever you need and payment security for all your transactions with us.
Event Manager plus
The Event Manager Plus comes with 20 feature-packed add-ons that includes recurring events, mobile applications, bookmarks, Google Analytics, Calendar, Embeddable Event Widgets and more. This means that purchasing this bundle can solve most of your event management requirements like setting up an interactive calendar, displaying Google Maps on your website, easily hosting recurring events, measuring your event performance with Google analytics reports and much more.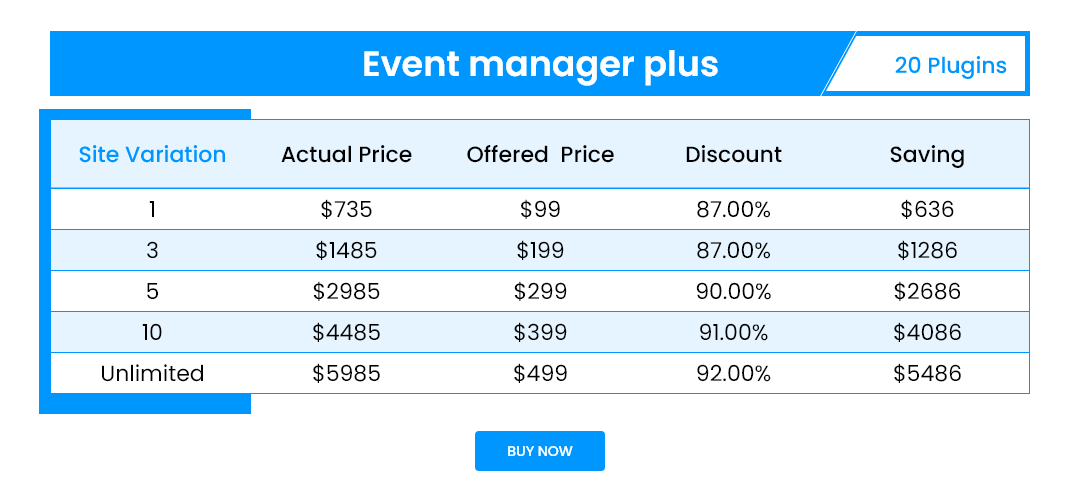 Event Manager Pro
The next plan in our list is the Event Manager Pro which comes with all the addons included in the Event Manager plus along with six additional add-ons that give you the advantage of a strong ticketing system with Sell tickets addon, the power to manage registration and attendee information and handling payment with WooCommerce.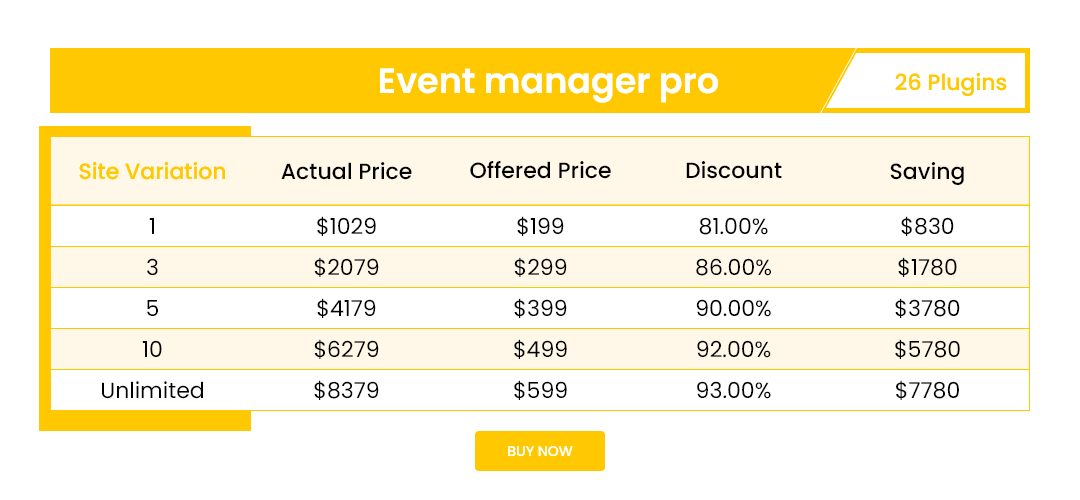 Virtual Event Manager Pro
Upgrading to the Virtual Event Manager pro gives you the benefits of Event Manager Pro along with three more virtual addons to help you manage your virtual events efficiently like hosting a live event with Expo Networking or a virtual conference with Zoom and more.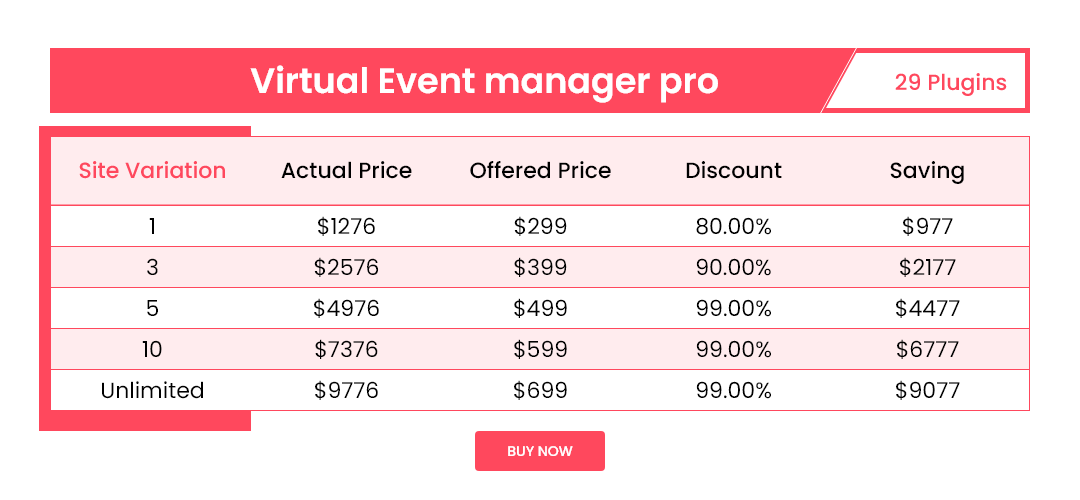 All Events Manager Pro
All Events Manager Pro is a complete package of our add-ons that contains everything to accelerate and simplify your event management efforts. This contains the strength of all the above mentioned bundles with eight powerful marketing addons that help you manage and synchronize registered attendee data.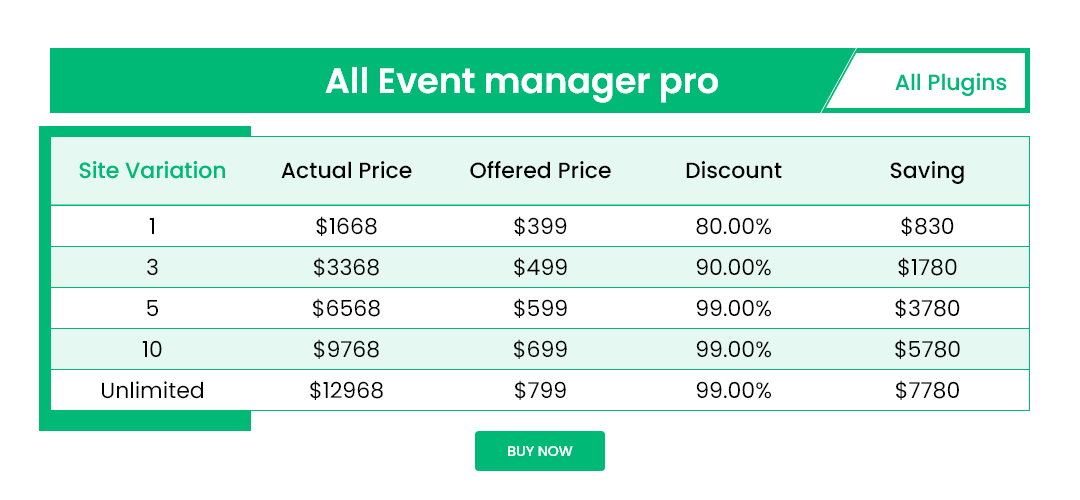 We anticipate that our renewed package prices will help you get what you want for managing your events efficiently at budget-friendly prices. The structure has been designed to keep all industries and sizes of businesses in mind. We are thankful to our patrons for their relentless support that has helped us achieve the position where we are today. That is why we keep improving our product quality and try our best to offer them at lowest costs.