WordPress is counted among the most rapidly developing Content Management Systems available on the internet today. The CMS powers more than 43% of all websites and occupies 60.8% market share in the CMS market. Some of the prominent business names in the world including Forbes, National Geographic etc. rely on WordPress for their own sites.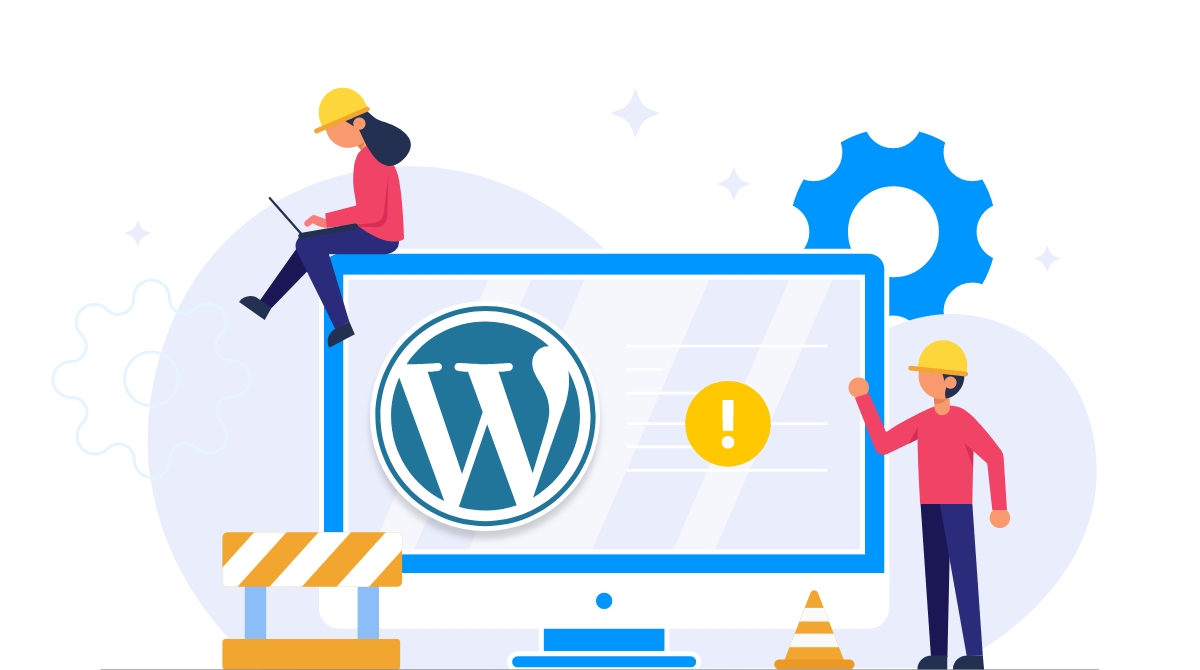 If you too own a WordPress website for your business then this article is extremely useful for you as we have shared the details of how you can efficiently conduct your wordpress website maintenance task to keep using it smoothly without any technical issues.
The technology behind WordPress is constantly developing itself making it essential for you to keep your site updated with the current WP version, theme and plugins. That is why proper maintenance is an absolute necessity for your WordPress site.
It is truly an enjoyable experience to work with WordPress but after using it for a while you may face issues such as a plugin you use needs an update or your current theme is outdated and finally the entire WordPress needs an update.
Dealing with such errors can be depressing. You would definitely start thinking, if you need a backup for your blog posts and other contents as you have spent hours of hard work on it.
We have put together some of the most effective ideas to maintain your WordPress site to keep your worries at bay.
What is WordPress Maintenance?
WordPress maintenance refers to a procedure in which you need to perform certain tasks that help you optimize your website, protect it from security threats and make it run smoothly. Such maintenance works include removing outdated plugins, updating WordPres, repairing broken links and more.
Why is WordPress Maintenance important?
This is one of the common questions that comes into most business owners' minds and we are going to make it clear to them in this segment.
Well, owning a WordPress website is similar to owning a car which requires regular maintenance for a longer life and smooth rides.
Although WordPress is known for its simplicity and ease of use, it is a relatively sophisticated database-driven system with several source code. That is why regular maintenance is necessary to keep it secure and stable just like other software.
1. Website security
WordPress website security should always be taken as a priority. As the WordPress system is updated consistently, hackers look for an opportunity to utilize the vulnerabilities of outdated software.
That is why it is always good to depend on professional maintenance services to keep your business on a safer site. Even a hint of malware can destroy your brand reputation and make you lose your customers.
You can also rely on a security plugin to schedule your website scans on a daily basis. It also alerts you instantly if it identifies any suspicious activities on your site so that you can clean it up immediately with a simple click. Some security plugins also provide firewall protection and keep your business safe from damages.
Hiring a professional maintenance service or relying on a plugin both work in maintaining your site security and let you focus on other important business activities.
2. Website speed improvement
Needless to say, fast loading websites are preferred by all users and Google. It tops the list when it comes to user-experience benchmarks.
Adding new assets to your website can make it slow which ultimately lowers its ranking. However, with routine maintenance you can easily avoid such situations and easily improve your rankings on Google.
3. Scheduled backups
Most site owners do not pay much attention to backup until it is required. You would understand the pain if you have ever lost your data due to a crash. The only solution to avoid such a situation is to back up your wordpress website routinely.
4. Software updates
WordPress frequently introduces new versions and to keep enjoying your professional WordPress website, you need to update your WordPress regularly. It is similar to your phone or laptop that also requires routine software updates to perform smoothly.
5. Saving time and money
Recovering your business website after an attack can be an expensive affair and time consuming as well. It can also harm your business reputation. However, if you do proper maintenance work on a regular basis then you do not have to face any such issues and you can easily save your time and hard-earned money.
6. Brand reputation
If your website is slow, broken or hacked, it will gradually lose its credibility. This will ultimately ruin your brand reputation in the market. That is why website maintenance service is essential for you, if you care about your brand image.
Now you know why it is important for your business to maintain your WordPress Website at regular intervals. So what are the tasks involved in this maintenance procedure? The next segment of the article thoroughly described various ways to maintain your WordPress Website.
Various ways to maintain your WordPress Website
1. Use a plugin for maintenance
Using a suitable WordPress plugin is a great idea for you if you do not want to give the entire responsibility to a stranger. A good maintenance plugin takes care of everything related to the process starting from website security to backups and updates through a single dashboard.
2. Appoint a maintenance service provider
Another option that you can choose for your WordPress maintenance is to hire a WordPress maintenance service provider. They look after everything that is required to properly maintain your WordPress Website and ensure that your site runs smoothly.
Here, we would like to mention that not every maintenance service provider is worth your trust and some of them can be expensive as well. So appoint a maintenance service provider only if you are confident about it.
3. Manually maintain your website
Handling wordpress maintenance manually can be stressful and time-consuming as there are multiple aspects to focus on. Keeping an eye on all of these aspects efficiently can eat up a major part of your working hours if you do not have a dedicated person to manage that.
If you are planning to perform the maintenance task manually, you can follow the below-mentioned checklist to do the same.
How to maintain your WordPress Website manually?
a. Prioritize security
One of the biggest reasons behind WordPress maintenance is ensuring your website security. Even a hint of malware has the power to ruin your business reputation. Create a website security plan or use a wordPress security plugin to do that.
b. Backup site regularly
Backup provides amazing support especially when your site is hacked or your account has been suspended by your webhost. This is because having a backup removes the fear of losing your important data. There are multiple ways to have a website backup,
Using a WordPress backup plugin.

Depending on your web host's backup.

Backing up your site manually.
Here we would like to mention that depending on your web host is not a very good option because if your website gets hacked, it will also not be spared. Manually backing up can also be tiring and chances of human errors are also high in it. So choosing a suitable WordPress backup plugin is the best way to do so as it automates the procedure with daily backups.
c. Optimize WordPress site performance
Slow websites are a big turn off for your visitors and they leave the site instantly. Thankfully WordPress offers various plugins and tools to deal with such issues. They help you optimize your site and boost its performance.
A wordpress site-optimization plugin does the following to improve your website performance,
Deletes junk data.

Optimize images.

Cleans your database.

Cache your website pages and more.
One of such site-optimization plugins is WP optimize that you can rely on for your site optimization.
d. Update WordPress version
One of the most crucial aspects of WordPress site maintenance is updating the WordPress version. Usually WordPress version upgrades are released twice or thrice a month and installation should be done as early as possible. Such version upgrades come with bug fixes, patches, advanced features and more.
Minor updates are automatically installed into your website but when it comes to the major ones, your authorization is needed.
e. Update WordPress themes and plugin
The plugins and themes on your site require regular updates just like the WordPress core. It should be done as soon as an update is launched. The developers of these themes and plugins also work on the vulnerabilities found during the update. Even if you can not always be successful in staying on top of the update schedule, it is essential for you to update the themes and plugins of your site regularly.
f. Find and delete spam
Spams can be dangerous for your site. If a commenting facility is available on your site then you must have come across a never ending list of comments. Some of these posts are irrelevant and some of them promote their products or services. Malicious links can also be found in the comment box.
Such spam comments often prohibit your real visitors from interacting with you.so it is always good to delete spam comments from your comment section.
g. Fix broken links
The issue of broken links often go unnoticed but broken links can interfere in Googlebot and other search engines. This does not let you rank on search engines even if you put a lot of effort into your website SEO and content.
However, if you keep an eye on your broken links on regular intervals, you can easily avoid such situations. You can also take the help of a site audit tool that can look for broken links on your site and provide a list of such links to you which you can update.
h. Check downloads and social media links
In case you have added social media links and the downloading option to your site, it is essential for you to check the links from time to time to ensure they are working properly. Having bugs or improper code often break links and disrupt downloads which can badly spoil your user experience and hamper your business credibility.
Thoroughly go through your website in incognito mode and ensure that all the links are redirecting visitors to the right pages and downloads are working smoothly.
i. Review site SEO
Your site's SEO is one of the most vital parts of your website that helps your target audience find it easily. The task of Search Engine Optimization is much more than just optimizing fresh content, it includes
Checking old content.

Refreshing meta description.

Meta tags, titles and more.
Scrutinize your SEO practices quarterly to make sure the method you use is updated with Google updates.
j. Check browser and device compatibility
Sometimes your website performance varies from browser to browser. For example it may happen that your website performance is better in desktop browsers than mobile devices. You need to keep in mind that visitors are impatient and if your website is slow they will not wait. That is why you need to examine your website performance on various browsers and ensure it is performing well on all devices.
k. Check user account
Hackers can easily make their way to your website through a user account. So checking your user accounts is necessary to make sure that they don't catch the attention of hackers.
Routinely remove your old and inactive accounts.

Create a strong password policy for all accounts.

Adopt the culture of frequently updating passwords.
l. Review website password
Hackers target common and weak passwords which are often considered the main reason behind security breaches on WordPress. Here are some tips for you to use to keep your site protected from such attacks,
Create passwords combining uppercase and lowercase letters, symbols, punctuations and numbers.

Try to make lengthy passwords.

Take help from a password manager to generate and save passwords.

Don't use the same password for different accounts.

Change passwords at regular intervals.
m. Update site information
Let your users know about new developments on your website by updating your site information including the about us section, contact information, new products and services etc.
n. Review Google Analytics and Google search console
Reviewing your site data through Google Analytics and Google search Console can be extremely helpful in maintaining your site and securing it.
Google Analytics tells you about any noticeable increase in the number of visitors on your site in a specific region without any cause. This could be a clear indication of an attack. Besides this, it also helps you understand the content your viewers prefer.
Similarly, the security issue tab on the Google Search Console immediately alerts you when malware is identified on your website and enables you to work on it before it's too late.
o. Clear database trash
Your WordPress database contains various types of content including posts, comments, images etc which are stored in your database. When such content starts accumulating on your website, they slow it down. That is why it is important for you to remove trash from your database regularly.
Wrapping up
The importance of WordPress maintenance is often not taken seriously but if you want to use your website as an asset that bridges the gap between you and your customers and also helps you earn, then you have to make sure that it performs well. We hope that the above-mentioned checklist will help you efficiently maintain your WordPress site.