If your business revolves around events or your company frequently organizes events, this article is for you. In this article, we have shared how WP Event Manager, an eminent WordPress Event Management plugin can help you manage your events efficiently through a feature- rich events website.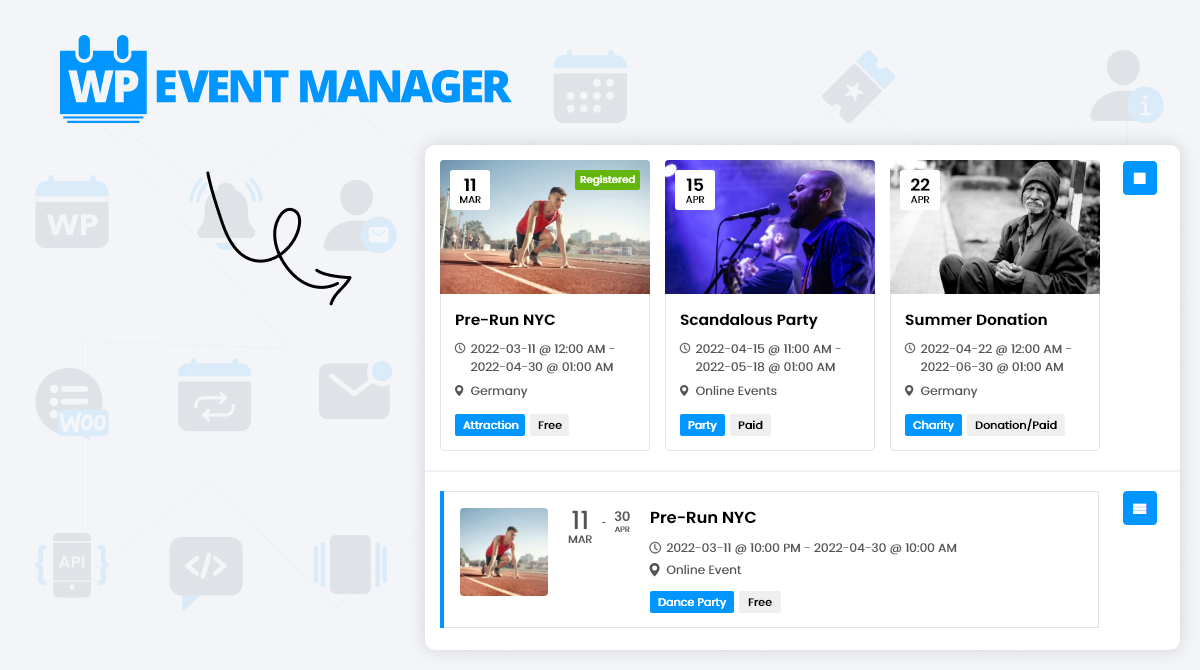 The plugin offers several add-ons to simplify the task of event management that ranges from maintaining an interactive calendar, managing bulk registration, booking and selling tickets to promoting events.
You will learn about the following things in this article:
1. Why do you need WP Event Manager?
Having just an events website for your business is not enough to grow it. To expand your audience reach, you need the right features to support the website and make it desirable to your target audience. To add such event management features to your WordPress site, you need a plugin like WP Event Manager.
The market is flooded with such WordPress event management plugins so you do have the right to ask us why you should choose WP Event Manager.
Here is the answer:
WP Event Manager is a light-weight, scalable and feature-packed plugin that takes care of all your event management needs.

It offers irresistible features that take your event management system to another level.

Fully responsive designs.

Offers major event management facilities for free.

A free mobile application with advanced features with web check-in facility.

Advantage of previewing an event before publishing it so that you can make changes to it before that.

A very sincere

support team

that is always ready to help users with all its queries.

The core plugin is available for free. Users only have to pay for the advanced features.

There is a

knowledge base

section in its official website that describes each of the plugins and how users can use them. This guide is especially created for its free version users which contains all the steps that are needed to perform a specific function along with descriptive images. It also offers an FAQ section that has covered most of the common queries regarding the add-ons.

In addition to that, it has many positive reviews for its plugins that can be found on various platforms including wordpress.org.

It offers more event management features than its competitors in this market.

Besides this, our add-ons are constantly updated to remove bugs and make the add-ons better for users.

If you want a competitive study between WP Event Manager and its competitors, you can read our previous blog on "The 10+ Best Event Plugins for WordPress in 2022: review"

When you join hands with WP Event Manager, you do not need to go anywhere else for your event management requirements.
The core plugin is absolutely free for its users. Here the most surprising fact is the core plugin offers some of the features that are usually counted in the list of paid ones by other competitor plugins.
Here is the list of features that the core plugin is designed with:
Easily customizable as per business requirements.

SEO friendly.

Offers a fully responsive design.

Field editor: to help edit fields in the event submission form.

Multiple calendar views.

Frontend event submission form to help event organizers submit their events without being dependent on the admin.

It helps users find events easily based on event filters.

Event widgets.

Multiple settings to fulfill requirements.

Compatibility with page builders like Elementor and more.

Multi-language support.

Customizable template files.

Offers an event dashboard to help organizers handle multiple events.
3. Add-ons offered by WP Event Manager
WP Event Manager offers a total of 37 amazing add-ons with extraordinary features. You can purchase these add-ons individually or in bundles. WP Event Manager has recently reviewed their pricing structure and divided all the add-ons in four categories.
These bundles are categorized based on the purpose they serve.
Here are the bundles:
Event Manager Plus.

Event Manager Pro.

Virtual Event Manager pro.

All Events Manager Pro.
Click here to access all the details of each of the bundles.
Each of these add-ons are useful and designed to improve the quality of your events business. However, we have picked 5 most desired ones to explain in this article so that you can get a clear idea about how the add ons work.
4. Most popular add-ons of WP Event Manager and their features
1. Calendar
The first in our list is the calendar add-on that is essential for your events website. The add-on helps share the dates and details of your events with your audience through an interactive calendar.
The calendar efficiently takes care of your event schedule and streamlines the management process.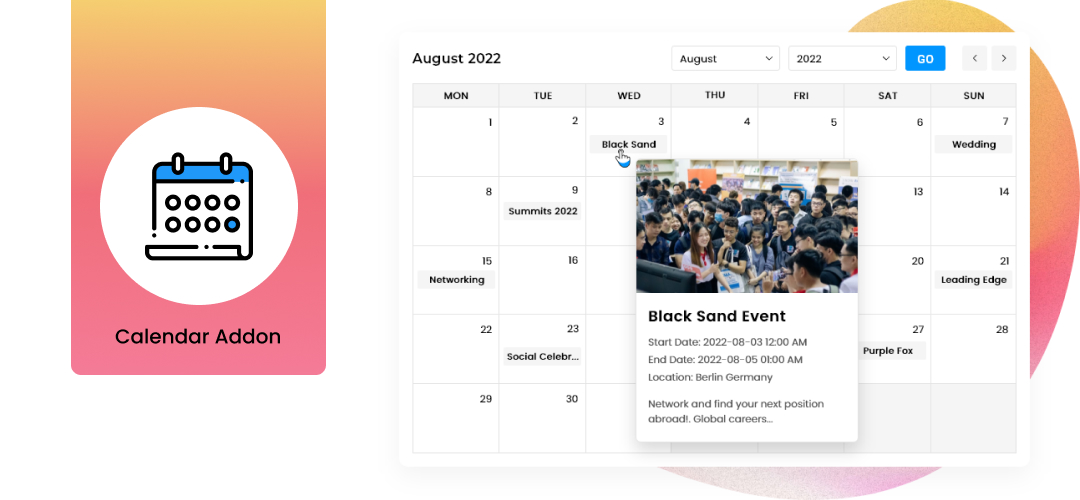 Some of the remarkable features of the add-on are listed below:
It allows users to:
Showcase multiple events occurring on the same day.

Display the event calendar in the form of a widget to catch the attention of the visitors.

Get quick event access by simply placing the cursor on a specific event date.

Display past and upcoming events with shortcodes.

Responsive calendar layout.

Advanced filtering options to make it easier for visitors to search for specific events.
Click here to unveil more such useful features of the Calendar add-on.
2. Registration
Managing bulk registration for an event can be a challenging task if done manually. The Registration add-on of WP Event Manager is designed to make the registration process simple and fast for both event organizers and attendees through a customizable registration form.
Some of the remarkable features of the add-on are listed below: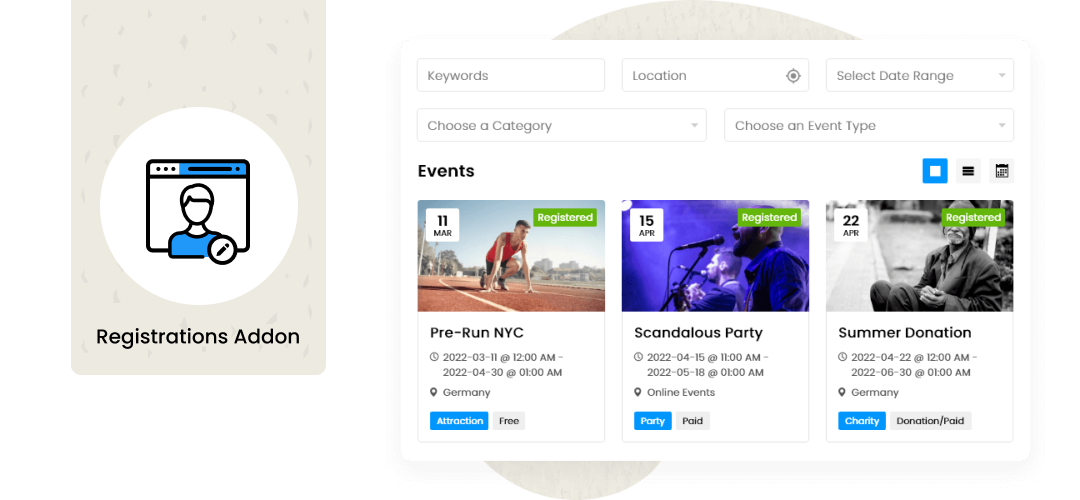 It allows users to:
Manage an unlimited number of registrations through the registration dashboard without any hassle. The dashboard contains various details including total enrollments, users who canceled, users who confirmed, archived, checked in, etc.

Handle the registration status of the attendees to confirm, waiting to confirm or cancel their registration.

Collect details of the potential attendees through the registration form which is fully customizable as per requirements.

Restrict people from registering multiple times with the same email.

Take an unlimited number of registrations or set a limit for the maximum number of registrations for your event.

Send customized email messages to your attendees to confirm them about their registration.
Click here to unveil more such useful features of the Registration add-on.
3. Sell Tickets
The Sell Ticket add-on has simply redefined the concept of selling and buying tickets for an event. It comes with all the essential features that are required to make the ticket selling process easy and secure.
Some of the remarkable features of the add-on are listed below: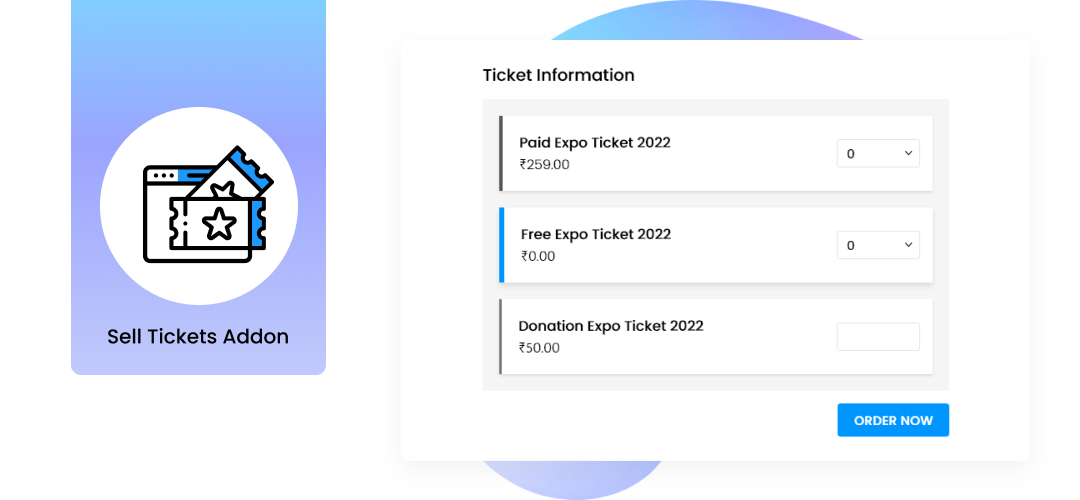 It allows users to:
Sell multiple types of tickets including Donation, free and paid.

Get 100+ ironclad, secure payment gateways with sell tickets and WooCommerce integration.

Use the setting options to perform major functions like mentioning the ticket fees, tickets per order limit etc.

Receive payments through WooCommerce.

Display major details of your event tickets in the ticket information block.

Send E-tickets to your attendees in PDF forms so that they download them as per their convenience.

QR code facility to track event check-ins and check-out.
Click here to unveil more such useful features of the Sell Tickets add-on.
4. Virtual add-on ( Expo networking)
WP Event Manager offers a set of add-ons dedicated to virtual events only. One of these add-ons is the Expo Networking add-on. It is designed to make your virtual networking events successful with all the facilities that are usually found in in-person events.
Some of the remarkable features of the add-on are listed below: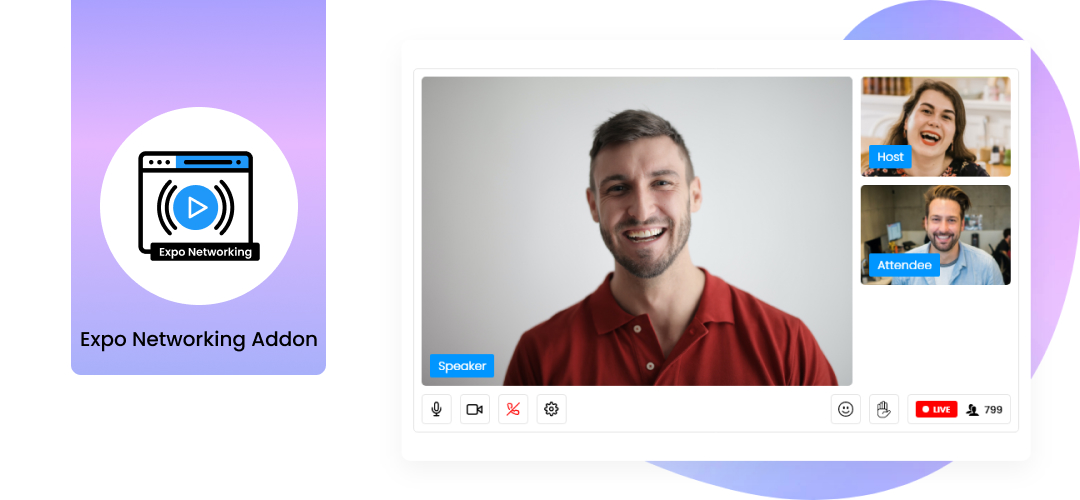 It allows users to:
Easily handle the main stage with attendees, speakers and host.

Schedule sessions, Add speakers, assign hosts.

Livestream your events with an advanced video streaming facility.

Offer interactive booths and exhibitors packages.

Interactive Lounge for Participants.

Private video meetings.

Use attractive banners.

Share screen on the main stage.

Get useful insights including the number of registrations, tickets sold, participants present, check ins and more.

Sell tickets with multiple tiers.
To unveil more such features Click here.
5. Google Maps
The Google Maps add-on helps users display the location of all the events that are listed on their website on Google Maps. It makes it easy for attendees to check the exact area of the event and the easiest route to reach there.
Some of the remarkable features of the add-on are listed below: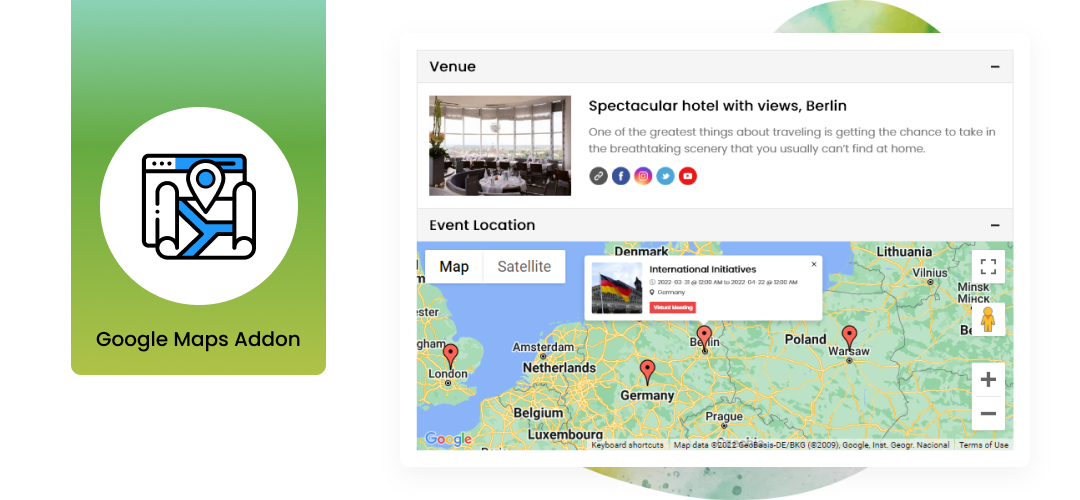 It allows users to:
Highlight the location of your events with an indicator image or icon on your website.

Narrow down the event search results based on the event location.

Easy search options with type-ahead search facility.

Select distance unit.

Add various effects and style your google maps view based on your preference with the Google Maps styling wizard.

Find out the events taking place near your current location.
Click here to unveil more such useful features of the Google Maps add-on.
6. Recurring events
Updating recurring events on your events calendar manually is tough and tedious. The recurring events add-on simply does this work for you and updates your recurring events on the calendar automatically.
Some of the remarkable features of the add-on are listed below:
It allows you to:
Repeat events on a daily, weekly, monthly, or yearly basis.

Easily set up the Recurring event plugin without any complicated codes.

Organizers can change the timing of each of your events without affecting the timing of others.

manage all the recurring events from a useful dashboard that shows all the event details in four columns; Event ID, Event Title, Start Date, End Date.

Create an event once and get the upcoming ones generated automatically.
Click here to unveil more such useful features of the Recurring Events Adoons.
5. Conclusion
We hope that we have been successful in making you understand how WP Event Manager can transform your events business. Whether you are organizing in-person events, virtual or hybrid events, the plugin can help you.