Creating an event listing page on your WordPress events website is the best way to grab the attention of your target audiences. It not only increases your event awareness but also helps you build a trustable reputation in the industry. So what does an event listing page mean? How to create one? Where to start from?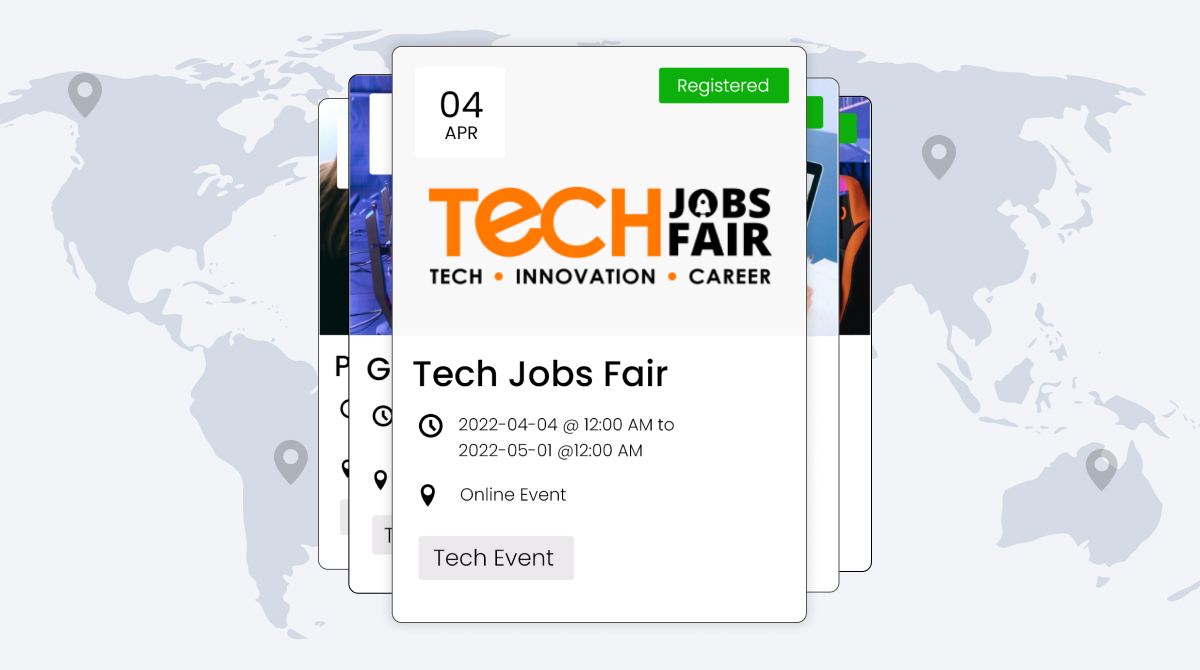 You will get all these answers in the upcoming segments of this article, where we have mentioned every detail that you need in the process of creating an events listing page.
What does event listing mean?
An event listing is created to display events and sell tickets for the same. It needs to be attractive as well as informative enough to gain the attention of the right audiences.
In simple words your event listing should be made to maximize your event exposure.
Before creating your event lists, you need a dedicated events website to post them. If you do not have an events website yet you can create one with a reliable WordPress host like Kinsta and then start adding your event lists.
What defines an events website?
To define an event website we could say that it is a place where you can add your event listings and where your potential attendees come to get all the event-specific details. Such details may include the event date, time, location, registration or booking details and more. Whether you conduct in-person, virtual or hybrid events, an event website is essential for you to ensure that your target audiences do not need to pass through a hassle to gather information about the events they are looking for.
How to create an events website?
A dedicated event website is the one that carries various event management functionalities such as a calendar, registration or booking system and more. It is a place where you can add all your event listings.
You can use WordPress to create an event website for your business because it comes with amazing speed, support and security. It is a multi-functional platform that offers everything that you need to set up your event listing website and sell your event tickets.
To know the process of creating a full-fledged event listing website with WordPress, you can read our blog"How to create an event registration with WordPress."
Once you create a WordPress website for your events, you need to add event listing functionalities to it.
We recommend the WP Event Manager plugin to you to add event management features to your website. It has all the essential features that you would need for handling your events efficiently.
The best part is, the core plugin is absolutely free which means you can take the first step to WP Event Manager with its free version and move to the premium ones if you like using it.
It has some amazing premium addons that can simply be a game changer for your events. Some of the most popular plugins of WP Event Manager include Calendar, Registration, Sell Tickets and Recurring Event. Discover the entire list of plugins offered by WP Event Manager now.
8 essential things that you need to include on your event listing page
1. Write an impressive title
An event title plays a pivotal role in driving the attention of your target audiences toward your event. It is one of the things that encourages people to get inside your event and check the details.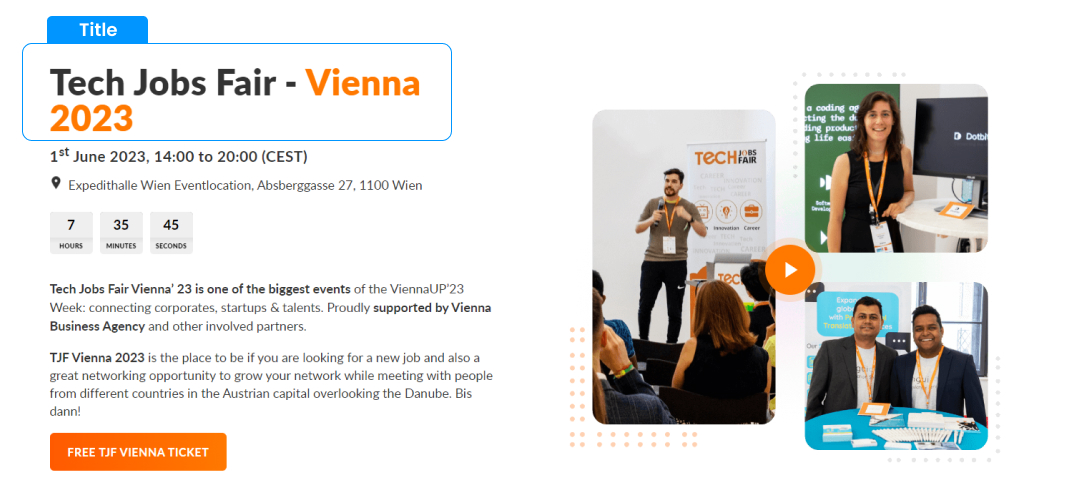 It is not necessary to add humor, sensation or anything extraordinary to your event title but you need to make sure that it makes the viewers curious about your event.
It is better to add a name that is short and crisp.
2. Use a compelling image
Images are extremely powerful in building interest among people about a specific event.
In most cases, it is the first thing that catches attention. While creating images for your event listing make sure you do your research work properly in advance.
Check out the images that are used by your competitors and observe what type of images have the ability to grab the attention of the viewers.
Do not forget to add your business logo to the images. You can also share a glimpse of the best moments of your previous events.
Maintaining the color of your brand in the images is also crucial here especially if you are making a series of images.
You can also represent your events in slides with the Slider plugin of WP Event Manager. Events not only look good in slides but also display the details in an organized way.
3. Add relevant information
After the title and images of your event, the next thing that people get into is your event description. If a visitor comes to this part it means he or she is interested in your event. You should not leave a single opportunity to impress them with a detailed and convincing event description.
While writing an event description, keep in mind that it needs to be informative.
Include the following points in your event description:
What is the theme of the event?

At which place is it going to happen?

Who can join your event?

What is the timing of your event?

Why should your attendees attend the event?
Apart from the above mentioned things, your attendees might also be interested in knowing different policies and other related things of your events. As an organizer it is your responsibility to ensure that they get all the details that they are looking for without any hassle.
You must also add the following details in the description section:
Age restrictions (if any).

Cancellation and refund policy.

Details of your speaker.

Availability of transportation options and other venue details and more.
Such details make it easy for your potential attendees to take the decision of whether to attend an event or not.
4. Write a good copy
Writing a good event copy always works in this case.
Consider the following while preparing the copy:
Let people know about why the event is important.

How and why it will be beneficial for the attendees.

Mention the things that your audiences can learn from the event.

Display customer testimonials as proof to your promises.
5. Keep the SEO Factor in mind
You might be surprised to know that the SEO factor is not limited to your website and blog content only. It also works in your event listings as well to maximize exposure.
The SEO norms that you follow in your website content should also be maintained in your event listings.
Initiate a research to find out the keywords that are commonly used for the type of events you host and add them to your event content.
Diving events into various categories makes it easy for your website visitors to look for specific events. Event tags also improve your SEO game and help you acquire a higher position on popular search engines.
7. Include a Map
Adding maps to your event listings can be extremely helpful for those who want to participate in your event.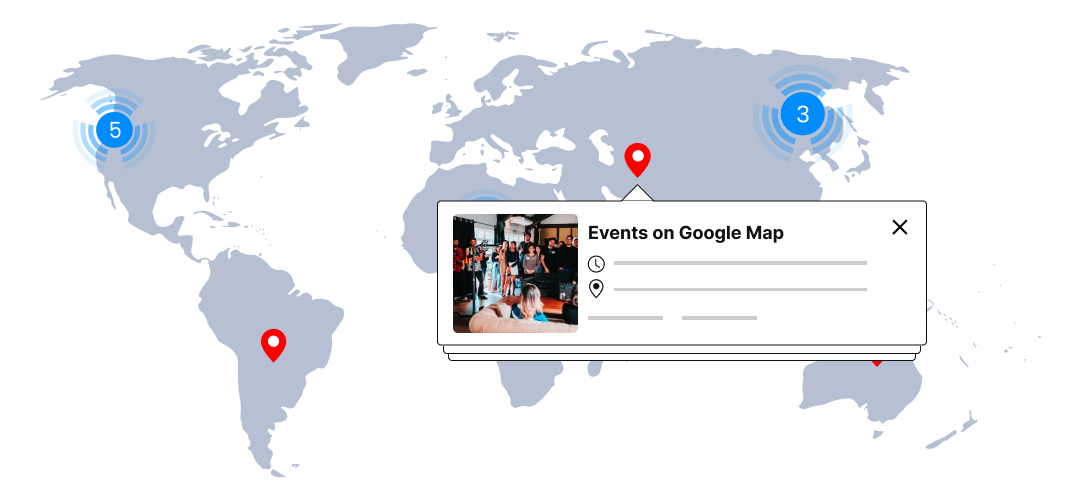 The Google Maps plugin from WP Event Manager helps you add Google Maps to your event. It also highlights the events that are taking place near you.
8. Maintain professionalism
The event listing you create not only represents your event but also your business as a whole. So it is essential for you to maintain professionalism at every step of it.
Consider the following points:
Pay attention to every detail.

Look for grammatical errors and rectify if you find any before publishing it.

Avoid using all caps in your content to draw attention.
Professionalism in your content shows how serious you are about it and also reflects the effort that you have put into it to display event information with clarity.
Wrapping up
We hope that the above mentioned tips and tricks will help you create a compelling event listing page for your upcoming events. Be careful while writing event description, title, adding images, event tags and event copy. Make sure that every step reflects professionalism and clarity. Using an efficient event listing software WP Event Manager can solve a major part of your event management problems. If you have not tried it yet, you can try it now for free and if you like you can go for its premium features as well.