Creating a Revolutionary Event Name Badge: 8 Promising Tips
If you are into the business of organizing events, you must have experienced sleepless nights worrying about your event Name badges.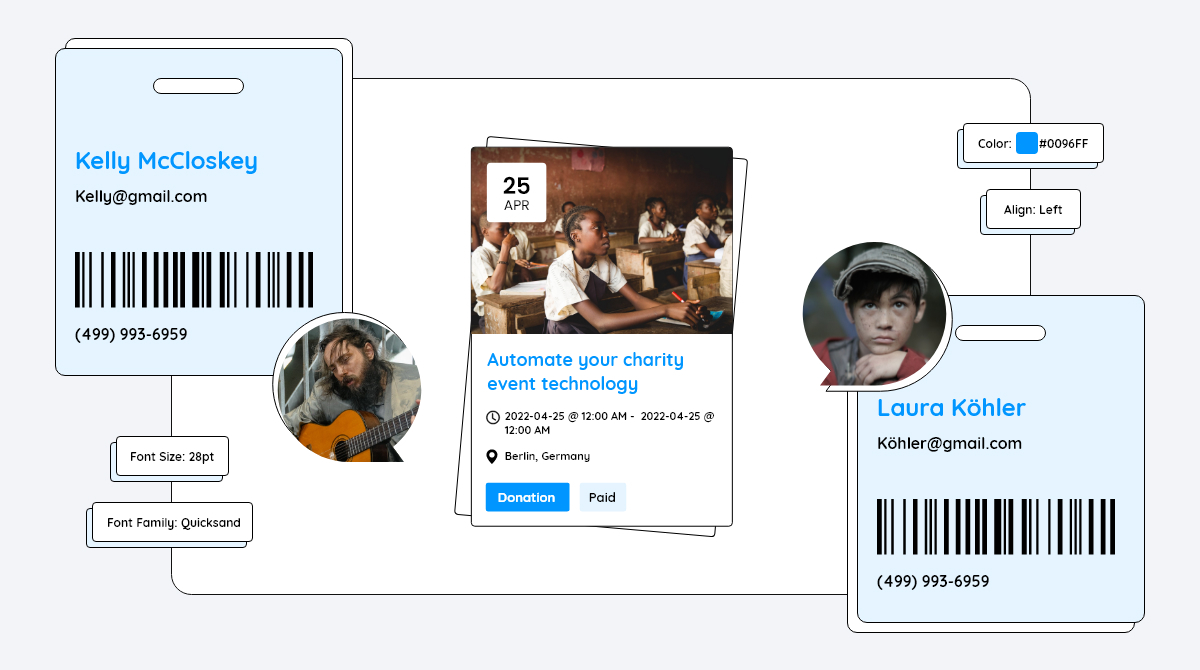 Name badges are often underestimated in events but they do have a significant role to play in your events especially if it is a networking event. It works as an ice breaker for attendees. This is because it carries a brief introduction of the person who is wearing it which ultimately makes it easy for others to recognize them.
It also helps attendees avoid embarrassing situations like forgetting the name of a person in the event that they have met just a few minutes before.
In this article we have covered almost everything that you need to know about Event Name Badges.
You will learn about:
1. Importance of Event Name Badges
Name Badges offers an instant introduction to the person who is wearing it informing other attendees about who that person is and where he or she works.

Name badges give events a professional look especially when it comes to a huge business event, where formal introduction has less scope.

Name badges also help you spread your brand awareness in an event as the Name badges you create always carry your brand logo.

You can also add a section in your name badge that contains the social media details of the person who carries it.

Name badges play the role of a conversation starter that not only displays the name of an attendee but also reveals his or her professional background.
2. Things to consider while creating Event Name Badges
Make your name badges stand out.

Choose your name badge fastener carefully so that it does not ruin clothes.

If you are organizing an eco friendly event, make sure you use a name badge that is reusable.

Make the content of your name badge clear and prominent.

Your name badges must be easily available to your attendees.
3. How to create Name Badges?
The best way to create Name badges is with an efficient WordPress plugin, like WP Event Manager's Name Badges addon. It has got the right features that cover up all your requirements in this regard.
Features of the Name Badges plugin include:
The addon makes it easy for your attendees to interact.

It lets users customize their badge design as per their preference.

It allows users to print name badges on demand and on-site.

Users can also design badges based on their ticket types.

Users get multiple badge layout options to choose from.
Click here to know about the entire process of creating Name Badges.
4. 8 useful tips to create your Event Name Badges
1. Determine the badge information
It is essential for you to determine which information you want to add to the Name Badges even before creating it. Make sure you have a proper plan for everything that will be included in the badge so that you do not have to deal with any type of confusion.
2. Always use good quality badges
The quality of your event badges speaks for the overall quality of your event, so you must not take any risk with it. You have several options in this regard that include lanyard, stickers, clips etc. while selecting the material for your event badge make sure you choose something that does not damage outfits, otherwise it will put a bad impression on your attendees.
3. Don't forget about the logo
Events offer a great way to spread brand awareness among your target audiences. That is why it is always beneficial to add your brand logo to your event Name Badges. It makes it easy for attendees to identify and remember your brand.
4. Add prominence to the badge content
Make sure the information you add to your badge is prominently displayed, so that people can understand the name or other details clearly. If the content is not clear then the purpose of these name badges will not be fulfilled. Choose the right font, use dark text colors and represent it clearly.
5. Encourage networking
Networking is an inseparable part of events and you must not lose a single chance to encourage networking. How to encourage networking through your badge? Well, you can use different color codes, images and other things in your badge to differentiate attendees based on their professional backgrounds. This encourages people who belong to the same profession to start a conversation easily.
6. Add social media details
Nowadays social media profile details play a great role in building professional connections. So why waste this opportunity? You must add a section in your Name badge where the social media profile details of your attendees will be mentioned. This would definitely help people stay in touch with each other even after the event.
7. Focus on name badge visibility
To maximize the visibility of your event name badges, encourage your attendees to place the badge in the right side of their chests. This is an appropriate place to gain attention because when an attendee shakes hands with another, the badge will be visible to both of them.
8. Recycle the badge materials
Recycling your badge materials can be an excellent idea to avoid wastage. Whether you are conducting an eco friendly event or a normal one try recycling the name badges so that you can use them in the future as well. How to do that? Well, you can collect the badges from your attendees at the end of the event for the purpose of recycling. Then you can reuse them in your future events as well. This is not only pocket friendly but environment friendly as well.
5. Conclusion
We hope that these above mentioned tips will help you create revolutionary Name Badges for your brand. As Name Badges offer multiple benefits to your business, you must know how to use them to enjoy all the benefits.