What should be included in an event recap
It takes a lot of planning, hard work and sleepless nights to arrange an event successfully. However, the last day of your event does not put an end to your event marketing efforts. Putting down well-structured blog-content related to your events or an event recap always works in your favor.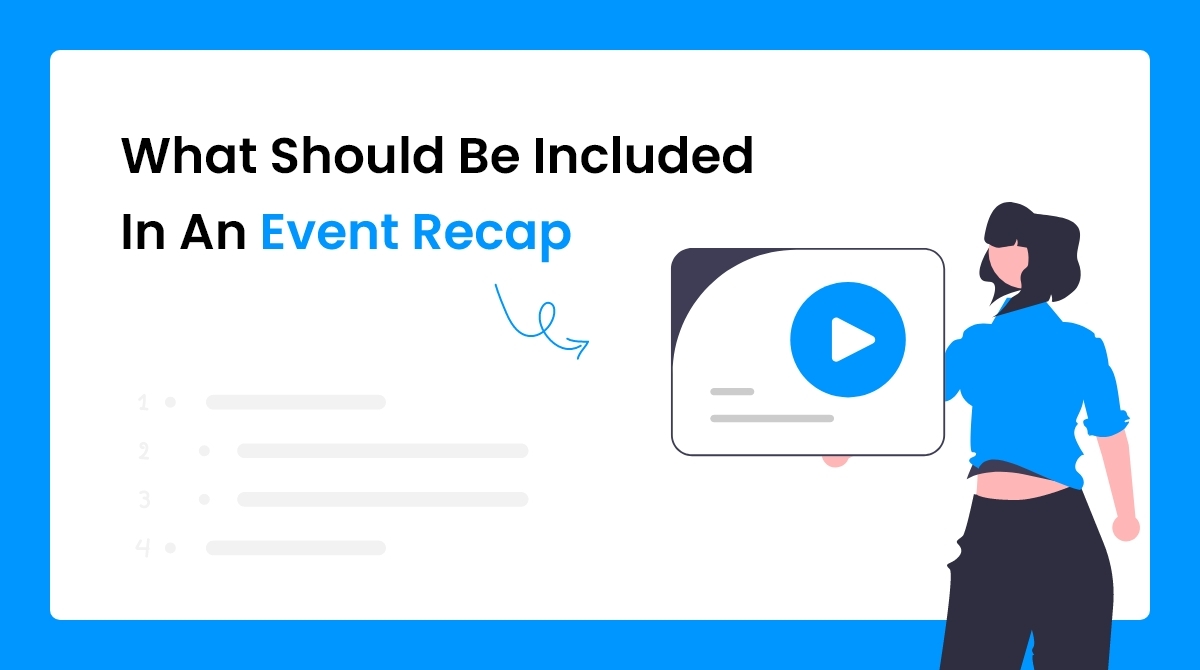 Here are the advantages that a well written article can give you for your event business,
Boost your website traffic.

Play the role of a marketing material for your upcoming events.

Encourage people to join your next event.

Offer you well-crafted content for the next newsletter.
Think making an event based write-up is challenging? Trust us it is not. You just need to follow a few simple steps to write successful event blogs. In this article, we have shared some tips with you on the things you need to include in your event recap as a post event wrap-up.
Before sharing the tips with you, let's take a closer look at the concept of event recaps.
Understanding Event recap
An event recap is a piece of write-up or a blog that helps you share the advantages of your events with those who could not be present in it. Such an article contains a detailed overview of your events, including the speakers who have graced your event and the topics they discussed. This helps you understand which idea of yours worked well for you in your event and also identify the areas which require attention.
When should you publish the event recap?
The best time to publish an event recap is within two days after your event is over. In case you are not able to publish it within two days, at least try to prepare it before two weeks post event otherwise it will lose its effectiveness.
Here are things you must include in your event recap,
1. Post-event summary
It is nothing but a gist of your entire event which needs to be created by assembling the below mentioned facts-
Summary of your event.

Mention your event achievement.

Add recommendations.
2. Introduction
It's better to begin your article following the concept of the 5w h, which means you need to add the what, when, who, where, why and how of your event in the first paragraph of your article. Then you can proceed with a brief history of your event only if it is necessary.
Cover the following points at this section
Mention the main objectives of your event and also analysis how far you have been successful in achieving them based on your objectives and KPIs. in case you have failed to achieve the KPIs then add a paragraph stating the reason behind the failure and measures to avoid this in the future.
Give the details of your total expenditure in your event in a summary form against your event budget. If there is a difference between the amount spent on your event and your budget, make sure you state the reason for the same. Represent the entire thing in graphs or tables and add texts only when it is needed.
3. Attendee survey
Conducting an attendee survey after your event is an excellent way to receive feedback from them about your event. You can utilize this information to make improvements in your future events and also to add it in your event recap.
Make sure you analyze each section of the survey report and mention the things that you need to improve. Besides this, you can also make a file containing your attendee quotes that can be used in the promotional activities of your future events.
4. Event session and speakers
This is a section where you can technically include everything that has happened in your event.
Consider the following things to include in this section
Speakers' review
Utilize your attendee survey data to add the review of your speakers and scores.
Programme
Provide an in depth review of your entire event including its sessions, speakers and social media activities. Dont forget to mention things that actually worked in your favor and also highlight the areas that need attention for your future events.
5. Location and venue
The overall success of your event to a great extent depends on your event venue and location as well. Undoubtedly, you will get many opinions on the event catering service from your attendees but reviewing the venue and location is equally important.
Consider the below mentioned points while describing your event location and venue:
Location:
Adding a review of your event location in your event precap helps you choose a location for your future events. Some of the important part of an event location include:
Distance from airport and availability of transports.

Availability of hotels nearby.

Travel expenses.
Venue:
Selecting a venue to organize an event often gives organizers sleepless nights. A lot of research and hard work goes into finalizing an event venue. So a venue review must be there in your event recap. Ask attendees about the things that they liked and disliked about the venue and you can highlight the major points mentioned by them in the venue review section of your event map.
Consider the following things while adding a venue review
Catering service.

Space in the event for your attendees.

Support.

Event rooms and,

Other facilities they are offering.
6. Accommodation
Accommodation is also an important aspect of your event that needs to be reviewed in the event recap. This is because your attendees depend on you for these facilities and it is your responsibility to offer them a comfortable experience. If your in-person event attracts global audiences then it also plays a major role in your attendee experience. Add a brief description of your accommodation options along with a detailed review in this section.
7. Promotional activities
In this section you need to add a review of your promotional activities and media interactions in a nutshell mentioning your achievements and failure regarding them.
Here are things to include in it,
An overview of your attendee background like their age, profession, place etc to understand what type of people are interested in your event.

Describe your marketing efforts, activities and their results. If possible use analytics to back your statements.

Write about media coverage and their results.

Your website performance with analytical details.

Review your budget and expenses.

Mention about your advantages you got from your event campaigns on social media and how much it contributed to increase engagement.
8. Sponsorship
Add a brief description of your activities related to sponsorship and their results,
Consider the following things to cover,
Details of your sponsorship package.

Details of your sponsors and the number of sponsors.

Also give an overview of the sponsorship earning.
9. Staffing
Don't forget to add the review of the people who have worked with you. Describe your staff resourcing activities for your events and also add suggestions for your next events.
10. Recommendation for future
At the end of your event recap, mention your key recommendations that you have mentioned throughout the content in a summary form. Add recommendations for your attendee, speakers, and sponsors.
Conclusion
There is no rocket science behind writing a successful event recap.all you need to do is follow the above mentioned points to write a post event recap and make it fun and exciting. Framing up a powerful content accelerates your event marketing activities and offers a great way to encourage sponsors with some free marketing in return.
If you are involved in the business of events or event management, we have a perfect solution for you to streamless the entire management process for you. WP EventManager is an exceptional event management plugin that takes care of all your event management requirements starting from building a calendar, to maintaining registration data and selling tickets it can do much more than what you can even imagine. Discover the plugin now.