It is said that trust is earned when actions meet words and we too believe in the same. We are extremely glad to announce that WP Event Manager has made its place in the list of the most trusted indian companies in 2023. The list has been recently released by the World Brand Affairs and we have no words to express our happiness and gratitude to our beloved customers who have been a constant support to us. After all, it feels great when your hardwork and dedication pay off.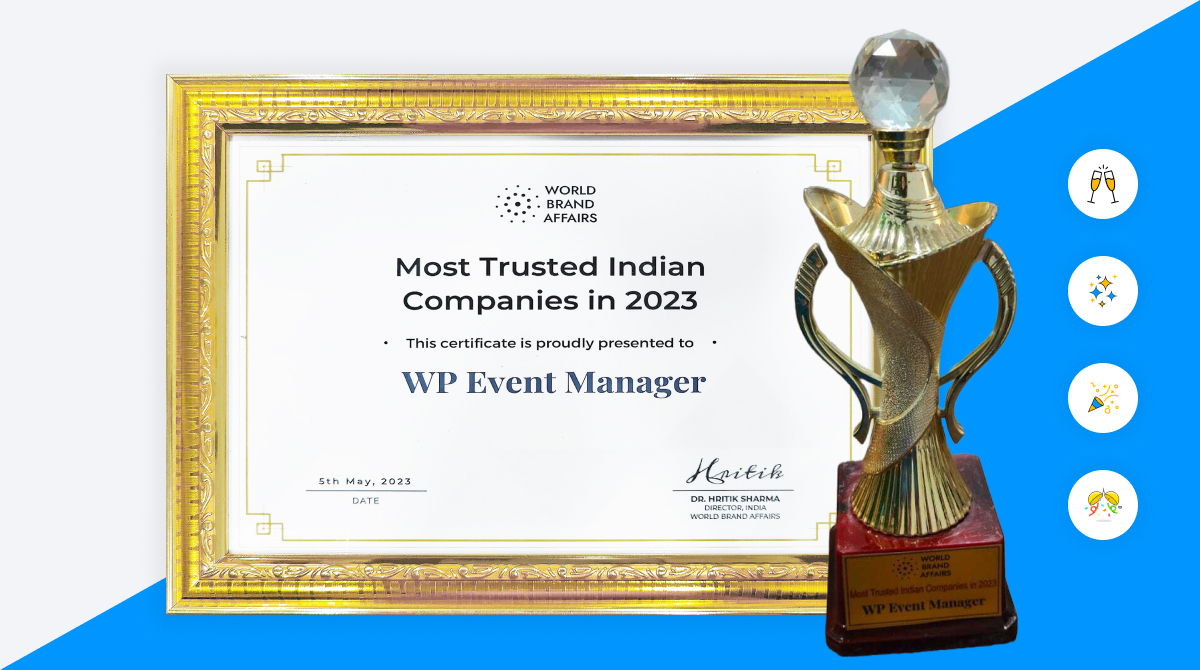 Being a WordPress event registration plugin provider , we understand the value of trust. We believe that a company becomes successful the moment it earns the trust of its customers. The event management area is huge and we are aware of the kind of challenges that an event manager faces while hosting an event. So we try to simplify their work with our WordPress event plugins.
Who is World Brand Affairs?
The World Brand Affairs is the name of a global brand that reveals the powerful stories of well known brands and leaders of the world. The market research platform often hits the headlines with its sorted list of companies based on various criteria. This time we have secured a place in its record of the most trusted indian companies in 2023.
As we have an endless number of brands in the market, trust becomes a crucial factor for consumers to rely on a specific one. Brand loyalty and credibility is built on the basis of the trust that a brand earns from its customers. Today most brands focus on gaining people's attention and money making it difficult for customers to choose a trustable one. However, the list that has recently been released by the World Brand Affairs is surely going to make the process easy for them.
The market research platform has filtered companies based on their.
Transparency.

Customer satisfaction.

Ethical business practices.

Brand value.
The report has also highlighted the unique areas of these brands that make them superior to their competitors. The list represents companies from various backgrounds but all of them have one thing in common that is the reputation of being a trustable organization.
What do we do to earn the trust of our customers?
We always prioritize our esteemed customers before anything else and we follow certain principles to maintain that.
Our main objective in this business is to touch each and every business that is somehow associated with event management.

We always keep the affordability factor in mind so that businesses of all sizes can use our WordPress event registration plugins.

We offer our core plugin for free so that a person or a business can try our WordPress event plugin first before relying on our premium add-ons.

Our plugin prices are less expensive than our competitors.

We maintain a flexible

pricing structure

for our customers where they can purchase our plugins individually or in bundles (in bulk).

We have an exceptional support team who works day and night to serve our premium addon buyers with all of their queries and guidance on plugin usage.

We have thousands of positive reviews on WordPress for our reliable event management plugins.

In addition to that we have video tutorials on YouTube

and a knowledge base section on our official website to guide our customers in the plugin usage.
What made WP Event Manager the best Calendar plugin for WordPress?
The market is flooded with WordPress calendar plugins but the thing that sets WP Event Manager apart from all of them is its list of features.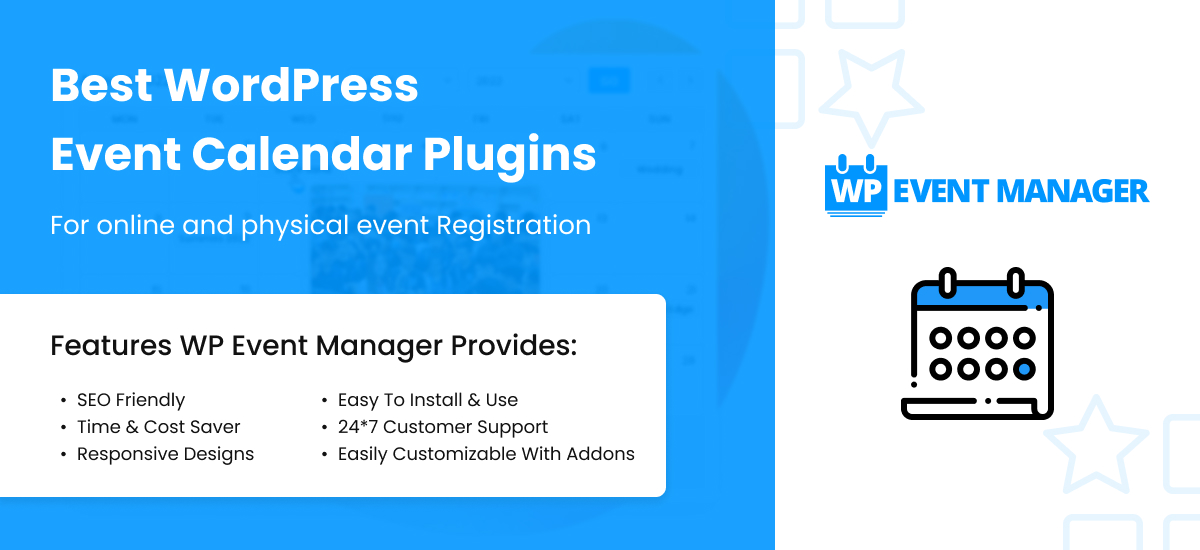 It offers some exceptional features to its users that made WP Event Manager one of the best Calendar plugins for WordPress.
Here is a glimpse of its prominent features:
Developer friendly.

Easy to use.

Easy to customize.

Advanced event search filters.

Customizable event calendar layout.

Frontend event submission form.

SEO friendly.

Cost and time saving.

Responsive designs and more.
For all these reasons WP Event Manager is often considered to be the best event plugin for WordPress.
Following the best business ethics
We maintain transparency in every business activity so that we can create a strong bond with our customers.
That is why we offer pre-purchasing guidance to our product users so that he or she can understand the utility of our event management plugins clearly and take his or her decision wisely before making a purchase.
We have a dedicated section in our website in which our users can get all the details of our refund and customer support policies.
We use WooCommerce to manage the transactions with our customers. WooCommer is one of the most secure and easy ways of handling payments.
Customer Satisfaction: The Cornerstone of Trust
The customers of WP Event Managers are the real heroes whose support has been the biggest strength of the organization.
Besides appreciation, their suggestions and criticisms have also helped us improve and grow.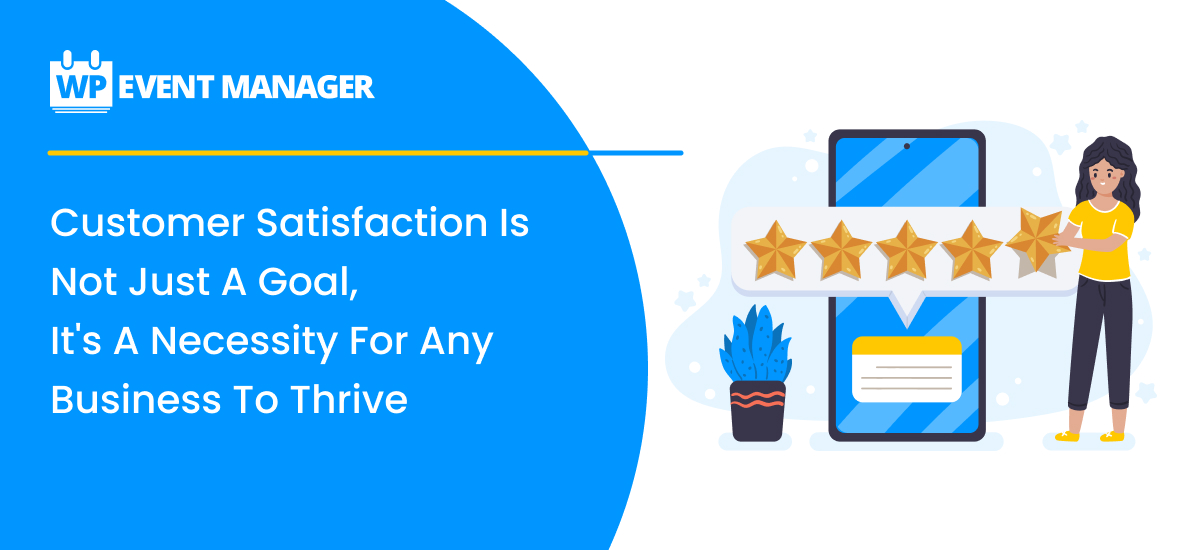 Leadership and Expertise
The real face behind the brand WP Event Manager is Mr. Ashok Dudhat. He is the heart of the company who believes in a "No Boss" policy and ensures that everyone in our team follows it. Today as employees of this company we could say that we work here as a team and thanks to a leader like Mr. Dudhat for creating such an amazing work culture.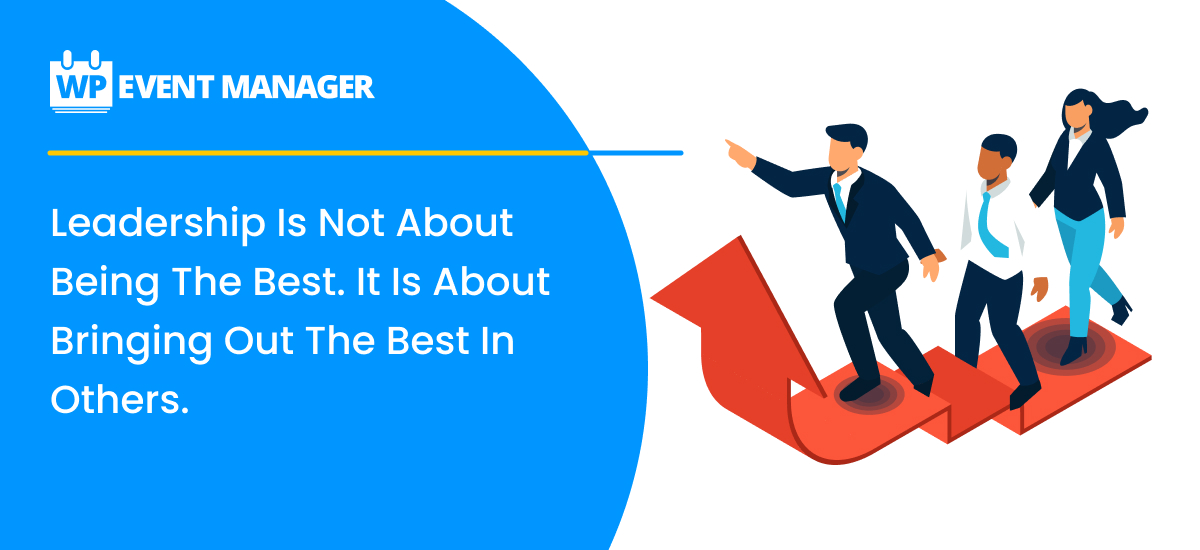 He holds extensive experience in the field of Information Technology which has majorly contributed to the growth of the company. When it comes to the team we have both freshers and experienced members who work day and night to push the company toward success. They are the reason why we are counted among the best event plugins for WordPress today.
After the huge success of our WordPress event management plugins, we have stepped into the world of food businesses with WP Food Manager to help food business owners take their food business online and start taking and managing orders directly from their website.
Conclusion
Whatever we have achieved till date as a WordPress calendar event plugin provider event management company, it is all because of our esteemed clients. Nothing would have been possible without their support. We are also fortunate to have an amazing leader and a very hard working team who put their heart and soul into everything that we create here.
We are also thankful to the World Brand Affairs for adding us to the prestigious list. We promise to work harder to ensure that the trust that we have earned from our customers remains intact. We also hope that our new wing WP Food Manager will also gain the equal amount of appreciation from its users.