Are you confused between Wix or WordPress? WordPress might be the most popular website builder but that does not mean that you do not have options.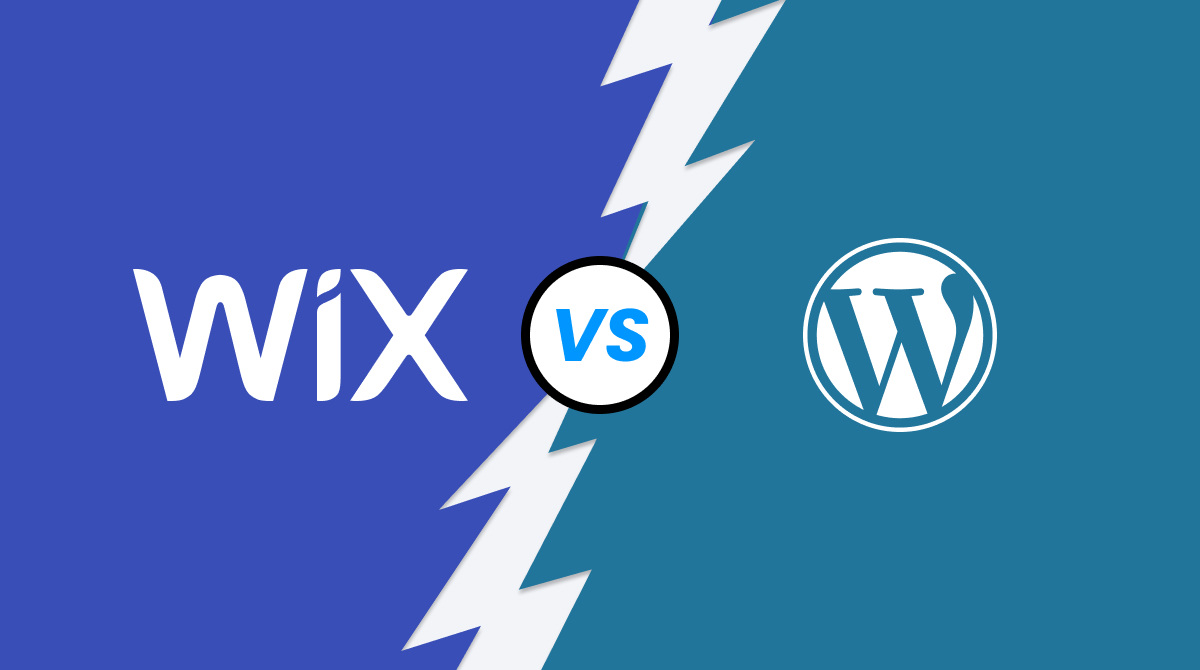 Well, whether you should go for Wix or WordPress for your website, completely depends on your website building requirements. You might be someone who is looking for a website builder to host your blogs or you simply aim to create a full fledged ecommerce website to sell your products, both the platforms have features to fulfill your requirements.
We have assembled our thorough research on Wix and WordPress in this article to offer a clear picture of the Wix and WordPress comparison so that you can decide which one is the best pick for you easily.
1. Wix Vs WordPress in terms of usage
Wix:
Wix offers a convenient drag and drop website builder for which users do not require any coding expertise or experience. This makes it easy for users to drag and place their website elements to their preferred places.

Wix gives users the freedom to build their sites either manually or with the help of AI.

It offers users more than 900 designer template options along with built-in applications and widgets.

Each page element carries various options for customization.
WordPress:
WordPress is an open-source content management system that can be a great choice for people who are

comfortable

with coding.

If you want to set up a WordPress site, you must have knowledge on how to put elements together.

In order to install WordPress on your hosting server, you need to install a web host along with a domain name like

Godaddy

and

Bluehost

.

Maintenance is also a crucial part of WordPress as backups and system updates are usually done manually.
Final Takeaway:
From the above mentioned details we can conclude that both WordPress and Wix are easy to use but if you are not a tech savvy-person then Wix is a better choice for you than WordPress as it will be easier to use for people like experienced HTML/CSS programmers.
2. WordPress Vs Wix in terms of SEO capabilities
Wix:
Wix is designed with several SEO features and functionalities that help your website rank higher on popular search engines so that you can drive organic traffic to your website.

It allows users to make changes to the page title, alt attributes, headings and more.

The free plan of wix does not offer a custom domain which makes it harder for your website to secure a good rank on popular search engines.
WordPress:
WordPress is popularly known for its SEO friendliness. WordPress based websites can easily be identified by search engines with modifications in the settings.

It lets users configure their websites names, heading tags, tagline, alt tags, URL structure and more.

It works well with several SEO plugins like Yoast SEO to provide you with various SEO capabilities.
Final Takeaway:
When it comes to SEO friendliness, we could say that both Wix and WordPress help your website rank higher on Google. However, the matter of ranking depends on several other factors as well.
Here it is to be mentioned that with the right kind of plugin WordPress offers more to its users but Wix also works efficiently for most projects.
3. WordPress Vs Wix in terms of design options
The design and layout of your website play a pivotal role in making it successful. Besides having an impressive appearance, your website needs to be user-friendly as well.
Wix:
Wix comes with a sea of features and customization tools to make it easy for you to create your site.

With Wix, users can build their sites using Wix's AI technology or they can also select their preferred and fully-customizable template from more than 900 templates that are offered by Wix.

In addition to that, Wix has a

Wix App Market Place

which offers several apps, addons and widgets that helps it stay ahead of its competitors in integration.

Wix also provides its users with a mobile application that allows them to handle their sites through their phones.
WordPress:
When you make changes to your WordPress site, WordPress does not immediately display the changes that are made there.

In order to edit or make changes to your preferred theme, you must hold sufficient knowledge in basic HTML/CSS.

If you as a user try to modify your website without having any coding knowledge or skills, you may unknowingly damage the front end design of your website.

Switching from one theme to another is also easy for tech-savvy users and developers.

WordPress free themes can be accessed from WordPess.org

directory and for the paid ones there are shops like

Astra

,

StudioPress

,

Themify

,

CSSIgniter

from where you can purchase them.
Final Takeaway
WordPress has a wider range of themes and layouts in store for its users than the Wix. However, you can only utilize this if you have technical knowledge or hire developers for them.
4. WordPress Vs Wix in terms of Price
It is important to consider the cost of your website builder especially if your budget is limited.
Wix:
The free version of Wix allows you to access its basic features along with unlimited pages, hundreds of templates and free hosting.

With the basic plan, users can not use a custom domain name which means your website address will remain username.wix.com/sitename.

Choosing the premium version offers more features and facilities to its users.

Wix has multiple premium plans and each has different storage and bandwidth capacity.

For small businesses or ecommerce sites, the cost for Wix plan starts from $17/ month onwards.
WordPress:
WordPress is an open-source free platform that is available for everyone to use.

However, if you want to use WordPress for your website then you need to have a domain name and web host.

If you want to upgrade to the premium WordPress version for advanced features and functionalities then you need to spend even more.

The best part here is that you can easily lower this cost by using WordPress free themes and plugins that are available in the market.
Final Takeaway:
While comparing between WordPress and Wix on the basis of price, we have found that WordPress pricing plans are more flexible than Wix as WP offers the freedom to use the platform as per the user preference. However, the overall cost of website building highly depends on the resources you require and prefer.
5. Wix Vs WordPress – which is better for eCommerce
The concept of buying and selling things online has become a trend especially after the pandemic. Let's have a look at how Wix and WordPress perform work when it comes to eCommerce.
Wix:
eCommerce is included in the paid plans of Wix which means users with the free plan do not have the facility.

Wix allows its users to receive payments either through their own payment system or with third party applications to offer buyers multiple payment gateways like

Authorize.net

,

PayPal

and more.

Using Wix payments charges you with 2.9% of the entire transaction amount and 0.30 USD is added to it for the US region. When your business grows and you start selling more and more products the amount will also get higher.

Users can also use third party apps to advertise their online store with Wix.
WordPress:
Building an online shop using WordPress is simple and convenient with

Woocommerce

which is one of the most well known eCommerce plugins in the world.

There are countless WordPress eCommerce plugins available in the market that you can use to sell your physical or digital products or services, events, subscriptions and more.

WordPress also helps users to sell digital subscriptions with

MemberPress

.

The ecommerce plugins that are available for WordPress mostly have their own themes and addons.
Final Takeaway:
If your aim is to create a full fledged online shop, then WordPress along with the power of WooCommerce is recommended for you as it offers more flexibility, freedom and options than Wix.
6. WordPress Vs Wix which is suitable for blogging
Blogging is quite a popular field of work nowadays and many people look for a suitable platform to step into the world of blogging. Well, Wix and WordPress both can be used for blogging. Let's take a look at how these platforms work for blogging.
Wix:
It is simple and easy to create a separate segment for blogs on your website with Wix.

Wix carries most of the basic features that are usually required for blogging like adding tags, photos, categories, archives, videos and more.

While comparing Wix with WordPress we have found that commenting on Wix blogs is slower and more complicated to handle than WordPress. Due to this, users are often forced to add third party commenting systems such as Disqus or Facebook to their website.

Other crucial features like making private posts or backdating posts are missing in Wix.

Lastly, unlike WordPress, Wix offers a plain text editor which has limited formatting capabilities.
7. Blogging with WordPress
WordPress is known for its blogging advantages. In fact, it has begun its journey as a blogging platform that has expanded itself as a full fledged website creator.

Currently more than 43% of all websites are based on WordPress.

It offers all the basic and advanced level features that are needed for blogging.

Unlike Wix, WordPress has its own powerful text editor named

Gutenberg Block Editor

that lets users make attractive layouts for their blog pots.

The biggest advantage with WordPress is that, you as a user can add more features and functionalities to your blogs using WordPress plugins
Final Takeaway:
When compared on the basis of blogging facilities, WordPress clearly wins the game. Wix offers only the basic functionalities of a blogging platform whereas WordPress offers an endless number of blogging features and functions that can further be extended with its various plugins.
8. WordPress Vs Wix in terms of data portability
The term data portability refers to shifting your content from one place to another.
Wix:
Wix provides its users with limited options for data portability. With Wix users are only allowed to export their blog content in XML format. Other types of contents like images, pages or videos have to be manually downloaded.

Wix contents can not be shifted anywhere else but a Wix site can be exported to other platforms.
WordPress:
Being a comprehensive content management system, exporting data from WordPress is super easy. It is just a matter of a click where you need to download your content in XML format.

WordPress offers various facilities when it comes to data portability that include creating backups, downloading media files and more. You can also export your WordPress database manually.

Changing your WordPress site host is also possible with WP.
Final Takeaway:
Clearly, WordPress is a better option when the data portability capacity is considered as Wix does not have many options and comes with a lot of restrictions for data portability.
9. WordPress Vs Wix in terms of Plugins and Apps
Plugins and apps are used to extend the features and functionalities of your websites.
These third party extensions are known as Apps in Wix and plugins in WordPress.
Now let's take a look at the plugins and apps that are available in both the platforms.
Wix:
Wix has more than 200 applications for its users that they can add to their sites. Such apps provide them with a plethora of features that include the addition of gallery comments, social media buttons, contact forms and more

.
Some apps among them are paid and some are available for free. Generally paid apps are available at monthly charges and it varies from app to app.
WordPress:
One of the biggest strengths of WordPress is its feature-packed plugins.

The number of plugins offered by WordPress is simply endless. Currently, it offers

59,000+ free plugins that can be easily accessed from WordPress.org plugin directory. Its paid plugins are also available in other places.

WordPress plugins have a solution to every feature that you possibly want to add to your website.
Final Takeaway:
When we talk about plugins and apps, nothing can beat WordPress so far. Wix is also improving its app directory but WordPress is still far from its reach.
If you have a WordPress events website and want to add useful features to it, trust WP Event Manager. We have a list of exceptional addons that can take your events business to another level. You can create a calendar for events, accept registrations, sell tickets, promote them and do a lot more with our addons. Discover the plugin now.
Who should use Wix?
Wix can be a great choice for website building for those who do not have much knowledge and experience in the technical field especially in building websites. It is an easy to use platform that does not demand any coding expertise.
If you want to use its paid version instead of its free version that comes with flashy advertisements, you need to spend between the price range of $16/month to $59/month.
Wix is quite an impressive platform for beginners because of its convenient usage, drag and drop editor and its additional website functionalities.
10. Who should use WordPress
On the other hand, WordPress is mostly suitable for tech savvy people and for those who want to add flexibility to their websites.
Having technical and coding knowledge is necessary to work with this platform. Users also need to maintain their site to keep it secure regularly based on WordPress updates.
The expense of working with WordPress ranges somewhere between $0 – $200 per month.
In a nutshell, we could say that if you have a dedicated team to handle your website, who will look after its maintenance, WordPress can be the best choice for you.
11. WordPress Vs Wix, which is better
Summarizing the above mentioned points, we can conclude that Wix is an all-in-one and easy to use Website builder that can be used by anyone who wants to build his or her own website. On the other hand, WordPress is a feature rich, flexible platform that gives users complete control over their websites including their designs and security.
The answer to the question who is better between these two platforms depends on the type of Website you want to build. If you are planning to build a website that needs to deal with high traffic then WordPress is certainly a better option than Wix and for websites that handle average traffic WordPress or Wix both can be considered.