Are you planning to step into the world of online business? If yes, you must be listing out the tools you need for the purpose. When it comes to selecting an efficient ecommerce platform the decision to pick one can be confusing as the market offers a sea of such platforms. However, Shopify and WordPress are the most popular ones in the list.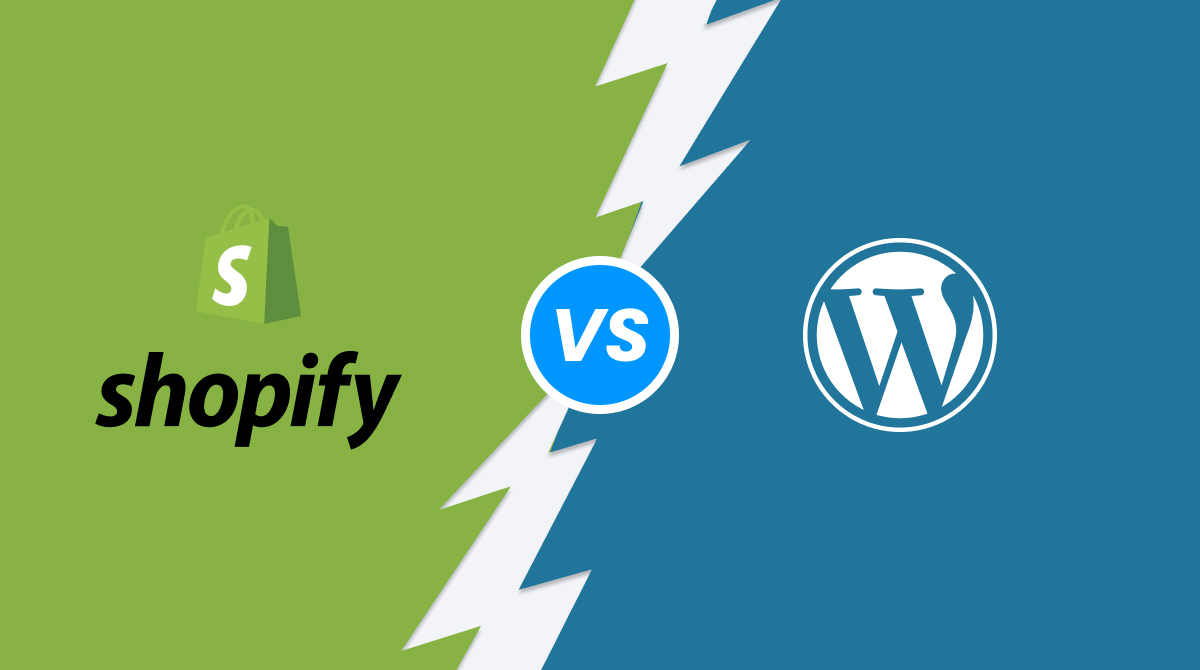 Those who already have a WordPress site, it is recommended for them to use WordPress for their ecommerce business as well. This is because, if they choose WordPress then they only have to install WooCommerce on their sites to launch their business as an extension to their website. It is not only a convenient option for them but also involves less effort.
On the other hand, shopify can be a great choice for those who are going to start their ecommerce business for the first time which means they do not own a website yet. Shopify provides its users with countless useful features and also offers a 14 days free trial.
What is Shopify?
Shopify refers to a web application that is created for merchants to help them build and launch their virtual shop.
With shopify, users get a huge array of customizable themes that they can use based on their branding needs.

It lets users sell both physical and digital goods.

One of the biggest advantages of shopify is that it allows users to build their own online shop themselves without having in–depth technical and designing knowledge and skills.

Shopify is an all-in-one hosted solution that offers everything to its users that is needed to build and run an ecommerce website.

Users can fully customize their shopify store to add additional features through apps.

It is a SaaS

tool for which you need to pay on a monthly basis to continue using it.
What is WordPress?
WordPress is a content management tool that is available mainly in two version:
Hosted WordPress.

Self-hosted WordPress.
Hosted WordPress
Hosted WordPress is similar to Shopify. It is a SaaS tool that is available at WordPress.com.

You can easily access its features in exchange for a monthly or annual fee. The features help you create a simple blog, ecommerce site or any other website.

WordPress offers different plans that include Personal, Premium, Business and eCommerce at different price ranges.

If you wish to sell your products through your website, the business and eCommerce plans can be the best choices for you. This is because these plans include several additional ecommerce and other out of the box plugins.
Self-hosted WordPress
Self-hosted WordPress can be downloaded from

wordpress.org

before installation.

It is also an open-source platform and its code can be easily edited.

WordPress based sites are highly customizable which makes it a flexible platform for the right developers. Moreover, using the appropriate plugins in WordPress has the power to meet the needs of every website design project.

WordPress installation does not charge you anything but you do need to bear the cost of hosting, development and domain registration.
What type of users Shopify and WordPress target
Shopify usually targets two types of people:
People who do not have developing knowledge.

People who can not afford to hire a team or a person to create their business website.
Such users rely on Shopify because it gives them the scope to build their website without coding skills and also it does not require a huge amount of investment.
WordPress is preferred by a wider group of people that includes:
Beginners in the web designing field.

People with web developmental knowledge.

People who have no budget limitation for their project.
Here, we would like to point out the fact that WordPress can also be used by people with basic or no coding skills. This means people can easily build and handle their WordPress site without having any coding expertise especially, when you are satisfied with a visual editor for WordPress such as Divi or Elementor.
However, building a WordPress site without coding skills can be a bit more complicated than creating an online store with shopify as a lot of configuration is needed in WordPress before publishing the website. This configuration is usually based on the requirements you have for your eCommerce site.
Another segment of the audience that prefers to work with WordPress is the people with in-depth coding skill and experience. Such people can fully utilize the platform to fulfill all of their requirements.
People who have no budget restrictions and are ready to spend a huge amount that they can use to appoint a developers' team for their websites can opt for WordPress.
Though Shopify offers multiple ways through coding or apps to its users to make changes to it but it does have certain limitations. In addition to that, you would always need to host your site on shopify's servers.
The cost of using shopify and WordPress
Shopify
The cost of the platform plays an important role to help you choose a suitable platform for your website. Similarly when you are choosing between WordPress and Shopify, you need to consider their pricing structure as well.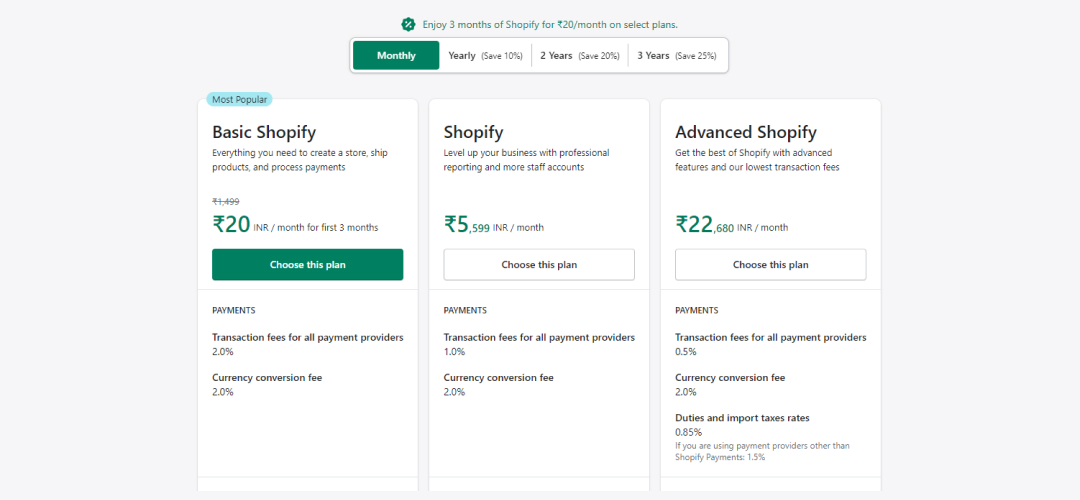 Shopify gives users a 14 day free trial period. It mainly has five plans including Shopify starter ($5 per month), Basic ($29 per month), shopify ($79 per month), Advanced ($299 per month)and Shopify plus (something around $2000). The shopify starter lets users sell their products on social media networks and the shopify plus is an enterprise level plan.
WordPress
Measuring or predicting the overall cost of building a WordPress site is a complicated process because most of the time it depends on multiple factors.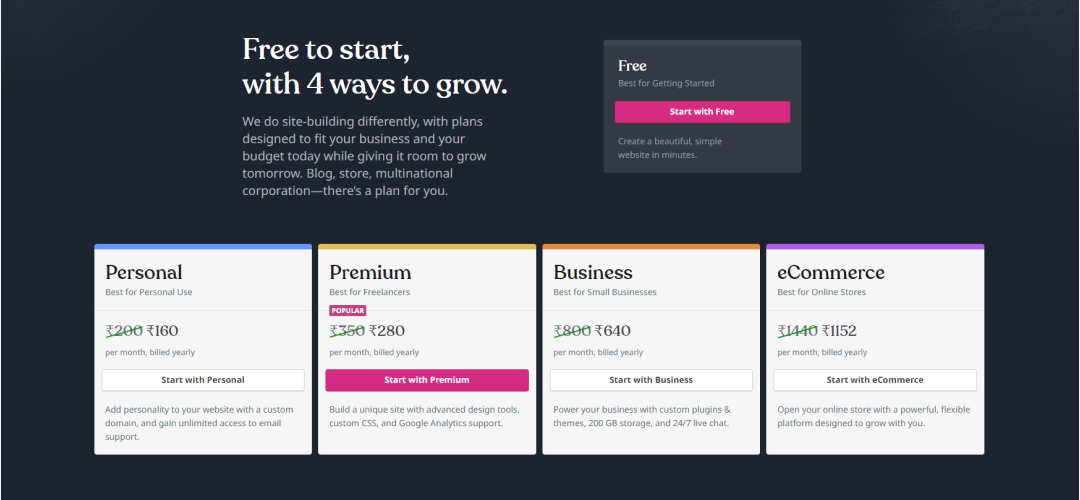 Although WordPress is an open source free platform, it is not a completely free option especially for business websites. This is because users need a few other things to launch a WordPress website for which they need to pay.
Such things include:
hosting

— it is the server space on which WordPress CMS is installed and the content of your site is saved.

plugins

— it is required to add more features and functionalities to a WordPress site.

eCommerce integration

— It is needed when users want to sell products on their WordPress site.

a template

— required to design a WordPress site.
The fact here is if you want to build a simple or basic website for your business, choosing Shopify can be a more affordable option for you than WordPress.
This might be surprising for you as we already mentioned that WordPress is free and Shopify is a paid platform. The truth is it all depends on the type of website you want to create.
Having a clear and straightforward list of your website building requirements beside you can help you get a clear idea about which platform would be more affordable to you.
Shopify Vs WordPress Pros and Cons
Shopify Pros
No coding or technological skills required to work with shopify.

Shopify is designed to fulfill the requirements of eCommerce websites which means the sales tools that users need are already present here.

Users do not need to bear any additional cost for hosting or external security.
Shopify Cons
If you wish to avoid Shopify's own payment gateway and use something else then you will need to pay an additional charge as transaction fees.

If you want to modify your current theme then your content needs to be reframed.
WordPress Pros
WordPress offers a lot of customization options that make it a more flexible platform than Shopify.

When it comes to WordPress, users can get a sea of useful resources online both from experts and users.

Its new editing tool named Gutenberg simplifies the editing process.
WordPress Cons
Basic technical knowledge is needed to fully utilize the benefits of this platform.

Can be more expensive than Shopify.

Users need paid services including web hosting, security and a domain name.
Shopify is recommended in the following situations:
When you wish to build your own online shop with less or no technical knowledge.

When you have a tight-budget.

You are looking for an easy and convenient platform.
WordPress is recommended in the following situation:
When you have a bit of technical knowledge and coding skills.

You have no budget restriction and afford to hire a developers' team.

You want flexibility and complete control over your new site.
Shopify Vs WordPress: Usage
WordPress, being one of the most popular website building platforms has empowered a major part of all the websites available on the internet today, whereas shopify is trusted by many businesses as a useful eCommerce platform. Currently, more than 60000 online shops are based on Shopify.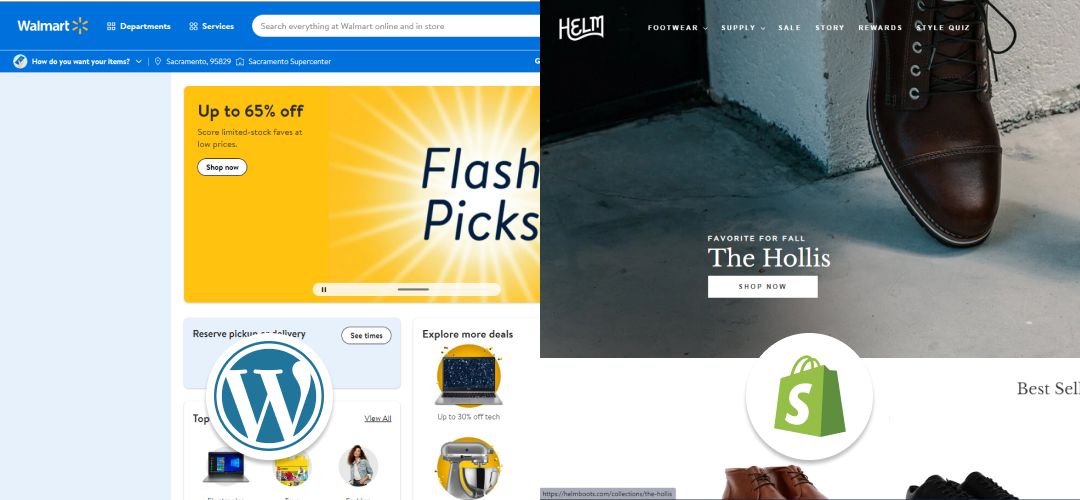 Shopify is a platform that is designed specially for people who want to build their online stores. This means it comes with all the necessary tools that are required to create an eCommerce store. On the other hand, WordPress is suitable for all types of websites. As it is not an eCommerce based platform it does not have any in-built eCommerce features but some amazing plugins can be used to help you start selling products online. For example – the WooCommerce plugin.
To make a Shopify based store, you need to open an account, select a theme and finally display your products to sell. Unlike Shopify, setting up a store on WordPress is a bit time consuming process. This is because with WordPress you need to buy a hosting server, themes and plugins to start working with it.
Shopify Vs WordPress : which has better eCommerce features
Having good features and functionalities are essential for an eCommerce website. They help you promote and sell your products efficiently on the web.
Shopify Features
Shopify gives users the scope to sell countless numbers of products including physical and digital based on their preferred pricing structure.
It offers some in–built tools that include shipping, marketing, inventory and analytics. To avail the advanced version of these tools, you need to purchase them from Shopify's application.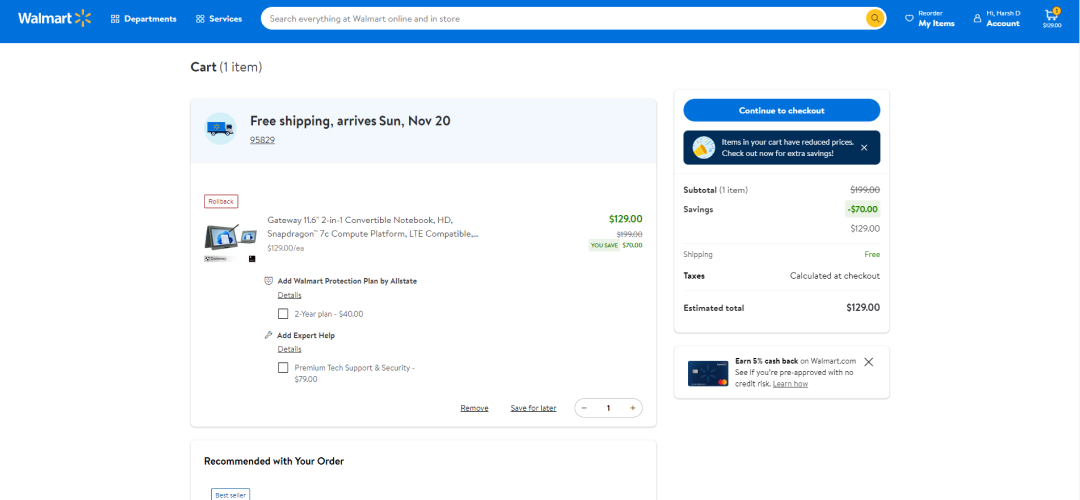 Shopify provides its users with a huge array of eCommerce features. Some of its prominent features are listed below.
Discount Codes:

allows users to build unique codes for their clients that they can use at the time of payment.

Recovery of abandoned cart:

lets users send reminder mails to their customers who have left a few items from your site in their cart.

Multi Channel integration:

helps users sell their products and services on popular social media channels including Facebook and create a Global marketplace like Amazon.
WordPress:
Since WordPress is a versatile platform for building websites, it does not offer any in-built eCommerce features. To add such features, users need to rely on third-party plugins.
Two of the most desired and popular plugins that help you sell products on your WordPress site include WooCommerce and Ecwid.
Let's have a look at what these plugins
WooCommerce offers users:
Product review and rating facility.

Advanced search and filtering options.

Advantage to sell countless numbers of products.

Existing blogging option.
Ecwid features include:
Option to save products for later.

Guest checkout.

Multi-language support.
Shopify vs WordPress: Final verdict
Clearly, Shopify or WordPress both have their own advantages and disadvantages. Which platform is suitable for your business completely depends on your preferences and requirements.
Shopify is designed for a specific purpose which is eCommerce but WordPress is much more flexible and versatile. It can be used to build any type of website. The only difference here is that you get a lot of sales tools with Shopify but when it comes to WordPress, you need to add such features through plugins.