Live video streaming is the new trend that the world is going gaga over. Hosting live programmes on your WordPress site gives you the pleasure to witness how your audiences are interacting with you. The impact of the new concept of live video streaming is remarkably high in the event industry as It encourages real conversation with your event website visitors and also creates brand awareness. It's truly amazing to see how your audiences are growing and participating in your live events.
The best part of live-streamed events is that they offer almost the same facilities that in-person events offer. Thanks to the technological developments that have made it possible.
Popular social networking platforms like Facebook, Instagram and YouTube provide a wide range of tools to facilitate live streaming audio and video contents easily. Due to the massive advancement in internet connectivity and the availability of mobile devices, you can achieve much more than what you can imagine with WordPress live streaming. However, to enjoy all these benefits, you need to set up your WordPress site for live video streaming. When it comes to WordPress users, they have plenty of options in WordPress plugins that allow them to live stream videos from various sources including social media sharing and video sharing sites. They help you assemble all your live video audiences on your website.
In this article, we will take you through the process of live streaming your events with the help of a feature rich plugin.
What is live streaming?
Live streaming refers to a technology that allows you to watch, make and share videos in real time with your audience. An internet enabled device like a smartphone or tablet and an application are enough to go live. The basic difference between a pre-recorded video and live streaming is that the pre-recorded videos are properly planned, cut and edited but the live videos are raw and uncensored.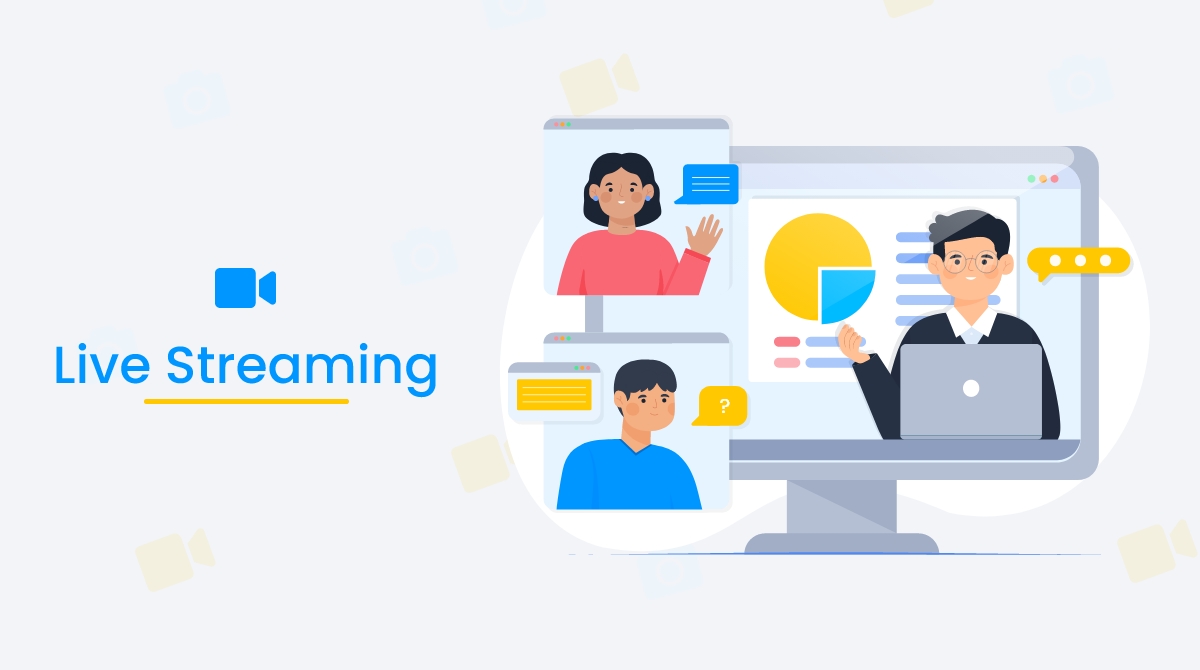 Viewers can interact with you easily during a live video by reacting and commenting which increases audience participation.
Why live-streaming an event?
Live streaming events on WordPress brings a plethora of benefits to an organization. Starting from creating brand awareness to earning revenue and maximizing profit it has a huge potential for every business. Though it was started during the pandemic, the benefits have highly impressed both the audiences and organizers and we could easily say the concept is here to stay.
Through the WordPress live video streaming technology, you can literally broadcast anything that you are doing. It is appealing to all ages as it lets all your attendees participate and interact freely.
Here is a list of top 5 advantages of live video streaming your events on your WordPress site.
Removes geographical boundaries:

when you live stream your events people from every corner of the world can participate in it as they do not need to be physically present over there.

Boost event attendance:

sometimes people who want to attend your events do not get the scope to join due to several reasons including time constraints, health issues, or financial concerns but live streaming an event removes these problems for your interested attendees that ultimately increases the number of attendees in your events.

Reduce expense:

Of course live streamed events are less expensive than in-person events as you do not have to arrange a venue or invest on fooding and lodging for your attendees etc.

Brand awareness

: it is obvious that when you are live streaming events as an organization, more and more people get to know about your brand.

Direct communication:

one of the biggest advantages of live streaming events is that it gives your attendees the chance to interact with you, organizers, other attendees and people associated with the event directly. How? Well, read this entire article to get all the answers for your queries on conducting live events.
Using a plugin to live stream your events on your WordPress site
As mentioned above, WordPress plugins have made the entire journey of live streaming events much easier for every business owner. When it comes to a WordPress plugin to initiate your live- streamed events, we would recommend WP Event Manager's Expo Networking plugin that has amazing features to enhance your attendee experience in your events.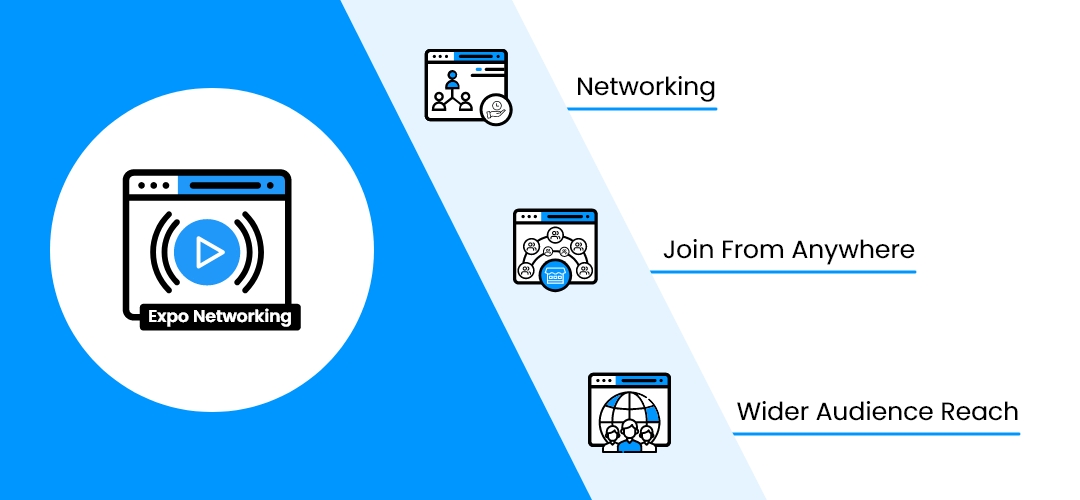 Features of WP Event Manager's Expo Networking add-ons,
The Expo Networking plugin offered by WP Event Manager aims to remove the fine line between virtual events and in-person events by creating an amazing live-streamed event experience that is no less than an in-person event.
The Expo Networking plugin is designed for organizers to help them effortlessly conduct networking exhibitions or live-stream all types of events that offer the facility of live broadcasting, showcasing virtual booths, networking and engaging.
Prominent features of Expo Networking,
It helps you arrange interactive live sessions through booths and lets your attendee easily participate in it.

It allows you to create a center stage to make it easy for your attendees to communicate with the speaker, hosts and other guests easily.

It gives your attendees the chance to express their reaction on a particular session with emojis.

It offers a private backstage to the host and organizers to help them make their last-minute preparations.

Your exhibitors can also add their banner and logos to their booths to boost their brand awareness.

The expo networking plugin can easily be integrated with

Agora

which makes your events more engaging.

You can send push notifications to your attendees alerting them about your upcoming events.

The plugin allows organizers to make live announcements to notify audiences about any last minute changes in event sessions.

You can also share important files and your screen during a live event using the expo networking plugin.

The combined strength of Expo Networking plugin and Amazon S3 offer you a premium video recording experience.

It also enables you to conduct real-time messaging, polling and Q&As during your live exhibition with the help of Firebase.
The features of the Expo Networking plugin are simply endless. To find them in detail please click here.
How expo networking plugin works
Expo networking plugin is a one stop solution for those who want to conduct any type of virtual events including exhibitions, fair, networking events etc.
To start working with the Expo Networking plugin organizers require an Admin Agora account, a Firebase account and an Amazon S3 account. Currently a common account will work for all events.
In this segment of the article, we will guide you on the usage of the Expo Networking plugin for event organizers and admins.
The journey of creating a live-streamed event with the Expo Networking plugin starts with creating admin's account on Agora. Firebase and Amazon S3. To get a detailed guide on the steps you need to follow, please click here.
Things you can cover with the Expo Networking plugin includes,
Creating an expo.

Easily manage the backstage which is for the organizer, hosts and speakers.

Sharing your screen and files at the backstage during the live event.

Adding new sessions in your event.

Adding lounge table in the lounge section.

Adding exhibitor from the front and backend.
All the details of the above mentioned areas can be found in our knowledge base section.
Conclusion
Every organizer tries to make sure that each of their event attendees gets a worthwhile experience by offering them the opportunity to connect easily. Here is where the Expo networking comes into the picture. It is an eccentric Virtual expo platform which is specially designed for organizers to arrange network exhibitions and various types of live events etc.
It is no surprise that the concept of live streaming events continues to be with us for its endless benefits. If you have not embraced the trend yet or want to take your first towards it we would suggest you to rely on a powerful plugin like Expo Networking for the best results.