WordPress offers a wide range of plugin solutions for websites seeking to create event calendars – a quick look at the WordPress.org plugin repository reveals a lot of options! However, not every plugin is suitable for every business as different businesses have different requirements. In this article, we'll be looking at one of the options available, Modern Events Calendar, and putting together an in-depth review of its advantages, disadvantages, available features, UX and pros and cons to help you understand if it's the right fit for you, or if there are better alternatives available for your need.
Modern Events Calendar is a free WordPress plugin that helps you effortlessly build, manage and sell events on your WordPress site. With an advanced booking system and a list of display themes, it is a plugin that is suitable for small to medium sized businesses, educators and event planners who want to conduct their events online.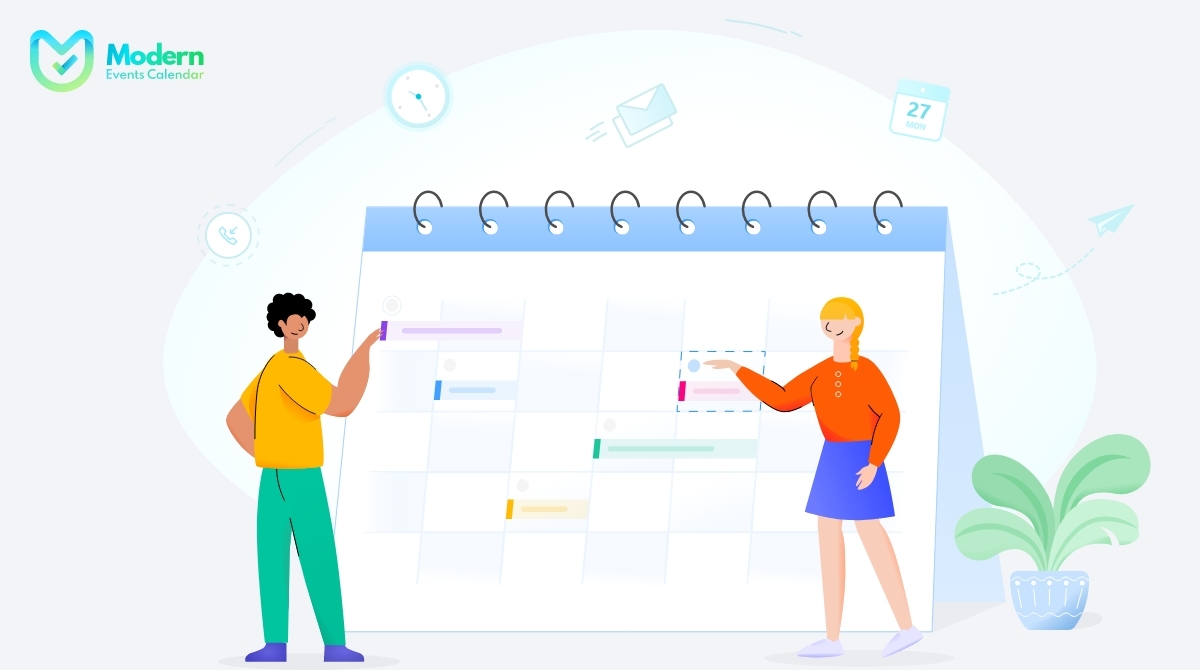 Important information
Before proceeding to our n ext segment, let us tell you WordPress.Org has recently taken down Modern Events Calendar Lite which is the free version of the plugin. The Company has made an announcement stating that the step has been taken by WordPress due to some breaches in the community guidelines. They have ensured their users that they will receive regular updates and their product will be thoroughly supported. This is the reason why we have still mentioned the free version in this article to let you know about the facilities it offers. However, it has certainly raised questions about its security and created doubts in the users' mind.
About the Modern Events Calendar
The Modern Events Calendar plugin has been developed with various useful features and it is available in both paid (Modern Events Calendar PRO) and free (Modern Events Calendar Lite) versions. Upgrading to the pro version opens up the door of customization in the features to its users.
It enables you to

build and publish

an endless number of events on your WordPress website.

It offers various

calendar layouts

to choose from and also gives you the chance to customize your calendar.

It empowers you with an online booking method and helps you

sell tickets

from your Website with its advanced version.

It provides you with various settings and options to

configure

the way your events calendar appears and works.
If you want to opt for the customizable features for your events then you must have a look at their pricing structure,
1 license for MEC Plugin – $75.

5 license for MEC Plugin – $255.

10 license for MEC Plugin – $455.
Each of the above mentioned packages comes with a lifetime autoupdate and 1 year premium support.
Along with a list of features, Modern Events Calendar offers a number of add-ons to choose from.
List of add-ons
The paid add-ons offered by MEC include the following,
Elementor : Elementor offers a preview of your events.

Using its drag and drop features, you can create forms in the editor and arrange them as per your preference. Event page modification can also be done with Elementor.

WooCommerce :

It helps you manage your transactions easily and offers buyers to pay through multiple payment gateways. In simple words, you can manage your ticket sales by letting your buyers use the WooCommerce cart to buy tickets.

Ticket and Invoice:

You can handle invoices using various feature with this option.

Multi-event sync:

if you have different websites to manage and you wish to share all your events with a single calendar then this feature will let you do that.

Event API

: in case you want to witness your events on another website that does not have MEC then you can do that using this feature.

Advanced Report:

it offers you an advanced reports page in the backend that is packed with features.

Advanced Map:

it allows you to use

OpenStreetMap

as an alternative to

Google Maps

where you can have features like region, street etc for easy filtering.

Fluent-view Layouts:

it offers a stylish appearance to your Calendar with more than 20 skins for all shortcodes.

User dashboard:

it helps you create exclusive pages that display tickets, registered events details and more.

Elementor Single Builder:

As a user, you can easily modify single event pages using Elementor with this add-on.

Elementor Shortcode Builder:

it lets you build shortcodes in Elementor Live Editor.

Elementor Form Builder:

you can create your form in Elementor editor with this add-on.

Elementor Shortcode Designer:

the addon gives you the freedom to make unlimited custom shortcodes.

Zapier integration:

it helps you build your Zap with apps like Mailchimp, Active Campaign, Eventbrite whenever an event is created, canceled or edited.

Virtual events:

the add-on enables you to convert your events into virtual ones.

Waiting list:

with the add-on you can make waiting forms for your attendees when all event tickets are sold.

Divi single builder:

you can edit single event pages using Divi.

Zoom integration:

the add-on helps you share your meeting and webinar details with your users.

Advanced organizer:

it allows you to create exclusive pages for each of your organizers.

Advanced speaker:

it lets you build pages for each of your speakers.

Advanced location:

it gives you the right to create pages for each of your event locations.

Advanced importer:

it helps you easily build connections with Facebook, Meetup, Google and Eventbrite and more.

RSVP Events:

it helps you keep an eye on the number of checkins in your event.

Buddyboss integration

: the add-on pairs up with BuddyBoss to help you assign events to your groups.

Several other plugins are in their preparation stage and that include

Social Auto Poster.

Webex integration.

Seat.

Gutenberg Single Builder and.

Square Payment.
Main Features of the Modern Events Calendar include the following
1. Creating Events With Modern Events Calendar
The plugin is primarily designed to help users create and publish their events on their WordPress Website and showcase it in the form of a calendar. Once the event is created in your dashboard, you can utilize its features to publish it on your website. The facility to initiate single day, multi days and recurring events is available in both the free and paid version of the plugin.
It also gives you the scope to add an hourly schedule to your event to help your attendees get an idea about the concept of the event and decide where they should participate at any given time during the event. In addition to that, you can also opt for the optional countdown timer feature on your event pages for your attendees.
2. Publishing an Event Calendar
One of the most prominent features of the plugin is that it lets you publish your events calendar just like the way you can publish an individual event. It makes it easier for your website visitors to get the details of all your events quickly at one place.
The plugin offers multiple views for your calendar including daily, weekly and monthly views from which you can choose your preferred ones. Besides this, you can also showcase your events in sliders to enable users to swipe through events. It helps you add such options to your website using the shortcode generator system.
3. Displaying Events With Widgets
MEC also gives you the option to display your event calendar in the form of a widget to drive the attention of your website visitors toward your events. It's easy to provide your event details in the tiny box that can be placed on the sidebars or other widget areas. This feature works the best especially when you want to keep your events calendar constantly on display.
4. Frontend event submission facility
Another feature of the Modern Events Calendar is the frontend event submission facility that allows users to register their events on any page without entering any dashboard. This also gives you the right to decide if your guests or non-registered users can submit their events using this method.
The main objective behind such an event submission method is to help people add events to your website even if he or she does not have much knowledge about WordPress.
You can either define the page in which your forms will be showcased in the plugin settings or you can also utilize the strength of shortcodes to add the event forms anywhere on your website.
5. Plugin Settings
The Modern Events Calendar plugin offers a huge list of setting options that ensure that the entire control of the plugin remains in your hands. You can not only decide how the plugin works but also manage the way it appears in front of your visitors.
6. Booking system
To avail Modern Events Calendar's booking system, you need to shift to the paid version which is known to be one of the best in the market. The three main areas of their booking system include the following,
To keep attendees updated about their booking status it automatically sends a confirmation message to the attendee once they book an event.

The plugin also gives you the exclusive right to customize booking and registration forms effortlessly by adding or deleting form fields.
Another advantage of the plugin's booking system is that it enables users to view the list of events that the person has booked with the help of shortcodes.
7. Ticket variation
Modern Events Calendar offers various ticket options for users to choose from and the good news is this option can be used for individual events. For instance, with MEC, you can add coupons for your events to encourage attendees to avail discounts while reserving their seats. This increases sales as discounts always attract people. In addition to that, it also gives you the opportunity to set taxes for your events so that they could be mentioned in the generated invoices.
8. Integration
MEC is an integration-friendly plugin which means in case you are presently using another WordPress plugin, you can easily replace it with MEC. This is because it is easy to import data and information from other popular WordPress plugins to this one.
Here, it is worth mentioning that you can also transfer events from the Google Calendar, Meetup or Facebook account by using the easy integration options offered by the plugin.
You are also given the freedom to add events to other tools including Outlook and iCal to handle them from those platforms.
You can also empower your marketing strategies with Mailchimp integration.
Promoting events on social media is probably the best and most effective way to reach out to more audiences and you can do this with MEC. MEC enables you to show social sharing buttons on your events so that you can influence your visitors to share your events with their friend circle on popular social networking sites.
So these were the prominent features of the Modern Events Calendar plugin that were worth mentioning in this article as a part of its review. Now in the next segment we will find out about the user experience that the plugin offers.
User experience
The quality of a plugin highly depends on its user experience. If they are not satisfied then the plugin definitely needs to be improved.
As the plugin comes with both free and paid versions, you can always take your first step with the free version which is pretty simple. Go for the paid features only if you are sure that your business needs them. The free plugin can be installed directly through your WordPress dashboard.
Once the plugin starts to work, you will come across their Welcome Page where you can get the links to useful contents of the Webnus Website.
To support you in the initial stage, the plugin offers a few dummy events so that you can get an idea of how the plugin is used and also about the type of information you can attach to your events.
Event creation with the MEC is super easy as it follows WordPress custom post types. Besides the title and description of your event, you can add additional details as well.
The plugin enables you to add your event schedule on your events page which helps your potential attendees understand the content of the event better.
With an endless number of features, it has amazingly taken care of its users and did not leave a chance to impress them.
Pros of the Modern Events Calendar
Both of the paid and free version offer powerful features.

Easily configurable.

Easy to use interface.
Cons of the Modern Events Calendar
Not scalable architecture and also not developer friendly.

Theme compatibility issues.

Free version has been removed by WordPress.org.
Alternative to Modern Events Features
An alternative to the Modern Events Calendar plugin is none other than WP Event Manager. In fact, it would not be wrong to say that it is a better option than Modern Events Calendar. Why? Here are the reasons,
WP Event Manager offers a huge list of add-ons to simplify the entire event management process and each of the add-ons along with the core plugin is enriched with powerful features.

The add-ons offered by WP Event Manager are efficient in handling both virtual and in-person events.

The cost of premium add-ons are worth every penny as the features are truly useful.

One of the most appreciated features that it offers is the mobile check-in facility. The check-in facility may be available in other plugins but the mobile application that WP Event Manager offers displays all the details of the event check-ins and check-outs along with other attendee details.

WP Event Manager is known for its attentive and responsible support team. They are easily available on all platforms including Facebook, Instagram, Twitter, Slack.
Considering all the features and facilities that the Modern Events Calendar offers, we can easily conclude that WP Event Manager certainly is a better option than that. It beats The Modern Events Calendar in terms of almost every aspect of event management including the add-on features, costs, availability of the support team, performance and most importantly security.
If you are in search of an efficient event management solution for your virtual or in-person events then you can definitely consider WP Event Manager. Want to know more about it? Discover the plugin now.