How Nonprofit Courses transformed their calendar with WP Event Manager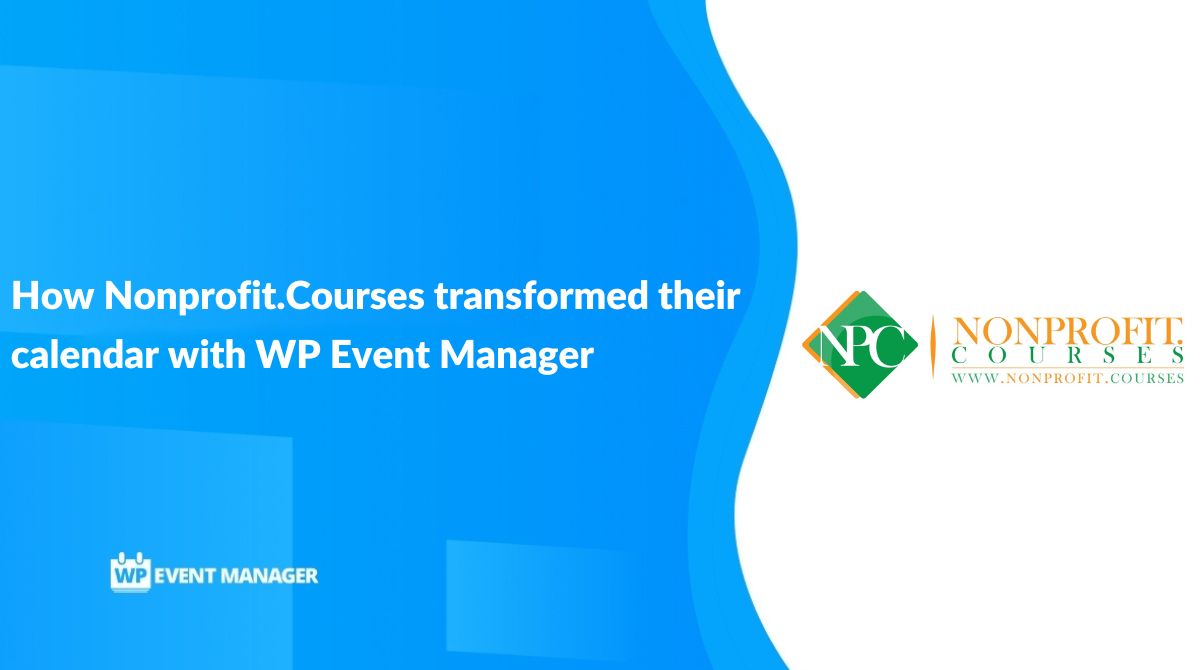 Company profile
Nonprofit.Courses is an organization that offers the most comprehensive open access to educational resources for nonprofits, charities and NGOs on the web. It is a place where thousands of learners from all over the world gather to watch videos, podcasts and read documents that contain nearly every aspect of nonprofit charity operations and funding.
The best part about the organization is that more than 200 eminent content experts have contributed to the subject content of the courses that are very easy to understand.
Majority of the courses are free and need no additional payment or memberships at all. However, Nonprofit.courses offers premium paid courses as well and many of these courses confer CEU or academic credit, and/or lead to degrees or certifications.
The organization usually deals with subjects that are mainly non-profit sector oriented like fundraising, grantwriting, volunteer management and nonprofit accounting.
The founder of the company Matt Hugg said "Nonprofit.Courses content is both nonprofit focused and nonprofit helpful. Nonprofit focused subjects are specific to the nonprofit sector, such as fundraising, grantwriting, volunteer management and nonprofit accounting, to name a few. Nonprofit helpful content are subjects that apply to any organization, but that nonprofits also need, such as marketing, human resources, diversity, equity and inclusion (DEI), how to make presentations, build websites, social media and so much more!"
Besides the pre-recorded content, Nonprofit.Courses also provides a popular Live Event Calendar for Content Expert's webinars, seminars and conferences. Many learners believe that it is an essential tool that keeps them updated about the latest things happening in the nonprofit field.
The company has recently introduced an exclusive professional development management system named Record Your Success. The main objective behind this is to let learners track what they have watched, heard and read, create learning plans and goals. This helps them make resumes, point out gaps in their learning method.
The founder said "Unlike many professional development management systems that are run by employers or professional associations, Record Your Success! is totally portable. The subscriber is able to take their information between jobs, use the system to create resumes, and show their progress on professional development goals in their annual personnel reviews."
Inspiration behind the project
The long term academic teaching experience of the founder Matt Hugg has given birth to the company Nonprofit.Courses. During these years he realized that the learners in nonprofit management fundraising, grant writing and marketing graduate school classes are more interested in watching video and audio content than assigned papers. So, he started to develop playlists for his classes. Surprisingly, many of his students shared those playlists with their colleagues and volunteers.
It won't be wrong to say that Nonprofit.Courses is the ultimate, fully indexed, nonprofit educational playlist that's growing all of the time. Currently, it is being used as a go-to resource by nonprofit staff, volunteers and board members, as well as those who teach them.
In addition to that the founder has also described the Nonprofit.Courses Deals page. It has been brought to the market to fulfill the requirement of support products in nonprofits. Currently, more than 50 companies have partnered with them and offer services from accounting and branding to video creation and website development.
Issues faced
While talking about the issue, Hugg mentioned its Live Events Calendar which is a date-ordered compilation of webinars, seminars and conferences as presented by Nonprofit.Courses' with 200+ Content Experts.
They first tried out one of our competitor plugins and it was going well until the calendar received immense popularity. According to the founder the heavily coded calendar started taking up more resources than their hosting plan's capacity. As a result, their site began to crash and after testing and researching on the problem they discovered that the plugin was the main culprit here.
So they immediately launched a search for a replacement.
How did Nonprofit Courses find WP Event Manager?
They initiated a research on good WordPress Event Manager plugins online and finally ended up choosing WP Event Manager. The founder expressed that WP Event Manager was consistently well reviewed for "lite" code – which was critical to their requirements.
In the founder's words "We were also impressed by its flexibility, and that we could easily allow Content Experts to submit their events for our approval. Alternative plugins either didn't offer that capability, or when they did it wasn't as easy to use and expensive."
They also liked the layout that they were able to showcase their learners.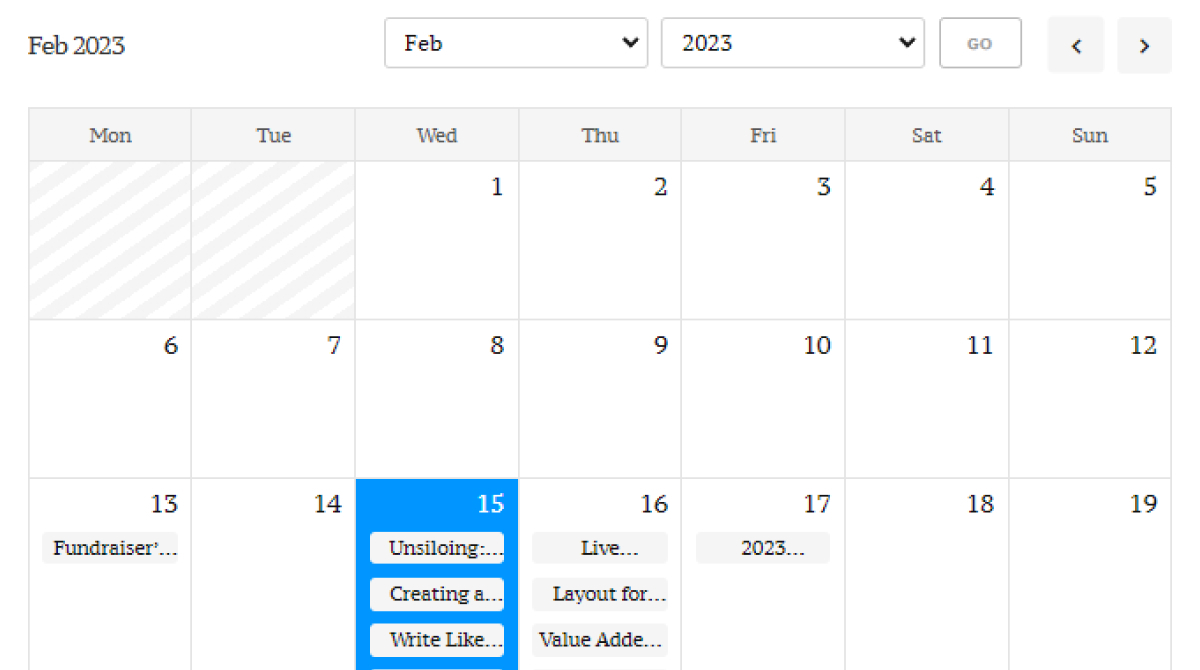 "WP Event Manager gave us a layout that allowed the user to quickly get the information they needed to decide whether an event was right for them. Once they click through, the details are easy to grasp, as well."
He also mentioned the pricing structure of the plugin which according to him is very affordable. The plugin has also helped them reduce expenses by eliminating the need for a higher level hosting plan, which would have been necessary with the old plugin.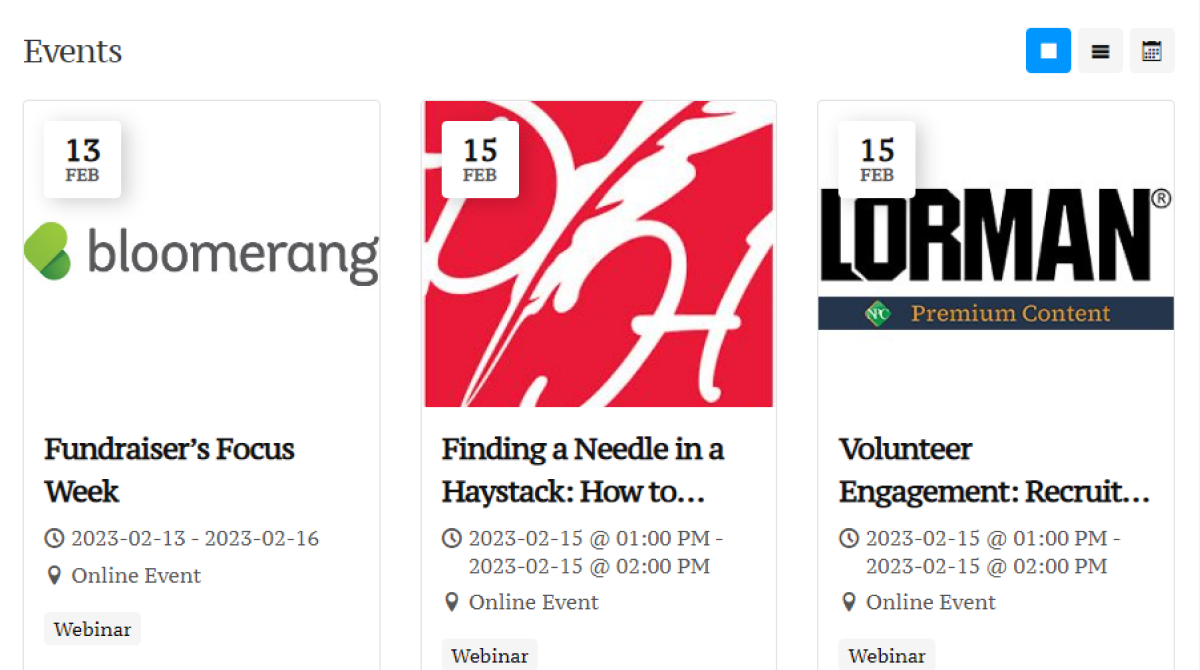 "Our future plans include our own Nonprofit.Courses webinars, and WP Event Manager is ready to facilitate those, too."
The plugins Nonprofit Courses used and the features that helped them the most
Matt Hug expressed that he used multiple plugins from WP Event Manager that worked magically for the issues he faced. The plugins include the following:
Core plugin.
Calendar.
Google reCAPTCHA.
Google Analytics.
He emphasized on the Calendar addon that has made it easy for him to manage multiple event schedules. Nonprofit Courses is a destination for more than 200 nonprofit experts who publish their course content on the Website. Many of them regularly host webinars that are posted with the Calendar plugin. He also mentioned that the listings are easy to set up, and linked to the WP Events Event Submission page, which makes it easier to maintain.
"The Calendar feature is key to how we use WP Event Manager. Nonprofit Courses features content from more than 200 nonprofit experts. Many of them regularly host webinars and seminars, which we post using the Calendar plugin. Then we summarize that page weekly for our subscribers, directing them back to that page for more information. The listings are easy to set up, and linked to the WP Events Event Submission page, which makes it easy to maintain."
"The reCaptcha feature is essential for website safety, and of course, we track all our traffic on our Events page through Google Analytics."
Results
Nonprofit.Courses is a huge website with thousands of pages and posts. Clearly, for a huge website like this the infrastructure has to be simple. When a new program is introduced into this software environment, it needs to fit in with other programs with minimum or no conflicts. According to Hugg WP Event Manager understands this requirement and does its work well.
While discussing the results, he specifically talked about the issues with site crashes that he has been facing due to excessive load and now WP Event Manager has successfully resolved it.
"Of course top on our list and what brought us to WP Event manager in the first place was having no more issues with site crashes. Mission accomplished there."
All the improvements he noticed are mentioned below:
No more site crashes.

Easy site management with a simple infrastructure.

Reduced expenses.

Better appearance of web pages.

Easily customizable for developers.
"Today, the Live Events page looks much better, and is much easier for learners to use. The implementation of the Content Expert submission system is going smoothly, too. We also found that our developers were easily able to customize WP Event Manager for our specific requirements."
"Added to the above – a real bonus – is that the company is open to suggestions whenever we find we have additional needs.
We'd like to thank the team at WP Event Manager for developing this very helpful program. Yes, it makes our job easier, but more importantly it impacts thousands of charitable organizations around the globe. WP Event Manager enables us to educate staff, volunteers and board members with what they need to deliver efficient, life changing missions. We look forward to doing this with WP Event Manager for many years to come!"
WP Event Manager is flexible and friendly for both the developer and website end-user.