8 Effective Ways To Increase Event Registrations
If you are struggling to increase the number of registration for your event then this article can be very helpful for you. In this article, we have covered eight effective ways to increase registrations that you can utilize in your next event.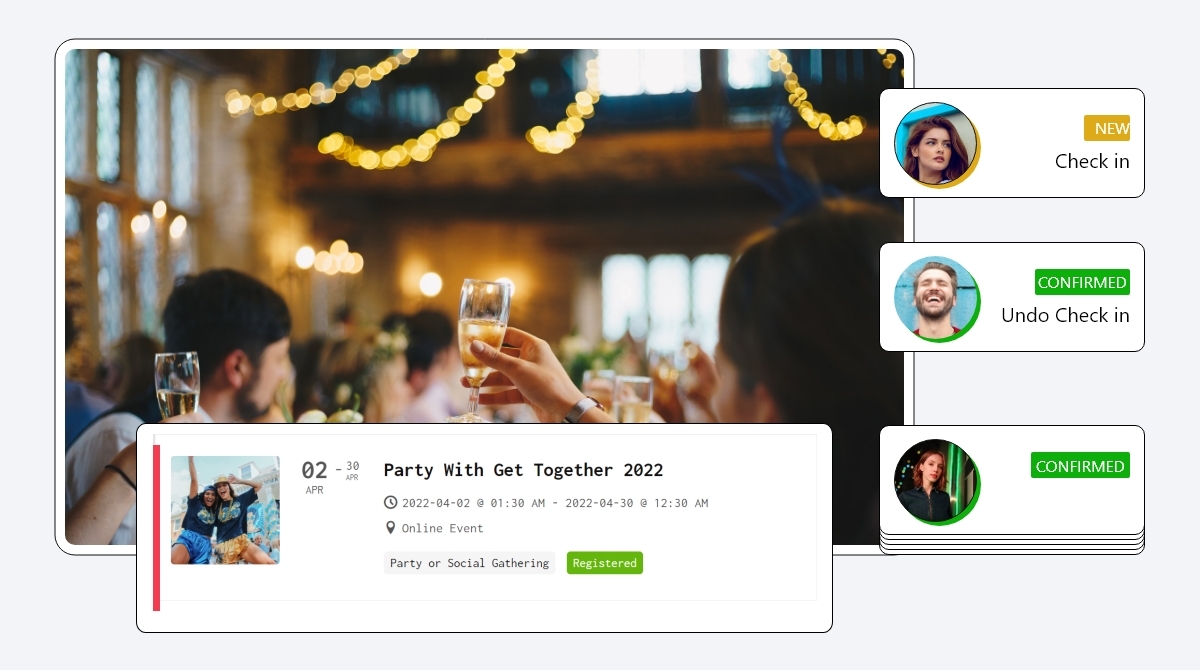 It doesn't really matter how popular your event speaker is or how well you have prepared for the presentation or how impressive your event venue is, if the number of attendees are less than your expectation.
Encouraging people to register for your event is the most challenging part of hosting an event successfully. Read this article thoroughly to improve the number of registrations for your upcoming events.
1. Know your target audiences
Identifying your target audience is extremely important for your events business.
Consider the following points:
Think about the common interests or goals your target audiences might share.

Find out the spaces where they might spend their time or the kind of content they are interested in. This will help you create a solid marketing strategy.

Recognizing your audience also gives you an idea about how and where you can find them. For example if the majority of your target audiences are present on social networking sites, you can also post on those platforms based on their interests, likes, profession and more.
2. Be clear with your value proposition
After identifying your target audience, the next step for you is to show them how the content of your event is helpful for them or the type of benefits they will get from your event.
For example if you get to know that your attendees are interested in joining your event for the purpose of networking, you need to ensure that you offer them the scope for networking in your events.
You can reveal the list of people who are going to grace your event so that attendees would know who they are going to meet with in your event.
In addition to that you can also prepare a speed-networking session in your event during a break.
If you can successfully show them why people must be interested in your event or how beneficial it would be for them, then it will automatically increase the number of registrations.
3. Ask people what they want
If you find it difficult to understand what your audiences want, try to reach out to them in other ways.
Consider the following:
Contact attendees of similar events and ask them about their likes, dislikes and the things they like to see repeatedly.

Conduct post event surveys to get closer to the audiences.

Make it a habit and send survey sheets to the attendees after every event.
4. Add a solid event description
Adding a solid event description online is extremely important as most people gather details about your events online.
How you describe your events to your target audience plays an important role here.
Consider the following points while adding an event description:
Include an essence of curiosity in the description.

Be creative yet straight forward.

Don't forget to mention the advantageous features of your event.

Research and check samples of popular event descriptions to get inspiration.
Utilize the above mentioned tricks to understand how you can write an impactful event description that would boost your event registrations.
5. Include sponsors and partners
It is a good idea to involve your sponsors and partners in this process. You can utilize their networks to increase the number of registrations at your event.
Join hands with the companies who have similar audiences to enhance your audience reach.
You can prepare an impressive event sponsorship proposal to engage more sponsors and partners in your team. This remarkably helps elevate the registration numbers.
6. Give early birds offer
Early bird offers always grab attention and encourage people to register for an event fast as everyone loves discounts.
The concept of early bird is nothing but rewarding people who register for your event before a specific deadline.
You can give them discounts on ticket prices or offer them free brand merchandise with every ticket purchase and more.
7. Promote registration everywhere
To let people know about your event, you need to promote it as many places as you can.
Instead of putting more effort on driving more people to your website, it is better to make your event available to places where they frequently visit or browse. In simple words, you can embed your event registration on the websites where your target audiences are usually found.
Popular social media platforms like Facebook, Instagram etc can be used for this purpose.
8. Use a plugin to simplify the process
Having the support of a good event management plugin is also important in this regard. An event management plugin like WP Event Manager can be the best pic for you. It offers a huge list of addons and each of them serves users with specific needs.
One such addon is the Registration addon that is known to simplify the registration process for both event organizers and attendees.
Some of the prominent features include:
A customizable event form that attendees need to fill in while registering.

Organizers have the right to manage the registration status.

Easy attendee list management.

The freedom to take an unlimited number of registrations or set a limit for the maximum number of registrations.

Confirmation mail after the successful completion of the registration process.

Restrict duplicate registrations.

Accurate registration data and more.
To get the entire list of features please click here.
Conclusion
We hope that the above mentioned tips will help you increase your event registration numbers. If you are into events business, you must know how important the registration numbers are for the success of an event. Besides the tricks, an event management software like WP Event Manager can accelerate the entire process. We have already mentioned its registration addon and its features. The plugin offers more such addons that streamline the event management system. Discover them now.