It is an undeniable fact that virtual events have gained massive popularity during the pandemic and still continue to hold their position in the market due to the benefits they offer.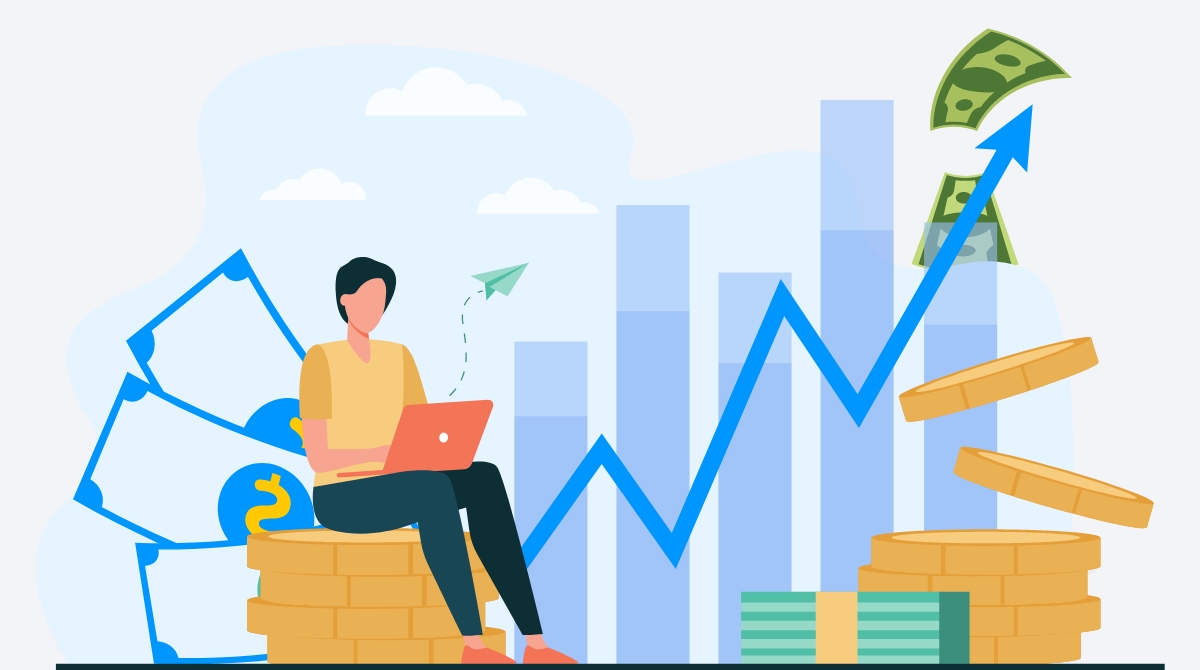 One of the most important factors that works in favor of these events is that it does not require any physical contact. Anybody can join them under the comfort of their homes.
As the world is gradually healing and people are rejoining their workplaces, a shift from complete virtual events to hybrid events can also be witnessed.
The remarkable increase in mobile usage among people and the growing popularity of live streaming platforms have given birth to the trend of virtual events. Whether you are hosting virtual events or hybrid events, today you have plenty of earning opportunities from them.
In this article, we are going to share some amazing tips with you to help you monetize your virtual events.
Why should you try to monetize your online events
For businesses, the inclination for virtual events was on rise during the pandemic phase and it continues to dominate the event industry due to its benefits.
The main reasons behind the popular trend of virtual events are,
Broader audience reach.

Convenience.

Scalability.

Success measuring capacity and,

High return on investment.
For all these benefits virtual events offer you the scope to earn well from your online events.
You must be aware of the fact that ticket selling is not the only source of income here. Consider sponsors, exhibitors and other sources as well.
Earning from different sources in your event can not only cover the amount that you have invested on your event but also be financially beneficial for your organization.
You can also save a part of the revenue that you have earned from different sources through your event for your upcoming events.
If you are organizing a paid event then you must add different types of tickets for your premium customers. For example sell VIP tickets for sponsors or exhibitors and other important guests.
How much do you need to invest on a virtual event
A virtual event is primarily based on technology. However, other elements of virtual events are also there that are included in the overall cost of such events.
Apart from a high speed internet connection and mobile devices or computers, the first thing that is added in the list of your investments is the platform that you are using for your virtual events.
Choosing the right platform for your virtual events is very important for the overall success of the event. Having a feature packed plugin like WP Event Manager to support your virtual events saves your cost and streamline the entire event management process.
It offers virtual addons in an affordable bundle named Virtual Events Manager pro that helps you save a lot of money in your event management process. Besides this, it offers some amazing features that give a touch of excellence and superiority to your virtual events. The virtual add-on bundle includes Expo Networking plugin, Zoom, Sendinblue and more such useful addons.
Secondly, Marketing is another important aspect that must be included in your online event cost calculation. The cost of marketing can be unpredictable as it can suddenly go up. No matter how good your event content is, if you fail in the marketing part then your event can never be successful. So it is always better to stick to the right tool for marketing.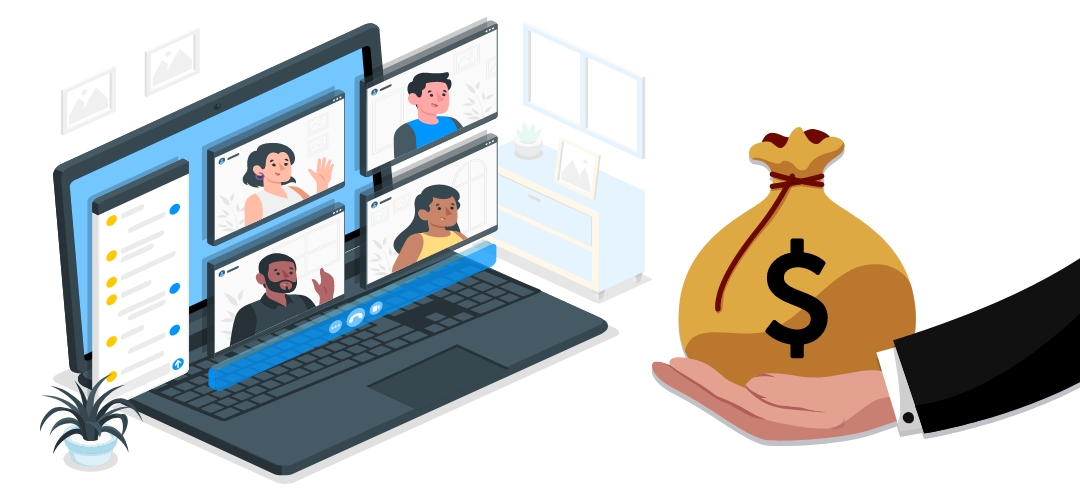 What if we tell you that your marketing expenses can be low and can give you your desired results? Yes it is possible only with WP Event Manager as it offers a bundle called All Events Manager Pro bundle that contains all its marketing add-ons in a single bundle. It is also available at an economical range.
Different ways to make money hosting events online
1. Selling ad space
When you are hosting an online event, it is an obvious fact you will advertise your event in the virtual space as well. As a result traffic will increase on your website because for all the necessary information about your event people will visit your website. Now this increase in traffic can be a great chance for you to earn, How? Simply by offering ad space on your website to various companies to promote their products and services.
Do not forget to share the details of where and how their product advertisements will be showcased and in return you can charge them with a certain amount of money.
As an additional tip, we would like to tell you that it is always better to advertise products or services on your event website that are relevant to the subject of your event.
Secondly you can utilize the strength of Google Adsence in case you are unable to sell your ad space.
2. Offering multiple tickets
As mentioned above ticket selling is the primary source of revenue in an event but you must know how to maximize your ticket sales. Well if you are concerned about your ticket selling technique or anything related to that, you can rely on a plugin like Sell Tickets offered by WP Event Manager.
It has got the right features to accelerate your ticket sales, it also offers you the scope to sell multiple types of tickets including donation, paid and free tickets.
One of the biggest advantages of selling different types of tickets is that it increases affordability for people which ultimately results in an increase in the number of attendees. When you manage to get a huge crowd at your event it automatically improves your revenue opportunity.
To sell tickets effectively, you must know about different ways to promote events as well.
3. Give better exposure to sponsors and exhibitors
Giving better exposure to your sponsors and exhibitors encourages them to work with you more and also if they realize that they are getting the amount of visibility they expect they would also be interested in spending on your website.
Consider the following techniques to offer better visibility to your sponsors and exhibitors:
It is good to offer your potential exhibitors some useful options for their booths. It is obvious that a basic booth comes with basic features. Since there will be a tough competition of gaining visibility among your exhibitors, you can provide them with some extra and chargeable features to help them maximize their exposure and visibility. To stay ahead of their competitors many exhibitors would gladly pay for such additional options.
Consider the following things to add as additional features to the exhibitors booth:
Allowing a special session for webinars.

Preparing a presentation with interesting content.

Offer exciting deals and discounts.

The facility to upload, brochures, videos and more.

Displaying company banners to attract people and more.
There are many people out there who want to express something about their business to their target audience and you simply can utilize this opportunity to earn money by selling a space in your event for such people to speak.
Exposure is something that every industry looks for. The same theory applies for sponsors as well. Brands boost their visibility and awareness among their target audience through sponsorships. As an event organizer, you can easily utilize this opportunity and earn by selling sponsorships.
Exhibitors get the opportunity to attract a lot of people towards their brand during the event through sponsorships. As they always try to grab eyeballs in such events they are ready to invest on the same to maximize their visibility and this ultimately gives event hosts the scope to earn revenue.
There is a lot of scope for you to sell your products and services in your events. When it comes to online events, you can do this by setting up an online store in your event. By doing this you not only introduce your products or services to your attendees but also let them purchase from you.
You can also sell t-shirts, keychains, or mugs during or before your event. Make sure that whatever you sell carries your brand logo or identity.
Conclusion
We all are aware of the endless number of benefits virtual events offer and among of them revenue generation is the prominent one. If you are an event organizer or somehow connected to events or virtual events then following the above mentioned strategies can remarkably improve your revenue from your events.
To streamline your event management process, trust WP Event Manager plugin. It is a WordPress Plugin that offers a big list of addons to fulfill every event requirement including event ticket selling, registration, marketing, virtual event management and more.