If you are going to start your business site soon then hosting is a subject that you must be aware of. After selecting a suitable domain name the next thing that is important for you is to find a hosting provider.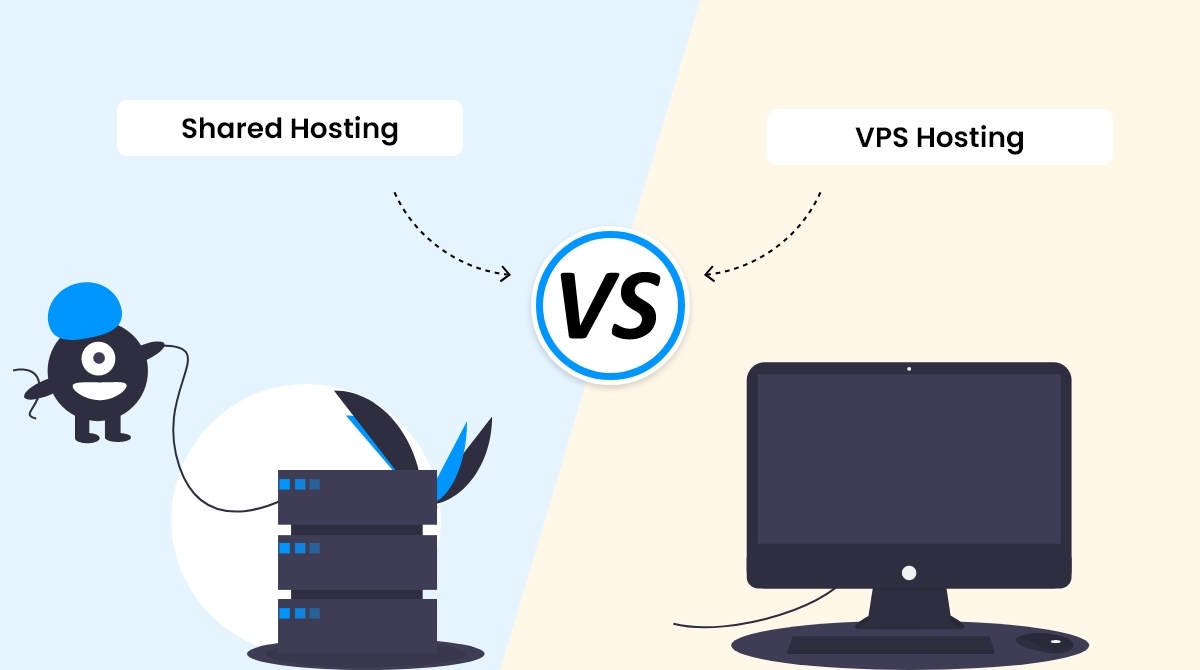 The matter of hosting can be confusing and challenging at the same time especially for those who do not have much technological knowledge. There are different kinds of hosting services available in the market that are specially designed to support various types of sites. So it might be difficult for you to decide which one is suitable for your website.
In this article we have shared the difference between two of the most popular types of web hosting services – shared hosting and VPS.
Things you will learn about in this article:
Before getting into the difference let's have a brief introduction to the concept of web hosting.
What is web hosting?
Web hosting refers to the service that lets businesses or individuals put up a website on the internet. Similarly, the job of a hosting service provider is to offer the required services and technological support to the website that are displayed on the internet.
In case of shared hosting, one server is shared with multiple sites which means if you opt for a shared hosting, then your site will share the same server with other sites.
Using the shared hosting option is one of the most affordable options as it allows the service provider to serve several clients with one machine.
With shared hosting, the hosts carefully handle technical configurations, security and maintenance but when it comes to bandwidth, performance and flexibility it lags behind VPS. We will discuss this in detail in our following segments.
On the other hand, VPS hosting is known for its flexibility. With VPS also you have to share the physical server with a very few other sites but the best part is that the resources are separated for each user. As a result you do not need to be worried about the speed of your website being affected for other sites.
VPS is undoubtedly available at reasonable prices but it is costlier than the shared hosting plan.
Difference in terms of performance
The overall performance of your website highly depends on its speed and accessibility. In simple words, if your website takes longer to load, your website performance is not up to the mark.
Studies have revealed that your visitors would not take more than 3 seconds to switch to another site.
That is why selecting the right hosting type is crucial for you to determine the performance of your website.
It is to be mentioned here that a VPS hosting plan offers better speed than a shared hosting plan. Why? The answer is VPS hosting comes with more resources and powerful processing which ultimately makes your website run faster. This also boosts client conversion for businesses.
However, if you own a small site, then the shared hosting plan will work for you. For high traffic and growth driven websites, VPS hosting plan is recommended.
Difference in terms of security
For every website, security is the top most priority and both types of hosting plans offer security and stable systems to host your website but a few differences are there.
Firstly, when the matter is security, VPS is undoubtedly a better option as in shared hosting, the chances of security breaches is higher because of the presence of multiple other sites. More sites simply invite more hackers.
Secondly, your site can even face damages in case of any issues on any other site.
You can easily protect your site from such issues if you opt for a VPS hosting plan. This is because each site in VPS hosting has separate servers which ensures that each website runs on its own.
Here is an additional tip for you: if you are using VPS then you must hold sufficient technical knowledge on a virtual private server otherwise it is recommended for you to search for other options. This is because if you fail to handle it properly it will lead to hundreds of related problems.
Difference in terms of stability and reliability
Issues may occur with both the hosting plans as none of them is flawless.
There are certain factors that determine if you have to face issues in the future or not.
The quality of the hardware and software of the server.

The knowledge and efficiency of the hosting service provider.

Management system and.

Support.
Generally the users of VPS hosting plan face less issues as the number of customers in each server is also less. In addition to that, each website service can be configured and customized as per requirements with VPS hosting plan. This clearly indicates better stability and reliability.
Difference in terms of price
When it comes to the cost of the hosting plans, VPS tends to be more expensive than shared hosting which is an obvious fact as the payment of shared hosting is divided among multiple sites.
So it would not be wrong to say that, the shared hosting plan is a more affordable option than VPS hosting plan.
Difference in terms of customizing options
When the matter is customization, VPS is a better option as it imposes less restrictions on users. However, the scenario is not the same with the shared server.
Well, you do get a lot of flexibility with VPS but too much customization or configuration can even remove your important files or programs. Work only on the areas where you think is necessary.
Difference in terms of scalability
The term scalability refers to the ability of a hosting server to create space for your website growth. This is one of the most important features that every website owner always considers before selecting a server host.
Scalability of a server host depends on various things that include storage and server capacity.
You can make your decision based on the number of visitors you have on your website every month. For instance if your website attracts 10000 visitors monthly, then you can stick to a shared host as it has the capacity to handle this amount of traffic. However, when your business starts heading towards growth and your visitors cross the 10000 limit then VPS will be the best option for you as it is built with an unlimited potential to manage website traffic.
Which type of hosting solution is good for ecommerce websites?
Whether to use the shared or private hosting solution for your eCommerce business depends on the size of your business. For example- if you have a huge online store that deals with heavy traffic flow on a day to day basis, then you must go for the VPS hosting solution. On the other hand, if you have a small ecommerce business with limited traffic flow then using the shared hosting solution can also be a good option for you.
Which Type of hosting solution is good for event management websites?
If you are a beginner in this field which means you organize a limited number of events locally then using a shared hosting solution can be a smart and affordable choice for you. On the other hand if you host events internationally with a huge number of attendees then your website needs to handle a heavy traffic flow on a regular basis. For such an organization, a VPS hosting solution is recommended.
If you are into the business of events or want to create a functionally rich events website then you must try WP Event Manager plugin. It is one of the leading WordPress event management plugins that is available both in free and paid versions. It offers a huge array of add-ons that improves the quality of your events to a great extent. Discover the plugin now.
You can opt for the shared hosting option when:
You are setting up a personal website or a blog based website.

You have a low budget.

You carry less technical knowledge.

You want to start up a small to medium sized business website.
Pros of shared hosting
Affordable.

Easy to manage for those with little technological knowledge.

Offers a standardized set up.
Cons
Offers less storage and bandwidth than VPS.

Incapable of managing high traffic website.

Imposes restriction on backend usage.
You can opt for the VPS hosting when:
You do not have any budget restrictions.

You have a plan to grow your business in the near future.

You already have or expect to have a high traffic on your website.
Pros of VPS
With VPS users enjoy the right to access the server root.

Better scalability with sufficient memory and bandwidth.

Handles site traffic with ease.

Offers better speed to the website than shared hosting.
Cons
Requires extensive technological knowledge.

Comparatively costlier than the shared hosting plan.
Conclusion
Whether to choose the shared hosting plan or the VRS plan is completely dependent on your requirements and budget. We hope that the above mentioned detailed competitive study on both the hosting servers will help you understand the difference between them and also make your decision simple.
From the study we can conclude that:
VPS performs much better than the shared hosting server.

Shared hosting wins the race when the comparison is based on affordability.

Shared hosting is suitable for beginners as it is simple to use but using VPS is complex and demands thorough technical knowledge.

VPS also offers better security than the shared hosting server. It is simply because more sites in a shared hosting server attract hackers.
If you have plans to create a website for your business make sure you consider the things that are mentioned in this article before choosing a suitable hosting server for you.