In-person events might be irreplaceable but the value of virtual events can not be ignored. This is the reason why many organizations are getting inclined toward the concept of virtual events. It is beneficial in many ways especially when it comes to increasing event registrations, networking and improving attendee management.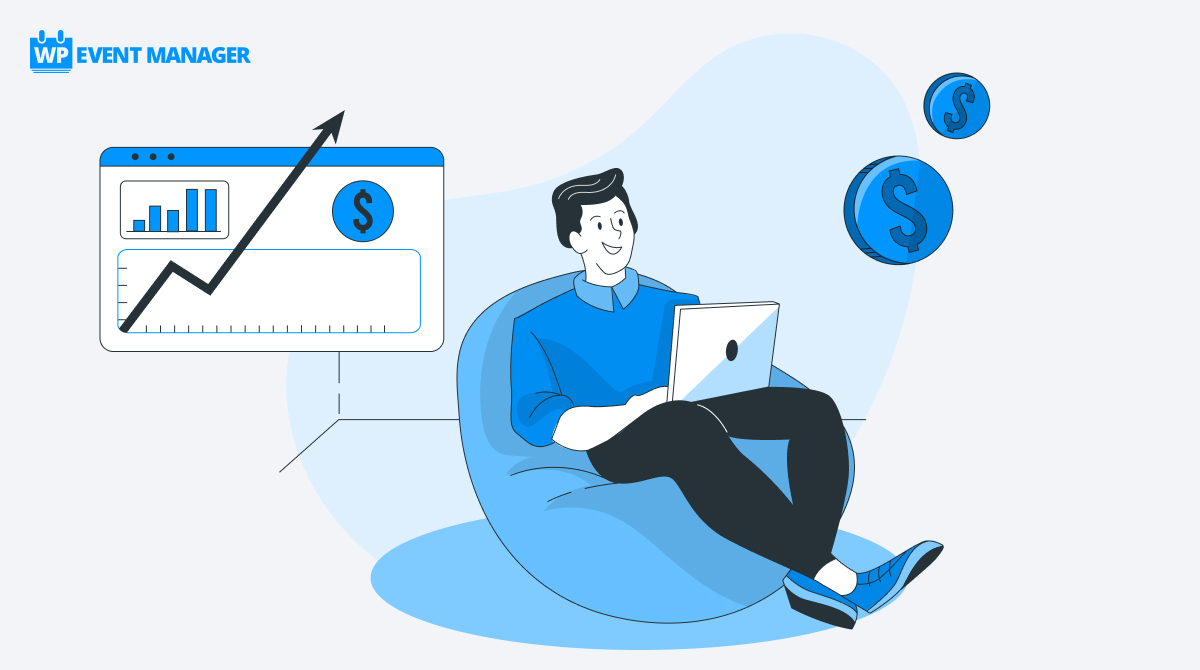 During the covid period, virtual events become one of major sources of revenue for many businesses. However, due to its endless number of benefits, event planners are still using the digital platform to host their events so that the people who are not able to join their events physically can be a part of it virtually.
If you too host virtual or hybrid events and want to monetize them, this article is for you. We have shared some of the useful ways to make money from your virtual events. Read the entire article to learn about them.
Why you must try to monetize your virtual events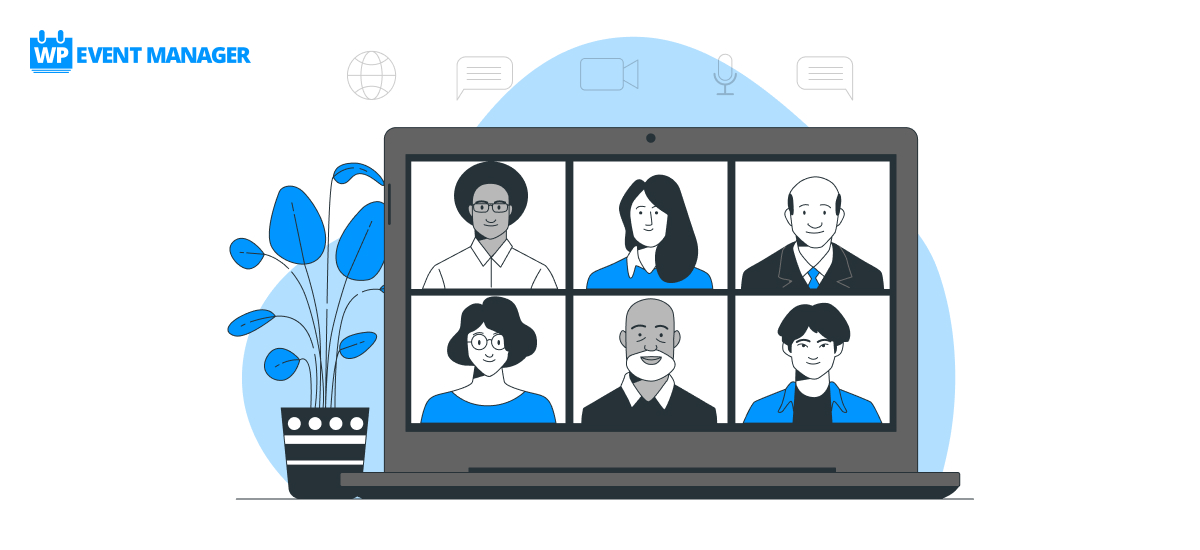 Virtual events are in trend now because of its convenience, wider reach and scalability. In addition to that, virtual events are also known for their remarkable return on investment and measurable results.
For all these reasons, virtual events offer you multiple opportunities to earn through them. All you need to do is to plan, contact sponsors and exhibitors in advance and create various scopes for attendees to interact online.
By monetizing your virtual events, you can bring back the money you spend on the events and save them for the upcoming ones.

This can be an additional source of income for you besides ticketing.

It helps you cover the event costs.

Virtual events attract more audiences which means you can get more qualified leads to turn into sales in the future.

You can save the virtual event and charge people to view it in the future that extends your revenue opportunities.

The best part about virtual events is that businesses do not need to break their banks to organize them. Moreover, it extends audience reach which means with a little investment business can get a better scope of earning.
How much do you need to spend on organizing a virtual event?
While calculating the cost of a virtual event, you need to consider the various elements that are required to conduct it.
Some of these elements include the following:
A dedicated WordPress events website.

An efficient virtual events platform.

Good content for the audiences.

High quality tech set up.

Things to engage your audience.

Virtual event promotion and more.
If you still do not have an events website you must create one with some strong event management features including calendar, ticketing and registration. We recommend WP Event Manager which is one of the most efficient and affordable WordPress event management plugins. It is highly customizable which is capable of fulfilling all your business requirements.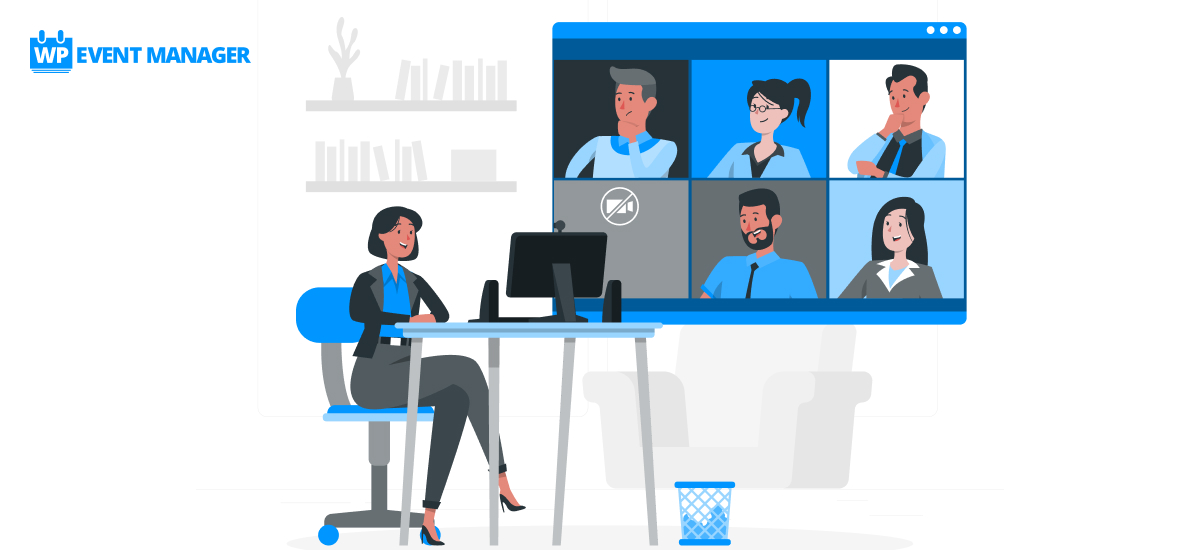 Besides a website, the most important thing that you need to consider is a virtual event platform. You can rely on a WordPress plugin like Expo Networking offered by WP Event Manager to conduct your virtual events. It has some amazing features that not only take care of your event but also create multiple opportunities for your audiences to interact through Q&A sessions, interactive booths, exhibitors tables and more.
The core plugin of WP Event Manager is absolutely free, you just have to pay for the premium ones. Moreover, it has a flexible pricing structure which allows you to purchase the premium addons either in bundles or individually. You can pick one based on your budget and requirements.
Then comes the event marketing costs. Marketing costs fall under the category of necessary expenses. This is because, no matter how well you have prepared for your events, if you fail to reach out to your target audiences then all your efforts will go in vain. So you need to plan your marketing costs very carefully. You can go for free marketing methods as well if you are tight on budget but planning is crucial at this stage.
So the entire cost of your virtual events depends on the above mentioned elements.
How to calculate the event (ROI)?
There is no rocket science behind measuring the return on investment for your events. You just need to deduct the total cost of the event from the event revenue.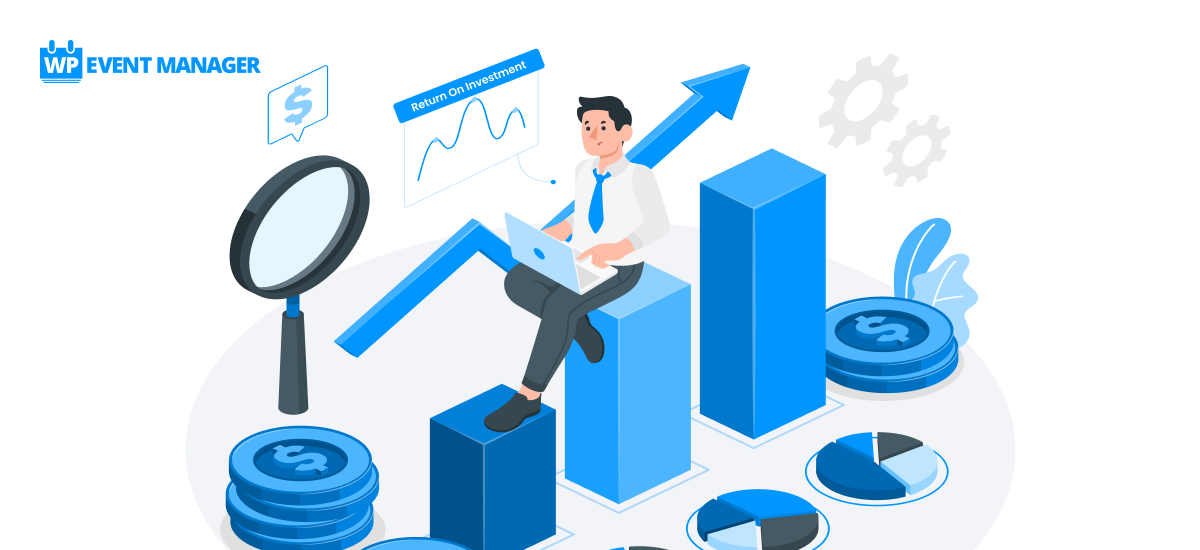 Follow the below mentioned formula to get the correct percentage:
ROI (%) = [(Event Cost)-(Revenue) ]/Event Cost x 100
Make sure the result is not negative because if it is negative it means you are at a loss. On the other hand if your ROI result is high then it is an indication that you are on the right track.
5 Most effective ways to make money from virtual events
1. Make money from your virtual events with paid registration
The first step that you can take to monetize your virtual events is by charging your audiences to register for your virtual event. For this you need to have a strong event content to encourage people to pay for it.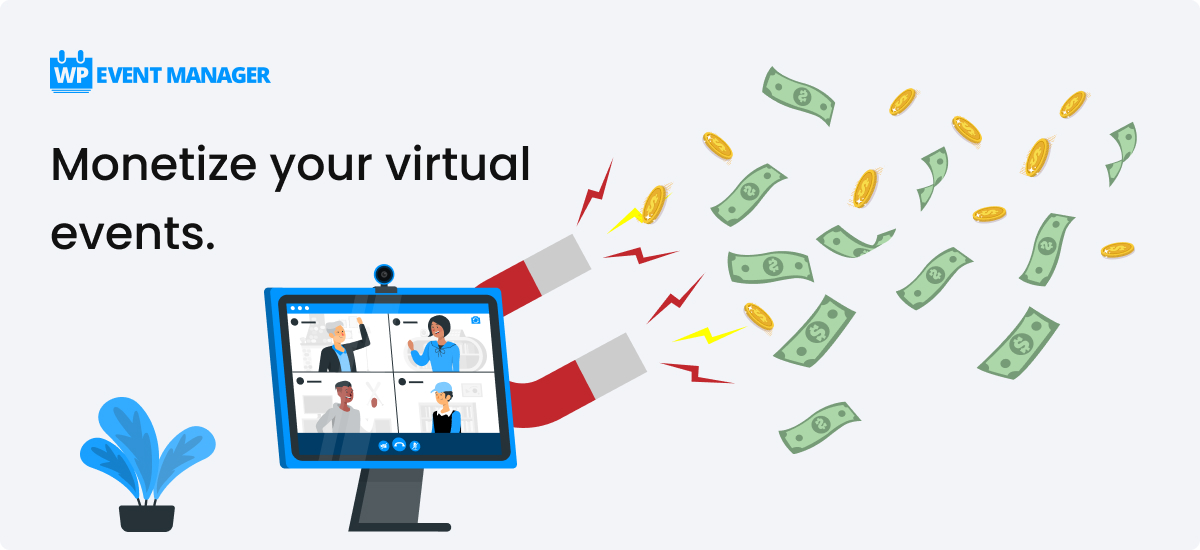 Consider the following ideas to add paid registration to your virtual events:
Make sure you have something unique to offer to your audiences and let them know about why they should attend your event and what benefits they will get from it.

Let your audiences know about the speakers who will be present at your event.

Don't forget to reveal your event activities, agenda, and other related details of your event.
To manage bulk registrations, it is better to rely on an efficient WordPress plugin like Registration from WP Event Manager and if you are opting for a paid registration then you need to have the Sell Tickets addon as well to complete the process.
The addons have the right to help manage the entire process with ease and also leave a good impression on your audiences as these plugins will also make it easy for them to register and pay easily for your events.
2. Promote your events effectively
When it comes to monetizing any types of events, promotion becomes necessary because it is all about reaching out to as many people as possible.
Consider the following ideas for virtual event promotion:
Use social media platforms to promote your events.

Use the power of email marketing and newsletters.

Ask your event speakers, sponsors and exhibitors to spread your event awareness among their audiences.

Highlight your event on your events website.

Use online banners for your virtual events and more.
3. Offer visibility to your sponsors and exhibitors
It is better to give better exposure to your sponsors, partners and exhibitors because most companies look for marketing opportunities and they will most likely spend a good amount for that as well.
Consider the following ways to give exposure to your sponsors and exhibitors.
Add exhibitors booths to virtual events.

Introduce your audiences with your exhibitors on your website and social media pages.

Use exhibitors banners on your virtual events lobby to drive attention.

Give a webinar slot to your exhibitors.

Offer sponsorship packages.
4. Use a mobile application
When your ultimate aim is to monetize your virtual events, a mobile application can be extremely useful. A good event mobile application can provide you useful insights about your events that you can utilize to market your future events and increase your ROI through it.
Use the mobile application of WP Event Manager that not only lets you track your attendee check ins and check outs but also show attendee details and offer real time analytics and information.
5. Sell Merchandise
Virtual events bring multiple scopes to sell your products. You can sell tshirts, badges, caps and more with your event logo to earn money from your virtual events. You can do it either before the event or arrange a space on your virtual events to sell these products.
We hope these ideas will help you make money from your virtual events with ease.
How to conduct a virtual event?
Virtual events are completely technology driven events and that's why you need to ensure that you have a laptop, high speed internet connection, speaker and a powerful virtual events platform like WP Event Manager.
Conducting virtual events can be challenging if you fail to give enough space and opportunities for your attendees to engage. Having Q and A sessions, exhibitor booths, interactive sessions, live chat facility and more are very important in this regard.
This is the reason why we recommend the Expo Networking plugin for your virtual events. It has all the features that help you conduct high quality virtual events. Whether you want to initiate a virtual exhibition or networking event, the plugin is suitable for all types of virtual events.
If you want to know more about virtual events and how you can conduct them, read our blog Holding a virtual exhibition on your WordPress website: A complete guide (2022).
Wrapping up
For every business earning revenue is extremely important. Events are generally organized for the purpose of networking and marketing. Earning revenue from such virtual events can be an additional source of income for many businesses. You can start with offering paid registration to your audiences, then build an effective promotional strategy, add visibility to your exhibitors and sponsors, sell merchandise and use a good mobile application. We hope that these ideas will help you maximize your revenue from your virtual events.