The concept of virtual learning or online classes is no longer a new phenomenon to people as during the virus outbreak in 2020 this was the only way to run the educational system. Since then it has been gaining massive popularity and several virtual teaching platforms like Byjus came into the market. Virtual classes have several benefits and they are convenient for both teachers and students.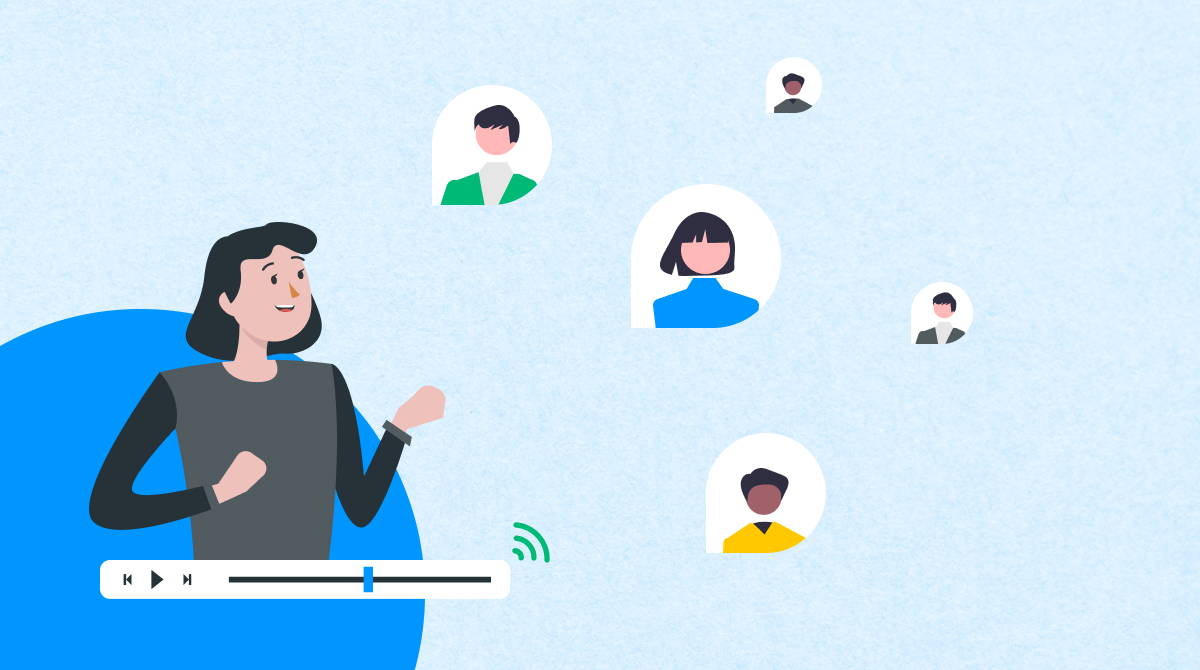 If you too want to take your in-person classes online or want to set up a virtual classroom, this article is for you. Here, we have discussed the ways to conduct virtual classes easily.
Creating a full-fledged virtual classroom needs proper planning, plotting and base-level technical knowledge. However, with the support of the right software the process becomes much easier for teachers.
What is a virtual classroom?
A virtual classroom refers to a place in which teachers and students communicate through a digital platform instead of a conventional school, college or classroom.
In a virtual classroom, students can take part from various locations through an application and attend the classes under the comfort of their homes.
Having a reliable platform is essential for every virtual classroom to conduct obstacle-free seamless classes. As a teacher you do have the option to arrange your virtual classes on Facebook or Youtube but nothing can replace the convenience of a full fledged virtual teaching platform here.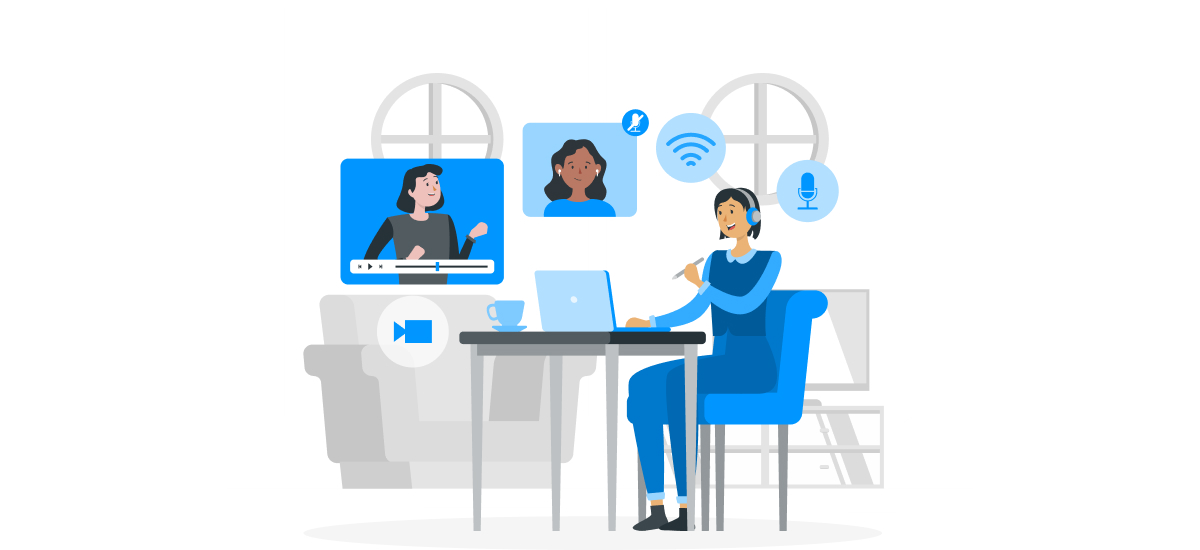 Advantages of conducting virtual classes
The pandemic is over but the virtual classes show no signs of going out of trend soon. Thanks to its endless number of benefits, students and teachers both prefer this method for learning now.
Virtual classes are not limited to a geographical location. Teachers and students have the convenience of participating in the class from their preferred location.

One of the biggest advantages of virtual classes is that a student who somehow has missed the scheduled class can access the recorded video anytime later based on his or her preference.

Similarly teachers also have the freedom to pre-record a video of an important topic and release it to the students to download.

Students who have family responsibilities or any other involvements can manage virtual classes easily.

Teachers can also use an event calendar and software to manage recurring events to update their regular classes automatically and let the students get the details of their classes easily.
Additional tip:
If you want to build your own virtual classes, you can rely on WP Event Manager's Calendar and Recurring events plugins to.
Let your students know about the dates and details of your upcoming classes.

Automatically update your calendar with the date and time of the next classes.
Things you need to set up a virtual virtual classroom:
Just like an in-person classroom set up requires chalk, duster, chairs and more, a virtual classroom also has some requirements.
Here is a list of things you to need to create a virtual classroom:
High speed internet connection.

A reliable platform to organize your classes.

A laptop, smartphone, computer or tablet.

A peaceful place with less noise and distractions.

A webcam, headphones etc.
Steps to create virtual classroom with WordPress
Now when you are ready with the things you need to host virtual classes, you can start the actual process with the following steps:
1. Create a WordPress website to host the classes
As mentioned above, you can use social media platforms or Youtube for your virtual live classes but if you want to do it the professional way, you must create your dedicated WordPress website for your virtual classes.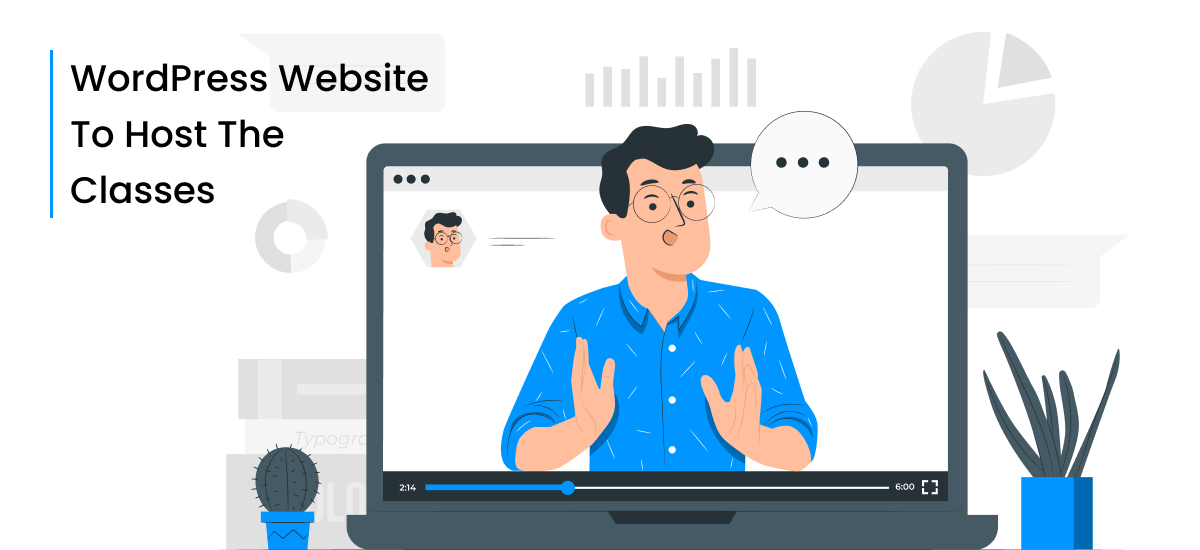 Why WordPress?
WordPress is one of the most popular content management systems that is known for its flexibility.

It lets you easily create content and share it with your target audiences.

You can also specify the viewers of the content you publish on your WordPress site.

One of the biggest benefits of using a WordPress site is that you can integrate several tools and download WordPress plugins to initiate your live academic sessions seamlessly.
Creating a WordPress site is easy and free. You only need to pay for a reliable hosting server.
2. Add WordPress plugins to streamline the process
Whether you are hosting a networking event, webinar or your regular classes online, WordPress has a huge array of plugins to help you streamline the process. Having too many options can also confuse you and make it difficult to pick the right ones but don't worry we are here to help you. When it comes to managing online classes, we recommend WP Event Manager. It has the right features and the right extensions that could fulfill all your online classes requirements.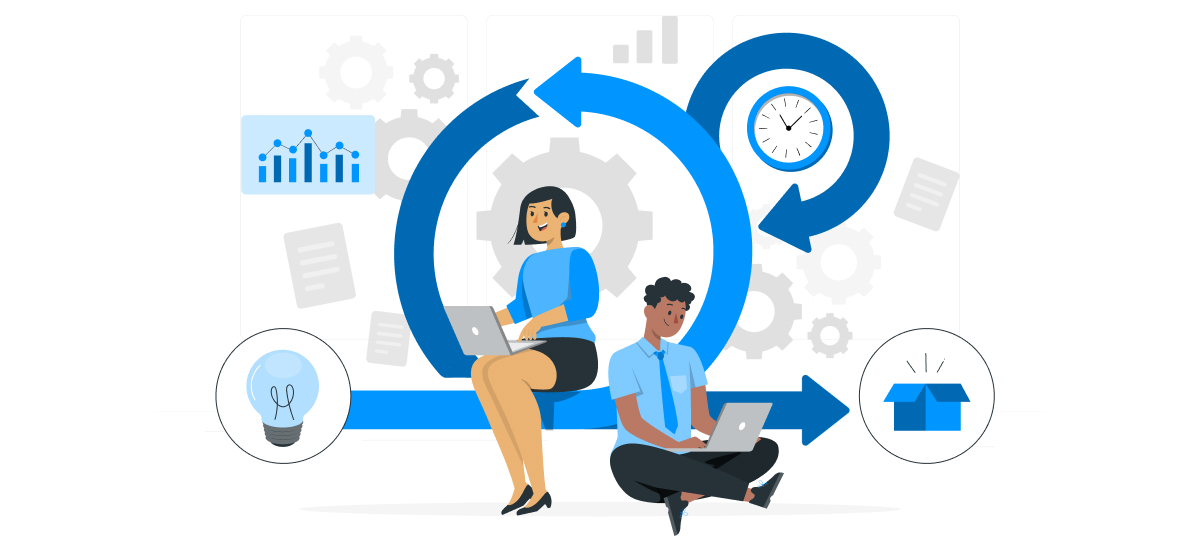 The addons that you can use from WP Event Manager for your online classes include the following:
Zoom:
The Zoom plugin is designed with the combined strength of Zoom and WP Event Manager. The features and functionalities it carries help you create highly professional and secured online classes.
Here is a quick view of its exceptional features.
You can conduct live classes on Zoom and share the link on your website directly for your students.

Zoom allows you to sell your virtual classes and manage the transactions through WooCommerce.

The entire control of the Zoom classes remains on the hands of the host.

Zoom is a completely secured platform as the meeting link that you share on your website will only be open to those who have paid for your classes.
To explore more such amazing features of the Zoom addon, discover the plugin now!
Calendar:
When you have a dedicated WordPress website for your virtual classes, adding a calendar to it becomes essential. A calendar on your site helps your students find the dates and details of your upcoming classes easily and join them accordingly without any hassle.
You can use the Calendar addon designed by WP Event Manager to display a calendar on your WordPress site for your students.
Some of exceptional features include the following:
Multiple Calendar view options.

Multiple Calendar layout options to help you give your calendar your desired look.

Calendar widget facility which displays your calendar in a widget form at the sidebar of your website. This helps students find the schedule of their classes without changing the current page they are working on.

Offers the quick calendar view feature that enables website visitors to get the details of a specific class by just placing the cursor on a particular class on the calendar.
To get the full list of features of the Calendar plugin, discover the plugin now!
Recurring Events:
The Recurring Events plugin is another plugin in the list that you need to manage your virtual classes on your WordPress Website.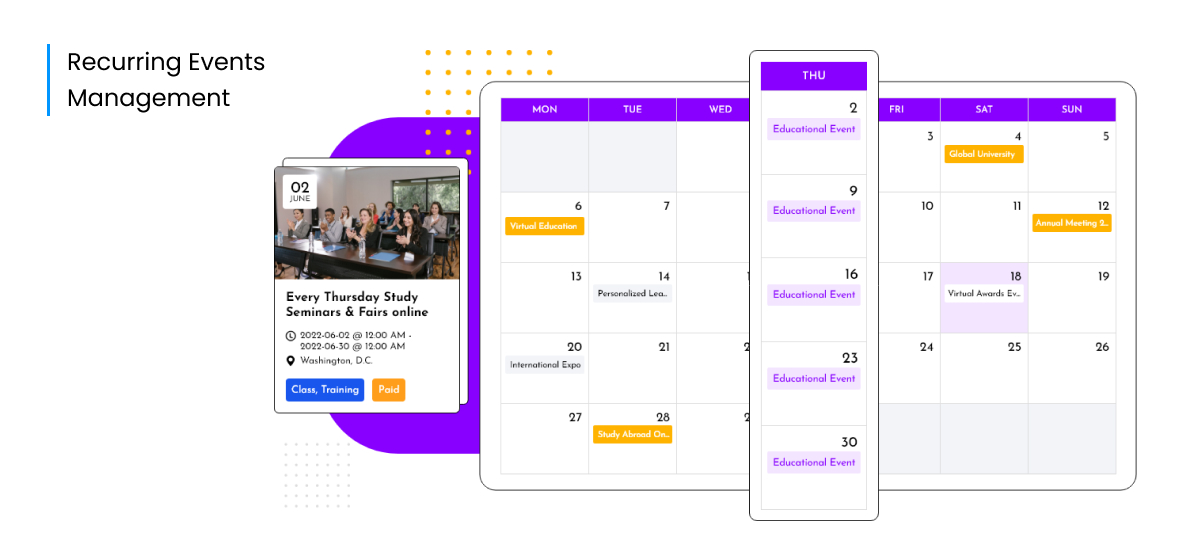 Virtual classes fall under the category of recurring events and managing recurring events manually can be extremely challenging as the host needs to add the same event again and again.
That is why the recurring events plugin is an absolute necessity when it is about your virtual classes.
Here is a list of its features:
Timely repetition of your classes, weekly, monthly, yearly.

As a host, you just have to duplicate your events( classes) instead of creating them again and again.

Teachers can customize each class as per requirements without affecting the other classes of the series.

The teacher can manage everything about his or her classes through the admin's dashboard.
To know more about the other features of the plugin, discover it now!
Registration and Sell Tickets addon:
The registration addon helps you manage the registration process of your online classes and also makes it easy for your students to register for your classes through a customizable form.
When you are offering paid virtual classes then you will need the sell tickets addon to sell your classes.
If you have both the plugins you can make your students pay for your classes during the registration process.
The Registration and Sell tickets both are enriched with amazing features to streamline the registration and ticket selling process.
One of the biggest advantageous features of the Registration addon is that it lets you customize the registration form fields which means that now you as a teacher can decide which information you want your students to provide while filling up the registration form.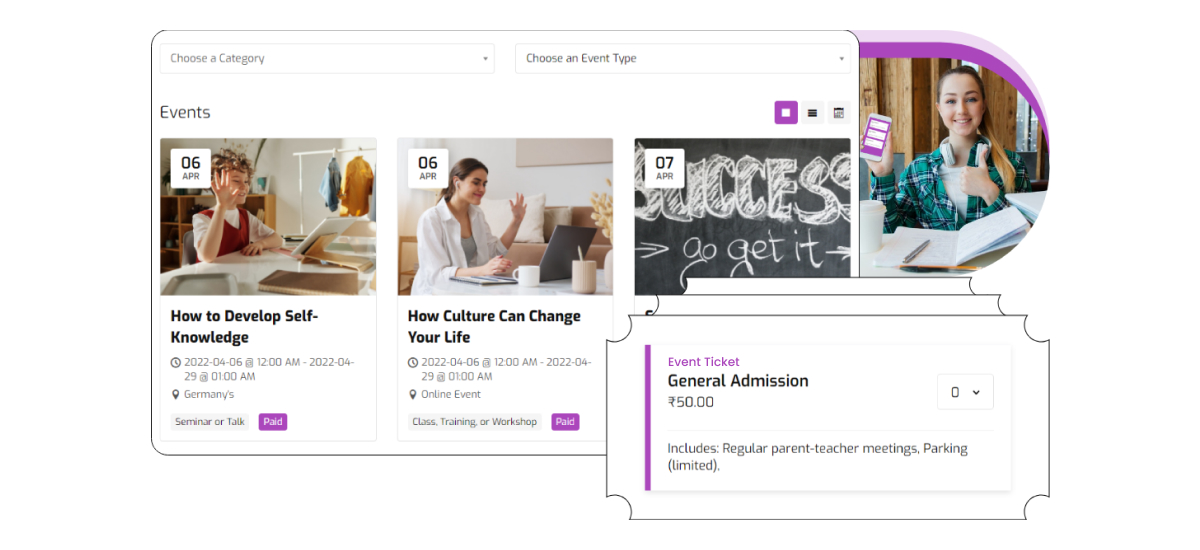 3. Use LMS tools
Whether you are a home tutor or you have a big institute, having a routine and managing everything systematically is very important. You can go for LMS (learning management system) tools such as Google classroom that will help you build an online classroom setup with ease.
Here are the things you can do with the Google Classroom.
Initiate video meetings.

Easily include study materials to your assignments for students.

Add instant feedback.

Encourage students to participate in questions and discussions.

Invite students' parents or guardians to sign up and collect the summaries of your upcoming or missing classes.

Publish announcements and more.
4. Use communication and feedback tools
Unlike in-person classes the chances of two-way communication is low in virtual classrooms. That is why you need to make arrangements for students to help them communicate freely.
Besides making calls and messages, you can also initiate virtual meetings with the help of the Zoom addon and discuss their academic performance. Apps like Google Forms can also be used to collect feedback about your students.
Wrapping up
We hope that this article will help you build your own online classrooms. Use the right software and plugins to add strength to your academic website.