Today the term virtual has become an integral part of our lives. People's growing inclination towards the virtual world started to accelerate due to the virus outbreak that forced the social animals to stop socializing. In the initial stage, businesses have gone through massive loss but the idea of running businesses virtually and holding WordPress virtual exhibitions showed a ray of hope to humans. The new idea worked remarkably well for almost all industries and it also helped people realize the benefits of utilizing the virtual world for business. The event industry was also not an exception to this new trend.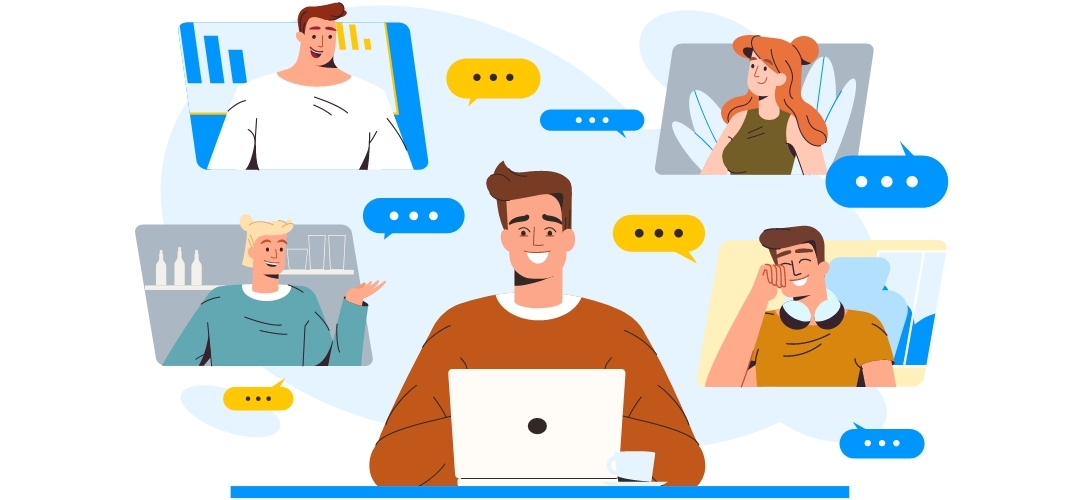 Presently the situation is under control as the number of covid 19 cases are reducing in the entire world but people's reliance on the virtual environment did not decrease at all. Thanks to its long list of benefits it offers. A recent study initiated by LinkedIn predicted that  45% of future B2B events will be completely virtual.
If you still have not embraced the new trend then it is high time you take your first step towards that and we are going to help you in this journey by guiding you on how you can host virtual exhibitions successfully on your WordPress Website.
What is a virtual exhibition?
The term virtual exhibition refers to an online event that takes place in a web-based virtual platform. Through the online exhibition, exhibitors display their products and services in front of their global audiences.
Attendees in such exhibitions get the chance to freely interact with each other and also with the organizers via live audio, video chat and text messages.
A virtual exhibition allows exhibitors to get in touch with wider attendees from all over the world as there is no hassle of traveling and spending money on hotel bookings and food.
A fully-functional virtual exhibition platform gives organizers the scope to customize virtual booths that highly encourages attendees to participate in the exhibition at the comfort of their homes.
Benefits of holding a virtual exhibition:
Remote participation

Virtual exhibitions are not limited to a particular location. People from different corners of the world can join this, as it only requires a high speed internet connection.

Time-saving

Hosting an in-person event can be extremely laborious and time-consuming as a lot of preparation including setting up a venue, travel and food arrangements are  involved in it. That is where virtual exhibitions save your time and effort and let you focus on more important event activities.

Economical

When it comes to expense, virtual events are more desirable than in-person events. You can save a big amount of money by saving the cost of reserving guest houses, renting venues, food and travel arrangements for your attendees etc in virtual events.

Attendee engagement

Organizing an exhibition virtually makes it easy for your target audience to join your exhibition from all over the world which ultimately increases the number of attendees in it.

Analytics
The biggest advantage of organizing virtual exhibitions is that it lets you measure the success of it with detailed analysis. How? Well, all the processes involved in an online exhibition are kept in the database. Reports containing detailed analysis with real time statistics are created based on the number of attendees, time they have given to your booths and popular topics of discussion in the booths.
Through the analytics report, you can get a clear picture of how your attendees are interacting with your site so that you can focus on the areas that bring you profit and work on the areas which require improvements.
Here are the main things that the report include,
Type of content mostly accessed during the event.

User experience.

User location and location visited and more.

Smooth interaction with target audience
Virtual exhibition allows you to smoothly interact with your target audience. You can easily showcase your products and services to your attendees through your stand in the virtual exhibition at an affordable cost. The best part about this is that it lets you reach your target audience who is attending the exhibition on the other side of the world.
Real-time chatting facility
One of the biggest advantages of virtual exhibition is that it offers real-time chatting facility. You can chat with multiple attendees simultaneously at your stand.
Hosting a virtual exhibition on your WordPress site:
Conducting a successful WordPress Virtual Exhibition involves a lot of planning and preparation. However, a good WordPress plugin can help you a lot in this process. Let's have a look at the steps you need to follow to conduct a virtual exhibition.
1. Set an objective for your exhibition
The first step of hosting a virtual exhibition is to set a goal for your event. In simple words, you need to be clear about the purpose of your exhibition. Ask yourself if you are initiating the exhibition to,
Increase your earnings? 

Generate more leads?

Do you just want to display your new products? Or 

You want to engage attendees to spread an important message?
Having a clear objective helps you make a powerful strategy for your event.
2. Plan
The planning stage involves building an effective strategy for your virtual expo. You can do that by asking yourself the following questions,
Will you organize a free or paid exhibition? 

Will it be live, on-demand or both?

What are the unique features your expo will have?

Number of sponsors and exhibitors in your event.

Which networking options will be there in the booths?

Do you need to have a payment gateway option?
Build a solid strategy based on the answers to the above questions.
3. Make attractive stand designs
Creative stand designs do attract virtual attendees towards it. So make sure that your stand designs are visually appealing. In addition to that, decide if your designs will be in 3D or 2D based on your budget, timeline, audience segment etc.
4. Involve the right technology
This is probably the most important part of hosting a Virtual exhibition on a WordPress Website. You can rely on a feature-rich WordPress plugin for this purpose. There are various WordPress plugins available for you to conduct your virtual expo but you need to choose the right one for your business. In this context, it's fair to mention about the Expo Networking plugin offered by WP Event Manager. It has got the right features to fulfill all your needs.
Why WP Event Manager?
The Expo Networking add-on offered by WP Event Manager is built with exclusive features to take care of all your virtual exhibition needs to offer your attendees an amazing experience that is no less than an in-person exhibition.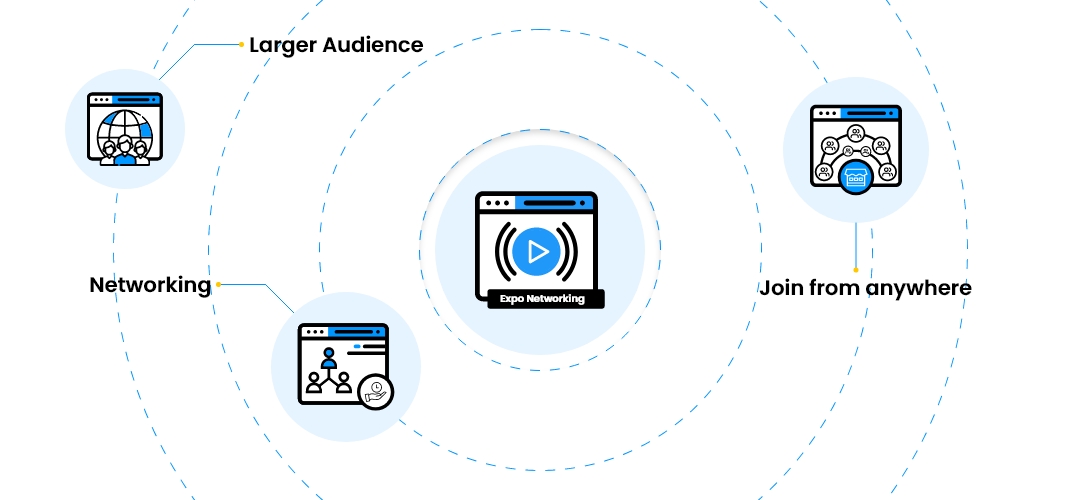 Here's a look at why it's the best fit for a virtual exhibition – it includes:
A well-designed and informative welcome page to inform your attendees about the latest activities in your exhibition. 

Interactive booths and sessions.

An option for participants to share the stage with the speaker. 

A feature to let attendees react instantly to live sessions. 

A private backstage for final preparation.

Push notification to keep attendees updated about upcoming events. 

Global announcement alerts for speakers to make announcements during a live event to let attendees know about any sudden changes made in the schedule. 

A Live broadcast feature to host shows directly from your booth.

Firebase to manage real-time messaging, Q&As and polls.

Bulk video recording facility with Amazon S3.

Polls and surveys for audience engagement and more.
The plugin offers many other features apart from the above-mentioned ones. You can find out all the details about the Expo Networking addon on WP Event Manager's official page.
How WP Event Manager's Expo Networking add-on helps in conducting a virtual exhibition?
The Expo Networking plugin is specially created for those who are planning to host exhibitions, networking events and fairs on their WordPress Website. Both the organizer and admin can work together with the plugin to utilize all its functions.
To start using the plugin, Organizers need to make an Admin Agora account, Firebase account, and an Amazon S3 account. Fortunately a common account will work for all your events.
Once you sign up for Agora, Amazon S3 and Firebase, you are ready to start the journey of creating a virtual exhibition with Expo Networking.
Here is the list of things that you can do using the Expo Networking plugin,
Create an Expo. 

Manage backstage. 

Share screen and file backstage. 

Add sessions. 

Add a lounge table in the lounge bar.

Add exhibitors to your events.
Technically, the Expo Networking add-on offered by WP Event Manager is everything that you need to successfully host a virtual exhibition.  Not only virtual exhibitions, you can rely on WP Event Manager for all types of virtual events as it has a list of add-ons that covers almost every event` requirement.
Final thoughts
There was a time when businesses adopted the concept of virtual exhibitions to save themselves from major losses due to the pandemic but the scenario has drastically changed. Considering its benefits, today businesses use the method to reach global audiences, increase sales and decrease investment.
There is no rocket science behind holding a virtual exhibition but you do need the right tool to help you in this journey just like the Expo Networking add-on. Find out more about the addon-now.