1. Introduction
Your website represents the face of your business on the web which is why it is essential for you to make it as presentable as it can be. However, making frequent design changes to your website is certainly not a good idea. Instead, you can think about WordPress Events Widget that helps you add additional functionalities to your website without much hassle.
The best part of widgets is that you do not need to write any code to use it. You can easily add, remove or rearrange widgets on the theme customizer. The most commonly seen widgets on websites include calendars, menus, popular post lists, social icons, banner ads etc.

In simple words, widgets offer a smooth way to add missing functionalities to your WordPress website, without depending on third-party solutions.
Today more than 1,000,000+ website owners are utilizing the strength of widgets to boost their sales, attract and engage visitors, collect leads and more. Widgets are capable of fulfilling almost every business goal. So if your business revolves around events and event management then you must give it a try to experience the difference.
This article is dedicated to WordPress Events widgets and how you can create them on your WordPress website but before getting into the main topic let's find out a few things about WordPress Widgets.
2. What is a Widget?
A widget is a block of content through which you can add a specific function to your WordPress website that is missing in your current WordPress theme. You can place it anywhere on your website based on your current WordPress theme. Where many themes come with sidebar or footer widget areas, some allow you to locate them in the homepage, header and other places. They amazingly enhance user experience and elevate the beauty of your website.
If you have ever visited a website to see a blog or a photo, events or menus in the sidebar are all widgets.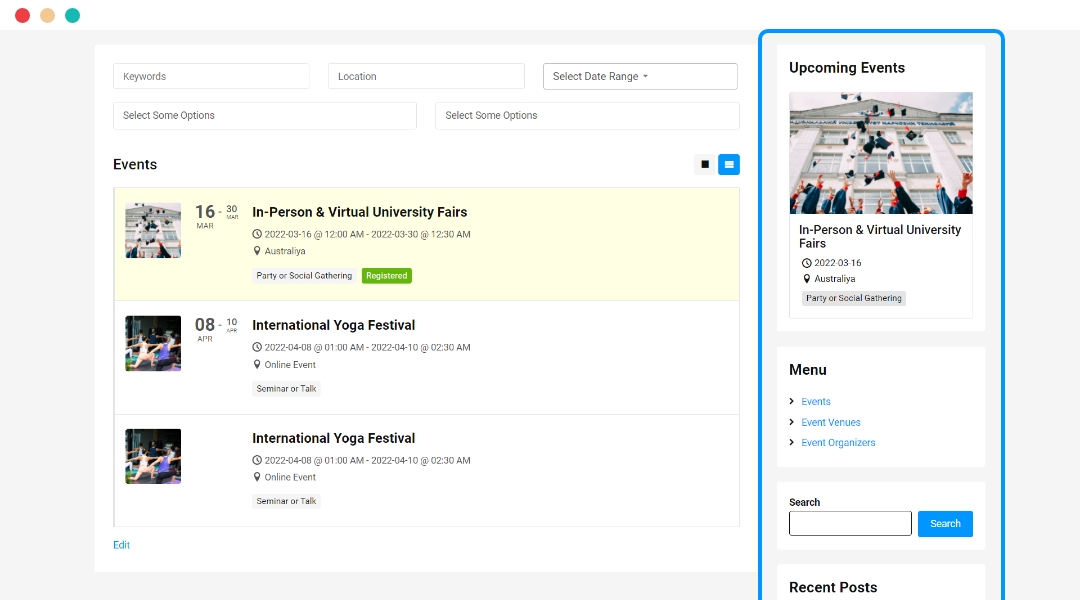 3. Adding Widgets in WordPress
You can add and manage widgets effortlessly by simply dragging and dropping them into your preferred WordPress theme widget areas without using complex codes. To discover the list of available widgets on your own site, place your cursor to the Appearance » Widgets page from the admin sidebar.
It is to be mentioned here that widgets have their own settings that you can find out after adding them to your website.
4. Types of Widgets
There are an endless number of widgets available for you to choose from. WordPress offers a variety of default widgets. However, some WordPress themes come with unique solutions.
Here is a list of commonly seen WordPress Widgets,
Events Widget

: allows you to display events on your websites.

Email subscription widgets:

allows you to create an email subscriber list through your WordPress Website.

Meta widgets:

allows you and other users to sign in to your WordPress administration panel from your main website.

Recent post, pages and categories widgets:

these self-explanatory widgets offer you the scope to showcase your posts to your visitors.

Social media widgets

: lets you display widgets on social media platforms without occupying much.

Text widget:

allows you to showcase simple text in a widget area.

Shopping cart widget:

beneficial for those who sell products online. They can earn revenue from their websites by integrating it with WooCommerce.

Form widget:

commonly used as a contact form on websites where visitors fill up their contact details.

Map widget:

allows you to add Google Maps to your website along with the street view, animations and the ability to search.

Call to action widget:

helps catch your visitor's attention and encourage them to perform a specific action.

Search widget:

allows website visitors to search for content in a large WordPress blog.
Creating an Events Widget
To create a WordPress widget you need to take the following steps,
Install a

widget plugin.

Set up a

new widget.

Create an admin form to let WordPress users choose custom options.

Update the options.

Produce the output.
This is the basic steps that you need to take to start working with widgets.
In this article, we are going to focus on mainly WordPress Events Widgets and how you can utilize them.
When it comes to the WordPress events widget, you can use it simply by dragging it anywhere on your website.
These pocket-size applications never slow down your website. Some WordPress events widgets provide you with the scope to customize and options that include forms to fill up, multiple images, data inclusion and exclusion, etc.
WP Event Manager and WordPress Events Widgets
As mentioned above, we are going to focus on Events widgets in this article and if you want to create an Events Widget on your website, then WP Event Manager plugin is the right choice for you.
WP Event Manager's default widgets include – Featured Events widgets, Recent Event Widgets and Upcoming Event Widgets.
5. Featured Events Widget
Helps you display the featured events on the frontend of your website.
Here are the steps that you need to take to add a Featured Event Widget to your website:
Go to

WP admin >> Appearance >> Widgets.

Select

Featured Events.

Press the

drop-down button.

Choose your preferred location to place the widget.

Click

Add Widget

. or

Drag the Featured Event Widget

to the selected area.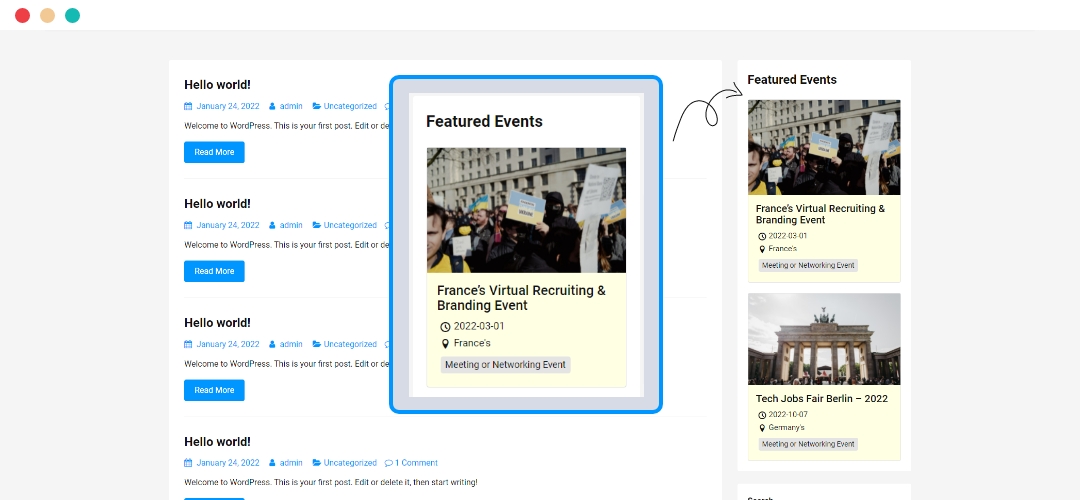 6. Recent Events Widget
helps you showcase the events that are recently created or posted by event organizers. This offers a great user experience as your audiences can quickly find relevant events effortlessly.
Steps to add a Recent Events Widget:
Go to

WP admin >> Appearance >> Widgets.

Place the cursor to

Recent Events.

Press the

drop-down button

.

Select the area where you want to place your widget.

Click

Add Widget, or Drag the Recent Events

to the selected area.
You can control the appearance of the Recent event widget as this offers multiple options to customize it.
Title:

Give a suitable title to your widget.

Keyword:

Mention the specific keywords in the field if you wish to display events based on particular keywords.

Location:

Mention the specific keyword in the field if you wish to showcase events based on their location.

Number of listings to show:

Enter the number of events that you want to display on the frontend of your website.

Order by:

Choose the order in which you want to showcase events that include Ascending and descending.
This is how event listings appear on the frontend of your website: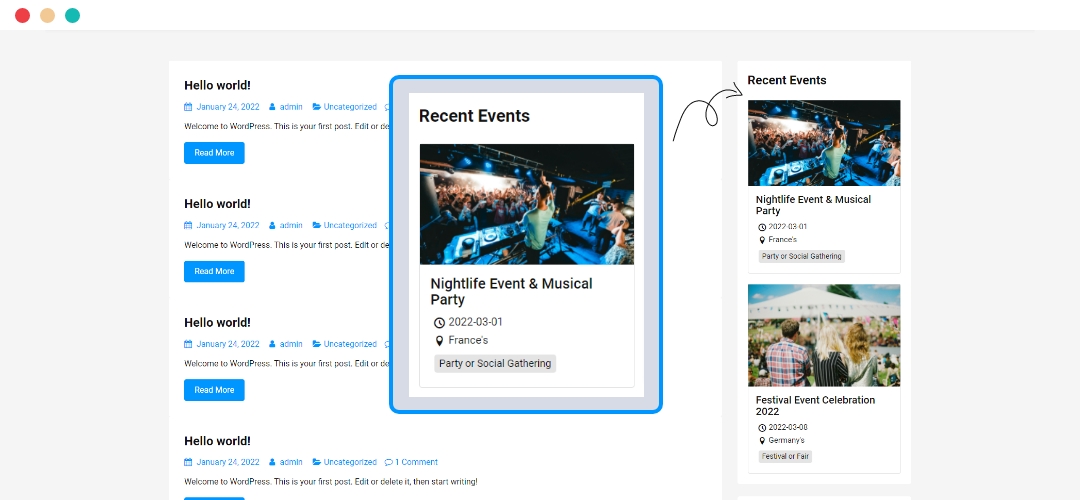 7. Upcoming Event Widget
helps you display events that are scheduled to take place in the near future.
Steps to add an upcoming events widget:
Attaching a WordPress events widget to your website, helps your visitors spot the crucial events that are approaching.
Go to

WP-admin >> Appearance >> Widgets.

Go to

Upcoming Events.

Click on the

drop-down button

.

Select the

desired location

to place your widget.

Click

Add Widget, or Drag the Upcoming Events

to the desired location on the right.
This widget comes with different options like:
Title:

Choose a suitable title for your widget.

Number of listings to show:

Enter the number of events you want to showcase on the frontend of your

website.

Order by:

Select the order in which the event listings will be displayed (Ascending or Descending).

Order by:

Select the order in which the event listings will be displayed (ID, Name, Modified, Parent, Event Start Date, Random).
This is how you will get the upcoming event listings on the frontend of your website: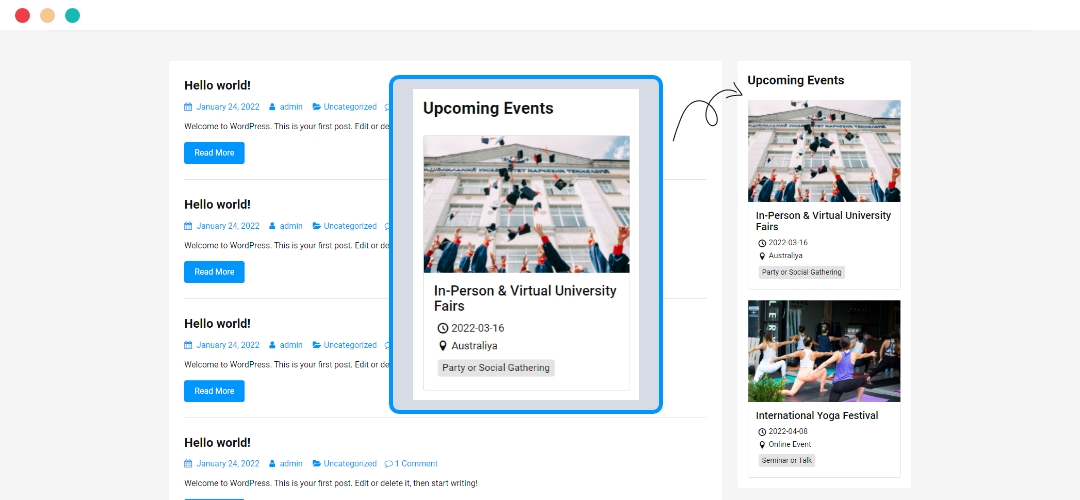 8. Benefits of using Widgets for Your Events
Widgets come with some major advantages which is why they have gained massive popularity in the market today, so if you are searching for ways to amp up your website and improve its performance, you must try out widgets for the below-mentioned reasons.
Fast and easy installation

Widgets do not bring big changes to your website. They offer an easy and quick installation method that works. The best part is, you do not need to turn on your website's maintenance mode for the installation process. Once installed, they are ready to use. Paid widgets are also there but most of them are free. So you do not need to make payments to avail these advantages.

Customizable

Widgets are designed to perform a specific task and you cannot alter that. However, they do give you the opportunity to customize based on your requirements. You can make changes to it to a certain extent as widgets need to perform for various websites. Some widgets let you control its appearance and the way they behave. This makes it easy for you to use a widget that suits the kind of website or theme you are currently using.

Wide range of functions

It is an undeniable fact that different websites have different requirements when it comes to improving their user experience and it is almost impossible for a single widget to fulfill all these requirements. However, you will find at least one widget for every need. In case there is no widget that is capable of meeting your goals you can always ask someone to build one as It is not too difficult to design one.

Enhance website functionality

As mentioned above, widgets make your websites highly functional. Whether you are adding a calendar widget or an event widget, it will surely help your website do something that it never did before. This adds more power to your website and improves its performance. Widgets also contribute to automating certain tasks such as customer service that ultimately saves your time that you could utilize in some other important business activities.

Boost user engagement and conversion

Widgets are designed to be interactive. When a user wants to know about your recent or upcoming events, he or she could easily click through it which indirectly increases engagement because engagement means more time given to your page. This brings an opportunity for you to convert them into your customers. There are a few widgets out there that are only built to promote your products or services and the exciting offers you have for your clients.

Enhance user experience
The main objective behind adding widgets to your events website is to attract users and give them an amazing experience while they use it. Widgets allow you to add more information about your events and offer your users the scope to interact with your website easily. It also helps them resolve issues that they are facing with your website without any trouble, which ultimately will increase the credibility of your brand.
9. Final Words
Whether you are organizing an in-person event or a remote one, putting the spotlight into your events on your website increases your event exposure and also attendance. This would also boost your ticket sales because visitors will only buy tickets to your events when they will know about it.
If you are searching for a premium plugin to add widgets to your website, you can always rely on WP Event Manager's embeddable Event widget that offers a range of features, suitable for projects of all sizes. If your plan is to share only the basic details of your events on your website then the free plugin will help but if you want to impress your visitors with a great user experience and convince them to register then you must stick to our advanced paid plugins.
Wp Event Manager offers a number of paid plugins that take care of all the departments of event management right from selling tickets(sell tickets), managing payments (WooCommerce paid plugin), maintaining calendar (calendar) to handling virtual meets (Zoom). The list is never-ending.