Creating an events calendar on your WordPress Website offers a great way to showcase your event dates and details. It keeps your visitors updated about your upcoming events. Single-day and multi-day events are the most commonly seen events on the events calendar. However, sometimes a group of similar events is also organized at regular intervals. These are known as recurring events. They are mainly of two types; one that repeats at regular intervals, like weekly yoga classes, and the other one is the type of events that are similar in nature but do not follow a regular pattern, like school examinations.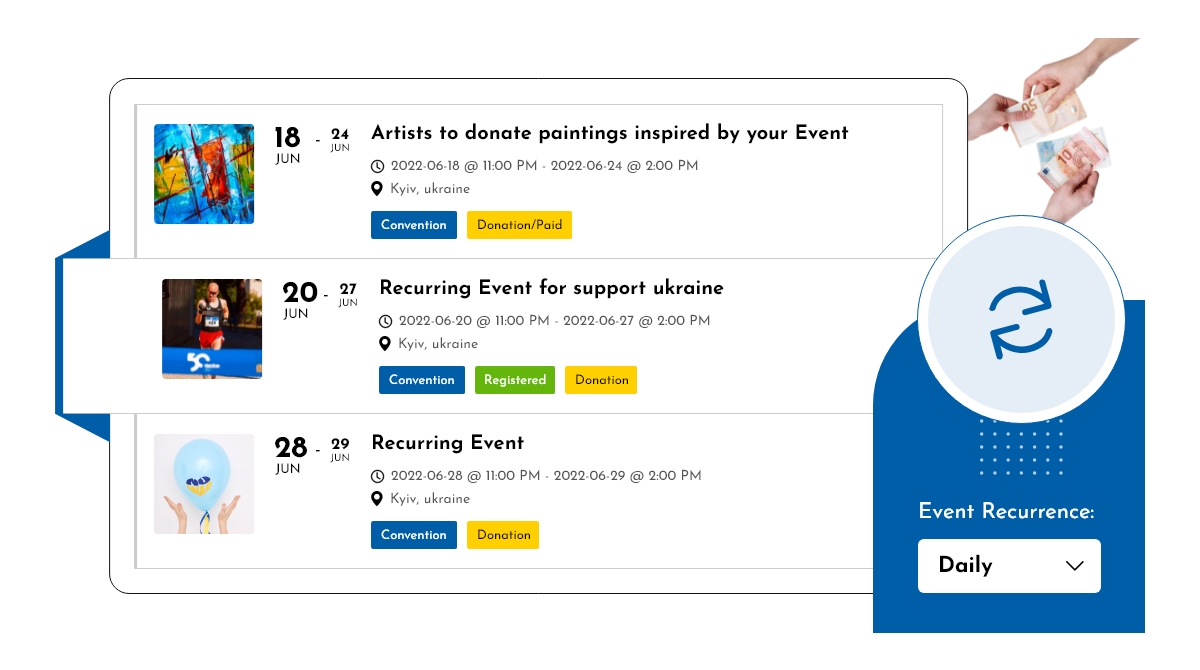 The concept of creating a weekly events calendar falls under the category of recurring events that allow you to repeat your events every week as long as you want. Creating such weekly recurring events calendar manually can be a daunting task as you have to update your website's event calendar every time you want to repeat the event. Thankfully there are some WordPress plugins that take care of such requirements. They help you automatically repeat events on a daily, weekly, monthly or yearly basis.
In this blog, we will particularly discuss weekly events and will share the easiest way to create a Weekly Recurring Events Calendar on your WordPress Website.
WordPress Events Calendar and Recurring Events Calendar Overview
WordPress Events Calendar refers to a calendar where you can display your future events and let your visitors know about them. You can easily create them on your WordPress Website with the help of a feature-packed WordPress Plugin like WP Event Manager that will also let you control the way your calendar looks and works.
On the other hand, recurring events define the events that take place on a regular basis. It is time-consuming as well as tiring to add such events again and again on your WordPress website but why would you do that if you can perform the entire task automatically? Yes, it is true. You can let these events repeat after a specific time gap using a WordPress plugin. So when you need to create a weekly events calendar, you must utilize the concept of recurring events.
WP Event Manager: A reliable plugin to create a weekly events calendar
As mentioned earlier, you need the support of a reliable plugin to create recurring events on your event calendar. A good WordPress events calendar offers various functions to your events website for a better and smooth event management experience. Such functions include booking systems, RSVPs, ticketing systems, automated email notifications, managing recurring events etc. That is why we always recommend WP Event Manager, when it comes to a fully functional event management plugin. It has a list of add-ons for its clients that fulfill each and every event management requirement. For creating weekly events on your events calendar, you can use the Recurring events add-on offered by WP Event Manager.
Let's have a look at its remarkable features that make it a perfect choice for creating a weekly recurring events calendar,
It allows you to set events on a daily, weekly, monthly and yearly basis.

Offers a detailed dashboard for admins to manage all the recurring events easily.

It is extremely easy to set up.

Enables users to customize the timing of each event occurrence without affecting the others.

Saves your time by automating the entire process of creating repeated events on your calendar.
How to create a weekly events calendar for your WordPress website
Creating a weekly events calendar for your WordPress website is easy with WP Event Manager's Recurring events plugin. To initiate the process, you need to install the plugin first. To know the details of the installation process you can go through their knowledge base section. You can install the plugin both automatically and manually. After the plugin installation and activation, you are ready to start the process.
How the recurring events function works
With WP Event Manager's Recurring Events plugin, you can repeat recurring events on a daily, weekly, monthly and yearly basis as per your requirements till a specific time frame.
Repeat daily: Allows you to repeat events every day until the end of series.

Repeat weekly: Allows you to repeat events on a specific day every week.

Repeat monthly: Enables you to repeat events every month on a specific day.

Repeat yearly: enables you to repeat your events every year automatically.

Don't repeat: allows you to stop repeating your events whenever you want to stop it.
Creating Weekly Events
When you want to create a weekly event, you need to select the weekly option from the event recurrence section. As a result, your event will be relisted every week on your preferred day automatically.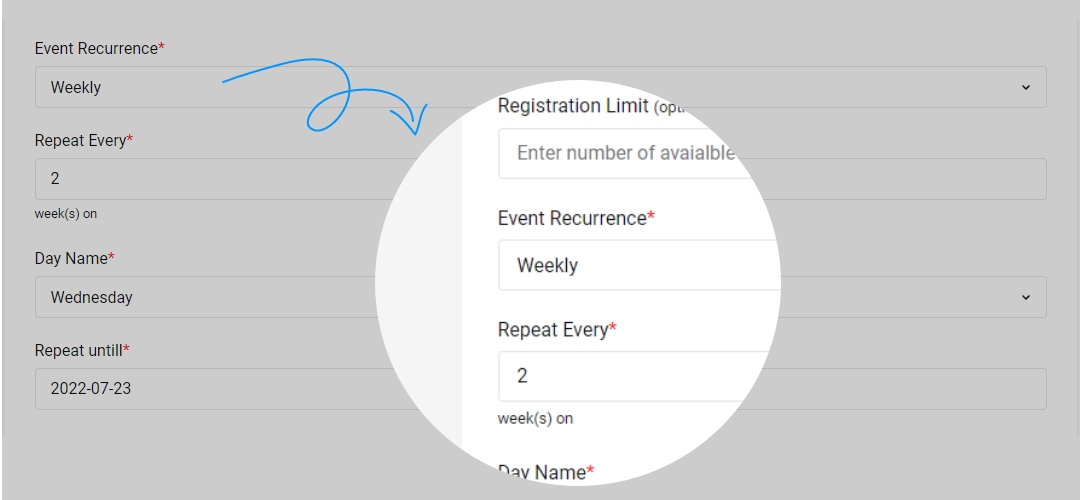 Event Recurrence:

Select the Weekly option from the dropdown.

Repeat Every:

Mention the number of week(s) you want as a time- gap between each event occurrence.

Repeat Until:

Choose the date till which you want to repeat the event.

Day Name:

Select a specific day in a week for the event to repeat.
Example: Suppose you have an event on 1st December, 2020, that you want to repeat every week on Saturday until 2nd January 2021. To create this event on your calendar you need to take the following steps.
Repeat Occurrence

– Repeat Weekly.

Repeat Every

– enter the number of weeks here that you want to use as an interval between each event. For example, if you enter 1 here then the event will recur every week and if you mention two then the event will be repeated in the time gap of 2 weeks till Jan 2nd.

Day Name

: Select

Saturday

here.

Repeat until:

Mention the end date till which you want the event to recur. For example, if you want the event to recur

till 2nd Jan

, which is

Saturday

, you have to mention the date

3rd Jan

in the "

repeat until"

section.
Wrapping Up
Using the Recurring events add-on offered by WP Events Manager makes it easy for you to repeat your events on a weekly basis. You can pre-plan and set your events to repeat at regular intervals and the best part is that the overall control of these recurring events will remain in your hands.
Besides scheduling and tracking your recurring events easily, you can do a lot more with the WP Event Manager's list of add-ons. Explore the plugin now.