Handling ticket sales for events often gives event managers sleepless nights. You must be aware of the feeling you are into the business of events or event management.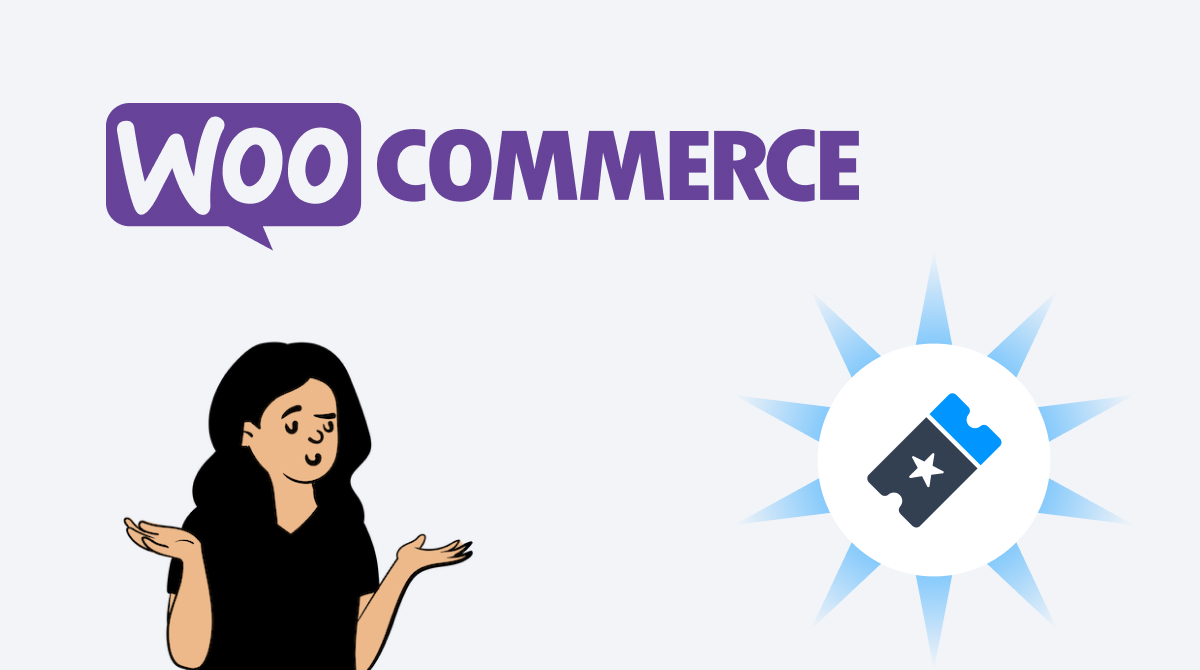 Creating and selling event tickets require the support of the right software to be managed with ease. You can definitely seek help from a third party tool but for that you need to spend a hefty amount.
But why would you spend this much when you can sell your event tickets directly from your event management website? If you are using a WordPress events website, then you have the option to sell your ticket with WooCommerce. WordPress has a lot of ticket-selling plugins that give you the facility to sell tickets with WooCommerce.
You might be thinking why WooCommerce? Well selling your event tickets with WooCommerce offers the best way to handle ticket sales securely and smoothly.
It is a leading platform that lets you create a straightforward shopping structure to offer a seamless event ticket purchasing experience to your buyers. It is flexible and highly customizable and comes with multiple payment options that build a perfect personalized eCommerce experience for everyone.
In this article, we have assembled some of the remarkable benefits of using WooCommerce for selling your event tickets with ease.
What is WooCommerce used for?
WooCommerce is a software solution, created exclusively for WordPress websites. It is mainly used for building e-Commerce shops. It is known for its flexibility and the ability to magically convert an ordinary website into a feature-rich online store.
With WooCommerce anyone can sell their event tickets as a WooCommerce product directly from their own website.
Advantages of using WooCommerce for selling event tickets
1. Flexibility
WooCommerce is a flexible platform where users can sell almost everything that they want to. Starting from products and services to event tickets everything can be sold with WooCommerce.
Here are the things you can sell with WooCommerce:
Any time of physical products like clothing or cosmetics.

Downloadable items including books, movies etc.

External products such as Amazon Affiliates.

Webinar or classes invitation and more.
The best thing about WooCommerce is that all types of businesses can use it to build their online store irrespective of their size.
2. Multiple customization options
WooCommerce gives you the scope to build your online shop based on the type of products you sell. It has a huge number of WordPress free plugins that you can choose from. The free plugins offered by WordPress can be accessed from the WordPress Plugin Directory and for the paid ones you have WooCommerce.com and Codecanyon.
For your event tickets, we recommend the Sell Tickets addon offered by WP Event Manager. It has some amazing features along with the strength of WooCommerce that gives you a seamless ticket-selling experience.
WooCommerce also has an impressive number of themes for its users. In case you do not like any of them you can also customize these themes based on your requirements and preferences.
WooCommerce is for everything which means even a person without much technical knowledge can use it with ease.
3. Security
When it comes to an online store where transactions will also be handled online, security becomes a crucial factor. You need to ensure that you offer secure payment gateways to your customers where their credentials and other details will be safe.
WooCommerce understands this and takes care of the matter very well. It comes with secure payment lines that include Paypal and Stripe.
For a popular platform like WooCommerce, it is difficult to escape from the eyes of hackers. That is why developers regularly update it to keep it protected from cyber attacks.
Here, it is to be noted that WooCommerce does not have backups for restoring data in case of an attack but you can add a backup system that will help you store data in its encrypted form and maintain your client privacy.
A security plugin can also be used with WooCommerce. Such plugins regularly scan your site to identify malware and keep hackers away from it.
4. A huge community
Currently, more than 4.5 million WooCommerce based websites are operating on the web. The huge user base comes from different backgrounds and shares useful write ups and guides readers on important WooCommerce functions and configurations that they used.
The huge WooCommerce community gives the assurance that it is here to stay and It will be in use for people till the time they use it.
Here are some popular WooCommerce forums:
Advanced WooCommerce

Advanced WooCommerce is a private Facebook group that consists of all the WooCommerce experts. It has the strength of 25000 members that include WordPress developers. The group mainly has discussions on the advancements of WooCommerce and you can use the platform to solve your WooCommerce related queries that are usually not found on Google.

WooCommerce help and share

It is another closed Facebook group of WooCommerce that has more than 29000 members. Unlike the Advanced WooCommerce group, this group is built with all types of WooCommerce users including beginners. You can solve all your basic to advanced level of queries in this group from WooCommerce users.

WooCommerce Support Forum

To be a part of this forum, you need to register with WordPress first. This community is led by WooCommerce advanced community members and WooCommerce developers. You solve your WooCommerce related queries from here as well.

If you want to sell your event tickets with WooCommerce, you must try WP Event Manager's Sell Tickets addon. The Sell Ticket addon offers a seamless integration with WooCommerce and lets you create and sell your event tickets directly from your website.

WooCommerce based ticket-selling plugin: Sell Tickets and its features

The Sell Tickets addon and its features

The Sell Tickets addon offered by WP Event Manager is the ultimate solution for all your event tickets related requirements. It is enriched with some amazing ticket-selling features that make it easy for you to sell tickets in bulk for your events without being dependent on any third-party tools.

Here are the features of the Sell Tickets addon:

Users can get multiple payment gateways with the WooCommerce based Sell Tickets addon that makes the transaction easy for both attendees and organizers.

Taxes can also be imposed on event ticket prices as per your preference.

It lets you sell three different types of event tickets that include Paid, Free and Donation tickets.

It provides users with a ticket setting section where you can mention the ticket fees, tickets per order and more.

You can specify all the ticket details in the ticket details section.

It offers a ticket registration section which your attendees can fill with the necessary details at the time of purchasing a ticket.

A registration dashboard is offered to the users that displays the details of registered attendees.

It lets you share e-tickets with your attendees through email messages in PDF forms.

It is easy to prevent overselling with Sell Tickets as it gives you the right to set a limit for your ticket sales.

You can display the number of available and sold tickets to your attendees.

Event Organizers can easily handle the event check-ins and check-outs through QR code scanning facility.

The plugin also allows you to design your event tickets as per your preference using customizable ticket templates.

Send a confirmation email to those who have purchased your event tickets

You can add discounts and offers to your tickets for your customers to encourage them to purchase your event tickets.

You can customize the registration form fields that your attendees fill in during the registration process.

As the WooCommerce integration offers multiple payment gateways, your attendees can choose their preferred payment option while paying for the event ticket.

Get useful insights on your event tickets including the number of tickets available, sold and their types.

To get a thorough guide on how you can sell your event tickets with Sell tickets read our blog How to sell event tickets with WooCommerce?

Wrapping up

Selling event tickets is truly a challenging task but with WooCommerce it can be made easy as it offers security, flexibility, customization options and a huge community to solve your queries. The Sell Tickets addon is empowered with the strength of WooCommerce that offers various features to streamline your ticket-selling process.