Selling event tickets online is undoubtedly a tough job. There are various ways available that can help you in this task. The best way to sell the maximum number of tickets for your events is to rely on a suitable WordPress plugin that not only automates the entire process but also offers a smooth and safe transaction method.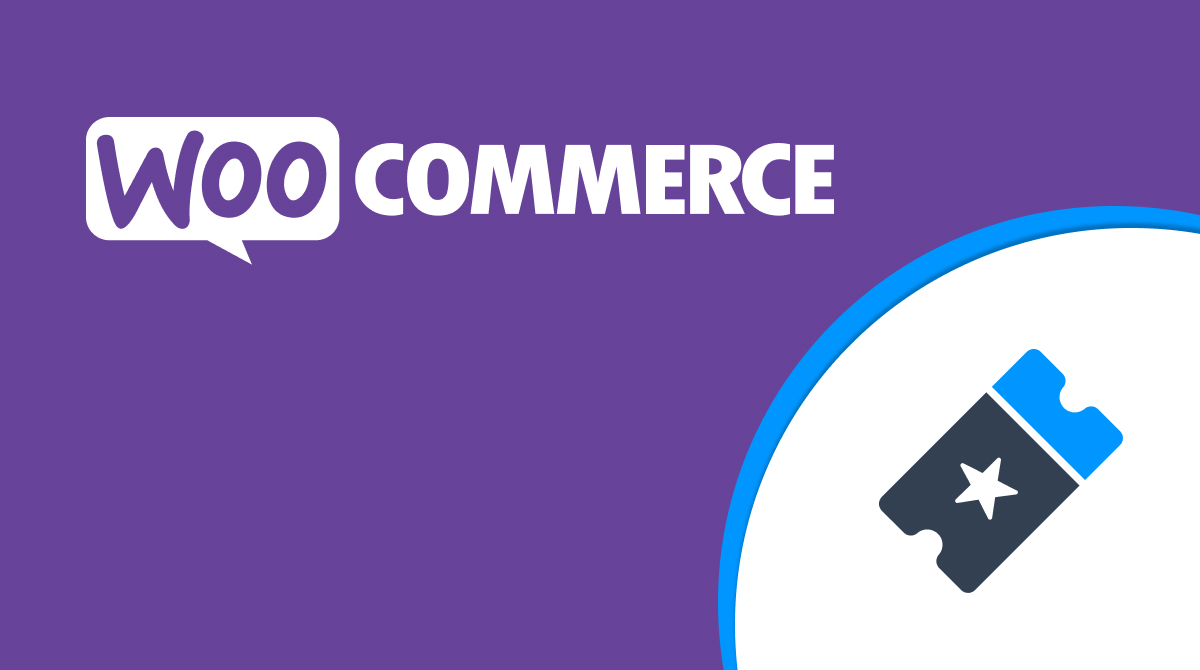 WordPress offers countless numbers of plugins that allow you to sell tickets on your WordPress site. When it comes to managing ticket sales on your site, the best option is to rely on a WooCommerce based plugin. WooCommerce is one of the most powerful platforms that streamlines the entire ticket selling process. We recommend the Sell Tickets addon offered by WP Event Manager that lets you sell tickets through WooCommerce.
What is a WooCommerce tickets plugin?
A WooCommerce tickets plugin is created to let users sell tickets through their WooCommerce store. Such plugins are extremely helpful for occasions in which you need to sell tickets like events, concerts and others.
With WooCommerce ticket selling plugins, you can add tickets to your cart as a WooCommerce product and buy them through WooCommerce.
WooCommerce ticket plugins offer multiple benefits for selling tickets that include the following:
They offer a smooth and secure shopping experience to the buyers or your attendees.

Besides selling tickets, they also help manage attendee information and registration data.

They also provide users with some useful insights that might be very helpful for them to improve the quality of their events.

It gives you the entire control of your ticket selling process.

You can easily manage your ticket inventory with such plugins.
Choosing a WooCommerce based ticket selling plugin:
There are several WordPress ticket selling plugins available in the market which makes it difficult for you to choose a suitable one for your website. To help you in this process, we have listed down some of the most important things that you must consider before selecting a WooCommerce based ticket selling plugin.
Hassle free integration with WooCommerce.

Customization options.

Safety.

The facility to purchase event tickets as WooCommerce products.
Manage and control your event ticket sales with WP Event Manager's Sell Tickets plugin:
As an event organizer, it is important for you to have full control over your ticket sales which you can easily get with the WP Event Manager's Sell Tickets addon. It offers superior WooCommerce integration that makes the ticket selling system easy and seamless for you.
You can add different types of tickets to your website as many as you want based on your requirements and sell them entirely from your WordPress site through the Sell Tickets plugin.
Let's have a look at the remarkable features of the Sell Tickets plugin

:
The WooCommerce integration with the Sell Tickets plugin gives you more than 100 secure payment gateways.

You can also impose tax on the ticket prices as per your preference.

It allows you to add three different types of tickets including Paid, Free and Donation tickets.

It comes with a ticket setting section where you can mention the ticket fees, tickets per order and more.

You can fill up all the major details of your tickets in the ticket details section.

It offers a ticket registration section which your attendees can fill with necessary details at the time of purchasing a ticket.

You will get a registration dashboard that displays the details of your registered attendees.

It lets you share e-tickets to your attendees through emails in PDF forms.

You can prevent overselling by setting a limit for your ticket sales.

It also allows you to display the number of available and sold tickets to your attendees.

Event Organizers can easily manage event check-ins and check-outs through QR code scanning facility.

The plugin gives you the scope to design your event tickets as per your preference using the customizable ticket templates.

Send confirmation email to those who have purchased your event tickets.

You can add discounts and offers to your tickets for your audience to encourage them to purchase your event tickets.

You can customize the registration form fields that your attendees fill during the registration process.

Give your attendees a seamless way to enter your event through an event ticketing application.

Your attendees can choose their preferred payment gateway through WooCommerce integration to pay the ticket charges.

Get useful insights on your event tickets including the number of tickets available, sold and their types.
All its prominent features in a nutshell: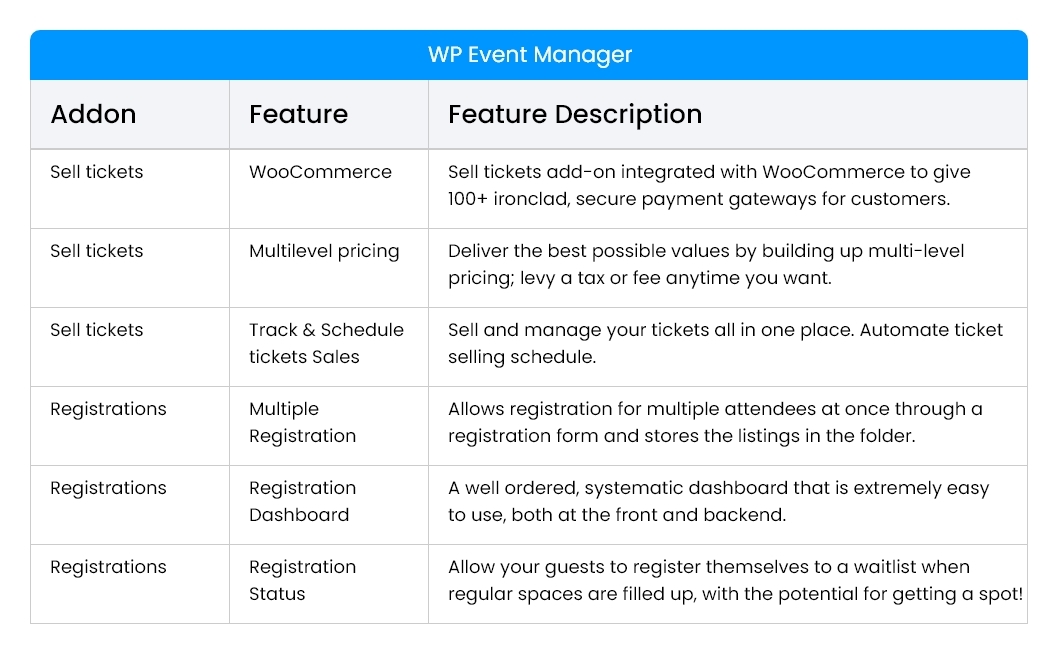 Zero dependence on third-party tools:
When you are using a feature-packed addon like Sell Tickets, you do not need to rely on any other third-party tools to work with it. You can create and add tickets directly to your WordPress site and your attendees can complete the entire ticket purchasing process within your site.
Ultimate freedom of selling different types of tickets:
Whether you want to give discounts on your ticket prices or sell different types of tickets including paid, donation or free, the Sell Tickets addon has got you covered.
With the sell tickets addon, you can collect customized information from your attendees through the customizable registration form.
With the Sell Tickets addon, you can get all the beneficial features that WooCommerce offers that include order details, ticket sales report and various payment options.
How to sell event tickets with WooCommerce?
To sell your event tickets with WooCommerce based Sell Tickets addon directly from your WordPress site you need to go through the following steps.
Step1 : Install the Sell Tickets plugins on your WordPress site.
Installing the plugin is super easy with WP Event Manager. You can install it both automatically and manually.
Step2 : Once you install the plugin, you are ready to work with it. The next step is to add and display your preferred type of tickets.
Step3 : After adding your preferred type of tickets, you need to work on the ticket settings where you will have to fill up the following details.
Ticket Name.

Ticket Quantity.

Ticket Price.

Sales Start Date.

Sales Start Time.

Sales End Date.

Sales End Time.

Ticket Priority.
You can add your event tickets from both Frontend and Backend with the Sell Tickets addon. For all the necessary steps please click here.
You can also sell your event tickets from your WooCommerce product page:
Here are the steps you need to take:
Log in to the Admin panel.

Go to

WP- Admin >> Products >> Add New.

Fill in the details of the tickets, including product name(ticket name), description.

Under the Product data section, select event tickets.

Fill in the required details regarding the ticket including its

Price, sale price, linking to the event for which this ticket is created, select the ticket type, as a paid, free or donation ticket, Sale start, and end date, should be paid by attendee or organizer, etc

.

After the desired details are filled, publish

the ticket.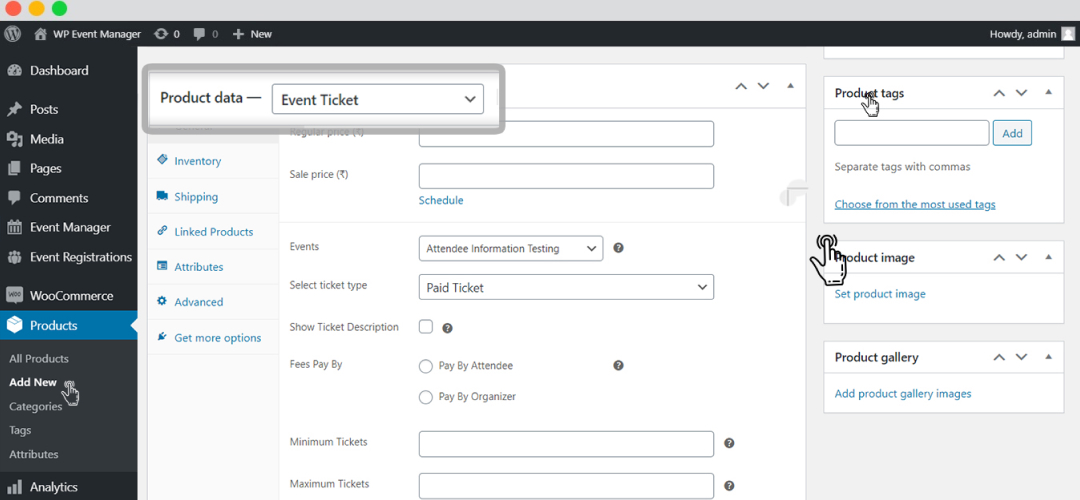 These tickets are now published as products, which will be visible on the detail page of that event which you selected above.
Wrapping up:
Selling event tickets through a WooCommerce based plugin like Sell Tickets can be extremely beneficial for your business. It not only helps increase your business revenue but also makes the ticket selling process easy for you and smooth for buyers.
Besides ticket selling it also helps you manage your attendee information efficiently, makes it easy for you to track attendee check-in and check-out through QR code scanning and more.