The concept of virtual conferences has become an inseparable part of every business especially due to the pandemic. It has shown marketers and planners a great way to get in touch with a broader audience. It is not only cost-effective but also gives you the opportunity to grow your community.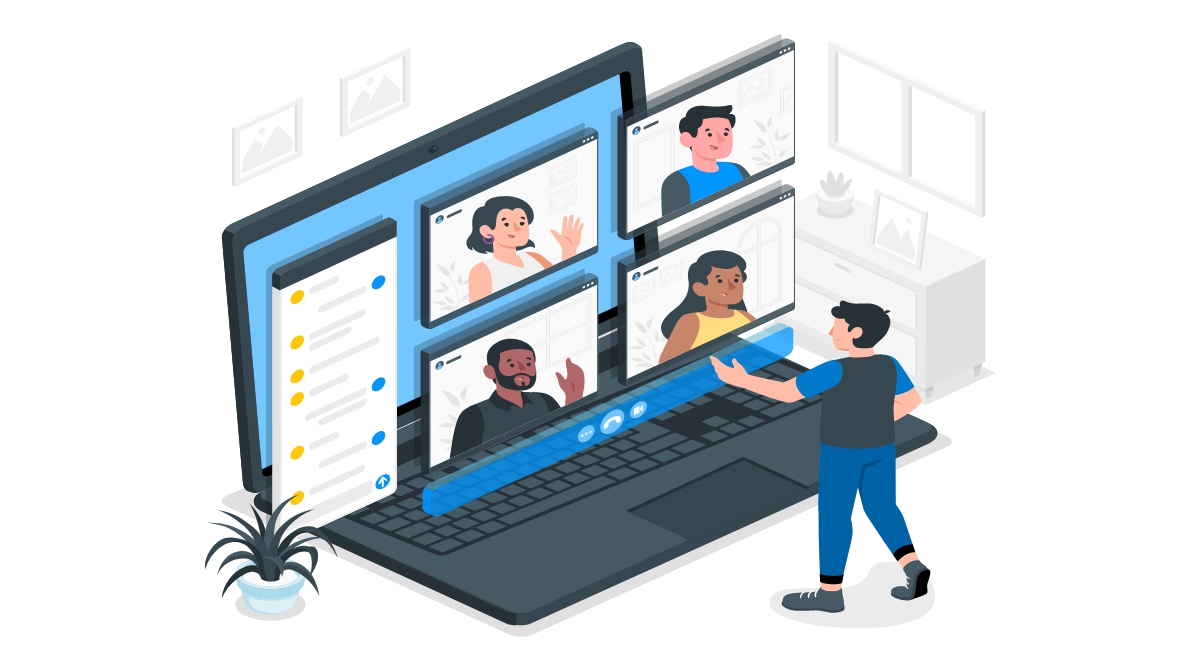 So it won't be wrong to say that hosting a WordPress virtual conference is undoubtedly beneficial but only with proper planning and the right tools. In this blog, we are going to take you through the entire process of conducting a virtual conference on your WordPress website with a WordPress Virtual Conference plugin so that you can enjoy all its benefits for your business.
Before discussing the entire process of hosting a virtual conference, let's find out what a virtual conference actually is.
What is a Virtual Conference?
As the name suggests, a virtual conference is a conference that takes place in a virtual environment. Participants, from all over the world can join in, interact and access the content through their mobile devices or computers.
A high speed internet connection is enough to conduct such online meetings as there is no need to travel or arrange food for the attendees.
Virtual conferences, if done correctly can be more satisfying than in-person conferences as they remove geographical boundaries and enhance audience engagement.
Advantages of hosting a virtual conference on your WordPress Site
Increases brand awareness

Arranging a virtual conference opens up the door of opportunities for you to promote your business. Thousands of people across the world get familiar with your website when they participate in it. You too get to interact with your target audience which ultimately helps people know your brand and your offerings.

Global reach

Virtual conferences do not depend on a particular location and let attendees from all over the world participate in it and that too without any travel cost or arrangements. This gives your conference a global exposure.

Networking opportunities

Well, many people feel that connecting people virtually is not as exciting as meeting them in-person which is in a way true but it is still not impossible, if arranged properly. Through virtual conferences, you can identify people for potential partnerships and companies that are relevant to your business. Besides building professional connections you can also make friends and chat with people on random issues as most of such events have a networking area.

Save time and money

As mentioned earlier virtual events only require a high speed internet connection and a smart device. You do not need to spend your money and time on arrangements and travels when you are planning to hold a virtual conference.

Lead generation
During a virtual conference you get many chances to gather attendee information through live polling or Q&A sessions. You can utilize this information to strengthen your marketing strategies and improve your future events. This simply accelerates the lead generation process.
Tips to help your virtual conference website stand out
There is cutthroat competition amongst businesses in the virtual environment and that is why you must offer something more than others to your audiences. Here are a few tips that will help you make your virtual conference website better than your competitors.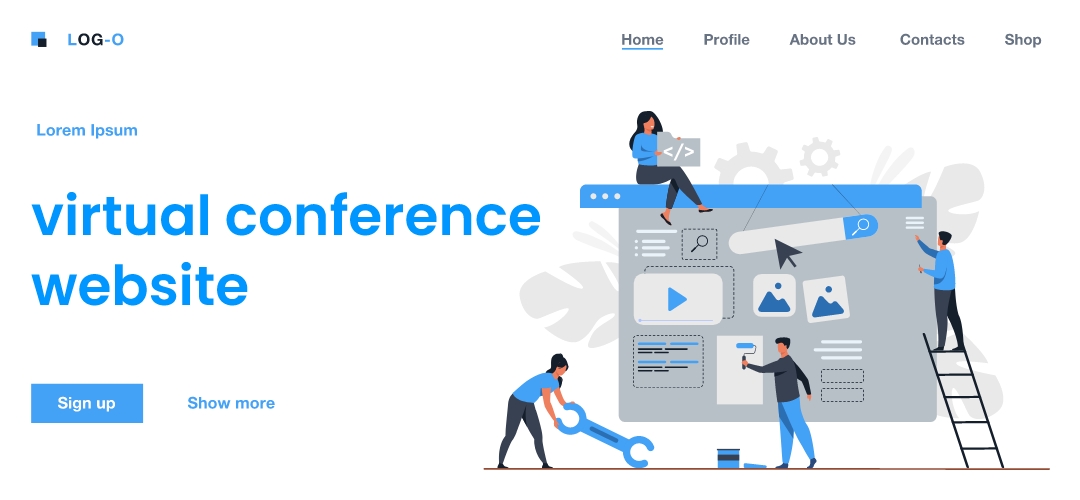 Create a visually appealing landing page

When you are conducting a virtual conference, you would definitely want to create a buzz and drive the audience to it as much as you can.

The landing page of your WordPress site plays a pivotal role here as a striking landing page always attracts people. Make sure you have an eye catching landing page with creative, informative and interactive content with proper Call To Action buttons. It is said that most visitors spend a maximum of 15 seconds on a website and if you really want to make a difference then you need to fully utilize this time period to impress them.

Personalize your website

Your Website visitors would love to know about the story behind your business or who are the people behind the website they are currently viewing. Utilize the About Us section of your webpage to reveal your story, your persona, purpose, vision and objectives behind your business to catch the attention of your visitors.

You can also use the page as an online portfolio where you can share the details of your successful events or well known speakers who had graced them in the past etc. So when you are creating your website's about us section make sure you put your focus on these areas.

Promote your virtual conference by revealing the list of speakers and their session schedule

Sharing the details of the speakers of your events and their session schedule plays a major role in attracting your target audience to your virtual conference. There are several tools available in the market to help you in this but we would recommend you to use the Speaker and schedule plugin, offered by WP Event Manager for this purpose. This helps you display the list of speakers and their session schedule in your virtual conference on your website.

Besides this, you need to have a great strategy to promote your virtual conference. To facilitate the booking procedure, you can use another WordPress plugin named Sell Tickets to give your visitors a smooth way to purchase tickets for your virtual conference.

Include blogs to enhance engagement
Having relevant blog posts can help your events rank in popular search engines and also engage more visitors to your website. Create a separate page for blogs on your WordPress site and share various articles on relevant topics on a regular basis.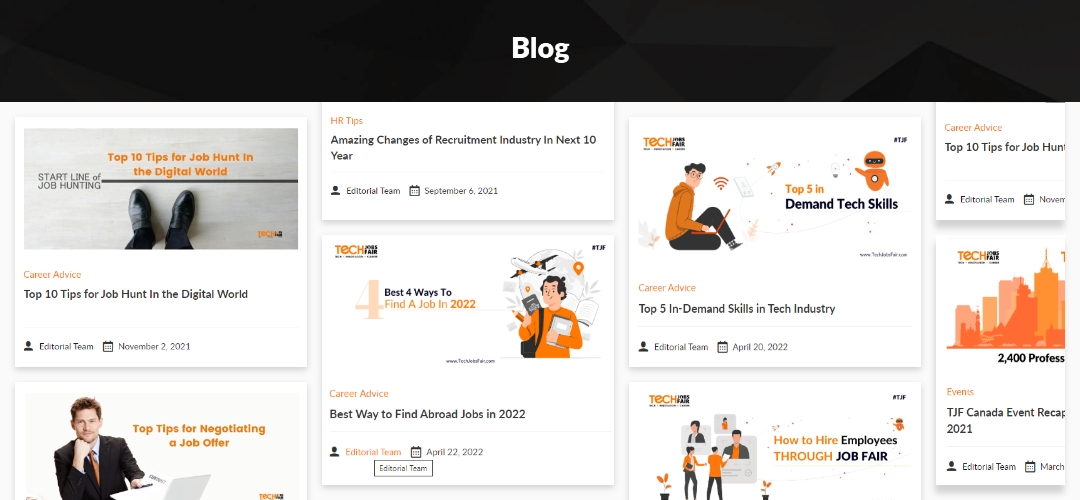 The Zoom plugin for conducting Virtual-conference
Whether you are conducting a virtual conference or any other virtual event, the Zoom plugin is there to fulfill all your requirements. It has some amazing features that not only provide you and your attendees with an obstacle-free virtual-session but also make your conference secure.
Some of the powerful features of the Zoom plugin includes:
Allows you to arrange conferences, webinars, meetings and other events conveniently and lets you control the entire virtual environment from your dashboard.

Zoom features are compatible with WooCommerce and help you sell your meetings or conferences on your website with WooCommerce.

The best part of the plugin is that organizers can easily conduct events through their frontend by simply connecting their zoom account and that too without depending on the admin.

Admins can easily monitor activities from the backend and organizers or hosts can create events that automatically get reflected on the backend.

The plugin allows both the host and the administrator to end or restart the meeting from the WordPress interface along with the frontend zoom dashboard.

Admins can also differentiate between the virtual and in-person events on the

event's Calendar

using the Zoom plugin.
The features of the plugin do not end here, to know more about it click here. All you need to do is to install the plugin and gear up to start working with it.
Promoting your Virtual Conferences
The most effective way of promoting your virtual event relies on the kind of event you are organizing and your objective.
Email marketing is a suitable option when you want to sell your virtual conference by charging for registration. You can also advertise such events on social media platforms to increase your reach. Similarly, if your aim is to get in touch with people who share the same industrial background then you can share and talk about your event on discussion forums or you can also connect with various companies belonging to your industry directly. Reaching out to social media influencers to discuss the details of your program with their followers, is another useful way to promote your event.
While promoting your event you need to keep in mind that it is not only about convincing more and more people to register but also about the registration: attendance ratio.
A few tips on promotion,
Keep updating your registrants about your conference on a regular basis and especially during the week of the event.

Build a social media page or discussion room where you can get the attention of your registrants and target audiences.

Utilize the page to discuss your event topics, ask questions, and explain how this conference is going to help them.
Ensuring the security of your virtual conference
Security is probably the biggest concern for every virtual event host or organizer. That is why it is always good to be extra cautious about it. To ensure security for your virtual events, search for plugins that offer,
Two factor authentication for hosts and keep your events password protected.

It lets the admin manage participants with mute and unmute options and select people to share their audio or video and screens.
The smartest method to keep your events protected is to allow a waiting room so that admins and hosts can examine attendees before allowing them to join. You can also lock your event to prohibit outsiders from joining in. For example, the Zoom plugin offered by WP Event Manager comes with a feature that allows only the registered attendees to join the virtual conference or webinars through the meeting link as it is only visible to them and not to the outsiders.
Can a virtual Conference be as impactful as an in-person one?
Well, the answer to this question is hidden in the way you conduct it. In simple words, the impact of a virtual conference on the attendees completely depends on the way you choose to arrange it and the advantages and convenience you offer your attendees.
Thankfully some powerful WordPress plugins are there to take care of everything that you need to manage a virtual conference or an event. When it comes to a suitable WordPress Plugin for your virtual conference, WP Event Manager is your one stop solution. It offers an array of feature rich plugins that are sure to make your virtual conferences successful.
These plugins are transforming the virtual event industry and adding more convenience to it. However, you need to make a solid plan as well on how to properly host a virtual conference.
Final words
Besides security issues, organizers of virtual conferences often have to deal with various challenges such as a technical issue, lack of audience engagement etc. but proper planning and technical support can remove these worries.
Interacting with your colleagues and consumers through virtual meetings helps you build a transparent relationship with them which is directly related to your earnings and customer satisfaction. Here, it is to be mentioned that video conferencing plugins have redefined the journey of conducting virtual conferences. They significantly improve business efficiency and empower its marketing strategies.
We hope that this article will be helpful for you in understanding the concept of virtual conferences and how you can host such online meetings on your WordPress website.