Whether it is a conference or a webinar, every event requires strategic planning and execution. Starting from selecting a suitable venue to inviting chief guests and speakers everything needs to be on point. When it comes to measuring the success of an event, several factors come into the picture and one of these factors is audience engagement.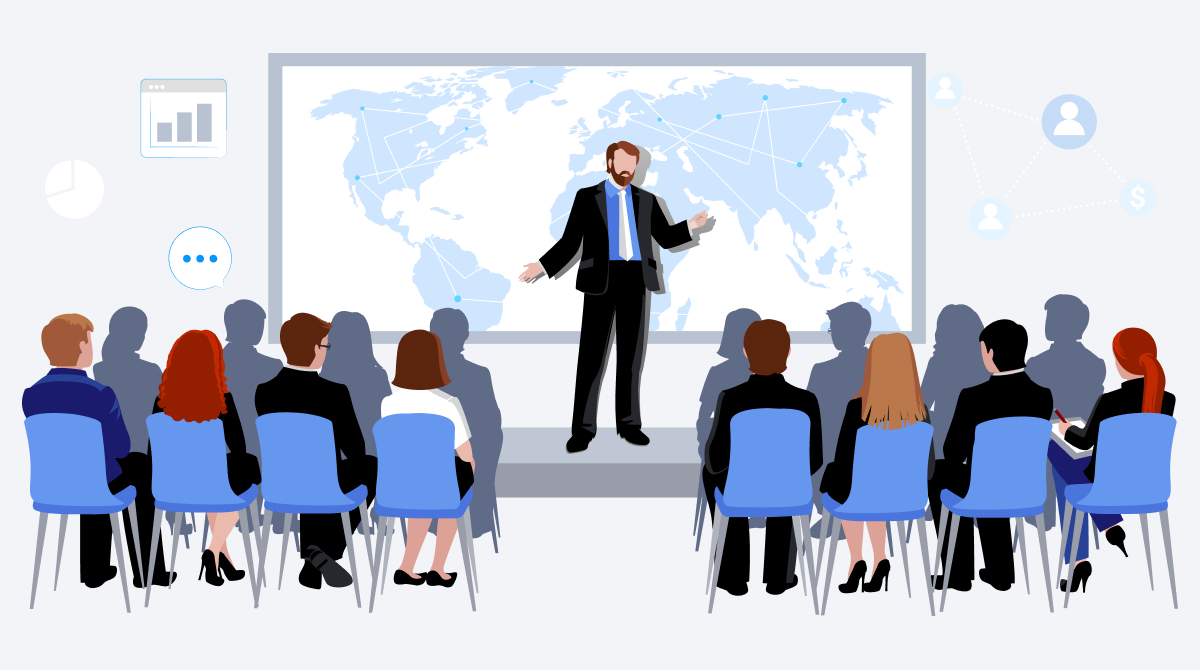 Besides ticket sales, the extent of audience engagement in your events including conferences plays a great role in determining the success of it. This is because your attendees will also be interested in your events if they can connect themselves with it and take part.
So how to maximize attendee engagement? To get the answer, you need to read the article.
In this article we have shared some useful tricks and tactics that you can use to increase attendee engagement in your conferences.
To maximize your attendee engagement, you need to make your event content engaging for your attendees and for that you must be aware of the tastes and preferences of your target audiences. Read our next segment to explore ways to know your target audiences.
4 ways to know your target audiences
A conference is generally attended by people from different backgrounds having diverse roles. You can divide your conference attendees into various groups and specify the one that is the most important for your conference and your exhibitors and sponsors.
Only identifying your target audiences is not enough to create personalized event content including your conferences, an organizer needs to understand them and what they are looking for in your events.
Here are the 4 most effective ways of understanding your target audiences for any kind of events:
1. Who are they?
Find out about the following things to know who they are:
The age group they belong to.

Their marital status.

Educational qualification, occupation and income.

Nationality.

Things of interest etc.
2. Where are they?
You need to be aware of the places where your target audiences are located and the platforms they use on a regular basis. This includes the social networking sites they use and also their geographical location.
3. How do they prefer to buy?
Here, you need to identify the purchasing behavior of your target audiences so that you can offer them the options that they expect from you while purchasing your products or services.
4. Why do they buy?
This is all about identifying what encourages your customers to purchase the things that you sell. It will help you create your marketing content that would build a direct connection between your business and them.
Now that you understand the likes, dislikes and other such details of your target audiences, the next step is to explore the concept of attendee engagement.
What is attendee engagement?
Attendee engagement in an event is all about how much an attendee involves himself or herself in it. Attendees get more from a conference or any kind of event when they freely interact or participate in the event activities. Similarly it is advantageous for conference organizers as well.
Why is audience engagement important?
As a conference organizer, it is your responsibility to ensure that your audiences freely interact and engage themselves in the event. So what are the benefits? Why is it important?
1. You audiences feel valued
During an event, you can try interacting with your attendees in different ways by asking questions about various things related to the event theme, their opinion, experiences and more. This makes them feel important and valued. It also helps you establish a bond between you and your attendees that encourages them to communicate freely.
2. Make your event content relevant to your audiences
The more you communicate with your audiences, the more you will know about them and their challenges, tastes and preferences. This will ultimately help you make useful and relevant event content for them.
3. Your audiences will enjoy being present there
In a conference or any type of event, if attendees are only the listeners, they eventually lose interest in it. On the other hand, if they actively participate in your events and constantly interact, their interest in it remains intact from the beginning to the end.
4. Enhance attendee experience
If your audiences feel valued, get opportunities to interact, build connections and get solutions to their issues at your conference, they will definitely have a good time over there. This will also push them to join your upcoming events as well.
5. You can learn from them
The biggest advantage of interacting with your conference attendees is that it gives you the opportunity to learn new things. When you discuss a particular issue at your conference and involve your audiences in the conversation, you will get to know a lot of new things about it which you can utilize to improve your products or services in the future.
5 Ways to maximize audience engagement in your conference
1. Select efficient moderators
When it comes to engaging attendees in a conference or an event, moderators have a pivotal role to play. So it is always better to give a brief of your conference to your moderator in advance. The moderator also needs to understand the objective of your conference so that he can engage attendees in relevant topics.
2. Add Q&A sessions
Q&A sessions work like magic when it comes to boosting interaction in a conference. You need to make sure that you arrange a Q&A session in your conference where the attendees can directly ask questions to the speakers and the CEO and get the answers of the questions instantly.
3. Initiate pre-conference survey
Different attendees have different reasons to attend your conference. Some people join your event with the purpose of networking whereas some are attracted to the speeches. So it is always beneficial for you to know what exactly your audiences are looking for in your conference.
The best way to figure it out is by initiating a pre-conference survey for your audiences. This is because if they get what they want in it, they are most likely to engage themselves in it.
4. Improve your marketing efforts
A lot depends on the way you promote your conferences. We recommend customized marketing campaigns to increase attendees and attendee engagement at your conference. You need to divide your target audiences for your conference into segments. This is because those who have been participating in your events for a long time require a different approach as compared to the first timers.
Do not forget to highlight the networking and learning opportunities in your marketing campaigns.
Email personalization is another good idea to implement here as it differentiates your email from the thousands of emails that your audiences receive on a regular basis.
5. Send invitations before time
Sending your conference invitations to your target audiences way ahead of the date of its occurrence can help increase the number of attendees at it. This is because when you send the invitations early, it gives your attendees the chance to plan everything accordingly and increase their scope of participating in it. You can initiate calls, emails etc to remind them about your event and offer them the time to arrange their schedules in a way that makes it easy for them to attend it.
6. Use the power of social media
We all are aware of the power of social media and we need to utilize it as much as we can. If you organize conferences frequently then you must involve your social media community into it as well. You can add interactive posts on a regular basis on your social media pages to keep your attendees engaged. These posts can be highly useful in encouraging your followers to attend your conference.
Engagement can be easily increased with the increase in the number of attendees.
Additional tip
For a conference or any kind of virtual or hybrid event you can turn to WP Event Manager for help. It is a WordPress event management plugin that takes care of all your event management related requirements. It has specific addons for different event management requirements. For virtual conferences it has Zoom, and for other virtual events it has feature rich plugins like Expo Networking and Speaker & Schedule.
Wrapping up
We hope that the article will be helpful for you in increasing your attendee engagement in your next conference or any type of event that you conduct. Audiences are a very important part of your event and that is why you should understand them and their needs through your research before making the event content.