In this digital age, if you have a dedicated business website and you somehow earn through it then you must have a secured payment gateway like Stripe to help you in this regard. Managing transactions manually is highly error-prone and risky but Stripe saves you from this without any hassle.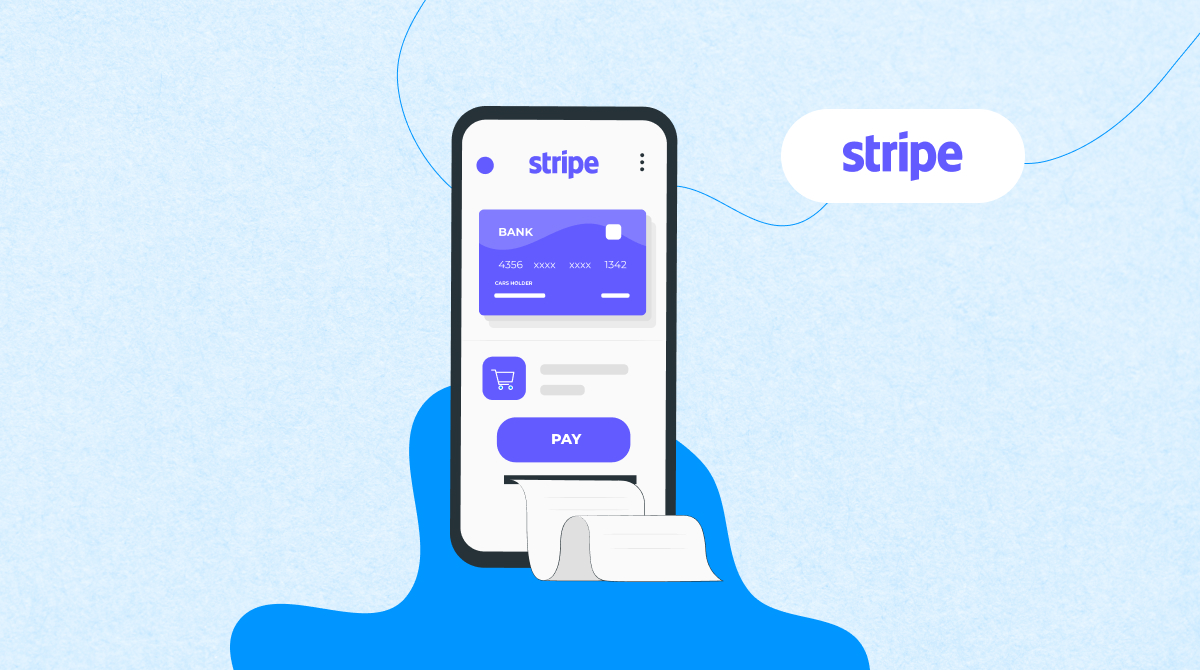 Stripe is counted among the most desired and popularly used payment processing systems in the world. It gives you the freedom to accept payments through credit card or directly from your buyers' bank account that is linked with your website.
In this article, our readers will learn about 5 best Stripe payment plugins for WordPress in 2023 including their features, pricing and more.
Before diving into the topic, let us find why we should use Stripe payment plugins.
Why Use Stripe Payment for WordPress?
Stripe comes with a big list of advantages for every business. The developer-friendly platform supports various payment methods and offers a global reach. Some of its advantageous features include personalized checkout options, convenient subscription management and easy integration. Such features certainly make it one of the best choices for businesses that are looking for a comprehensive payment system.
The following are the main reasons why you should stick to Stripe payments for your eCommerce business and handling payments.
Transparent payment method:

Stripe payments do not impose any hidden charges on their customers that ensures transparency in the payment method.

Stability:

the payment system works smoothly without obstacles and let sellers accept payments without hassles or errors.

Credibility:

Stripe payment is not new in the market and has proven itself with several years of uninterrupted operations.

Versatility:

The best part about Stripe is capable of working with all types of currencies, credit cards and banks.

Usage:

The payment system is easy to use and it offers detailed documentation for its users so that they can use it with convenience.
Now that you know why Stripe payments are used widely, let's find out why stripe payments plugins are the best option for WordPress websites.
Why Use Stripe Payment Plugins For WordPress?
Stripe payment plugins for WordPress enables eCommerce website owners accept their payments through Stripe payment gateway on their WordPress website.
When it comes to managing payments on a WordPress website Stripe payments plugins are the best option for that.

As mentioned above, Stripe payments comes with several benefits and it allows businesses of all types and sizes to accept payment for their products without any tedious and lengthy process.

Stripe payments offers several Stripe payments plugins for WordPress and to find out the best stripe payment plugin for WordPress, you need to read the article thoroughly.
Here it is to be mentioned that to use a Stripe payment plugin for WordPress, you need to have SSL on your WordPress site to receive payments.
Let's find out the 5 best Stripe payment plugins for WordPress in 2023.
5 best Stripe Payment Plugins for WordPress in 2023
1. WP Event Manager
WP Event Manager is a renowned WordPress event management plugin that offers a plethora of premium WordPress plugins that also include Stripe Split Payments.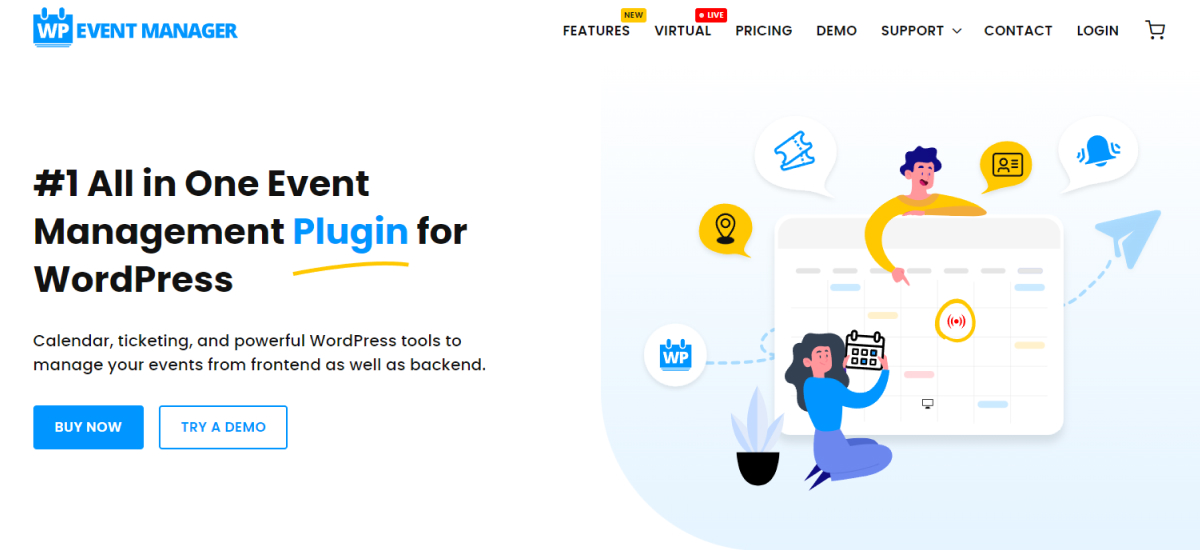 It is an amazing plugin that automatically distributes the event ticket revenue between the event organizer and the website owner. Stripe Split Payment plugin simply has several powerful features that makes it one of the best stripe payment plugins for wordpress in 2023.
Key features of Stripe SPlit Payments include the following:
Users get the combined strength of WP Event Manager and Stripe payments with this plugin.

Automates the payment process and makes it smooth for both event organizers and website admins.

All you need to do is to create a Stripe account and connect it to your WordPress site. Click here to know the entire process.

Get thorough details on the amount collected for each order on the admin stripe account.

Easy to use.

WP Event Manager is also known for its quality support which means if you face any kind of problem with this plugin you can directly contact them to solve the issue.

The Stripe Split Payment falls under the category of premium plugins of WP Event Manager and they are super affordable as you can purchase them separately or in bundles.
To get these addons on discount, subscribe to the WP Event Manager official website and get notification for every new offers and discounts.
Note: Besides the Stripe Split Payment, WP Event Manager also has two other premium extensions that include: Sell Tickets and WooCommerce Paid listing which officially supports WooCommerce. As Stripe is included in WooCommerce payment gateways, these two plugins also accept payment through Stripe.
Who can use it?
The plugin is exclusively designed for event websites and event business owners with a basic technical knowledge.
Pricing: The plugin price starts from $49 for a single site with 1 year of support and it goes up to $399 for unlimited sites and 1 year of support along with website updates.
You can also purchase the plugin in bundles. The following WP Event Manager bundle covers the Strip Split Payment plugin.
Event Manager Pro.

Virtual Event Manager Pro.

All Events Manager pro.
Checkout its pricing page to get a clear idea about the pricing of each bundle.
2. WooCommerce
WooCommerce is a WordPress Stripe payment plugin that needs no introduction as it tops the list when it comes to the popularity of a WordPress payment plugin in the world.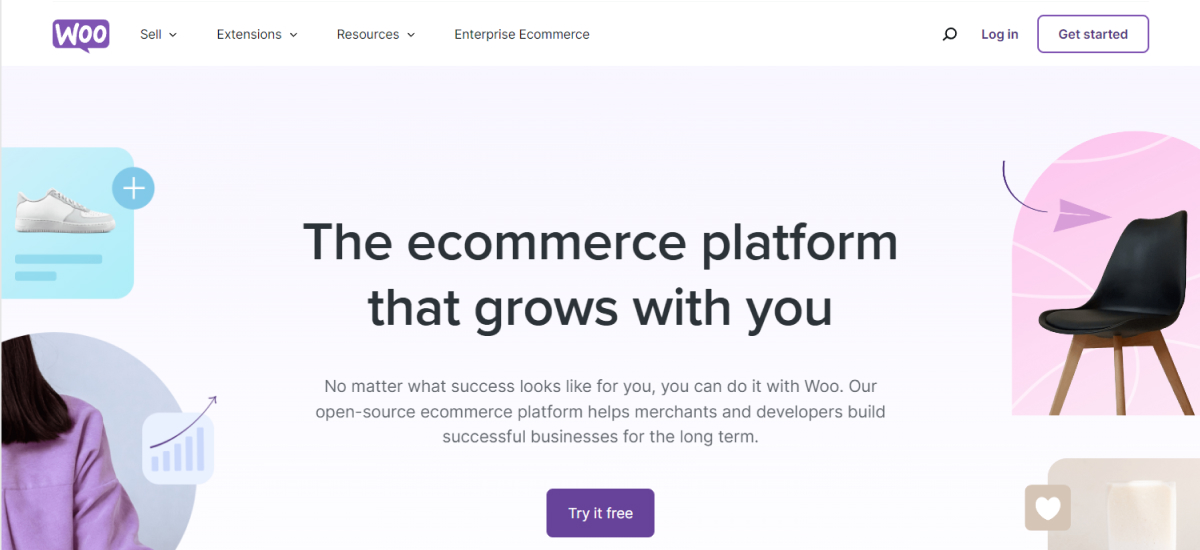 If you want to create a fully functional WordPress eCommerce website then you can go for it. Here it is to be mentioned that WooCommerce Stripe integration can be used for selling both physical and digital products where you can receive your payment within no time.
Key features of WooCommerce include the following:
Offers a huge array of plugins and extensions.

It comes with a huge option of themes.

Stripe integration.

Convenient refund system.

WooCommerce being one of the best payment plugins, it follows Strong Customer Authentication (SCA) to ensure security.
To know more about WooCommerce, read our previous blog on a Complete guide to WooCommerce.
Who can use it?
WooCommerce is suitable for anyone who has an eCommerce website and sells his or her products and services.
Pricing: The WordPress Payment plugin is free to use but if you are having an established eCommerce business and sell a huge number of products then you must contact the WooCommerce team to get a customized pricing for your unique business requirements.
3. WP Forms
WP Forms is a drag and drop form builder Stripe payment plugin that is known for its convenient payment structure. It allows website owners to create payment forms with Paypal and Stripe integration.
WP Forms pro offers eCommerce business owners the freedom to receive payments with Stripe, Paypal and Authorize.net. In addition to that users also have the option to create recurring payments without any extra charges.
Key features of WP Forms include the following:
One of the most advantageous features of the plugin is that it gives buyers the facility to initiate payment from any place of your website that include web pages, posts, widgets and others.

It provides users with more than 700 payment form templates to choose from.

With WP Forms users can create an endless number of payment forms.

Recurring subscription payment facility.

User experience report and more.
Who can use it?
Any type of business owners including photographers, designers, bloggers and others can use this plugin. It is the best choice for those who want to create a customized payment form for their business.
Pricing: The price of the WP Forms pro plan is $199.50 per year. It includes the Stripe payment integration along with the premium features of WP Forms.
4. WP Simple Pay Pro
WP Simple Pay Pro has made its place in the list of 5 best Stripe payment plugins for WordPress due to its simplicity. The best part about the plugin is that users do not even need to build a shopping cart to accept payments online through Stripe on their websites. That is why the plugin is mostly recommended for beginners who are looking for Stripe for WordPress but veterans can also use it with utmost convenience.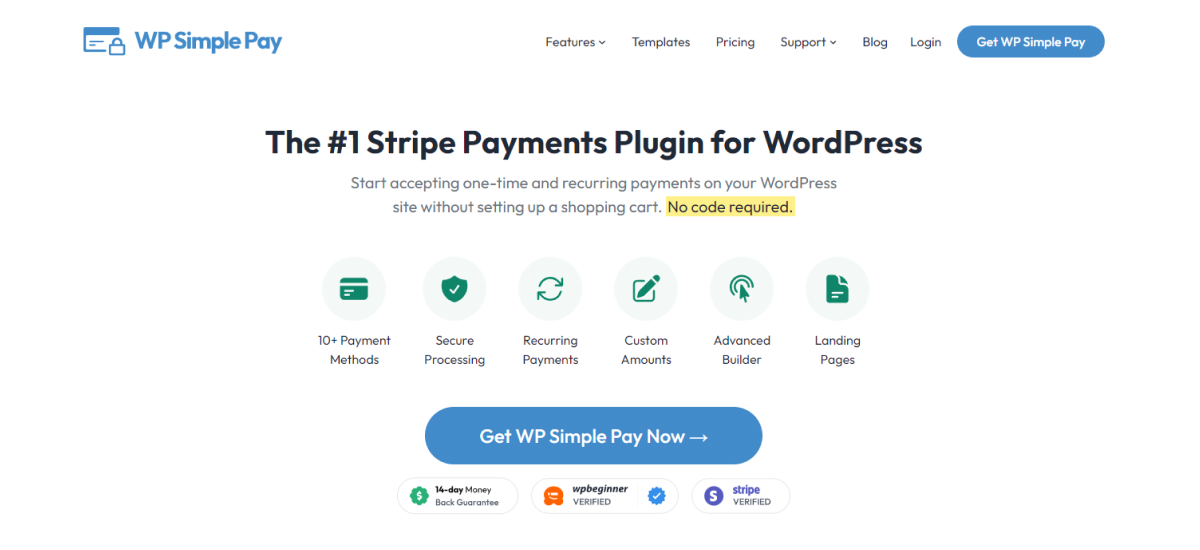 Key features of WP Simple Pay Pro include the following:
No coding required to use the plugin.

Users can use it on the basis of subscription or recurring payments.

Easy to use and set up. Anyone with little or no coding language expertise can use this.

Multilingual support.

The Stripe payment plugin lets users accept donations through Stripe.

Users can create personalized payment forms by adding their preferred fields to it.

Facility to add coupon codes and more.
Who can use it?
WP Simple Pay is the most suitable Stripe Payment plugin for small to medium sized business owners who aim to manage transactions directly on their WordPress site with any third party payment support.
Pricing: The starting price of the WordPress Stripe plugin is $49.50 per year for the Personal plan that goes up $299.50 per year for its Elite plan.
5. Memberpress
Last but not the least, Memberpress is another reputed Stripe Payment plugin for WordPress that allows users to sell their online courses and get payments through Stripe.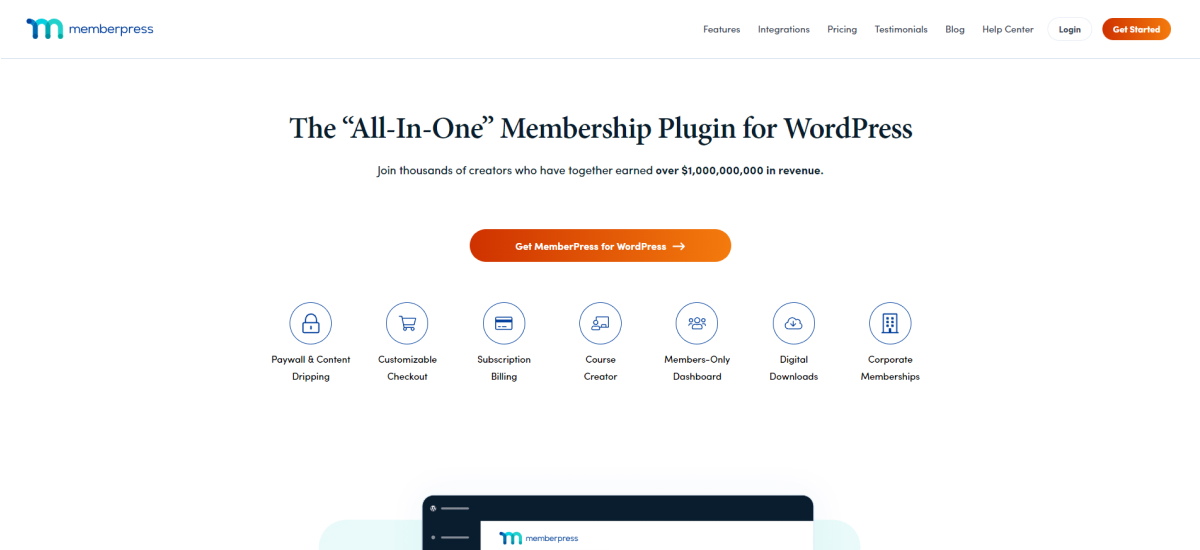 Memberpress offers Stripe integration for WordPress that enables you to smoothly accept payment from your buyers through credit card payments on your WordPress site. Users can take advantage of Stripe and Paypal addon in all levels of Memberpress membership.
Key features of Memberpress include the following:
It works with both Stripe and Paypal that helps you expand your customer reach.

Variety of payment options including one-time, recurring payments and free trials.

Lets you earn by selling your courses online and offering membership facilities to your customers.

Automated email reminders.

Offers the advantage of recurring Stripe Payments.

Get a comprehensive subscription management system.

Payment security and more.
Who can use it?
Memberpress is a suitable Stripe Payment plugin for those who want to sell their courses online through a WordPress site, offer membership, limit access to website content and accept payments through Stripe, Paypal or Authorize.net.
Pricing: The basic plan of Memberpress starts from $179.
Which is the best Stripe Payment plugin for WordPress?
We have handpicked 5 best stripe payment plugins for WordPress in this article and each one of them serves its customers with specific needs. So the best from the above mentioned list depends on the requirements you have. If you are having a WordPress events website then we would definitely recommend the Stripe Split Payment from WP Event Manager. It has superior features, amazing support, it is affordable and holds a great reputation in the market.
Frequently Asked Questions on Stripe Payment Plugins WordPress
1. Is there a Stripe payment plugin for WordPress?
Yes, Stripe payment plugins are designed to help users accept payments with credit cards through Stripe payment gateways directly on your WordPress site.
2. How much is a Stripe WordPress Plugin?
There are various Stripe Payment plugins for WordPress available for you that come with different price ranges. The Stripe Split Payment from WP Event Manager starts from $49 for a single site.
3. Is Stripe free for WordPress?
You can set up the plugin for free and it does not have any type of hidden charges or monthly or annual fee. The fee structure of Stripe is based on transactions. For online sales cost businesses 2.9% plus 30 cents is charged for each transaction. For international transactions an additional 1% has to be paid.