The existence of webinars is not new in the world of academics and communication but it became necessary during the covid period in 2020 due to the long duration of lockdown and the restriction of maintaining social distance among people.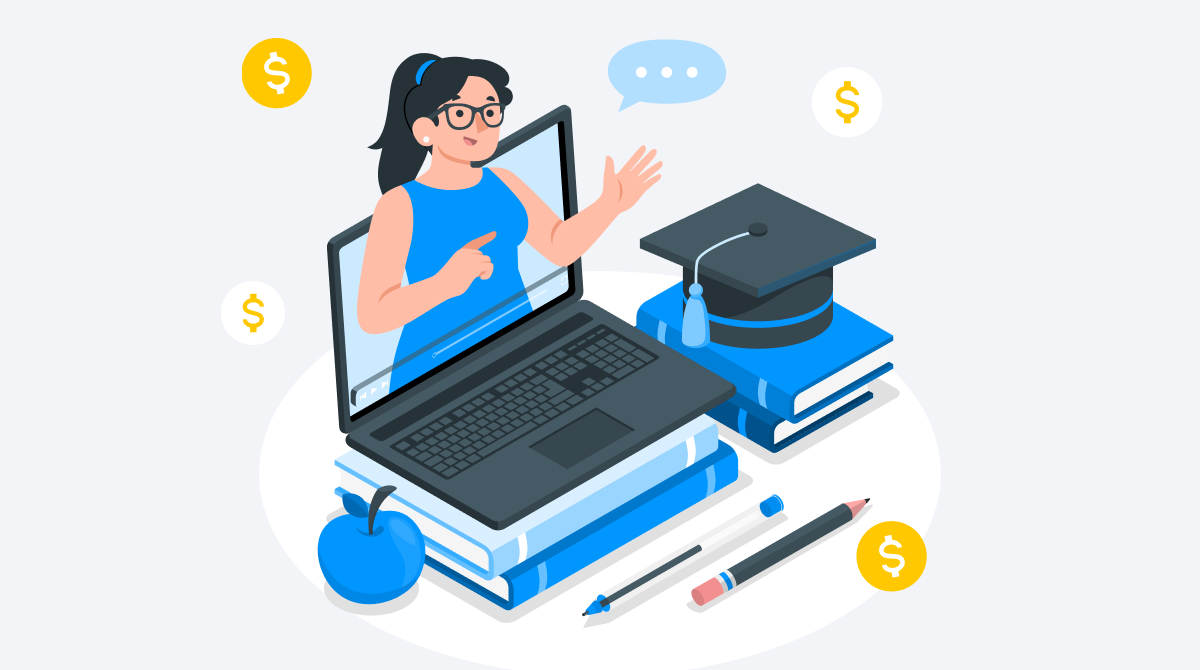 Today, companies of all sizes from different industries utilize the concept of webinars to reach out to their target audiences for the purpose of sharing ideas, marketing and knowledge.
Did you know you can create a sustainable source of income from your webinar? You can, all you need is in-depth knowledge about your target audience, a solid webinar marketing strategy and the right software to help you in the process.
We have shared some useful tricks that you can utilize to monetize your webinar in this article. Here you can learn about different aspects of webinars including the ways you can earn through them.
What is a webinar?
A webinar refers to an online broadcast that is initiated by companies for their audiences. It is also known as a web seminar. The webinar host can share presentations, videos, and other media with their audiences in an organized way.
A webinar is usually conducted through a company's own website that lets the host company interact with its audiences freely. Since it is an online broadcast, attendees here can directly ask questions to the speaker through chat and messaging systems, emails or direct phone calls.
Advantages of conducting webinars
Webinars have become very popular in recent times due to their endless advantages, some of which are listed below:
Wider audience reach

As a webinar falls under the category of online events, it does not have any geographical boundaries which means people from all around the world can join it. This automatically expands the audience reach for all businesses much more than traditional seminars.

Less expensive than other events

It is undoubtedly a less expensive event because you do not need to spend on your event venue, seating arrangements or catering services like in-person or hybrid events. To conduct a webinar, only the following things are required:
A laptop.

A high-speed internet connection.

A webcam.

A live video streaming platform like Zoom.
Scope of lead generation

Whether you host paid webinars or the free ones it helps you generate leads. You can collect some useful details about your attendees when they register for your webinars. Such details include their contact details like email address, phone number etc that you can utilize to create a list of your qualified leads at the time of introducing a new product or service to your audiences.

Create evergreen content

The best part about a webinar is that the content of your webinar can be recorded for future use as well. A topic discussed in a traditional seminar lasts only during the event but a webinar content if recorded can be accessed in the future as many times as required.
How to sell your webinar on your website in 2023
The culture of conducting webinars is no more limited to the educational and training industries, today in 2023 it is used to sell products and services as well. A webinar offers multiple ways to connect the host with their audiences through its interactive features and functionalities like sharing screen, presentation, chatting options surveys and more.
For all these facilities webinars have become a way of earning as well. However, you need to follow the right techniques for that.
Here are some of the useful ways to sell you webinar on your website:
1. Focus on your content

Behind every successful webinar, there is a strong content that encourages people to pay and be a part of it.

You need to initiate thorough research on your industry to find a solid topic.
Keep an eye on the topics and posts that go viral easily within your industry.

Observe your competitors and see which type of content attracts most audiences.

Select a topic that your target audiences are curious about.
Based on the above mentioned points, you can finalize a topic for your webinar. Remember that your attendees join a webinar to learn about a specific topic. So you must ensure that you choose a topic that will be beneficial for your audiences.
2. Identify your target audience
The more sign-ups you get from your audiences the closer you get to success. However, to ensure that your audiences register themselves for your webinar, you need to know about their likes, dislikes, topics of interest, the platforms they use and more.
You can also get in touch with the well-known people in your industry to attract more and more audiences to your webinar.
3. Choose a suitable platform
Webinars are completely a technology driven event which makes it essential for you to choose a suitable platform for it.
Selecting the right one will help you:
Create an uninterrupted webinar.

Easily monetize the event.

Security and support.

Get interactive tools like chat, emails, screen sharing option and more.
To get all the above mentioned facilities, you can go for a feature-rich WordPress plugin if you are using a WordPress site to manage the webinars.
We recommend WP Event Manager, which is a leading WordPress event management plugin. It offers all types of event management solutions including the virtual ones to take your events to new heights.
For Webinar, it offers the Zoom add-on that comes with all the features of the Zoom platforms. Discover the features now.
4. Promote effectively
When it comes to selling your webinar, you need to promote it as much as you can to reach out to the maximum number of people.
You can create newsletter and campaigns or use social media platforms to increase awareness among people.
Social media platforms can be an extremely useful option for this purpose. Regularly post updates on your page to keep your audiences engaged.
Organizing contests with free tickets to the winner can also be a good idea here.
Don't forget to send alert emails to your attendees on the day of the event.
5. Decide your webinar pricing strategy
This is an interesting part of selling a webinar. There are different types of pricing strategies that you can follow to maximize your revenue from the webinar.
Consider the following:
subscription-based webinar

In the subscription-based webinar model, the subscribers need to bear a recurring fee to attend a series of webinars.

This is an ideal pricing option for online courses where recorded content is frequently used. The webinar organizer can make this pre-recorded content available to the subscribers on the basis of their subscription.

Pay per view webinars

This is the most common pricing system in the event industry where attendees pay a one time fee to attend a specific webinar.

This type of pricing is suitable for one time webinars like a Q & A session or group discussion, conferences etc and it can be used for both live and recorded webinar content.

Free webinars

You might be thinking how free webinars have made their place in this article. The truth is free webinars can be used as an investment for lead generation. When a person shows interest in your free webinars, he or she can be considered as a qualified lead. So as a qualified lead he or she might be interested in your paid webinars as well.

We hope that the above-mentioned strategies will help you sell your next webinar effectively. If you hold webinars frequently for your business or educational institute, you must be aware of the Zoom Plugin of WP Event Manager. Find out more about the Zoom plugin and how it can help you monetize your webinars in our next segment.
Use WP Event Manager to sell your webinar
The Zoom add-on offered by WP Event Manager is built with the combined strength of Zoom and WP Event Manager. It is specially designed for webinars, conferences and more such virtual events.
It lets users conduct and sell their webinars directly from their WordPress site.
To sell your webinars, you need the Sell Tickets add-on from WP Event Manager.
Some of the prominent features of the Zoom plugin include the following:
It lets the hosts control the entire virtual environment through a WordPress dashboard.

Your registered attendees can join your webinars with a simple meeting link on your website.

It offers 100% security to your webinars or other meetings.

With the Zoom add-on, you can manage your transactions through WooCommerce securely.

Let your interested attendees register for your webinar with the Registration add-on and if you want to sell the registration use the Sell Tickets as well.

The best part about the Zoom add-on is that it makes the webinar link on your website visible to only those who have registered for the event. This ensures security and any unwanted entry to it.
To know more about such features of the Zoom plugin, have a look at our official page of the Zoom add-on.
Wrapping up
Organizing a webinar can be extremely helpful for your business to maximize your audience reach. Selling your webinar gives you the scope to earn through it but you need to follow the right path to get the best results for it. With the right content, pricing strategy, promotional technique and the best platform you can easily achieve your goals in this regard.