Existing Licence Key Activation
A license key comes with every addon that a user purchases to protect it against any kind of piracy. It is nothing but a unique serial number that is given to every user who buys an addon with us.
The license key needs to be activated to do its work. A buyer receives the license key on its registered email id after which she or he needs to copy and paste it to the admin panel.
Activating the license key:
Here are the steps you need to take to activate the license key:
Login to the Admin Panel.
Activate and install the plugin that you have purchased.
Once you activate the plugin, the plugin will be added to the list of other plugins in the plugin section of the dashboard.
After that, Click on the Event Manager option.
Select License.

Here, you will be able to see a list of available plugins along with two boxes: one is for the license key and the other is for the email address.

You have to fill the boxes with the accurate license key and email address for specific plugins.

Press the Active License button to complete the process.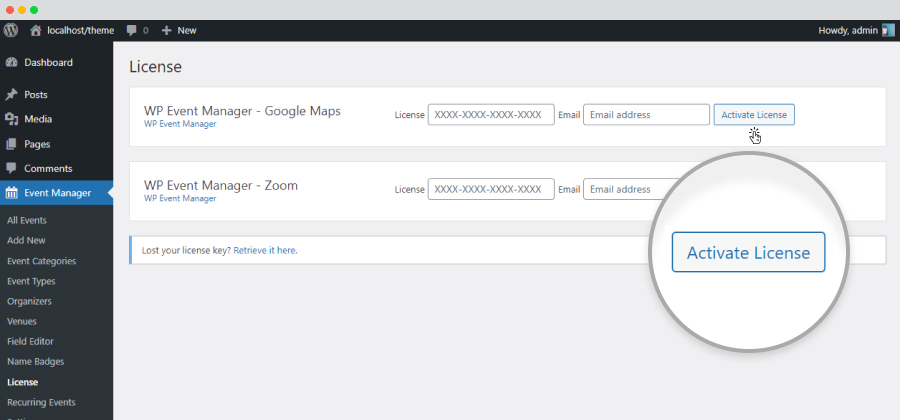 If your License key entered is invalid or expired, a notification pops on the top of the dashboard stating the same. In that case, please recheck the key entered or else, you need to renew the key from your account.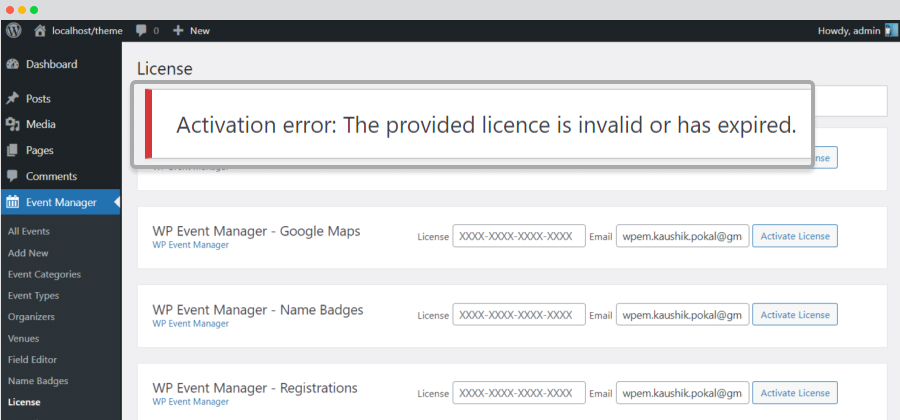 If you have lost your key, you can retrieve it from here- https://wp-eventmanager.com/lost-license-key/