5 Steps To Find And Manage Productive Event Volunteers
Managing an entire event is not a child's play. Starting from selecting a suitable venue, catering, risk assessments and marketing to selling tickets everything has to be taken care of. In addition to that, you need to hire volunteers for your event too. The overall success of your event to a great extent depends on your event volunteers.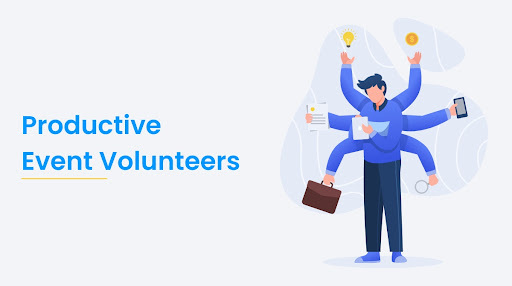 It is said that having a higher attendee to volunteer ratio remarkably enhances attendee experience in your event. However, hiring a huge team of volunteers to take good care of your attendees can be an expensive affair. An affordable alternative to this is hiring individual volunteers who have the skills to fill the gap in your existing team.
In this article, we have mentioned some effective ways of finding suitable and qualified volunteers for your events.
When you are in search of good volunteers for your event, make sure you have a solid plan to convince them for that as they do not get paid for their service. So you must be thinking why would they volunteer?
To broaden their social circle:

events offer a great opportunity to build new connections and volunteers who fall into this category simply utilize the opportunity to meet new people and broaden their social circle.

To get on-the-job training:

these are the people who participate in your events as volunteers to understand the entire process of handling an event or how it works. Usually students who want to get practical experience of events while building their career are more interested to be a part of this job. Even if they don't hold much experience as volunteers, the level of enthusiasm is always high in them.

They like your event cause:

these people usually have a different professional background or do not have any direct connection with the event industry but they only join your team because they support the cause or objective of your event.
So, it is pretty clear that though volunteers do not work for money but they do have an objective behind joining you.
Before gearing up to recruit volunteers for your upcoming events, ask these following questions,
If the volunteers you choose have the right skills to work for your event.

What is their expectation from your event?

Will you be able to fulfill their expectations?
Steps to find qualified volunteers for your event
Here are the steps you need to take to find suitable volunteers for your events:
1. Clearly define the role of your volunteers
It is essential for you to create an outline of the role of your event volunteers before you begin the recruitment process.
Consider the following points when you set their roles,
The tasks they will perform.

The target they need to achieve.

The issues they will be working on.
The process is almost like framing up a job description while hiring an employee for your company. The description you create must have the following areas,
Title of your job profile.

Job description.

Main responsibilities.

Academic background.

Location.

Hours of work.
Explaining your requirements clearly to your potential volunteers makes it easy for you to get suitable candidates for your positions.
2. Create a volunteer page on your event calendar
If you are having a WordPress event calendar, make sure your visitors get all the necessary information regarding your events through the calendar. You can create an exclusive page for volunteers where they can sign up to get all the details of their roles and responsibilities.
If you still do not have a WordPress event calendar, you must try the WP Event Manager plugin to do the work for you. It has a list of feature packed add ons including calendar that take care of all your event management requirements
3. Simplify the application process
Having a long and complicated application process easily turns off people and as a result they often leave the process midway. That is why you must create a simple and straightforward application process to ensure that people complete the steps effortlessly.
People always love to volunteer in groups and considering their preference you can also include an option for them to apply in groups to encourage them for it.
Add simple steps to construct the volunteer application form.

Bring the entire online application process together to systematically manage information.

Create an exclusive page for volunteers on your website to provide all the necessary details to the interested people.

Make sure that the volunteer application form is easily reachable for the desired candidates.

Do not forget to add your contact details so that they can directly contact you for any kind of queries.
A straight-forward application process always creates a solid first impression.
4. Let people know
The sign–ups for the volunteer's post in your event will only increase if people know about your recruitment plans. So it is your responsibility to share the news with them through various mediums.
Here are some of the ways you can reach out to them,
Send emails to your contact list describing them about your recruitment project and requirements.

Use your social media profiles to share the details with your social circle.

Post your advertisements in local newspapers.

Request your existing employees to share the news on their social media profiles.

Use a banner to highlight the news on your website.

Connect with local colleges and universities.
5. Adopt a safe recruitment method
It is important for you to protect your recruitment method to avoid any false entry. The best way to ensure that is by adopting a three step recruitment method in which the entire process is divided into three steps.
Here is a brief description of the steps,
Screening:

this is the first step of your recruitment project where you scrutinize all the applications you have received for the volunteers post and filter them on the basis of their qualification and your requirements.

Personal interview:

in this step, you can have a face to face conversation with the selected applicants to understand their objective behind why they would like to volunteer and also about their expectation from this role. You can easily get an idea about the applicant and decide if he or she would be the perfect match for your team.

Background check:

this is the final step at which you check the background of your selected volunteers to ensure that the people you have shortlisted for the posts are trustworthy and do not pose any security risk to your organization.
Applicants who can get through all the above mentioned steps successfully can be a new addition to your team. Such a detailed interview might take a bit longer than usual but trust us, it offers you the best way to find the volunteers who are perfectly suitable for the job.
6. Set a volunteer policy
It is always a good idea to create a separate policy for your event volunteers because volunteers and employees have different roles to play in your company so the employee policy will not be suitable for your volunteers.
Consider the following things that you can include in your volunteers policy,
The responsibilities and rights they will have in your organization.

Mention about the things related to the labor laws that are suitable for your volunteers.

Explain the code of conduct they must follow.

Clearly state their tasks in your event.

What they can expect from you.
A concrete volunteer policy ensures transparency and adds clarity to the role of your event volunteers.
Once you become successful in building a solid team of volunteers for your events the next step that you need to take is to provide them with a great experience. This is because if your volunteers have a pleasurable experience working with you then only they will be ready to help you in your next events.
It is easy to take volunteers for granted as most of them remain enthusiastic about their work to learn something new but if you fail to offer them the right experience they would not work with you again.
Here are some tips that will help you manage your event volunteers and offer them the best possible encounters.
1. Give them opportunities
Besides assigning tasks to event volunteers make sure you research a bit about their subject of interest based on which you can give them opportunities in your events. This enables them to select the activities that they have interest in. you can also initiate a simple survey for them to understand the things that fascinate them.
Depending on their skills and interest. You can offer them different opportunities such as,
In person services:

Such services can include donating food and clothes to the homeless people or helping stray animals etc. this type of work gives volunteers the scope to meet and work with other local volunteers.

Digital services:

You can allow them to provide support in a virtual event that can be attractive to both local and non-local volunteers.

Administrative works:

This includes a range of tasks like content writing, web designing, marketing and more.
2. Let them prepare
It is your responsibility to help your event volunteers prepare for the given assignment. This is important because your volunteers, just like everyone else in your team, would also want to know about the impact they will have on the community they are working for.
To ensure that you need to give them the training materials that will help them do the following,
Understand the importance of the task you have assigned to them:

Explain in detail to your volunteers why the task that you have given to them is important for your organization.

Solve task related queries:

Make space for your event volunteers to share their queries with you related to the assignment.

Explore additional opportunities:

If your organization conducts regular events then you can also discuss additional opportunities with them to strengthen the relationship between your volunteers and organization.
3. Communicate clearly
It is essential for you to communicate clearly with your volunteers to create a favorable experience for them and it also helps you retain those volunteers for the future.
Consider the following points,
Send welcome emails:

when your volunteers take their first step to support your event by signing up, describe to them the vision and mission of your company to encourage them to engage with your company targets.

Describe volunteers about their opportunities:

brief your volunteers about opportunities that they will get through the task before they begin working on your task.

Offer instruction based on their roles:

share the details of the roles of your volunteers including the time, place, duration, things to bring along etc in advance.

Initiate a survey:

it is always good to know about your volunteer's experience of working with you so that you can make it better in the future.
Communication plays a pivotal role in maintaining a stable relationship between your organization and the volunteers since money is not involved here. You must make them involved in your project in any way and you do not even have to communicate directly. Sending personalized emails with names, effective social media strategies to engage them etc are enough to keep them well informed about your event.
4. Appreciate them
You do not need to wait till the end of the event to appreciate the contributors. It is better to initiate the step a bit earlier. To encourage your volunteers you can do this even during the onboarding process when you can let them know that you value their participation in your event. However, this certainly does not mean that you will completely remove the appreciation part at the end of it. Starting from welcome and thank you emails at the beginning to arranging a special segment for your volunteers to thank them at the end your event can be a great way to make them understand that their contributions are valued.
Conclusion
Sincere and dedicated volunteers can be an asset to your company but you must keep in mind that they are not here for money. However, you need to offer them some incentives in a non monetary way to keep their interest high. You can do this by fulfilling their expectations from your event, offering them recognition for their work, appreciating them, offering them a favorable experience with you and many more. You just need to ensure that you keep them engaged and retain them in the long run.
If you are looking for volunteers this means you are into the business of events. For a seamless event management experience, you can rely on WP Event Manager that automates the major part of your event management including registrations, selling event tickets, handling check in, checkouts and more to help you in this process. The powerful addons designed by WP Event Manager are worth every penny. Check out our official website to find out how we can help you solve all your event management related requirements.