Top 7 Calendar Maintenance Tips To Manage Calendar Easily
Having an events calendar is truly an amazing way to help your WordPress website visitors keep track of your present and upcoming events. It carries an endless number of benefits that are simply irresistible for any WordPress event website owner.
However, adding an event calendar to your WordPress site does not put an end to your responsibilities here. They require regular maintenance to ensure that your WordPress site is secured and would not crash due to excessive traffic load.
This is because your website must be having dozens of events lined up for the future that have different organizers and audiences which becomes difficult to handle if you do not maintain your Calendar. In this article, we are going to share 7 effective Calendar maintenance tips that you can use to maintain your events calendar.
Understanding the concept of an event calendar:
An event Calendar helps you share the dates and other details of your upcoming events in a stylish and interactive way. They are attractive and let your visitors get information about your future projects easily. There are several WordPress plugins available to help you create an Events Calendar for your WordPress site. However, if you want to add some additional features to your Calendar, like adding event registration and ticket booking facility to your website then you must search for a premium WordPress plugin like the Calendar add-on offered by WP Event Manager.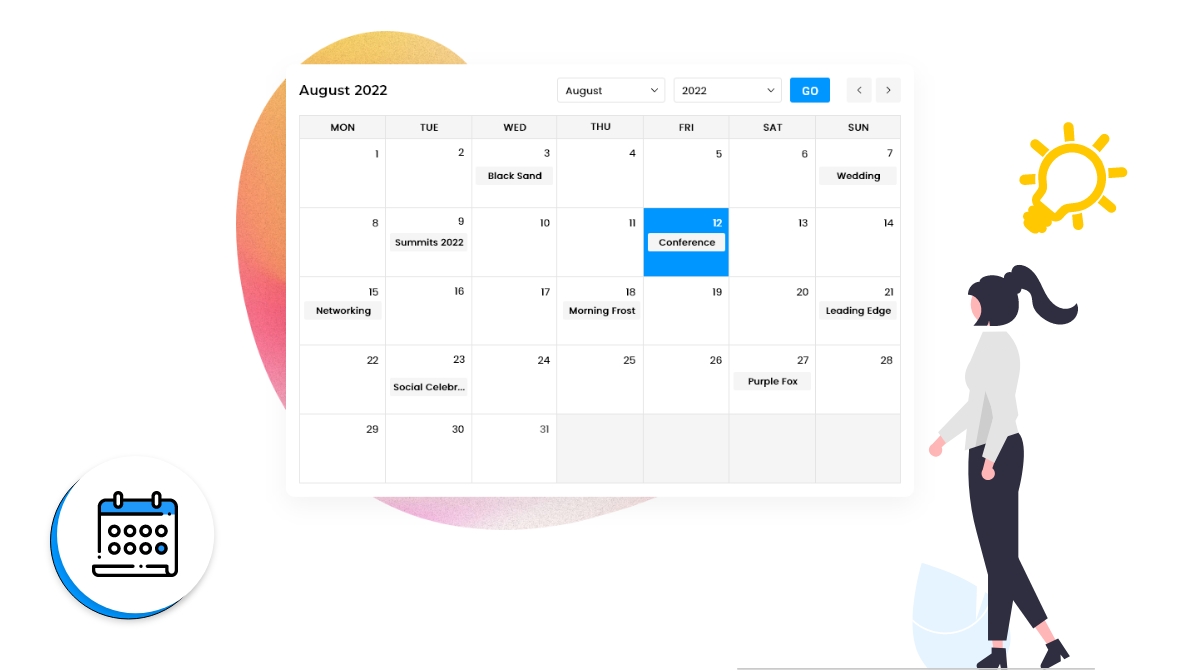 Well, if you still do not have a WordPress event Calendar on your site yet, you can go through our blog on creating an events calendar on your wordpress website to get a thorough guidance on that.
Here are some of the useful WordPress Calendar Maintenance tips to help you maintain your event calendar efficiently.
1. Give your Calendar a striking appearance
Humans are always attracted to beautiful things and you need to utilize this typical tendency of your visitors to gain exposure for your event. It plays a pivotal role in driving your target audience toward your events website. Besides focusing on your website's aesthetic part, you must also try to make it engaging for your audience.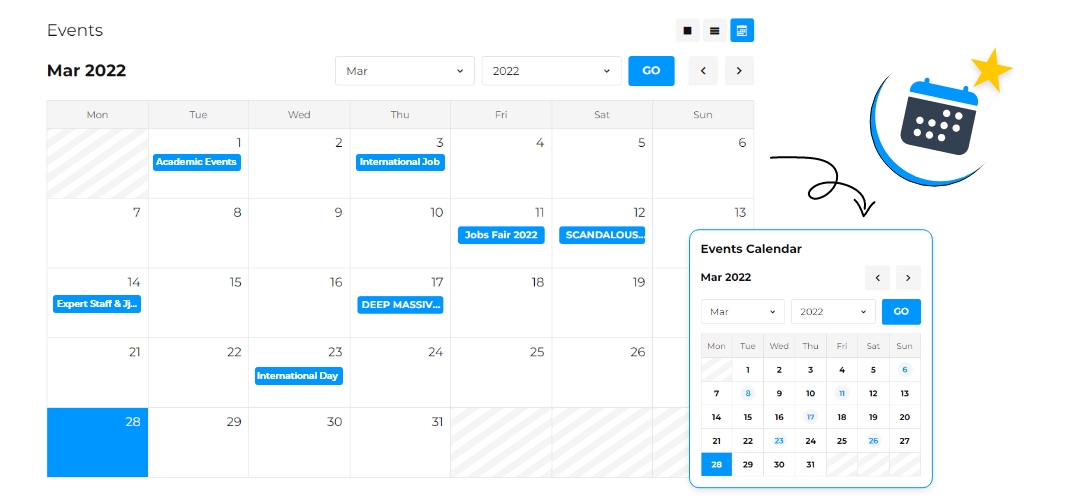 You can make changes in the settings section to give your website your preferred appearance and quality.
WordPress offers various customization options using which you can easily add your desired color, fonts and other things to your WordPress site.
2. Use the best event calendar
Having a feature rich event calendar makes the entire process of calendar maintenance simple and straight-forward. While selecting an event calendar for your business website, make sure you choose the one that suits your website design and SEO in general.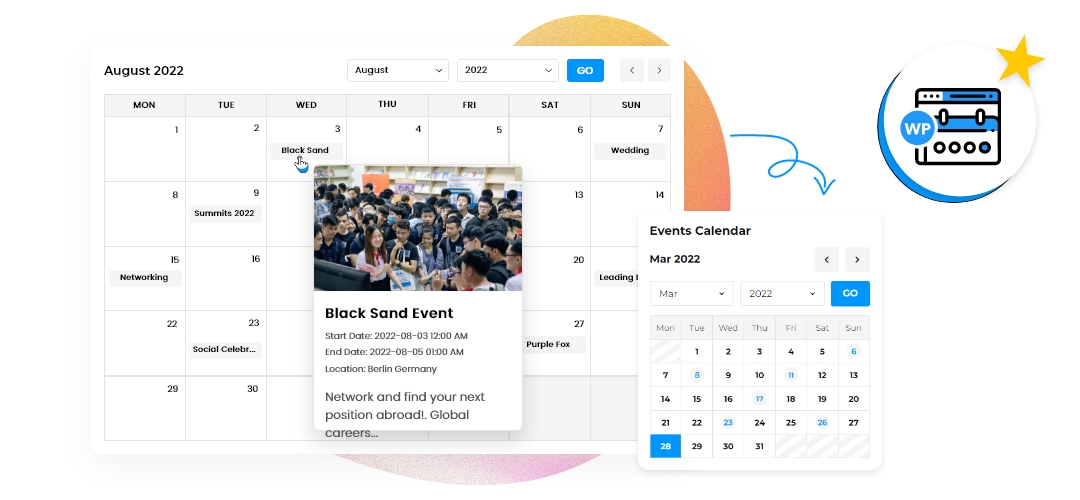 This is important to ensure that your calendar is not slowing down the website pages.
You can rely on WP Event Manager's Calendar add-on to create your event calendar on WordPress site.
3. Keep updating calendar information
Keep updating all your event related information in the calendar regularly. For example, you can mention the details of your promotional activities etc. if you are using WP Event Manager's Calendar add-on, then it is a super easy process for you. You can share the details of your events in the calendar with the help of its quick view feature that displays the details of your event in a striking pop-up message whenever you place your cursor on a particular event.
4. Be prepared to handle heavy traffic
You must be well-prepared to handle heavy traffic at any point of time especially when there is a huge number of events lined up in the near future. Your website must be ready for this, otherwise it may even get crashed due to overload.
Consider the following tips,
Remove the plugins and themes that are no longer in use.

Delete old events and its data that are only occupying space on your website.

Keep your existing applications updated to improve your website performance.

Get rid of anything on your website that is of no use.
5. Pay attention to errors
It is crucial for every website owner to keep an eye on errors if there are any. Website errors can affect your event calendar as well. This is because the calendar is also a part of your website.
If any error is found on your WordPress site, it can have a great impact on its quality that ultimately would affect its potential of handling traffic. Not fixing the error for long can be extremely harmful for your website. That is why it is important for you to immediately, after identifying an error, take the necessary steps to stop it.
To search for errors on your website, you can use Google Search Console and fix the error as soon as possible if you find any.
6. Maintain your backup system regularly
Your website backup system supports you like no one else at the time of crisis. For instance, if your website gets hacked you at least do not need to be worried about your website content. However, having only a backup is not enough to keep your website data safe, you need to maintain it on a regular basis to ensure it is performing well.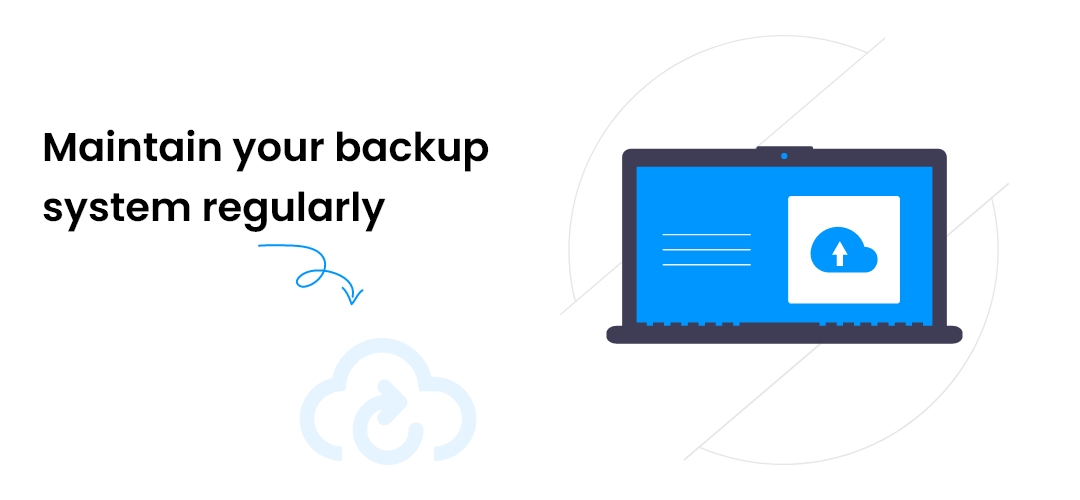 Having a well-maintained backup for your website protects its content and other data in an emergency.
7. Keep everything on your website up-to-date
Apart from keeping your website information updated, you also need to keep other elements of your website up-to-date for example the themes and plugins you use along with your WordPress version. This remarkably improves your website performance and helps you maintain your event calendar effortlessly.
You can go for an automatic installation from the WordPress dashboard that will automate the entire process. On the other hand, you can also choose the manual update option to do it all by yourself.
Conclusion
An event Calendar on your website highly enhances your overall site functionality and makes it informative and attractive. Above everything else, it also builds a space for your existing, new or potential clients to stay in touch with you through it.
We hope that the above-mentioned tricks will guide you in your journey of Calendar maintenance. If you want to have a detailed guide on your Website maintenance then our article on WordPress website maintenance will help you.
If you own an event calendar on your website, you might have been taking the necessary steps to maintain it but having a checklist streamlines the entire process and makes sure you do not miss out on anything.