Now Easily Perform a WordPress Website Audit
As the name suggests, the WordPress website audit is performed to ensure the security of your WordPress site. It is no less than a nightmare for any website owner to wake up in the morning and see his website is hacked. That is why not taking the Website audit seriously means nothing but asking for trouble.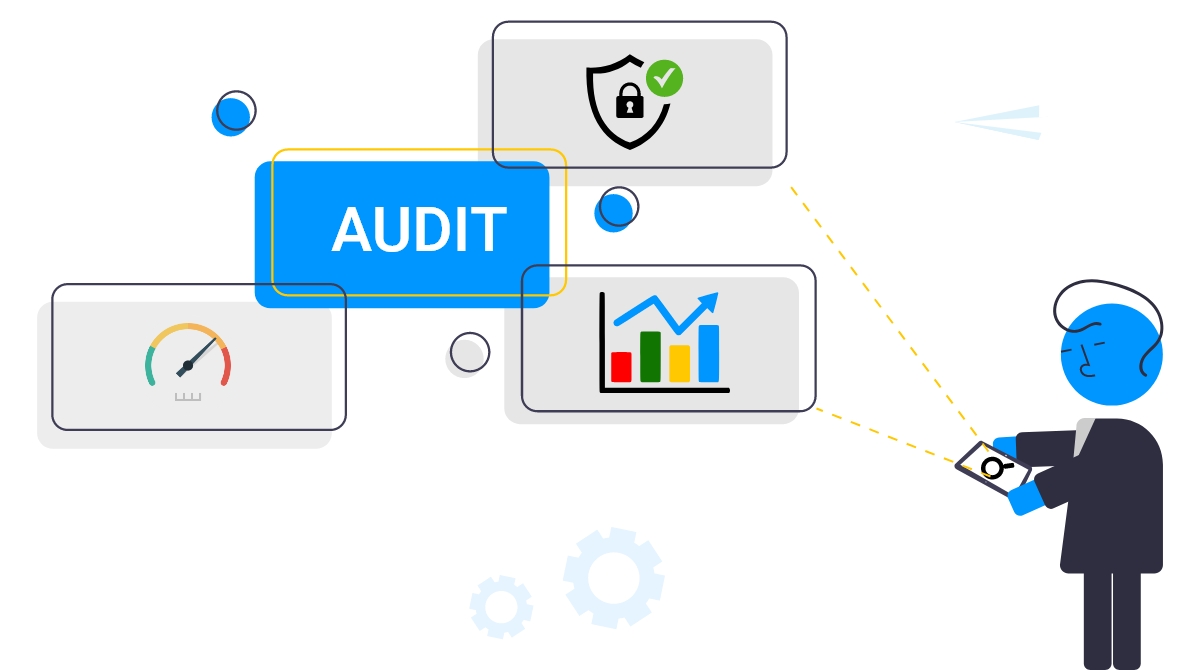 WordPress Website Audit helps you understand how your WordPress site is performing across key criteria based on which you can work on the places that need improvements and ensure that you get the best results for your business online.
So, what is WordPress Security Audit? If you are still unaware of the term or you want to know more about it please read the article thoroughly.
What is WordPress website Audit
WordPress Website Audit refers to the method of thoroughly checking your site to find out any signs or indications of security breaches.
With this method, you can search for any malicious code, suspicious activities, or the reason behind the sudden decrease in your site performance.
Although WordPress is safe and secure, sooner or later, WordPress sites face security issues which is inevitable. This could happen due to various reasons like, the plugins and themes that you use have developed vulnerabilities or have been attacked by hackers to get access to your website etc. Once they break into your website, the control goes into their hands and they can do anything they want to do with it. The only way to protect your website from such activities is to conduct WordPress Website Audits at regular intervals.
How WordPress Website Audit protects your website
If hackers manage to enter your site they can do a lot of things to harm your business image online. For example, they can display malicious content and ads, divert your website visitors, misuse your confidential data, cheat your customers and more.
Running a WordPress Website Audit helps you figure out such problems right away so that you can immediately take the necessary steps to block any such areas on your site that are opening the door for hackers.
A WordPress Website audit goes through the security measures that are already there on your site, based on which it points out the measures that you can arm your site with to safeguard it from hackers.
A comprehensive WordPress Website Audit requires various steps to be performed properly and having a detailed checklist of the same can help you a lot in this journey. In this article, we will take you through the entire process of running a WordPress Website audit for your website.
When to perform a Website Audit
Many Website owners assume that WordPress Website audit is a one-time activity, which is certainly not right.
It is an ongoing process that needs to be performed regularly just like your business advertisements.
WordPress Security tools and preventive measures constantly pass through advancements making it essential for you to update your security measures accordingly.
Ideally, a WordPress Website Audit is performed every 3 months but you can also conduct the audit once a quarter. However, If you ever notice anything suspicious on your website then don't hesitate to initiate an immediate security audit.
Signs that require immediate attention include,
A Sudden drop in your Website speed.

Noticeably less traffic on your site.

The appearance of unknown and irrelevant links on your site.

Multiple failed login attempts, forgot password mails and suspicious activities.
Let's find out how to run a WordPress Website Audit easily in our next segment.
How to perform a WordPress Website Audit
1. Inspect your security plugin
It is a good idea to rely on a security plugin. If you are still not using one then it is high time to think of activating a security plugin on your website. You need to look for the right one for your business. WordPress Security plugins keep hackers and bots at bay. There are many security plugins available in the market but not all of them are reliable. Choose a WordPress security plugin that carries the following features,
Malware scan:

scans your website to scrutinize every file and folder in it including the database.

Offsite scan:

choose a security plugin that uses its own servers for the scanning purpose because the plugin that uses your server can slow down your site during the scan due to overloading.

Firewall:

Firewall is an absolute necessity for your site as it stops bots and hackers from entering your site. So you must choose a security plugin that helps you install Firewall on your site.

Instant alerts:

make sure that the security plugin you select has the capability of instantly alerting you if it identifies any suspicious activities on your site.

Tracking user activity:

A

Website Audit log

keeps an eye on every user activity on your site that helps you identify the cause of your site malfunction or why it was hacked.
2. Test your WordPress backup solution
Having a backup is extremely helpful for your site at times of crisis as you can restore your backup anytime if anything happens to your site.
However, you need to make sure that your backup is working well because if it fails you would not be able to restore your data. That is why testing your backup is essential for the health of your site.
3. Examine your current admin setup
The entire process of WordPress development and WordPress maintenance involves various people and you do not need to give full access to your site to each one of them.
To simplify the situation WordPress has classified these people into six categories- Super Admin, Administrator, Editor, Author, Contributor, and Subscriber. Each role comes with a different level of permission.
During your WordPress security audit you need to analyze the following things,
Look for the number of users who hold the admin access and decide how many of them actually deserve the admin access.

You can limit access to those users who do not need to be in the admin's position by shifting their user roles.

Ensure that you can identify all users who appeared on your dashboard and remove those who are unrecognizable to you as they can be rogue user IDs built by hackers.
Another way to ensure security is to avoid using an easy username like " admin". Adding such a predictable username can make it easier for hackers to gain access.
4. Say bye to unused plugins installed and activated
Vulnerable plugins often make it easy for hackers to break into your website.
Although WordPress Plugins are regularly maintained and updated by developers, vulnerabilities can still appear at any point of time. Developers can easily work on these areas and remove the vulnerabilities through a security patch.
While running a Website audit make sure you thoroughly check the list of plugins you have installed. Remove the plugins that you do not use anymore to reduce unnecessary elements on your website.

Check if you can identify all the plugins you have installed. If any plugin seems to be unrecognizable to you then it is better to delete it.

You should never install any pirated version of plugins as they often carry malware. In case you have one on your site, we suggest you delete it.
5. Delete Extra WordPress Themes Installed
Website owners have a typical tendency of experimenting with various themes just to find the one that suits their taste and preference. In this process they often forget to remove the themes that they do not use or require.
Themes are also prone to vulnerabilities. To keep your site safe from hackers, it is wise to delete the themes that are not in use. In addition to that, make sure that you always use the latest and updated version of your active theme.
6. Examine your current hosting provider and plan
Shared hosting allows people to build websites without breaking their banks as shared hosting plans are less costly and suitable for Small WordPress sites.
If you have also chosen a shared hosting plan then you must be aware of certain things.
In case of shared hosting plans, you share your server with other websites which means if any of the sites gets hacked, it can occupy too much of your server's resources. This highly affects the overall performance and the speed of your website.
If upgrading is an affordable option to you, then it is better to use a dedicated server.
7. Check users who have FTP access
FTP refers to File Transfer Protocol that lets you link your local computer with your website server so that you can modify files and folders of your site.
The permission to have access to FTP should only be given to your trusted people and also to those who really need it.
During a WordPress Website Audit, you must initiate a scrutiny of your FTP users to ensure only a few selected and reliable people have exclusive access to FTP and you can also change your password if required.
To perform this,
Sign into your WordPress hosting account.

cPanel.

FTP accounts.
8. Strengthen your WordPress Hardening measures
In order to offer tight security to your WordPress Website, WordPress suggests a few hardening measures which are,
Using complicated and difficult to break passwords.

Disabling file editing option for plugins and themes.

Controlling WordPress sign in attempts.

Using two factor verification.
When you are running a WordPress Security Audit, it is imperative for you to ensure that all the factors are taken care of.
Wrapping up
WordPress Website Audit is an ongoing process that might be tiring and time consuming but it is equally important for your site to keep hackers at bay.
We hope that we have been able to help you in conducting the audit seamlessly.
WordPress Website Audit can also be done with the help of WordPress security plugins that completely automates the entire process for you and we have already mentioned the things that you should look for in a good security plugin.