Want to explore the world of WordPress? Don't skip, go through the blog thoroughly to find out some interesting WordPress statistics and facts.
WordPress is packed with major advantages which is why it is one of the most desired and widely-used Content Management Systems(CMS) in the world today.
If you are unaware of the term CMS, let us tell you the term CMS refers to a type of software that helps users create, modify and publish content effortlessly on the web without coding.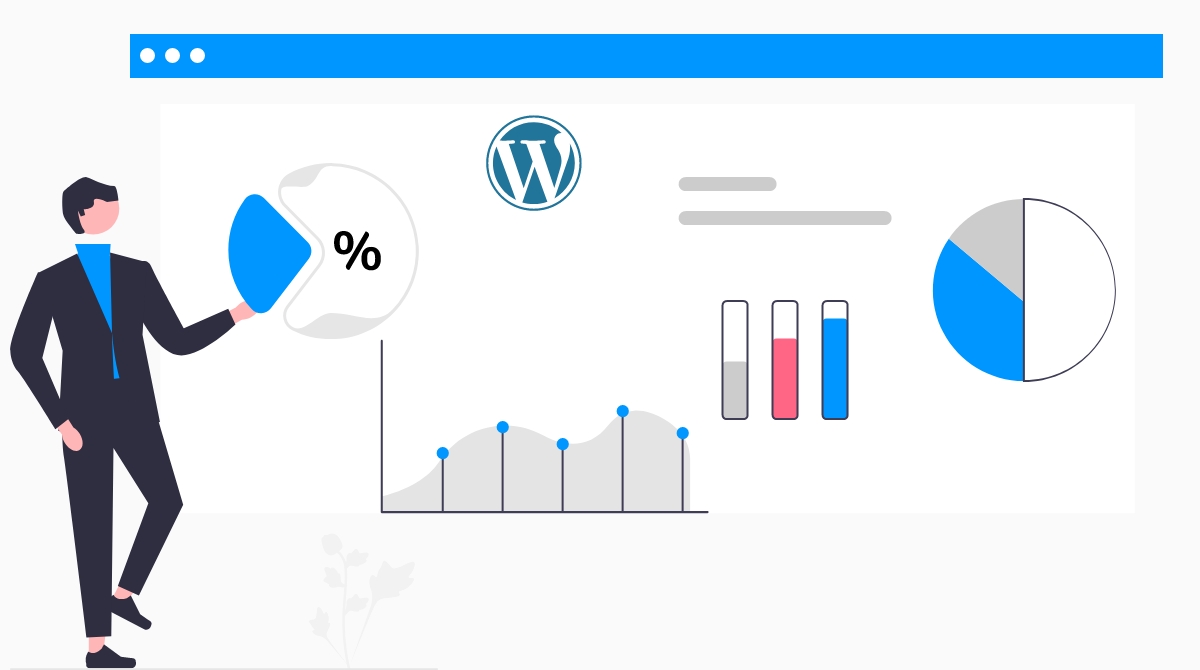 If you are unaware of the term CMS, let us tell you the term CMS refers to a type of software that helps users create, modify and publish content effortlessly on the web without coding.
The journey of WordPress, since its inception in 2003 has been truly interesting. There are so many fascinating facts about WordPress that can not be covered in a single article but we have mentioned some of the prominent ones in this article to let our readers know WordPress closely.
Knowing WordPress
In simple words, WordPress is a software that helps you build websites. It is an open-source content Management system that is licensed under GPLv2 which signifies that people are allowed to use and modify the software absolutely for free.
There are mainly two types of WordPress; WordPress.com and WordPress.org. So what's the difference? Proceed to our next segment to know the answer.
Difference between WordPress.org and WordPress.com
Before pointing out their differences, let us first tell you why they share the common name. It is because WordPress.com uses the WordPress.org core software.
Now let's take a closer look at the differences they have
1. The basic difference between both the variations of WordPress is that WordPress.org is a content management system whereas WordPress.com is a blogging platform with some basic functionalities that can be availed for free.
2. WordPress.com is a completely profit oriented software but WordPress.org is not. WordPress.com plans help users with all the technical areas of managing a website that cover the installation of plugins, themes etc.
However, when it comes to flexibility and customization, WordPress.com wins the game. This is because when you are with WordPress.com, your maintenance and development will be thoroughly taken care of by the WordPress team but in the case of WordPress.org you will be responsible for all your website-related works including,
Setting up your website.

Updating themes and plugins regularly.

Making backups.

Maintaining security.

Solving issues etc.
This gives you the ultimate freedom of running your website in your own way.
3. WordPress.com comes with free site hosting but there are many limitations like,
No facility of customized plugins.

Limited control over your content.

Less storage.

Only WordPress.com themes can be used.

Users can not use Google Analytics to track performance.

Users need to pay additional charges to delete advertisements from their websites etc.
However, having a WordPress.org website means the entire control remains on your hand starting from using your preferred themes and plugins to having access to your files through FTP, SSH or cPanel. The only limitation you will have is that you can only use the server resources that are offered to you by your hosting provider.
Now that you have a clear idea about the difference between WordPress.com and WordPress.org, let's find out some interesting facts and statistics about WordPress.
WordPress Popularity facts and Statistics
WordPress has managed to acquire the top position in the world as a content management system in terms of popularity. Today, millions of businesses of all sizes and bloggers rely on WordPress to build their websites.
Currently, More than 75million websites on the web are supported by WordPress.

The market share of WordPress in the global content management market is more than 60%.

According to

Google Trends,

Google witnessed 30million searches for WordPress in 2018.

Every month 20.7 million blog pages are visited by 409 million people on WordPress.
WordPress Plugins facts and statistics
WordPress plugins are used to enhance the features and functionalities of your WordPress website.
More than 59,000 free WordPress plugins are available in the market today. WordPress also offers paid plugins. All of them help you make modifications to your WordPress that perfectly fits your budget.

WordPress introduces new plugins almost on a daily basis.

Some of the free plugins that have received massive popularity include

Akismet Anti-Spam, Yoast, Contact Form and Jetpack.

Each of these plugins has more than five million active installations.

When it comes to the popularity of WordPress paid add-ons,

Visual Composer

tops the list.

WooCommerce

is the most commonly used and preferred eCommerce plugin that powers more than 9% of all online stores.

Elementor

is also a well-recognized page builder having more than 430,000 new downloads every week.
WordPress theme Facts and statistics
WordPress themes are designed to give your website a striking transformation. There are an endless number of WordPress themes available in the market, some of them are paid and some of them are free. You just need to download your preferred theme for your website from the list.
WordPress themes were first launched in the year 2005 and the first default WordPress theme was named

Kubrick.

WordPress brings a new default theme on a yearly basis.

WordPress has more than 5,800 free themes in its store for you.

Divi and Genesis

are the two most adored WordPress themes. Each occupies 10% of all WordPress sites.
WordPress security facts and Statistics
WordPress, being one of the most popularly used CMS software, is often targeted by hackers. However, users can safeguard their WordPress sites in various ways like updating plugins regularly, using a tough-to-break password etc.
Here are some facts that you must be aware of,
Most WordPress websites are hacked due to the usage of an outdated version of the software.

Outdated or poorly coded WordPress plugins and themes are also responsible for WordPress site security issues.

More than 50% of WordPress security vulnerabilities have a direct connection with WordPress plugins.

A WordPress plugin vulnerability was the main culprit behind the Panama Papers Leak which made several headlines in 2016 and is known as the biggest journalist data breach in World history.
WordPress started its journey in 2003 and it is almost 19 years old now. It has gone through various developments since its inception. However, the main objective behind it remains the same which is to help users create amazing websites and blogs.
We hope you enjoyed discovering various facts and statistics about WordPress in this article. We are also a WordPress-based company that specializes in WordPress plugins to simplify the virtual and in-person event management process. Click here to know more about our plugins.