Are you into the world of events business? If yes, then we understand that the task of organizing, promoting, and hosting events can be both thrilling and challenging. For every event business, ensuring seamless event experiences is crucial for building strong connections with clients, partners, and customers. Considering the recent advancement in the event management companies, it is observed that online event management businesses are growing rapidly.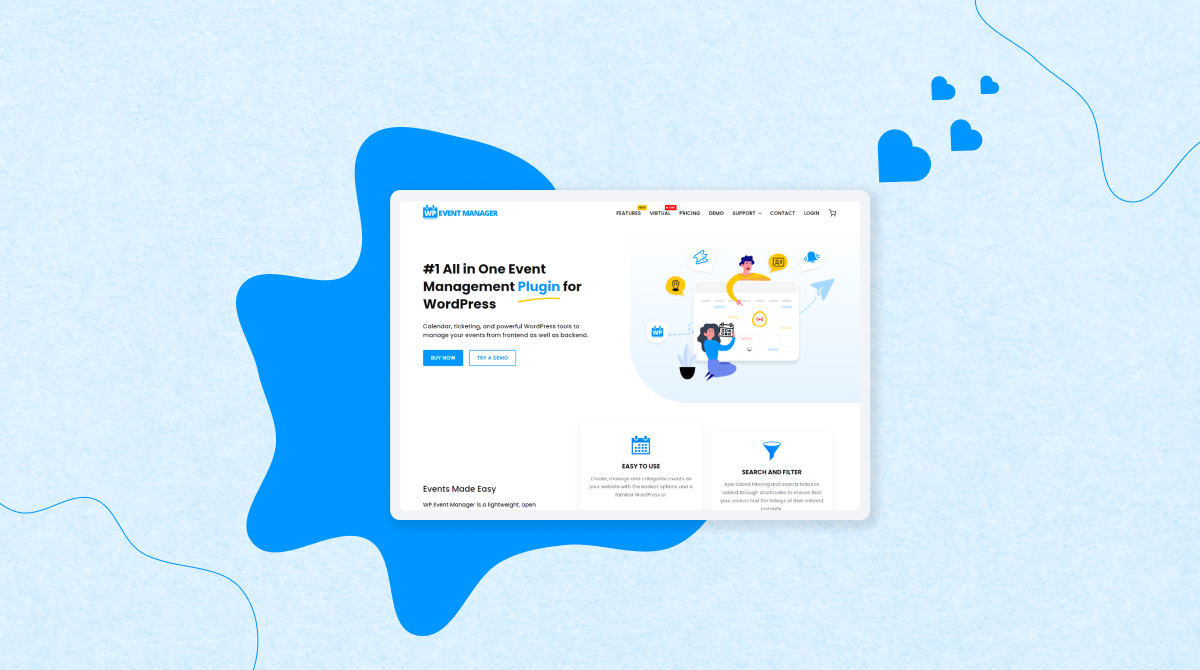 But the question here is how to manage event businesses online?
There are many WordPress event management plugins which can make your online event management business run smoothly. WP Event Manager is one such plugin that has emerged as a favorite among new and small businesses for managing their events efficiently.
In this blog, you will explore why WP Event Manager has become the go-to solution for new or small business management organizations. Also, you discover how it addresses the unique challenges faced by event management companies.
About WP Event Manager
WP Event Manager is a powerful and light-weight WordPress plugin designed to streamline the event management process. It offers a user-friendly interface, making it easy for businesses of all sizes to create, manage, and promote events online. The WP Event Manager plugin provides a comprehensive set of features, like event registration, calendar display, ticketing, event categories, event listings, and more. With its extensive customization options, users can tailor their event pages to match their brand identity.
Premium plugins offered by WP Event Manager
Here is the list of some WP event manager plugins that can be very useful to the new or small events business:
Google Maps.

Recurring Events.

Calendar.

Guest List.

Sell Tickets.

Registrations.

WooCommerce Paid Listings.

Email.

Zoho CRM.

Divi Elements.

Migration.

Mobile Apps.

Rest API.

Alerts.

Bookmarks.

Colors.

Contact Organizer.

Zoom.

Expo Networking.
Apart from these there are more add-ons which you can find on the Features page of the WP Event Manager website.
Role of New or Small Businesses in Event Management
New or small business management firms bring a fresh and innovative approach to the event management industry. They cater to niche markets and offer personalized experiences. However, due to their limited resources and constrained budgets, they often face unique challenges when organizing events.
Challenges faced by new or small business management organizations
As mentioned above the major challenges faced by event management businesses include limited availability of resources and tight budget. In addition to these, there are some more obstacles which such businesses face. Let's go through each of them one-by-one:
1. Limited Resources
Event management companies having a smaller team must know how to optimize their time and efforts efficiently. There may be times when new/small businesses may have struggled to meet deadlines with limited resources. However, this can be solved with the help of an efficient event manager plugin.
2. Highly competitive market
In a competitive marketplace, it becomes difficult for event management companies to deliver exceptional event experiences to stand out.
3. Budget Constraint and Expensive Plugins
It becomes difficult for small businesses management companies to pay for expensive plugins. Also, additional costs for premium features make some event management plugins unaffordable for small businesses as they run their events with limited budgets.
4. Plugins with complicated coding structure
There are cases when non-tech people face trouble using some WordPress event management plugin options. These are overly complicated, leading to confusion and a steep learning curve for new users.
5. Limited Customization
Lack of flexibility and customization options on WordPress event pages limit small or new event management companies showcasing their unique branding and style.
Benefits of Using WP Event Manager
Before discovering WP Event Manager, small or new event management companies encountered various challenges in their event planning endeavors, some of which are already mentioned above. However, WP Event Manager plugin's feature-rich capabilities enable them to create professional and captivating event pages.
WP Event Manager has proven to be a game-changer for small businesses and event management companies. Here are some of the key benefits it offers:
1. Easy Setup and User-Friendly Interface
Quick installation and setup process, even for users with minimal technical knowledge.

Intuitive interface for managing events, attendees, and event listings.
2. Extensive Customization Options
Ability to create custom event fields and categories tailored to specific event types.

Flexible event page templates that can be personalized to reflect the small businesses brand's identity.
3. Cost-Effective Plugins
WP Event Manager plugin is available for free, providing essential event management features without any cost.

Additional premium add-ons are offered at affordable prices that allow users to select specific features as per their requirement.
4. Easily Suits your Existing WordPress Website Design
The plugin offers a wide range of themes and layouts which easily fit into existing WordPress websites. You also have the option to create your own using WP Event Manager's simple coding structure.

For example: It supports the Divi theme that is one of the preferred options to manage visuals of webpages.
5. Event Listings and Calendar Display
Provides a user-friendly event listing page that showcases all events in a box or list view.

It also enables users to filter events based on location, categories, and dates, improving user experience and event discovery.
6. Compatibility with Various Themes and Plugins
WP Event Manager is designed to work well with a wide range of WordPress themes and plugins, ensuring compatibility and flexibility.
7. Host an Entire Virtual Event
With the

Virtual plugins

of WP Event Manager, the organizer can connect to attendees from across the globe.

It enables the users to set a hybrid and an interactive platform.

Facilitates interaction among attendees through video, text and audio chats.
8. Customer Support
WP Event Manager provides 24X7 customer support to the users.

Team of experienced professionals from across India are ready to assist and solve any sort of query while using WP Event Manager plugin.
Read WP Event Manager- All You Want to Know to get more information about our WP Event Manager plugin.
Conclusion
In the fast-paced world of business management, such as events management business, WP Event Manager has emerged as a lifeline for small businesses and new event management companies. By utilizing it, businesses can focus on delivering exceptional event experiences, building stronger connections with their audience. Hence, ultimately achieving success in the competitive and dynamic event management industry. Whether it's a small event management company managing multiple events or a startup organizing its first conference WP Event Manager is the go-to solution for unlocking the full potential of event management in the digital age.