Live streaming events is the new trend that the world is going gaga over. The concept of live streaming has touched almost every industry because it offers brands an amazing opportunity to stay in touch with their audiences and directly communicate with them in real time. It is beneficial in many ways but one of the most prominent benefits of live streaming is that brands gain credibility through it.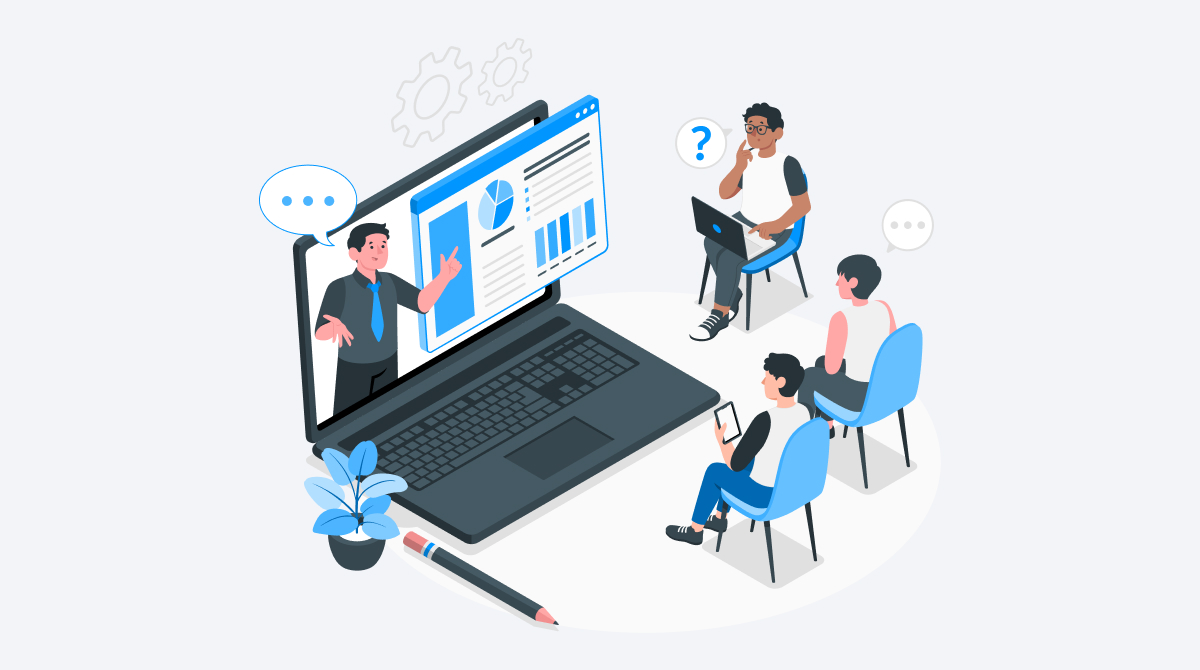 In this article, you will learn about the benefits of live streaming and why you too should adopt the new trend for your business.
Interesting facts about live streaming
People prefer to watch and participate in a live streaming event of a brand much more than reading their blogs.

The live streaming market is expected to touch a worth of $184.3 billion by 2027.

Today, more than 55% of businesses use live streaming for presentations.

54% of buyers are also interested in viewing video content produced by their preferred brands.
What businesses can gain from Live events?
Things that businesses gain from live events include the following:
The trust of their audiences.

The scope to directly interact with their audiences.

Get instant feedback from their audiences.

Increase brand credibility as it is open to all of their customers.

The scope to answer their customer queries instantly.
6 major benefits of live streaming events on your website
Whether you are live streaming your event on social media platforms for free or relying on an efficient live streaming platform to go live directly on your website, both of these methods are beneficial. However, organizing live events on your website is surely more impactful.
1. Direct communication with audiences
As mentioned earlier, live streaming allows businesses to directly communicate with their consumers which helps them understand their needs and preferences. Above everything, your consumers share their opinion on live events which can be extremely beneficial for your business.
Whether you are live streaming an event from your website or social media platforms, you need to ensure that you use only high quality audio and video to make the communication smooth.
2. Increase audience engagement
Videos are quite in trend now and can be a great marketing tool for your business as consumers always like to watch unprepared and authentic videos from their favorite brands. Well structured and planned videos often lose the essence of authenticity whereas live videos show the real picture, where presenters work spontaneously without any preparations. This encourages audiences to engage and build connections with their brands through live chats, comments and Q&A sessions.
So it is obvious that a live video engages more viewers than pre-recorded, well structured videos.
3. Build trust among customers
Customers are always interested in building personal connections with the brands they use or follow. By conducting live events for them you give them the chance to know your products and services more closely. You can add tutorials to make them learn the usage of your products where they can add their valuable feedback. Such feedback helps you gain more customers and increase the credibility of your brand.
4. Increase your event reach beyond in-person boundaries
It is an undeniable fact that in-person events are limited to geographical boundaries whereas the virtual ones are open to the world. Live events, conducted on your website or social media platforms can expand your reach to a great extent. It helps you gain global audiences without spending on expensive travels or advertisements.
5. Increase conversions
Live events are also known for their capacity to increase conversion to a great extent. The consumers who attend your live events are surely interested in your products and they want to know about it through your events. These people are most likely to purchase your products during or after the live session.
6. Repurpose content
The best part about live events is that they can be accessed anytime later and as many times as the viewer wants. You can also share the live events on various social media platforms as well. You can also add it to your regular emails or presentations. The link of the live event can also be shared in your relevant blogs.
Use WP Event Manager to enhance your live streaming experience
If you frequently host virtual events or live events as a part of your business activities, you must try WP Event Manager. It is one of the best WordPress Event Management plugins that offers a huge array of addons to help you empower your WordPress events site with some amazing event management functionalities.
One of these premium add-ons is the Expo Networking add-on that is especially designed to create an interactive and high quality virtual event for you and your audiences.
It offers advanced event live streaming facilities where your audiences can directly interact with you and the speakers and share their queries to instantly get the answer.
It lets you create.
Live one to one Q&A session with speakers.

Live polls and real-time chats.

Screen sharing on the mainstage.

File sharing feature to enhance your presentations.

Raise Hand along with an Emoji to react.
Discover the plugin to know more about its features.
Wrapping up
Live streaming is undoubtedly an amazing way to keep in touch with your audiences and build personal connection with them. For every business it is important to stay close to their customers and be aware of their opinion about your products and services.
Besides being less expensive and time saving, live events also give you the opportunity to improve your offerings to your audiences. If you want to add a professional touch to your live events on your website, WP Event Manager's Expo Networking plugin can be the best pick for you.