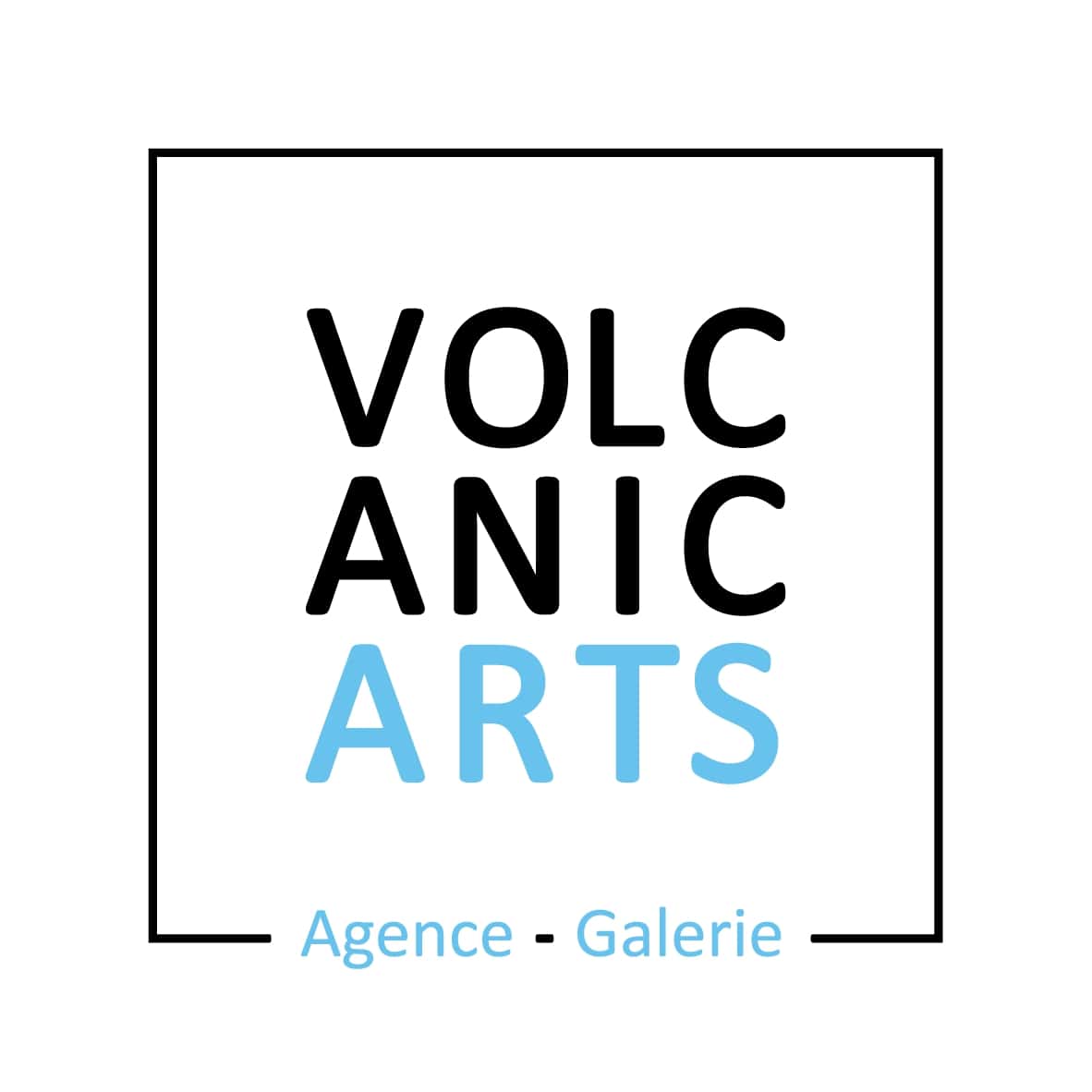 VolcanicArts is a well-known art gallery in France. Sandrine Parlant is the founder of the company who encouraged her friends to join her team and shape up the dream of creating her own art gallery.
VolcanicArts is a well-known art gallery in France which was established on March 31st, 2019. Sandrine Parlant is the founder of the company who has put her blood and sweat into building the art gallery.
She started her journey in the year of 2016 with an utter disappointment of her job that she was doing at that time. She had majored in Art history and also had experience in working with several art galleries. During her work she figured out her strength and expertise in art work which has given birth to the idea of starting her own business. She also encouraged her friends who were struggling in this industry to join her team and shape up the dream of creating her own art gallery.
Describing her story to us, she said "Art had always been my passion, I majored in art history at uni, and used to work at an art gallery. I figured I could use my "expertise" – let's say "knowledge" at the time – to help a few of my artists/friends who were struggling with a lot of thing : how to get in touch with an art gallery, how to set a price on an artwork, how to manage social medias, etc. I started with a few friends of mine trusting me with their passion, and my small business grew, attracting new artists whom I had never heard about before."
After struggling for two long years, she finally found a suitable place to build her art gallery. It was nothing but her own ancient books library that she has turned into an art gallery.
"Two years later, I had learnt a few things on the way mostly on how, with a proper office or shop, my job was super hard. I found my dream premises and after six months of renovating on my own a former ancient books library, my very own gallery was open for business. The inauguration happened on March 31st 2019, the day before the 3-years-anniversary of my brand."
She has also shared the idea behind the name of her company Volcanic'Art. She named it Volcanic'Arts because the place where she lives in France is surrounded by dormant volcanoes.
Inspiration behind the project:
Sandrine has a website for her company which not contains all the details of her business but also lets her visitors know about her upcoming events, exhibitions, workshops and more. Informing her target audiences about her events was the main purpose of establishing a website of her company. She wanted to improve the quality of her website by adding various event management functionalities to it to increase traffic and this was the main inspiration behind the project.
She said "I have had a website since the very beginning of this adventure. Online presence is major nowadays for artists and artshops, and to attract as many people as possible. My website is where you can see who I am, what I do, who my artists are, what they do, purchase some art and, of course, be informed of the current and upcoming events: exhibitions, art markets, workshops, etc. It is actually the main thing why the website was a necessity and why I worked – and still do – very hard on it. My newsletters have never really found their audience, and everyone know you should not rely exclusively on Facebook for events. Despite not having worked enough on my SEO, I have a pretty decent traffic on the website, and events are the first thing people see when they arrive on my homepage. So I needed something clean, attractive, and giving out the most important infos in an instant."
Issues faced:
The founder was looking for a WordPress plugin that would not only make her website aesthetically strong but also let her display event listings in a stylish way. She tried a WordPress plugin before switching to WP Event Manager that did not perform that well. She found several bugs and other issues in it. When she contacted their support team they refused to pay attention to it. According to her it was functioning more like a simple calendar than an event listing platform. As she frequently organizes events, she wanted a long term solution for that.
She added "I used to work with another event manager plugin, which was pretty limited and not so much aesthetic. And of course, aesthetics are a big thing in my field. I have worked with that same plugin for years, and then I started to encounter a few issues and bugs (with shortcodes in particular). I tried getting them fixed by the support, but never even get a reply. It was working more as a calendar than an event listing. I have very long events, since an exhibition in my gallery usually lasts between four and six weeks and shorter events are more isolated with maybe even less than one per month."
Why have you chosen WP Event Manager for your project?
Sandrine seems to be thoroughly impressed with the features of WP Event Manager plugin including the venues and organizers feature. There are several other things that she liked about the plugin for which she selected it for her project. These things include:
The option to enable or disable an option as per user requirement.

Endless number of setting options.

Multi-language support that has helped her use the plugin in her preferred language.

Easy usage of the plugin. She does not hold much knowledge in graphic designing. So she wanted a plugin that is easy to set up and WP Event Manager has fulfilled her wish.

The plugin's ability to work on the existing WordPress editor.

She did not have to learn new skills to add events on her website.
In her words, "Well, it is a combination of things: a lot of interesting features like venues and organizers but the ability to deactivate the options if not needed, the quick and easy settings, a easy to understand documentation, especially about shortcodes. English is not my first language and webdesign is not my second either. I still do everything on my own, so I need well functioning plugin easy to set up. WP Event Manager is one of them. I also love the fact that it works with the current wordpress editor: it was easy for me the start adding new events to my website without having to learn a brand new way of doing things. It is just tha editor, and an event form where I put the basic infos : what, where, when, how long, how much."
How did you find WP Event Manager?
As mentioned earlier, Sandrine was using another plugin that has failed to give her the desired results. So she started searching for another suitable plugin and finally found WP Event Manager. She checked expert blogs where WP Event Manager was recommended, read various reviews on the plugin, she found the support system reliable and most importantly she was impressed with the fact that the basic features were offered for free.
"Like anyone, I love when things work properly. I do not like it when they are not working properly. And I get pretty impatient when it impacts the quality of my work and takes my time and energy when it should not. I searched for a new plugin and found the perfect one : the WP Event Manager plugin. I think I scoured a few blog posts from web experts before finding "the one". Reviews were good, support seemed to be well documented, and basic features were free. That is usually all I ask, since I am a small business owner and cannot afford to put too much money on developping my website. Free and easy to use are my go to."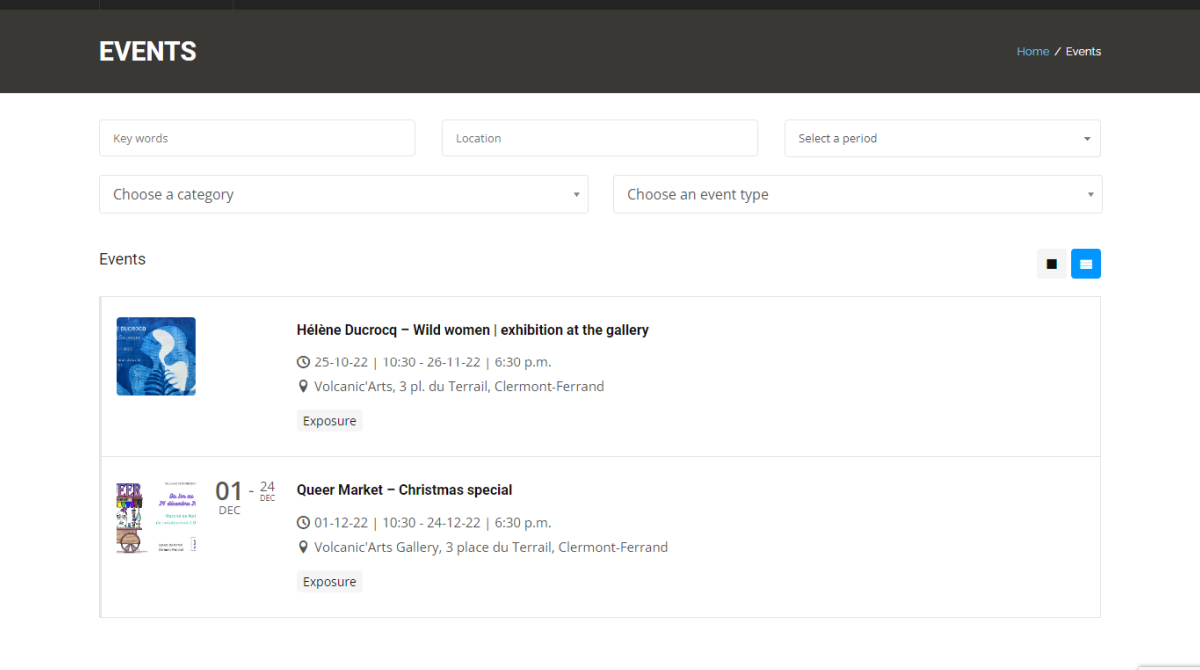 Solution:
After using WP Event Manager she experienced a striking difference between her previous plugin and WP Event Manager.
She liked the designs of event pages.

She could easily categorize events and tag them on the main page that makes it easier for visitors to get an idea about the type of events they are viewing.

Easy translation facility that allowed her to display the event date and time in a format that is suitable for her country.
In addition to that she told us that she is the only who uploads events on her website so the event submission form is of no use to her but it definitely keeps an option for her to expand her website where other event hosts can also post their events.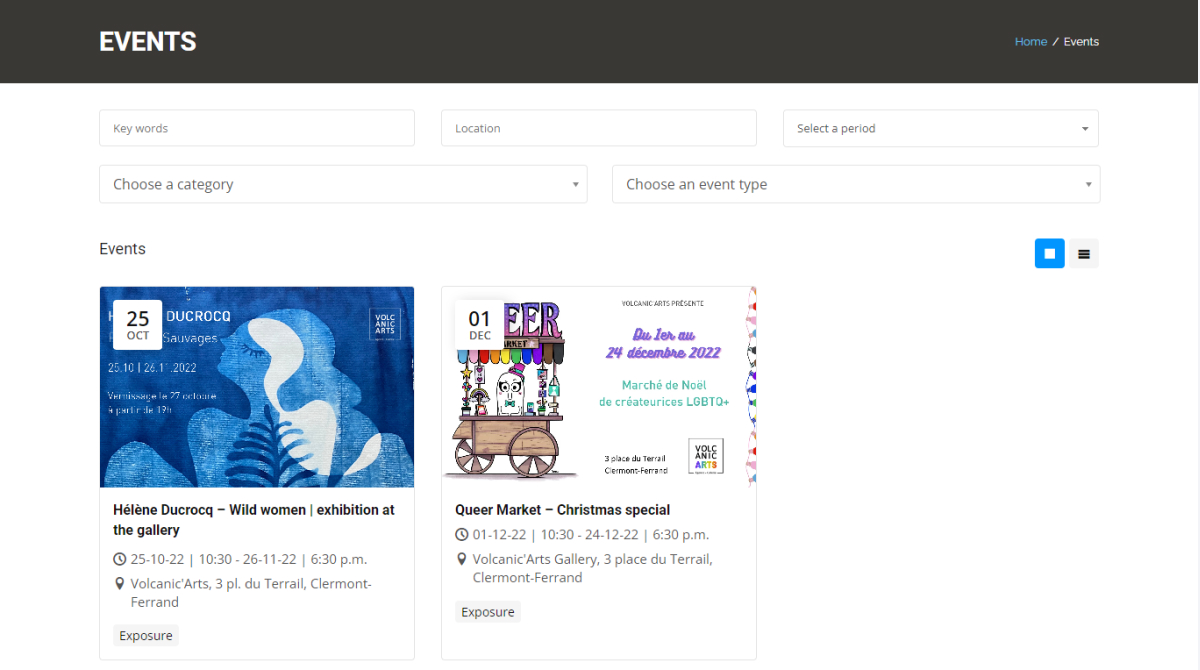 "I have no use for the event submission forms since I am the only one uploading events on my website, but it is still a good thing to know I have this option in case one day my concept evolves a bit more and I need to offer the possibility for others to host events in my space. I consider this a nice opportunity to reflect on my business model and stay open to new ideas. Sometimes, the tool brings the idea instead of the idea sending us on a quest to find the tool."
Results:
The WP Event Manager plugin has successfully fulfilled all the requirements Sandrine has for her art gallery. The best part is she always recommends WP Event Manager to the people who are looking for an event management plugin.
She has also purchased the Recurring events add-on for her friend which is affordable and interesting at the same time. She chose this add-on for her friend as she runs weekly workshops on several locations.
"I am so happy with my experience of the WP Event Manager plugin that, when a few of my friends were developping or revamping their own website and needed an Event manager plugin, I had them install this one and guided them through the setting up part. I even purchased the recurring events add-on for a friend, which is very interesting, not that costly and time-saving. She hosts weekly writing workshops in several locations, so she has use for the recurring add-on, but also for the venues setting."
Her suggestions to us:
She loved the plugin from every aspect and when asked about her suggestions for improvements she expressed that she wants to see a ticketing solution directly in this plugin. In simple words, she wants to directly sell tickets for her events in the plugin.
"One thing I found lacking and am hoping to be developped in the future, is the possibility to add a ticketing solution directly in the plugin, even though right now we can manage with a few extra steps. You can set a pricing for your event, but I would love to be able to sell tickets for the event directly in the plugin. I have a WooCommerce set up on my website, so I currently manage with creating tickets as products but it is not the same thing. If the feature exists, I have not found yet where to find it and how to use it."
If I had to give a review of the plugin in one sentence: a very well-rounded event manager plugin easy to set up and you can easily buy a few more add-on to push the experience further.