Organizing events offers great opportunities for people to build professional connections. It brings people who share common interests under one roof and makes networking easier. To host successful events, you need to have a functionally rich events website. Creating an event listing website can be beneficial for website owners, organizers and attendees.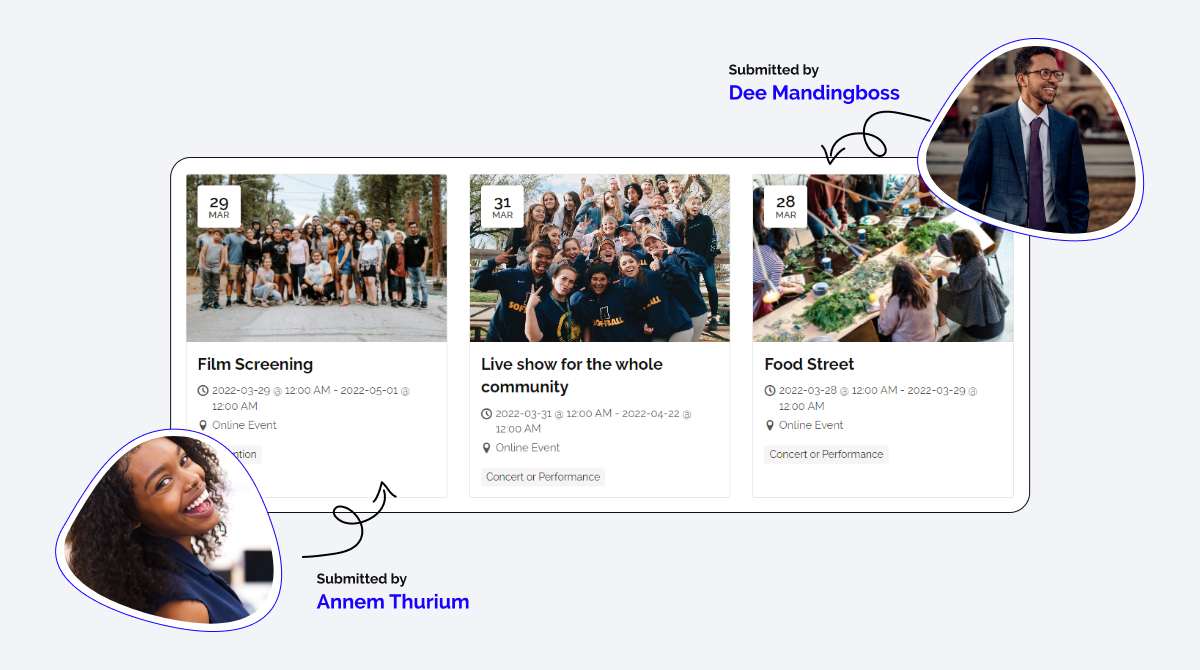 In this article we have shared the steps that you need to take to build an event listing website.
Before diving into the topic, let's have a brief introduction to the concept of event listing websites.
An event listing website mainly covers.
Event date.
Time.
Venue .
Description.
Booking tickets and other details.
It might seem to be easy to create an event listing website but nothing can replace the benefits of having proper guidance. That is why we have come up with this guide which is beginner-friendly and result-driven.
Step-1. Identify your target audience
Knowing your target audience is the first step that you need to take in your business. You not only have to know who they are but also about their likes, dislikes, places of interests and more so that you can give them what they are looking for.
You can recognize your target audiences based on the type of events you organize. For example, determine if your events follow a specific genre like VIP events, musical concerts, culinary events etc. based on that you can select your target audiences.
Once you know who your target audiences are, it will become easier for you to create events for them. After determining the type of events you are going to host and understanding your target audience, you can move ahead to achieve your target of building an event listing website.
Step-2. Acquire a Domain and Hosting
The domain name of your website also plays a crucial role in creating a successful event listing website.
As a website owner, your aim should always be in adding a domain name that would come up on Google Search results easily and also easy to remember for the visitors.
A few of the top domain registrars are GoDaddy, which holds almost 60 million domain registrations, Tucows, NameCheap, HiChina, and Network Solutions.
Other popular domain registrars include Google Domains, Cloudflare and Hover.
Each of these registrars offers useful services and supports hundreds of TLDs so that you can get the exact domain you want.
After a thorough price and pros comparison of domain registrars and getting a domain name, you need to get hosting.
In order to make your events listing site visible on the Internet, you'll require a reliable web host. It's very important to review web hosting options before you decide to purchase a package because not all web hosting services provide the quality they claim.
Kinsta is a managed WordPress hosting provider that has received an outburst of positive reviews from purchasers. We also have covered in one of our blogs on why we love Kinsta as a web hosting service provider.
It not only provides hosting but also manages the website and does all this in an environment that is particularly suitable for WordPress sites. It's also fast and ensures security and backup.
Step-3. Choose a WordPress Theme
If you're creating a WordPress website, having the ability to choose a website theme is both a blessing and a responsibility.
The first thing you should do is make a list of features that you want on your website; such as an events listing, a method of online payments and more.
Your next step is to fix a budget for the theme in case you need to buy a premium one. You should also have a color scheme in mind and remember the importance of having a responsive website.
With all these points in mind, you can head towards finding a suitable WordPress theme for your website.
The official WordPress content management system isn't the only place where you'll find WordPress themes. In fact, you might find more options of themes on external websites that list and categorize WordPress themes in thousands. One such catalog of WordPress themes can be found on Themeforest. It even has a "Directory & Listings" category in which you are most likely to find a template that closely fulfills the requirements of an events listing site.
JupiterX is another comprehensive directory of WordPress themes that also offers the freedom to customize themes and build them around your own specifications.
Step-4. Install WP Event Management Plugin
When it comes to creating an online event listing site, you need a reliable WordPress plugin to support you in this process for the best results.
We recommend WP Event Manager, which can be the perfect pick for your event listing WordPress website. It has all the qualities of an event manager that make managing your website a piece of cake.
WP Event Manager is designed to be user-friendly with an easy to understand design and user navigation system. It is also developer-friendly as it has shortcodes that makes it easy for you to add more functionalities on your website. Additionally, WP Event Manager is capable of creating a fully responsive website.
Some amazing features of the plugin include the following:
Easy to use.

Easy search options with multiple filters.

Frontend event submission facility.

Developer friendly.

Fully responsive.

Easily customizable.

Multiple views.

Event dashboard and more.
WP Event Manager is specifically designed to empower events listing sites. This is supported by features such as full liberty to drop an event anywhere on the layout, the ability to add event location, and top quality search and filtering capability and more.
Step-5. Monetize Your Online Events Listing Site
Once you have a fully responsive, fully functional events listing website, you can start to earn with it. There are many ways to do this, the most obvious of which is to sell tickets and events merchandise on an e-commerce store on your website. WP Event Manager gives a great kick-start on building an online payment solution for your events listing site, particularly to purchase tickets.
To discover more ways to monetize your events website read our blog on the same.
If you have created a WordPress events website, you are eligible to use the Woocommerce Paid Listings plugin to monetize your website. Using the combined strength of WooCommerce and the Paid Listings plugin, you can add and edit multiple event listings to your website, sell, create and manage event packages, highlight certain listings, and purchase packages.
Another method of monetizing your website is via selling ad spaces. Planning the pricing scheme of the ad spaces on your website and the content of the ads is completely up to you. You can choose where ads get displayed on your site and how much to charge for them based on where they are placed. You can also use advertisement networks like Google AdSense to get insights into your website traffic and to display better-targeted ads.
To retain good traffic on your Online Events listing site, you need to give importance to its maintenance. Analytical tools like Google AdSense provide a detailed analysis of websites and give insights regarding traffic that give direction to strategies and focal-points. Market your events listing site well and research on techniques specifically for your niche in order to promote growth.
Conclusion
We hope that the guide will help you create a feature rich event listing website for your business. The combination of effective strategies and a feature packed WordPress event listing plugin like WP Event Manager is sure to make you successful in this attempt.