Display Your Events Online Into Beautiful Slider
If you frequently organize events and have an exclusive events website, this article is for you. Today having an online identity has become essential for every business. Conducting and displaying events on your website is one of the most useful ways of reaching out to your target audiences. However, you need to represent your events in such a way that it catches the attention of your target audiences.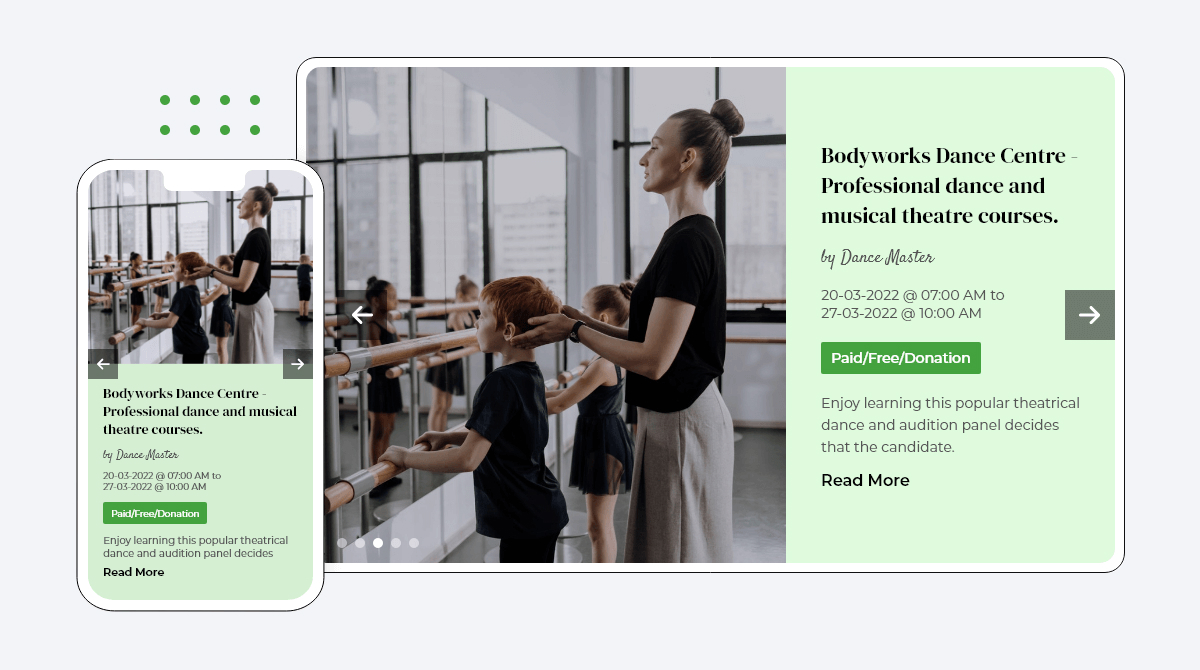 Displaying your past and upcoming events in a slider can certainly make a difference. If you have multiple events to showcase to your visitors you can easily highlight them with slides. You can easily do that with the slider addon offered by WP Event Manager.
In this article, we have shared how you can display your events in attractive slides using the Slider addon.
Introduction to the slider addon
The Sliders addon helps users display their events in slider forms at the front end of your website along with the event image, event title, organizer name, and description.
The best part about the Sliders addon is that it comes with responsive designs that are suitable for all devices.
The addon beautifully represents your past and upcoming events in sliders and carousels which remarkably catch visitors' attention.
Besides this, it also has some other advantages that you will find in our next segment.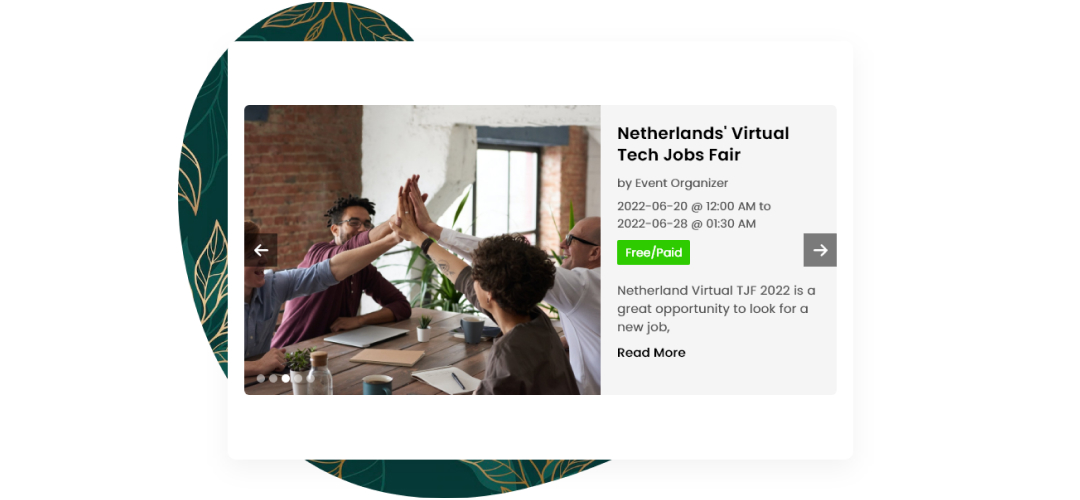 Advantages of using the sliders addon
Here are the advantages of the slider addon
Visually attractive:

As mentioned above, displaying events in sliders makes it visually attractive because it gives you the opportunity to add high definition and colorful event images that enhances the overall appearance.

More space for content:

sliders and carousels can solve your content space issues. Suppose you need to add a lot of information about a specific event but you do not have much space for it on your website. Usings sliders can be the best solution for you here as site visitors do not like to read long pages and posts.

Highlight important messages:

Carousels help you highlight your important messages. For example if you are offering any discounts or deals for a limited period, you can highlight the message through carousels.

Call to action:

We all know how important the Call To Action button is for your website. Carousels or sliders give you the scope to display multiple CTAs at one place.

Catches visitors' attention:

Events displayed in sliders greatly catch attention as they look good and show multiple events with an arrow. This works even better if stunning images are added to the displayed events.

Improves site functionality:

with sliders, you can do almost everything you want to. You can display events, add information, and highlight important details. With sliders, you will get everything at place.
Salient features of the sliders addon
The slider addon offered by WP Event Manager is enriched with some amazing features and some of them are listed below. Click here to explore all its features:
Get responsive event slides
The slider addon lets you create event slides that are fully responsive which means it perfectly fits into every device. Besides this, it also allows you to manage the typography, transition speed, impact, foundation shading, width and height of the slider etc before inserting it. In a nutshell, the control of your event slides will be on your hands.
Users can easily manage the sequence of the slides simply with drag and drop facility in no time. The slider is capable of adapting the changes very easily.
The slider addon gives users the freedom to display slides in random order. The addon comes with programmed slides and once it is adjusted as per requirement it keeps on repeating itself accordingly.
Manage the number of slides
With the sliders addon, you as a user can limit the number of slides in a slider as per your requirements. This is an extremely useful feature that also helps you maintain the presentation of your event contents.
The slider addon helps you control the number of words or characters that can be inserted in the content area of each slide. Here, it also gives users the option to remove the "read more" message as well.
Users can easily transfer the Slider set up and configurations into another installation. This can be done simply through a CSV file that contains all the configuration details of the plugin and its add-ons.
How to use the Slider addon?
To start working with the addon, you need to first purchase it from us and then install it.
Here are the steps you need to take to install the plugin:
Purchase the Sliders plugin from

here

.

Download the purchased plugin from your account (https://wp-eventmanager.com/my-account/).

After downloading the .zip file of the plugin, go to WP-admin >> Plugins >> Add New.

Upload the .zip file using the "Choose File" button and click on the "Install Now" button.

You will get the Plugin installed successfully, then click on the "Activate Plugin" link.

At last, insert the license key and enjoy the plugin!
For the entire user guide on the Slider plugin usage, click here.
How to get the Sliders addon?
When it comes to purchasing the addon, you have two options:
You can purchase the single addon or.

You can purchase it in a bundle.
WP Event Manager has recently introduced 4 addon bundles and each of them fulfills different event management requirements. You can check the details of all the bundles here.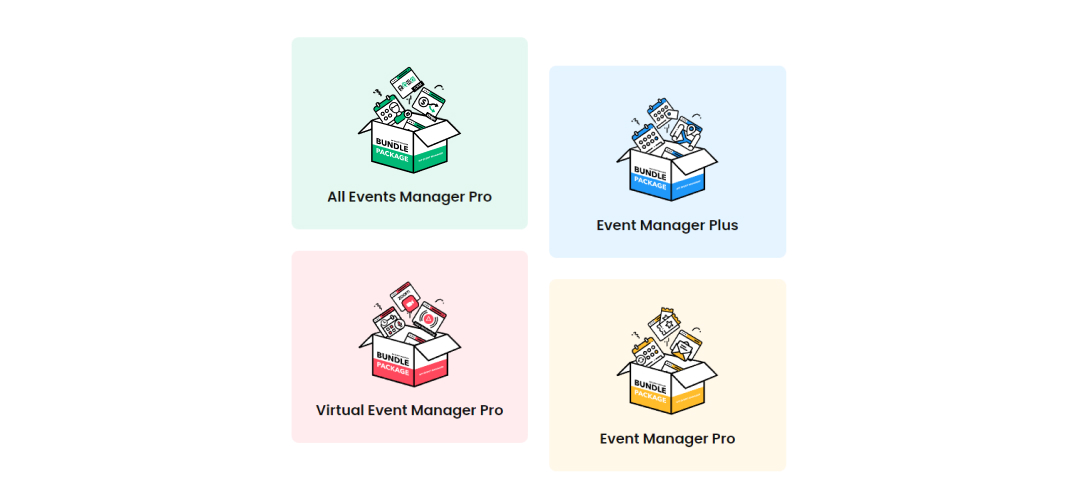 Here, we would like to mention that purchasing add-ons in a bundle is a more affordable option than purchasing them individually.
Conclusion
We hope that we have been successful in making you understand the advantages and usage of the displaying events in attractive slides. The Sliders addon offered by WP Event Manager can be the best pick for you in this regard. It has some strong features that give entire control of your event slides to you. You can add your preferred appearance to your event slides and easily catch the eyes of all your WordPress site visitors and target audience.
With these slides, you can not only give your site a visually appealing look but also highlight offers and discounts, improve site functionality, and do more.