If you have a dedicated WordPress website for your events then you must be aware of the importance of having an event calendar. It has become a necessity for every event business that has an online identity. It helps the event organizers run their events systematically and makes it easy for website visitors to get all the dates and details of the important events displayed on your website.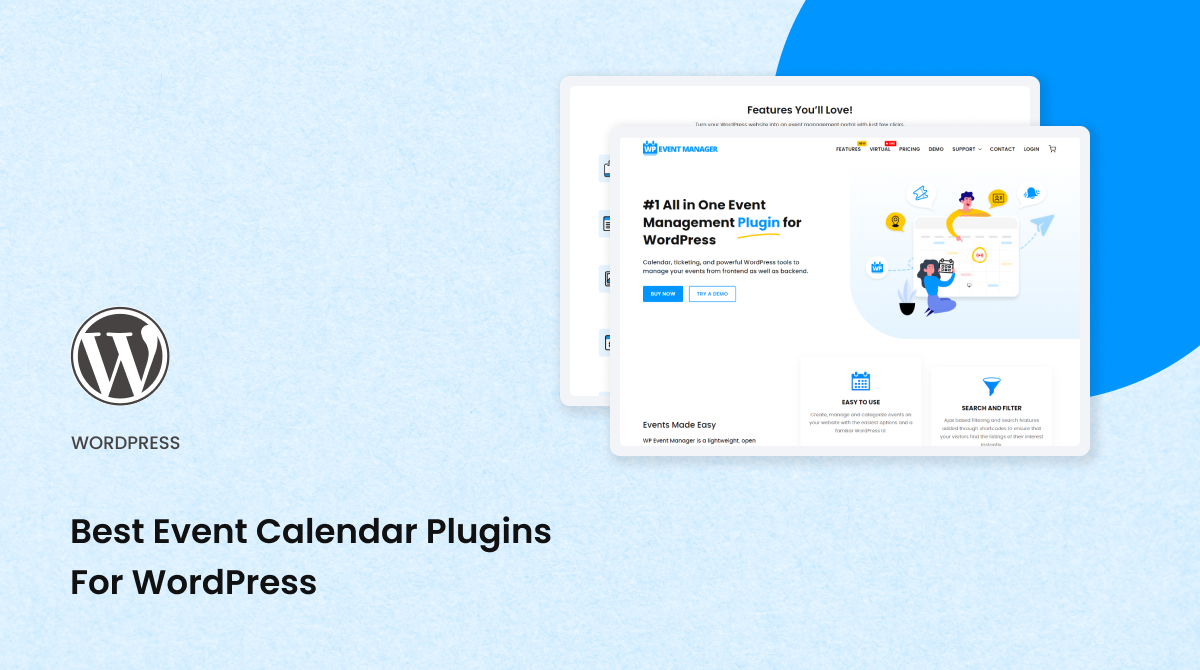 If you still do not have an events calendar for your WordPress website, it is high time you consider having one. You can use a feature rich plugin to add the calendar feature to your WordPress site. When it comes to a Calendar plugin for WordPress websites, you have plenty of plugin options to choose from. These plugins help you add an event calendar to your events website.
You can read our previous article on top 5 best event calendar plugins for WordPress to choose a suitable one for your business.
We recommend WP Event Manager for this requirement as it is.
Lightweight.

Easy to use.

Packed with useful features.

Easily customizable and backed by a great support team.
Here, we have highlighted the significance of customization in calendar plugins and how you can utilize its advantages in your business.
Importance of Calendar customization
Calendar customization brings various advantages to your brand. It allows you to add a personal touch to your event calendar on your website. That is why having a calendar plugin that offers customization is extremely important for brand visibility.
Here are the reasons why you must customize your event calendar:
Calendar customization boosts brand visibility as you can use the design and layout that perfectly suits your brand.

It simply carries the message "your calendar your way" as you can give an impressive appearance to your event calendar with your preferred views and design layouts.

Custom event calendars always attract people toward your brand.

You do not need to compromise on your calendar design or style as you get how you want it.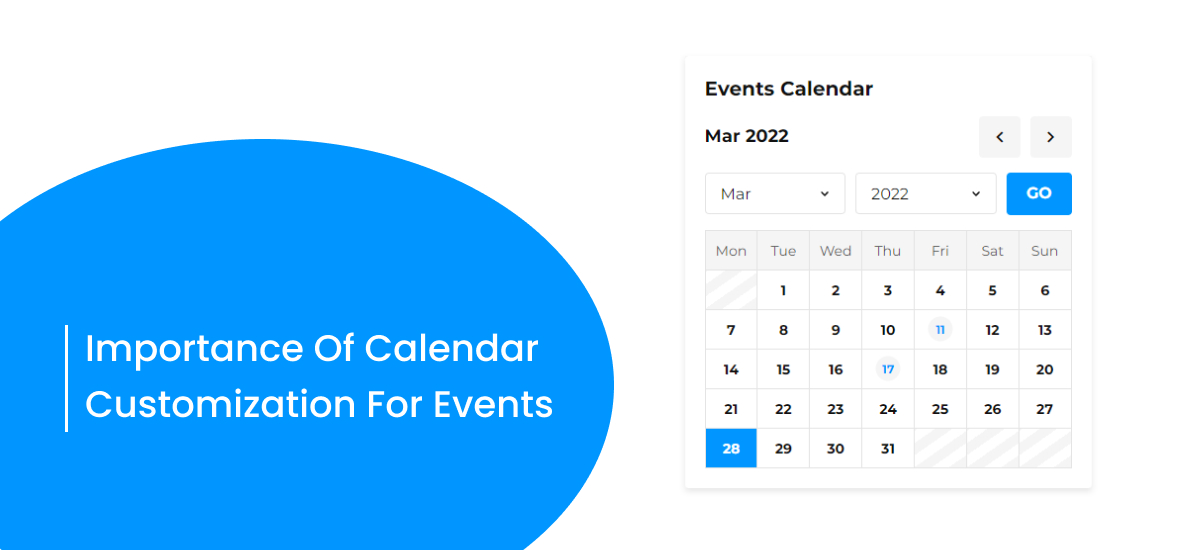 How the Event Calendar plugin from WP Event Manager helps you customize your WordPress Calendar:
The Event Calendar plugin offered by WP Event Manager is one of the best Calendar plugins for WordPress that is available in the market.
It offers various powerful features and customization is one of them.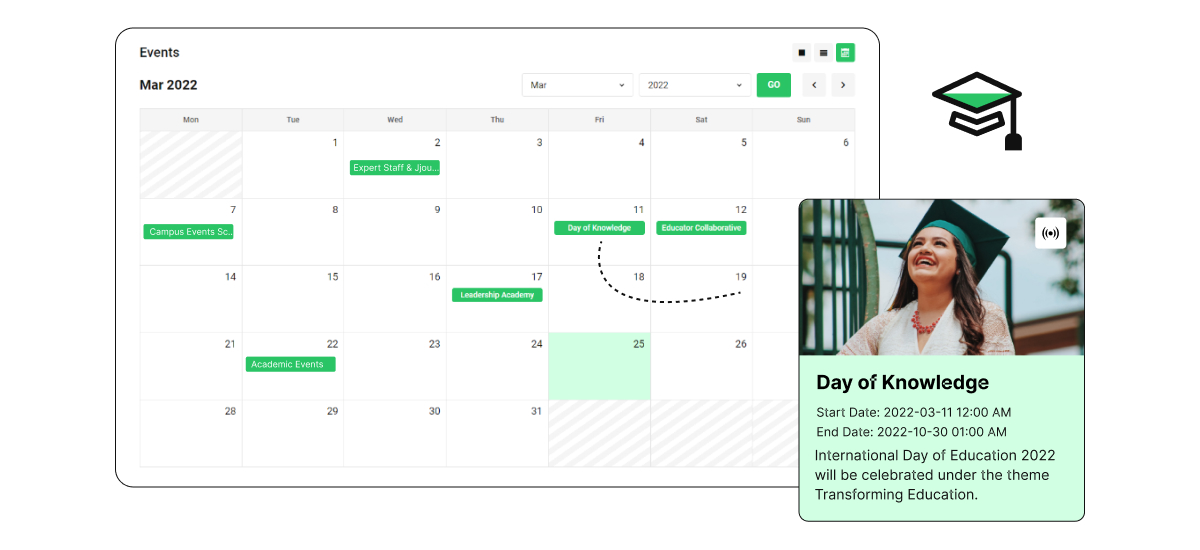 Some of its key features include:
Easy to use.

Highly customizable.

Developer friendly.

Responsive designs.

Event Calendar widget facility.

Affordable.
To know more about its features, discover the plugin now!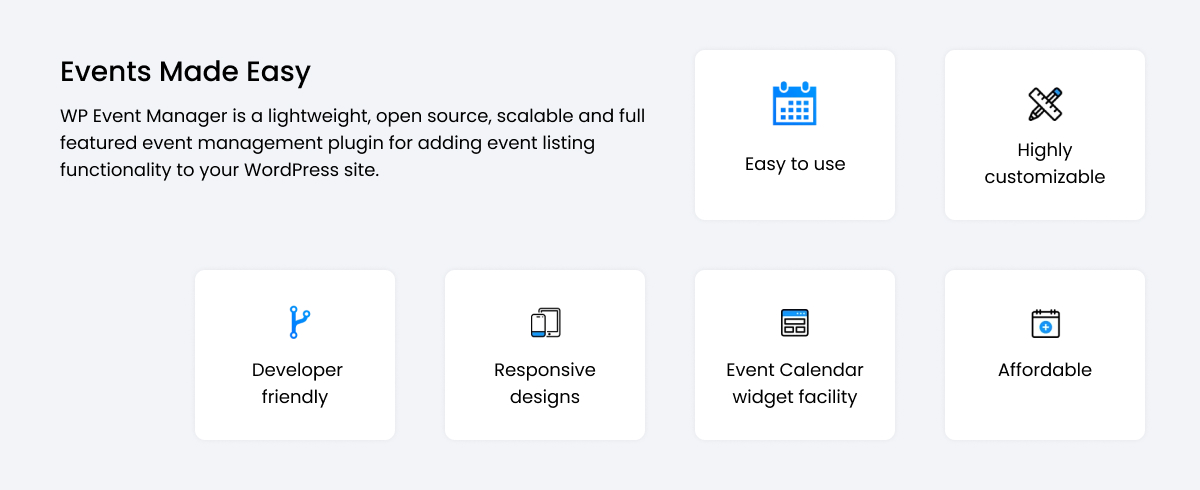 Event Calendar customization options include
Get a huge calendar layout options
WP Event Manager offers an endless number of calendar layouts to choose from. You can pick the one that suits the style of your existing WordPress events website. The best part about WP Event Manager is that in case you did not find a suitable one for your business website, you can create your own by making changes in the coding part.
WP Event Manager offers multiple Calendar views that include Box view and List view. You can choose the one that you prefer for your events.
Use of powerful shortcodes
With WP Event Manager's Event Calendar addon, you can place your calendar anywhere on your WordPress events site using shortcodes. You can select a place that will help your calendar gain maximum exposure.
These are the basic customization options that the Event Calendar plugin offers you. However, advanced customization is also possible if users hold sufficient coding knowledge.
Additional tip:
Users can also purchase the colors addon from WP Event Manager to change the color of events on your Calendar.
Keep in mind that customizing calendar helps you:
Increase the exposure of your calendar.

Makes it look attractive.

Get a calendar that perfectly represents your brand.

Instantly cache website visitors' attention towards your events.

Offer a great user experience as website visitors can easily find your events and that too at the same place.
Conclusion
Customization does add a lot of benefits to your WordPress events calendar. That is why using a plugin like the Event Calendar from WP Event Manager which offers primary and advanced calendar customization is recommended.