Event Calendar Widgets offer a smart way to announce your event dates and details to your target audience and visitors. They are designed to catch the attention of your WordPress site visitors which drives them to your event dates and details.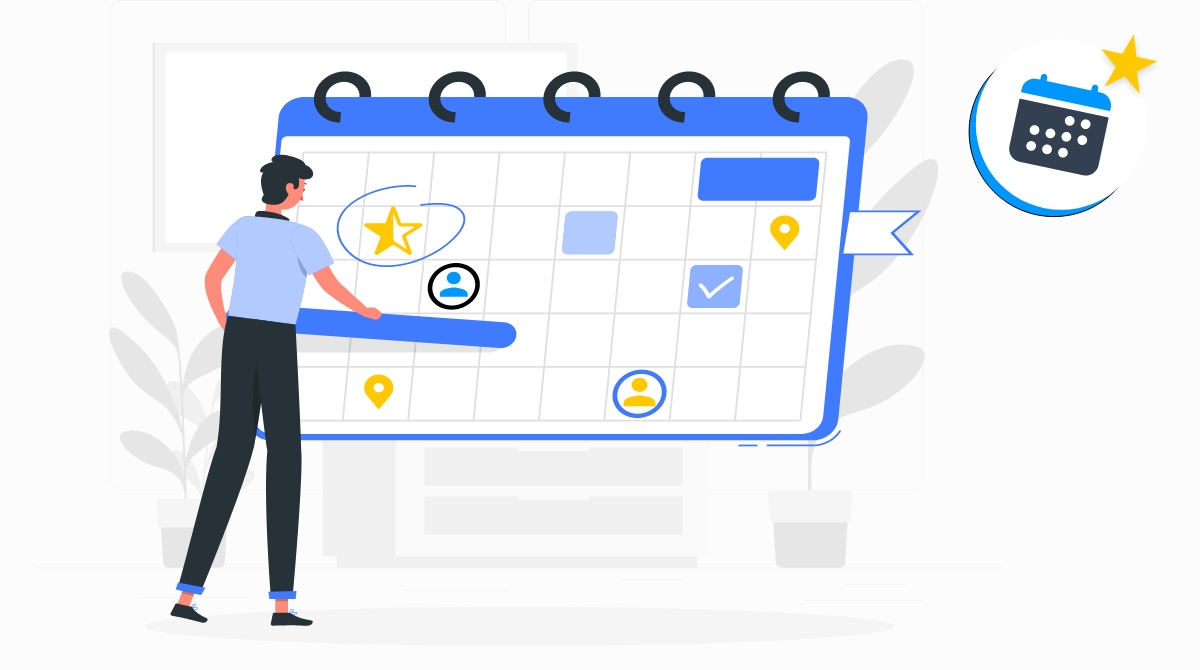 From official conferences to product launches and more, Calendar Event widgets have greatly influenced the world of event business. This is because to conduct a successful event, you need to offer much more than just event details to your attendees. An event calendar widget gives you the scope to communicate with your target audience including both of your present customers and prospective buyers and it helps you create a positive brand attitude. In addition to that your users can also access the calendar easily when they are on a different page without even browsing for it.
The small pocket-sized calendars always make a big impact on your events. Whether you are hosting a virtual event or an in-person event these calendar widgets keep your visitors updated about your events, offer a great user experience and highly increase engagement.
What is an Event Calendar Widget and How does it work
A widget is a small box-shaped content that is usually placed on the sidebar of a website. They are programmed to enhance the features of your website. WordPress comes with a wide range of default widgets including including categories, tag cloud, navigation menu, calendar, search bar, recent posts, and more, but in this article, we will focus on the calendar widgets.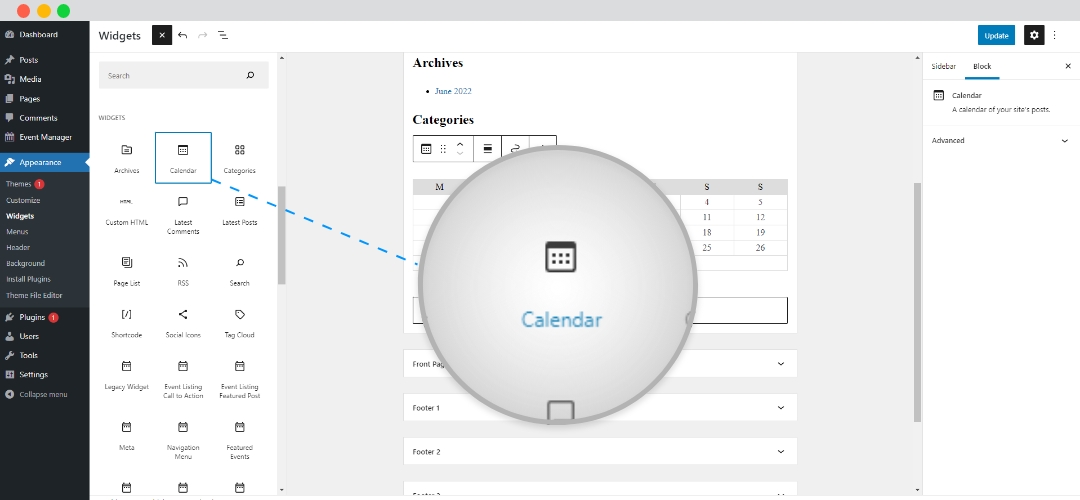 When it comes to calendar event widget, the box contains your events calendar that you can add to your website for a better view of your events' dates and details.
In order to add a Calendar Widget to your website, you need the support of a reliable plugin. But before finding a suitable plugin for your events let's have a look at the advantages of adding an Events Calendar Widget to your website.
Drive visitors' attention:

Widgets are extremely attractive and instantly catch users' attention. It offers visitors an easy and quick view of your events calendar in an interactive way.

Deploy once and update anywhere:

instead of manually trying to add events on each calendar, it is easier and time-saving to simply enter them on your central calendar.

Increased traffic, driven to the calendar:

when visitors get attracted to your calendar event widget they actually access the details of your events that automatically increase traffic on your website.

Increase ticket sales:

widgets increase the visibility of your calendar which remarkably boost registration and your ticket sales in the process by being embedded on other pages.
Choosing the right plugin for your Event Calendar Widget
There are quite a lot of WordPress Plugins available in the market for you to create an event calendar widget on your WordPress site so choosing the right one is a bit challenging. That is why we have come up with several qualities that you should look for in a WordPress plugin before selecting one for your business.
A good WordPress Events Plugin will always help you
,
Create

personalized

events.

Customize

events with an editing tool.

Offer

advanced filters

to accelerate search operation.

Multiple online

payment gateways

for better and easy transactions.

An option to share your events on popular

social media platforms.

Easy integration with

WooCommerce

and

Google Calendar.
When it comes to creating an Event calendar or calendar widget, you can always rely on WP Event Manager as it fulfills all the above-mentioned criteria to help you arrange successful events. By using a premium WordPress Calendar like WP Event Manager, you can provide your customers with the exact information they are looking for on your website.
Creating an Event Calendar Widget with WP Event Manager
To add an amazingly designed Calendar Event Widget to your Event's website, you need to install WP Event Manager's Calendar Plugin. The installation process is easy and you can do it both manually and automatically. Once the plugin is installed and activated you are ready to work with it.
You can display your events Calendar in the most stylish and personalized way using the Calendar plugin that highly increases your events exposure. The pro version is rich in features and it is designed to fulfill all your events-related goals.
You can also display your events calendar widget on a specific page of your website using shortcode [events_calendar].
In order to add the Calendar widget to your website, follow the below-mentioned points:
Login to the admin panel.

Then go to

WP-admin >> Appearance >> Widgets.

A widget called the

Event Calendar

appears in the widgets list.

Drag this widget and drop it

to the required widget area and show the event calendar at the required location(For ex: the sidebar area of your website).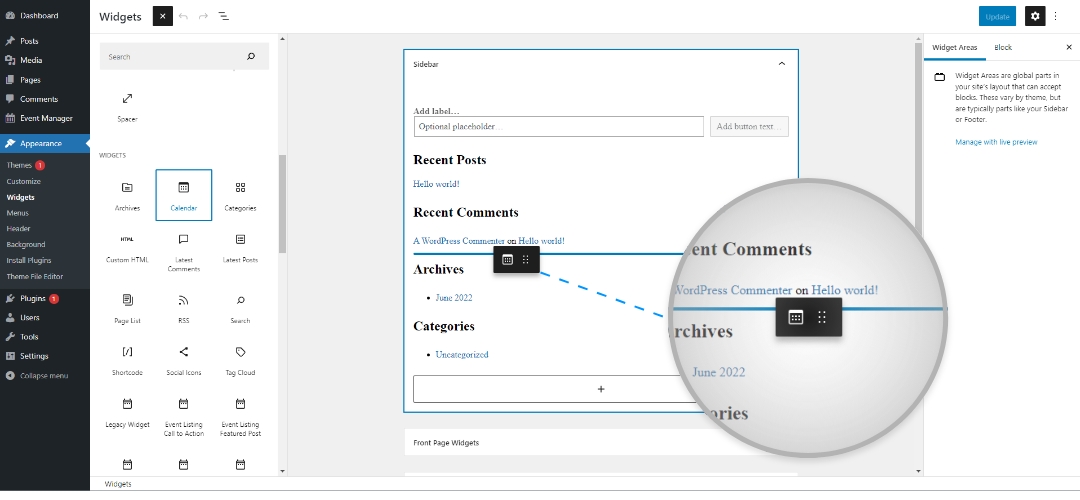 The best part about the Calendar plugin is that you can move the widget anywhere on your website Based on your requirements.
Final Words
The event industry is booming and due to the recent pandemic businesses now prefer to adopt the virtual way which has ultimately made the competition tougher for them. If you want your business to stand out, you can't ignore the advantages of an interactive calendar widget for your events.
You can add more features and functionalities to your events page with Calendar Widgets that were previously missing. Trust WP Event Manager's Calendar plugin to experience the difference. Attach the calendar widget to your website using the Calendar plugin and manage it according to your requirements and preferences.