Organizing events can be a great way to impress your customers and reach out to a wider audience. This ultimately boosts brand awareness.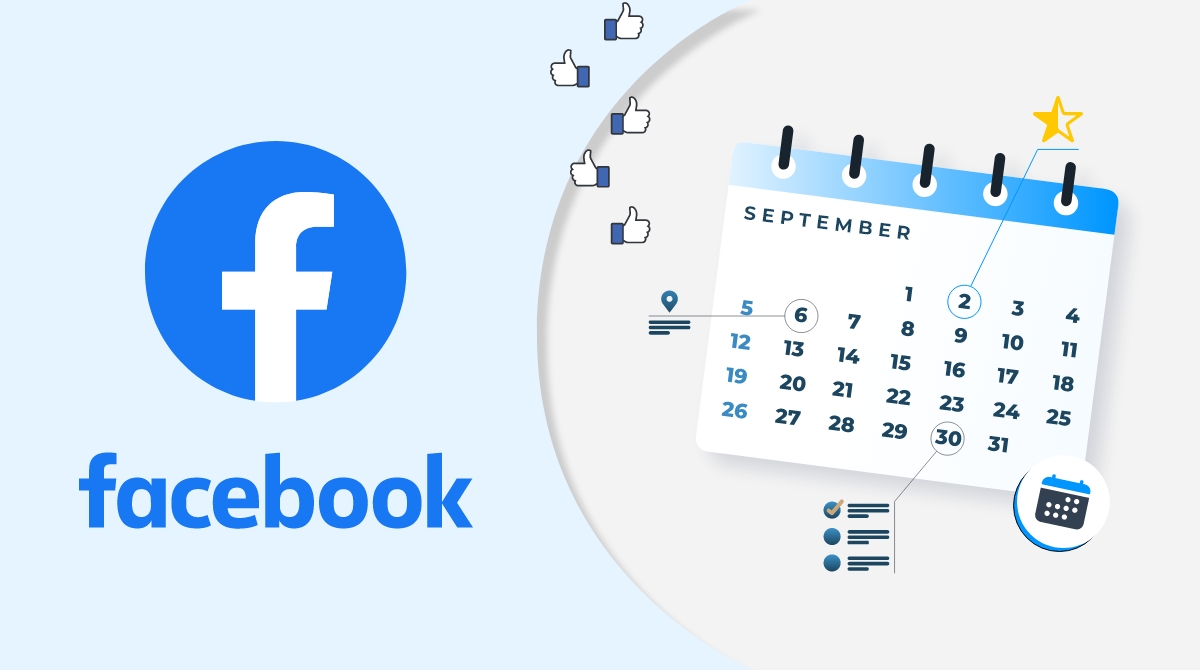 When you are organizing an event, spreading awareness about it becomes an essential part to attract more and more customers to your business. In other words, you need to promote your event for better exposure and audience engagement.
When it comes to event marketing, social media plays a pivotal role. In this article, we have picked up Facebook as a popular social networking platform and discussed some amazing event marketing techniques that will help you gain maximum exposure.
Facebook has passed through massive changes since the time it stepped into the marketing scenario. Presently, it is the world's biggest social networking platform having more than 1.56 billion daily active users.
So you can easily understand what you can achieve with the help of Facebook when it comes to reaching out to your targeted audience.
Although there are several ways to promote events online, Social media is an inseparable part of it. Facebook, being one of the World's most popular social media platforms, is an amazing place to promote all types of events including birthday parties, meetings, conferences and more.
Whether you want to explore the right event marketing techniques on Facebook or you want to improve your Facebook marketing skills, this article is going to help you learn about everything that you need to know about event marketing on Facebook.
You can begin promoting your event on Facebook by adding a Facebook sharing button to your event's calendar.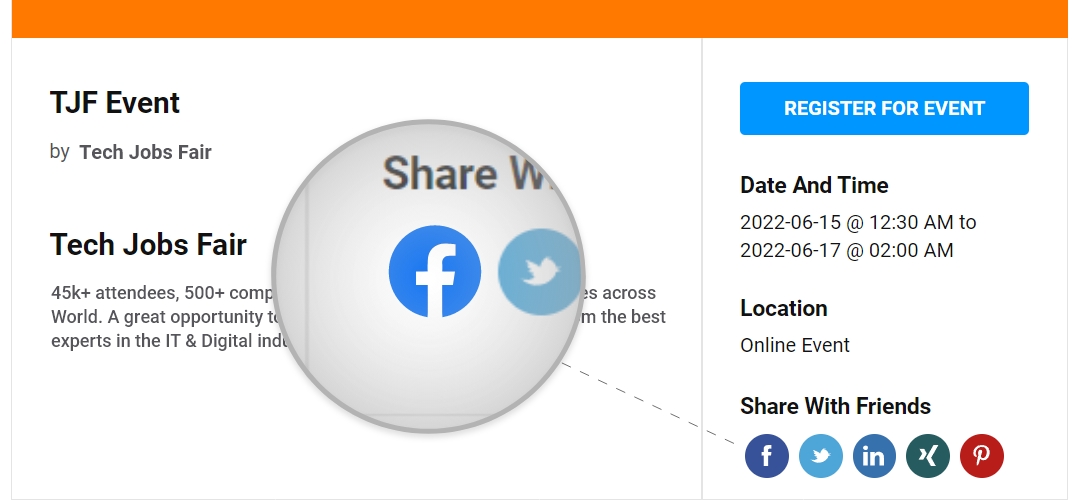 If you still do not have an event calendar, you can create one with the help of the WP Event Manager's Calendar add-on.
Event Calendars amazingly attract visitors and let them know about your upcoming events.
After creating an event's Calendar, add the Facebook sharing button to your Calendar page.
2. Create an Event page on Facebook
You can kickstart your event marketing journey on Facebook by building a Facebook page for your event.
Research says more than 60% of people find out about events on their newsfeed which makes it essential for your event to stand out.
Consider the following points to create a unique event page:
Mention important details in your event banner and make sure that the banner image is attractive enough to catch your target audience's attention.

Offer all types of event-related details including your event's time and venue.

Add a ticket link to it to provide your attendees with an easy process of ticket purchasing.

Ensure that you use a short and crisp event name as the longer ones can create space issues.

Add an informative and engaging event description and don't forget to include hashtags and mention speakers and performers names to let your audience know about them.
3. Post regular updates
It is good to keep sharing new updates related to your event in the discussion section of the Facebook event page. This is an amazing way of staying in touch with your target audience and it also gives them a scope to engage.
Besides this, when interested people participate in your posts by liking, posting comments or sharing, your posts get exposed on their friends' feeds as well. This boosts your event visibility.
Here are the things you can include in your regular posts:
Videos of short duration showing the staff, vendors or other event participants.

Reveal your behind the scene images and videos.

Special arrangements and offers provided by sponsors that your attendees can enjoy during the event.

Keep the energy of your attendees high by sharing exciting news about your event.

Share teasers and media coverages.

Share the details of your chief guests or speakers and performers.

Ticket links and purchasing deadlines.
In addition to that, you can also conduct contests and offer free tickets to winners or announce gifts for suggesting your event to friends.
Word-of-mouth advertising is one of the most powerful ways to promote your event as people usually rely on the recommendations made by their friends and family. You just need to utilize the opportunity.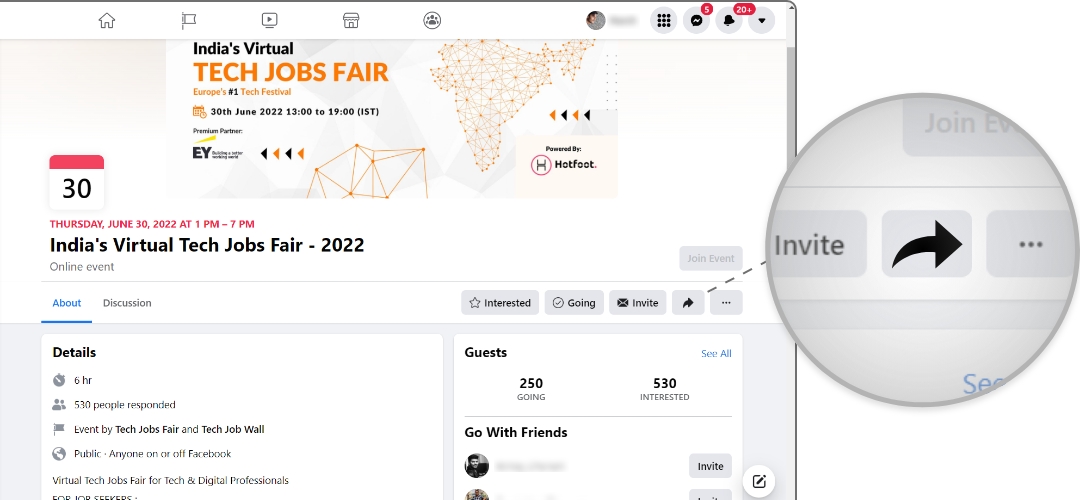 Social networking sites like Facebook can be termed as a digital word-of-mouth advertising platform where people recommend things to their friends by sharing things with them.
So you must always try to influence your interested audience to share your Facebook event's page as much as they can.
You can also request your sponsors, exhibitors and vendors for the same to increase your event exposure.
Seeking help from social media influencers can also be a great idea to promote your events on Facebook as they have a huge number of followers.
5. Offer giveaways
There is no one on earth who does not love free stuff and you can fully utilize this human nature to promote your event on Facebook.
You can push people to share your event by offering them free tickets or other related gifts. Ask your attendees to add a custom hashtag while sharing your events page.
6. Ask followers to RSVP
When you create an event on Facebook, people who come across the event get the opportunity to show if they are interested or not by clicking on either of the options that include interested or going.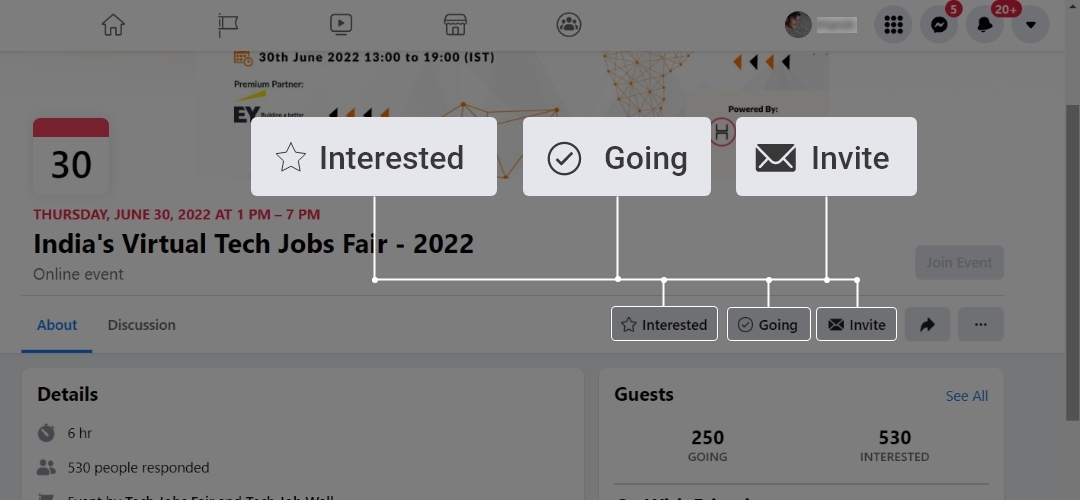 When they select an option from them and click on one of them it appears on their friends' feeds that ultimately gives your events a better visibility and audience reach.
In case your followers do not react to your Facebook event, try to offer them some extra incentives to encourage them to react.
Conclusion
Facebook has a small world in itself and you just need to identify your target audience from it. It might sound easy but achieving the preferred result depends on the techniques you use in this process.
The journey begins with creating an event page which you need to update on a regular basis, encourage sharing, keep your audience up to date with regular posts and most importantly help people interact and talk as much as possible.
We hope that the above-mentioned techniques will help you harness the power of Facebook as a powerful social media platform to promote your event.